NYU Shanghai to Celebrate Achievements of the Class of 2020 in Virtual Commencement Ceremony May 29
May 15 2020
While the COVID-19 pandemic has forced NYU Shanghai to cancel its undergraduate commencement and graduate convocation ceremonies, university and student leaders are working hard to create memorable virtual events to honor the many achievements of our graduates.  
"The Class of 2020, our fourth-ever graduating class, has weathered a time of unprecedented challenge with remarkable grace and resilience," said Vice Chancellor Jeff Lehman. "They will be legendary in the history of NYU Shanghai and their remarkable achievement will be celebrated."
Some 230 seniors and their families from 24 countries and regions are expected to sign on for NYU Shanghai's Fourth Commencement Ceremony on Friday, May 29. A ceremony celebrating NYU Shanghai's first-ever classes of graduate students - 62 in total - will also follow on May 31.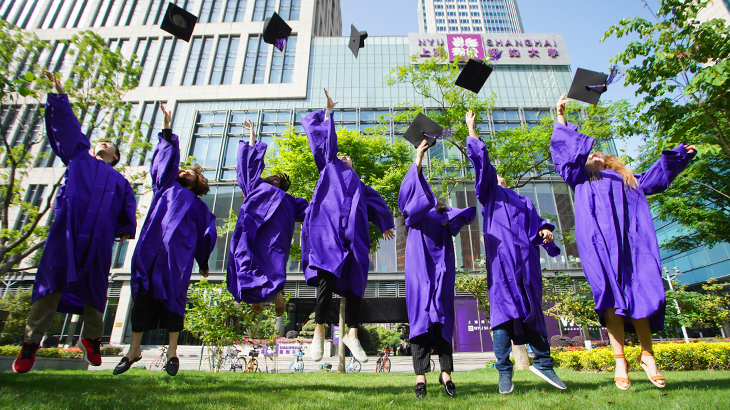 The undergraduate commencement ceremonies will be livestreamed from the university's auditorium beginning at 8:20 pm (20:20!) China Standard Time, with Chancellor Yu Lizhong, Vice Chancellor Lehman, Provost Joanna Waley-Cohen, and other university leaders in attendance on stage.  
"In the face of an unexpected global pandemic, the Class of 2020 nevertheless completed their degrees through remote learning from places all over the world. Not only have they shown great adaptability and ability, they have met this crisis with grace. This will be a lifelong lesson for them," said Chancellor Yu.
Participants will find many familiar NYU Shanghai commencement rituals preserved in the ceremony, including a virtual academic procession featuring graduates, faculty representatives, and university leadership, and innovative appearances by the NYU Shanghai torch and the Oriental Pearl Tower. The two Chancellors and the Provost will deliver their addresses live, while NYU President Andrew Hamilton, Chair of NYU Board of Trustees William Berkley '66, and two student speakers, Isabel Adler '20 and Casey Pan Yunzhu '20, will appear in recorded videos. The ceremony will conclude with a virtual rendition of the Alma Mater, Lights of NYU Shanghai.
Adler said she is looking forward to sharing stories from her four years as an NYU Shanghai student. "It's unfortunate not to have an in-person ceremony, but I've been reminding myself that an online commencement doesn't take away from all of our incredible accomplishments and hard work over the last four years," said Adler, a Business and Marketing major who, with her parents, will be "attending" the ceremony from their home in Malvern, Pennsylvania, USA.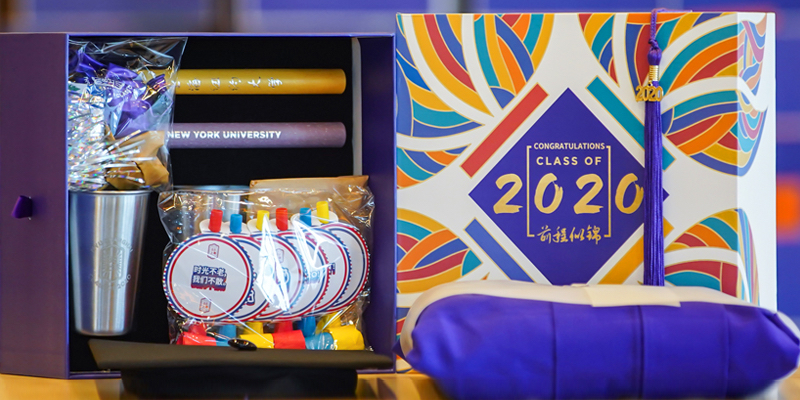 The 2020 Student Commencement Committee has pulled together many events and gifts to keep graduates excited about their big day. An online 88 days countdown celebration brought the class together in March. A special commencement logo, depicting the NYU Shanghai magnolia with multi-colored leaves symbolizing the diversity of the senior class, has been commissioned for the event. Large gift boxes filled with commencement essentials such as caps and gowns, diploma cylinders, stainless steel cups emblazoned with a Class of 2020 logo, postcards of key campus sites photographed by Eric Ling '20, and other festive swag have been making their way across China and across oceans to the homes of every graduating senior. The caps and gowns, usually just loaned to previous classes of students to wear for their commencement ceremonies, have been gifted permanently by the university to this year's graduates. 
Student speaker Pan, an Interactive Media Arts and Computer Science major and native of Jinan, Shandong, said she was confident that her class could come together to make the most of their online celebration. "When 2020 started in a way none of us had expected, I did have some regrets for our class missing the chance of having such a gathering as an ending page of our time at NYU Shanghai. However, the strength and spirit of our community once amazed me. I'm touched by the love, support and power that we show each other regardless of the current circumstances," she said. "I feel utterly proud of my peers of Class of 2020 at NYU Shanghai."