NYU President Linda G. Mills Visits Shanghai
Sep 13 2023
NYU's 17th President Linda G. Mills arrived in Shanghai on her listening tour of campuses in the NYU Global Network. Her schedule while at NYU Shanghai's New Bund Campus was packed with opportunities to speak with students, faculty and staff about their experiences. "I want to feel the pulse of this community, so it's really important that [while] I'm here that I spend my 12 hours a day committed to being able to do that kind of listening," she said. "It feels very exciting [to hear everyone's thoughts] and an opportunity to also share some ideas that emerged from my listening tour over the course of these seven months," she said. 
President Mills had meetings with faculty and students, watched the Reality Show and cheered on students, faculty, and staff as they competed in a friendly basketball match. Before the game, she was greeted by the University's mascot, Qilin, and received a stadium plaque -- one of  50 limited edition pieces made from materials from NYU Shanghai's gymnasium floor -- marked with the number 17, in honor of her presidency.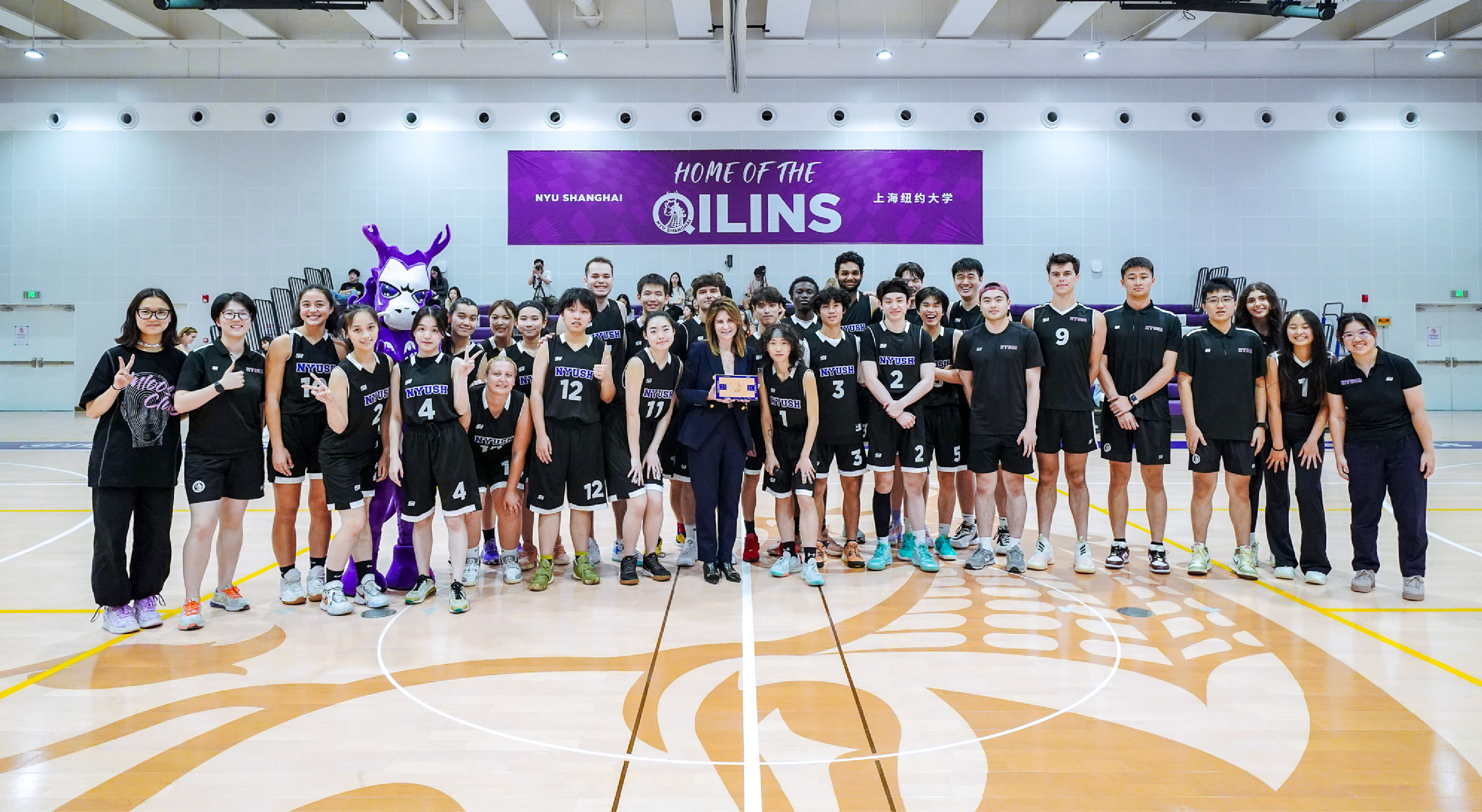 President Mills with the student basketball team after the game
Mills led discussions with faculty and staff on issues such as how to better collaborate with other NYU Global Network. In her interactions with students, she discussed the importance of NYU's commitment to diversity and the opportunity for all students to study away at different sites in the NYU Global Network. She also emphasized the unique place NYU Shanghai holds in improving US-China relations. "Each and every one of you should take pride, in fact, that you literally represent the possibility of re-engaging in that friendship," she said. "You have a role to play. I hope you feel this deep sense of pride and commitment to this idea. It gives us a platform to describe how powerful and beautiful this is."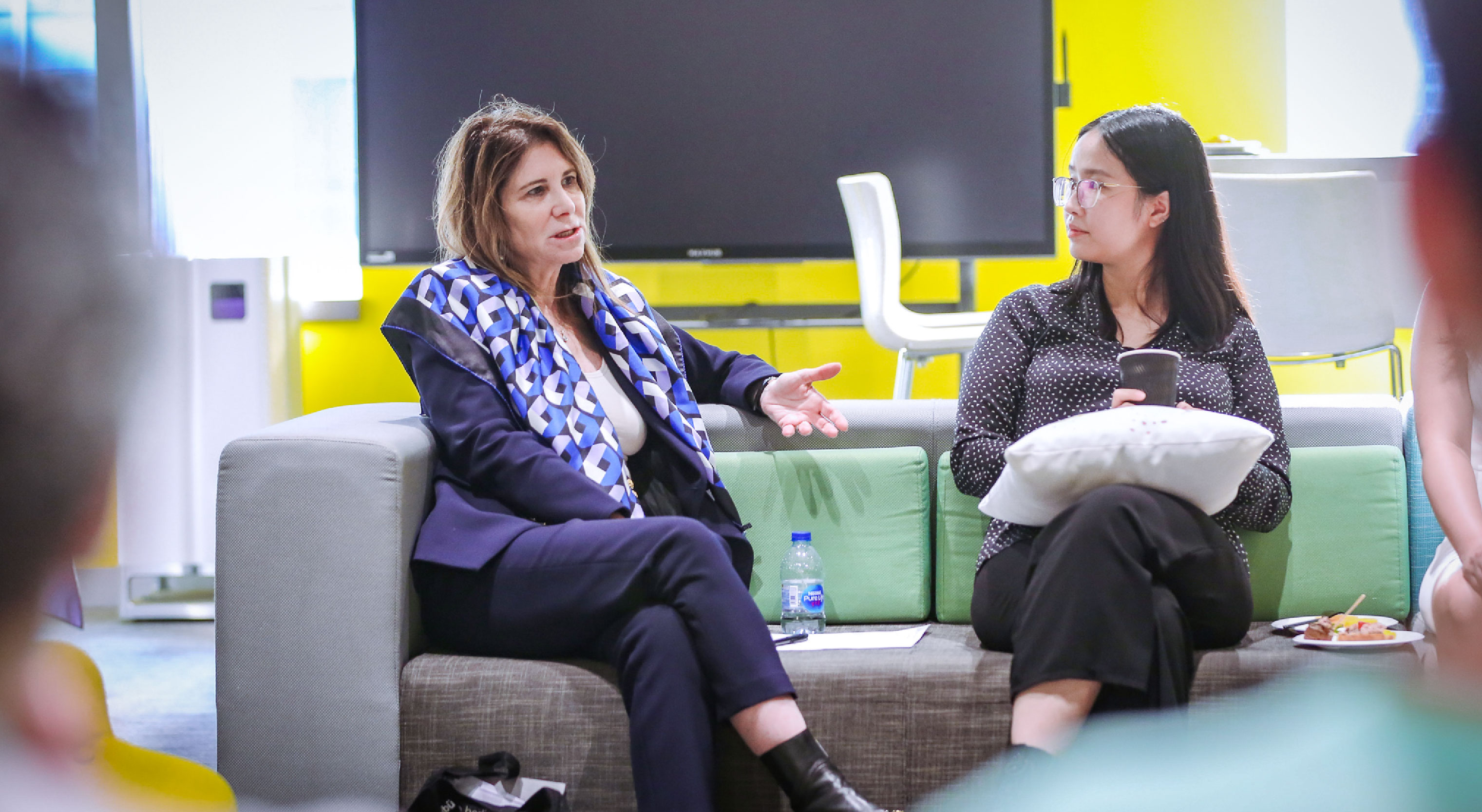 NYU President Mills meeting with NYU Shanghai student representatives
President Mills and John Sexton, NYU President Emeritus, who served from 2002 to 2015, also attended the naming of the John Sexton Bridge on the third floor of West Building. 
At the ceremony, Vice Chancellor Jeffrey Lehman spoke about the crucial role John Sexton played in the partnership between ECNU, NYU, the City of Shanghai and Pudong New District to establish NYU Shanghai. "One person inspired the shared belief that this vision could actually be realized. That person was John Sexton," he said. "For decades, John had been a leader in the move to define higher education, not as a service to the people of one nation, but rather as a service to all humanity." Lehman called Sexton "a human bridge," referring to his ability to bring together so many partners to realize a common vision.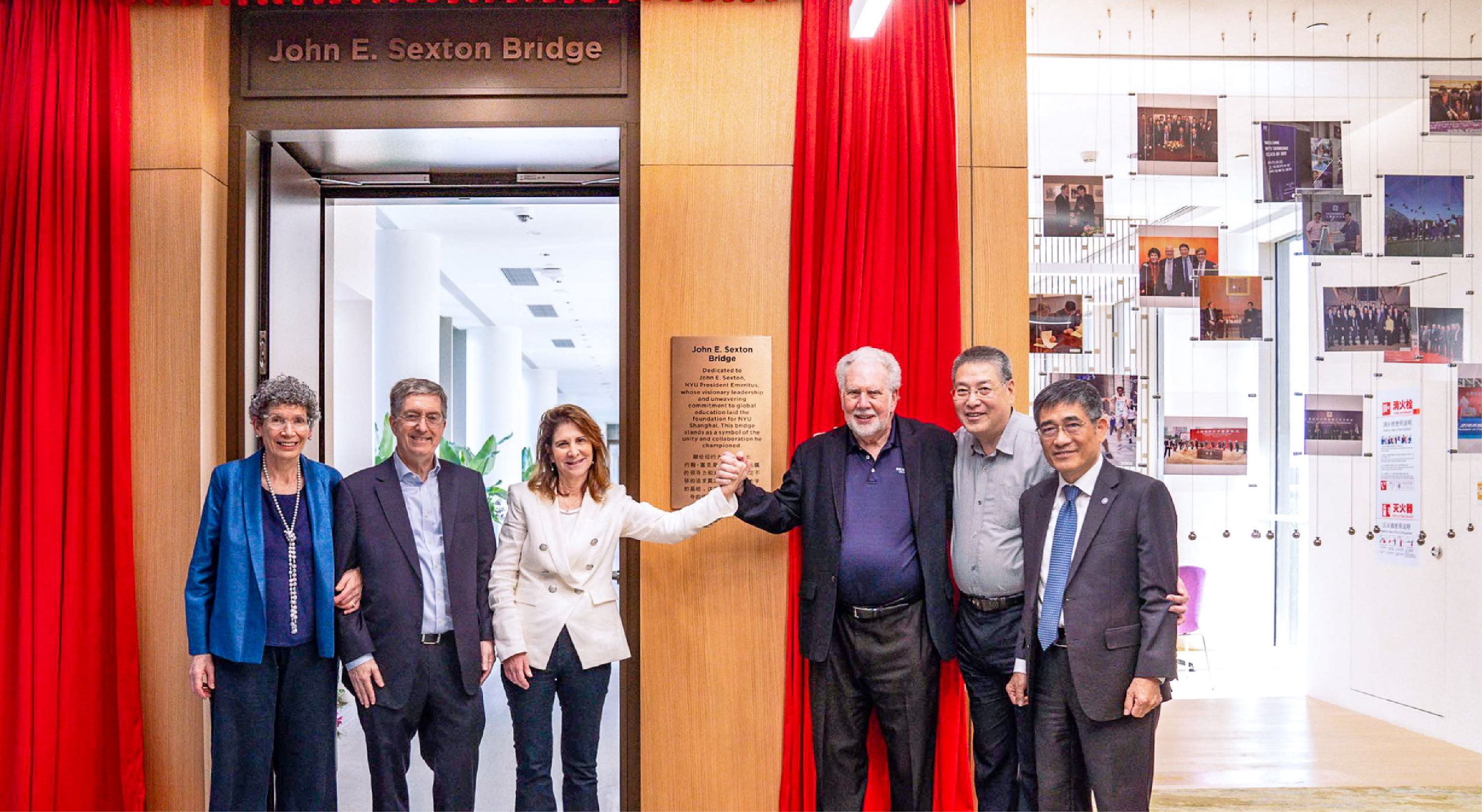 (From left) NYU Shanghai Provost Joanna Waley-Cohen, Vice Chancellor Jeffrey Lehman, NYU President Linda G. Mills, NYU President Emeritus John Sexton, NYU Shanghai Chancellor Emeritus Yu Lizhong, and NYU Shanghai Chancellor Tong Shijun at the bridge naming ceremony
Sexton spoke at the naming ceremony and humbly called himself a "tiny little match" that ignited the establishment of NYU Shanghai a decade ago. "I will not be here a decade or two decades from now when people will be crossing the bridge," he said. "But NYU Shanghai will be here. And many of you will be here still leading and still bringing the world together."
During her visit, President Mills also visited East China Normal University, where she signed a memorandum with ECNU's President Qian Xuhong, renewing two universities' commitment to talent training, joint scientific research projects, and active exploration in other mutually beneficial projects.
President Mills concluded her trip with a meeting with Shanghai Party Secretary Chen Jining. "I was deeply moved by Secretary Chen's appreciation for the excellence that has emerged at NYU Shanghai over the past decade," she said. "He reaffirmed the city of Shanghai's commitment to the success of our campus, and I assured him that we at NYU remain 'all in' as we continue to build on our excellence in the years to come."