Not Alone: NYU Shanghai's Reality Show Returns with In-Person Performance
Sep 14 2023
On September 10, NYU Shanghai's class of 2027 gathered on campus to watch the Reality Show, a musical created by NYU students that explores the joys, challenges, and idiosyncrasies of college life. A tradition that began in 2006 at NYU's New York campus, the Reality Show creates a space for upper-level students to share advice, experiences, resources, and encouragement with first year students. Each NYU campus (New York, Shanghai, and Abu Dhabi) creates its own unique show, written and performed by its own cast of students. 
This year's Reality Show was created by eight cast members from the classes of 2024 and 2026, drawing inspiration from their own experiences adjusting to and navigating college life. "One message I really want to get out is that it is okay to feel stressed [or] frustrated–it's part of the learning process," said cast member Tate Pan '24. "We're trying to acknowledge all of the things [students] have been experiencing, or might experience in the future, and give some advice or direction to resources we have on campus."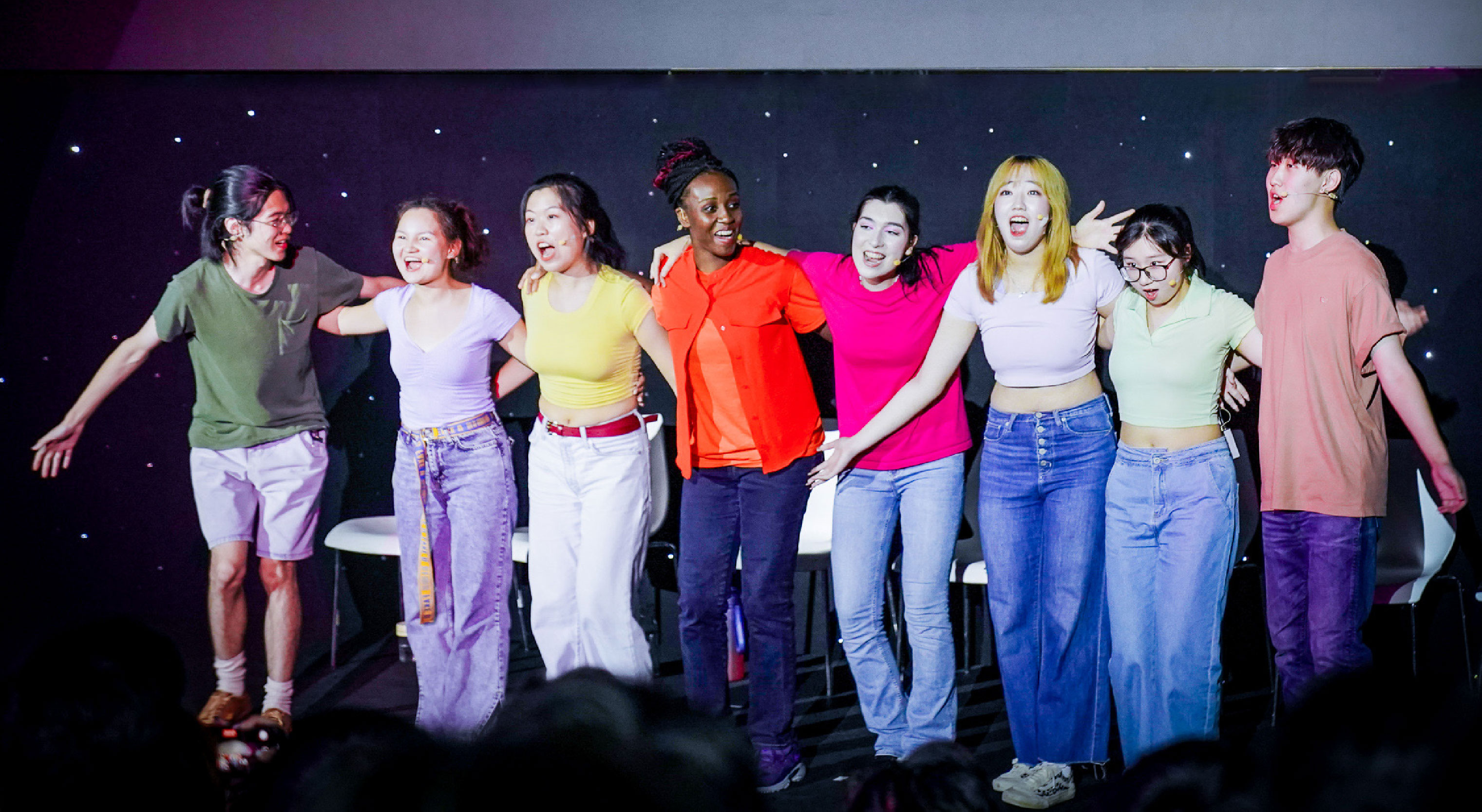 Cast members (from left to right): Tate Pan '24, Ujin Boldbaatar '26, Eileen Jia '24, Michaella Blemur '24, Jasmin Normatova '26, Yunyi Yang '26, Quan Yuan (Melanie) '26, August Wang '24 
In attendance this year was special guest NYU President Linda G Mills, in Shanghai for a visit to the New Bund Campus. President Mills, who helped develop the Reality Show tradition, said it plays an important role in building the sense of global community that connects the three NYU campuses. "That was really the heart and soul of the reason why we started the Reality Show," she said, "because we really wanted students to talk to other students about how to cultivate that sense of belonging." 
Some of the themes of the show included mental health, language learning, roommate relationships, and homesickness. "I see the show as a healing process [and I hope] that they can consider all these important things they might encounter, not just in their first year but in second, third, and fourth year–maybe even later in life," Pan said. By discussing common challenges students may face in their first year, the show aims to start conversations and spread awareness of campus resources in an accessible and memorable format. "Compared to lectures, it's more engaging and visually aesthetic–I think it's more reachable for students," said cast member Ujin Boldbaatar '26.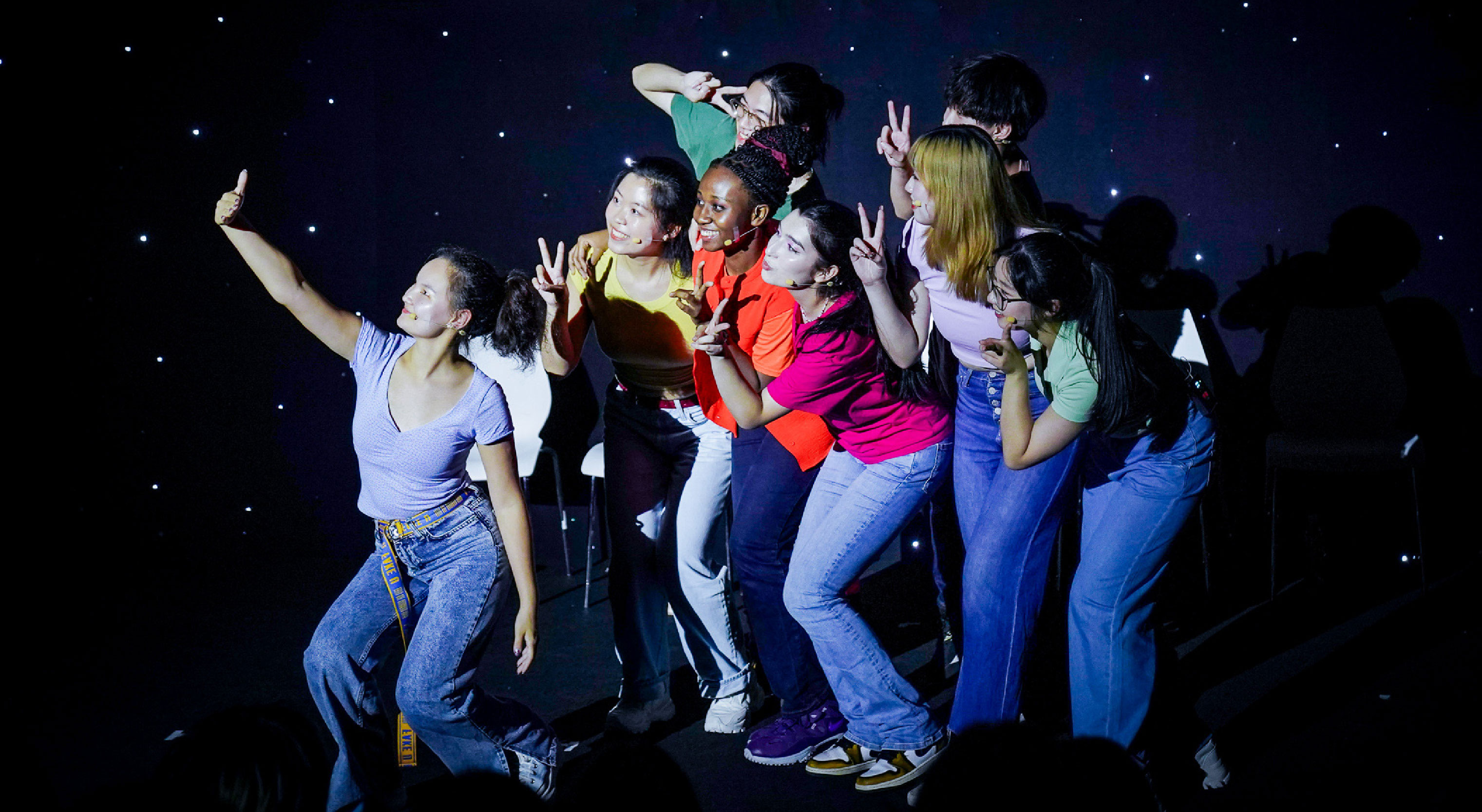 Cast members perform in this year's Reality Show at the New Bund Campus auditorium.
Audience member Roman O'Brien '27 said the Reality Show felt like a reality check. "It actually brought me to tears at certain points because it was so beautiful," she said after the show.  "There was one song about growing up and figuring out what you want to do with your life, and as I listened, I realized I have entered the next phase of my life. It hit me: I'm not just at school waiting until I go back home, but instead I'm at school learning about myself and what I care about. Moments like this had a huge impact on me and it was honestly an intimate experience to have around so many other people. But just the same, being around so many people felt very reassuring, because it went along with the message that we're not alone." 
Due to the COVID-19 pandemic, NYU Shanghai's Reality Show had been performed virtually for the past three years, meaning that three graduating classes were unable to have the intimate experience of attending an in-person show. In order to give upper-level students the opportunity to see the show live, a second performance was added for the classes of 2024, 2025, and 2026. "I think [this year's show] is going to set the tone and precedent for the upcoming years, which is really going to be hard for us to do, especially since everyone who really knew Reality Show has already graduated," reflected cast member Michaella Blemur '26, who is a study-away student from NYU's New York Campus. 
Despite the pressure of reigniting the tradition of the in-person Reality Show, cast members said they felt the show had a strong positive impact on them. "It feels so great to create–to be a part of a creative group and do this for the freshmen and all the students," said stage manager Mia Xue '24.  Being part of the Reality Show was also a reminder to the cast members to live the values they performed onstage, said Pan. "It encourages us to…not just empower ourselves but empower other people–not just through the show but through other aspects of university life," he said. Blemur added that being part of the cast has been a special experience. "It's something we'll never forget," she said. "From practice to the stage, we're like a family letting others know that they belong here, especially at NYU Shanghai."