New Student Band 'Century Avocado' Livens Up Campus
Dec 2 2022
When a group of NYU Shanghai students walked on stage during last week's Thanksgiving celebrations, they commanded attention. Under the glow of a multi-color light display, the group pulled out their instruments and began to play Taylor Swift's "Enchanted." Soon a crowd gathered, bopping their heads and singing along. 
Century Avocado — a reference to NYU Shanghai's current address — formed this semester thanks to the efforts of Daniel Ni MSW '24. Ni studied music in college and is the founding director of a 20-person gig band in Shanghai. In September, he began reaching out to students in various musical groups — the jazz ensemble, of which he is a part, as well as an a capella group and the choir. Soon, he had a roster of aspiring band members.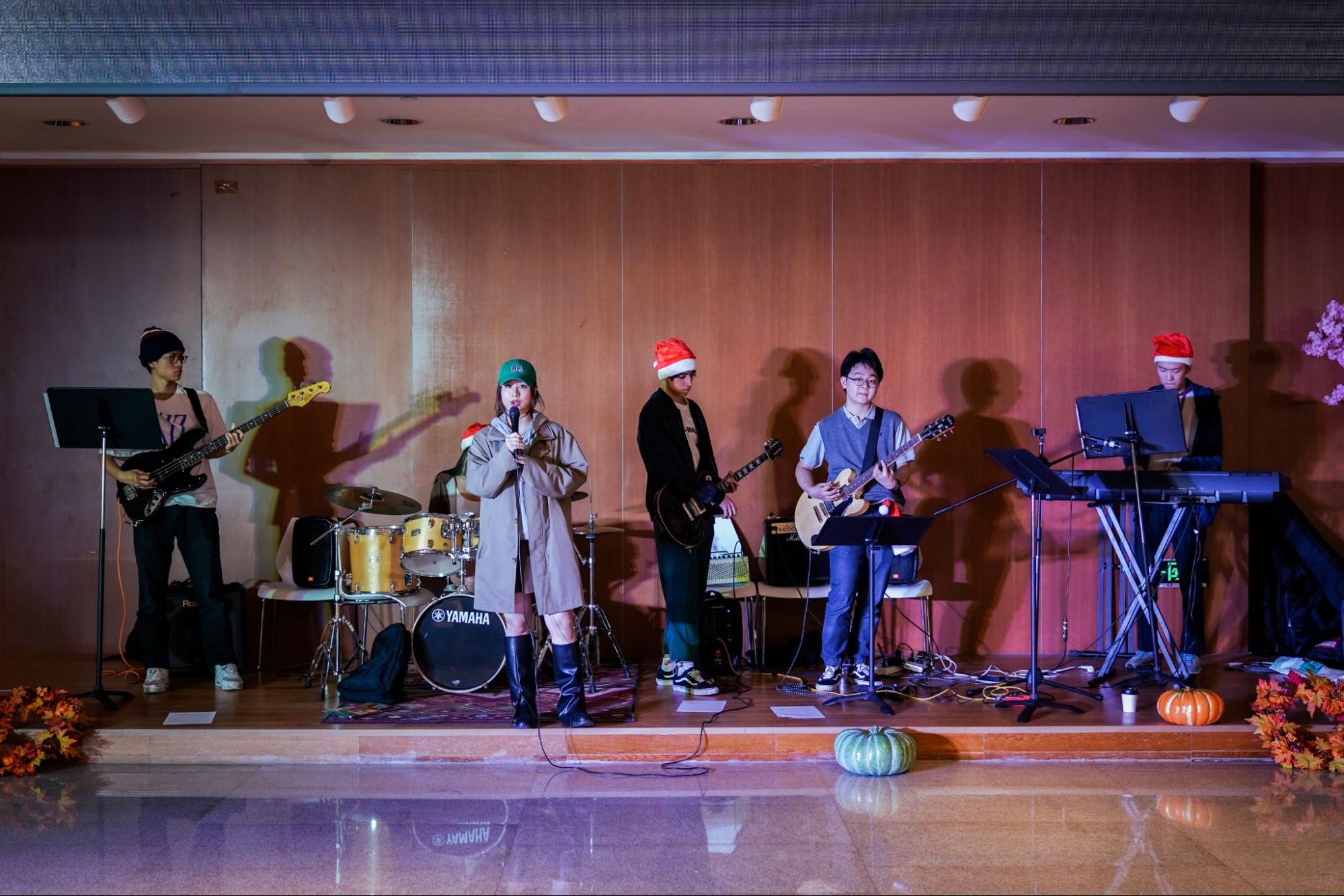 From left to right: Alan Chao on bass, Doris Zhang on drums, singer Katherine Guo, Jacob Zelvin on guitar, David Wang on guitar, and Jim Liu on keyboard.
Despite holding only three practices, the band has accomplished a lot. "We just say which key we will play, and we practice our own parts," said guitar player David Wang '26. "Because most of us have band experience, we can cooperate with each other really fast."
Learning at such a fast pace can be difficult, so the band members are quick to help each other out. Jim Liu '26, who has only studied piano for three months, said he has benefited from the guidance of Alan Chao '23, who played keyboard in the jazz ensemble for two years. "Alan taught me very patiently," he said. "I think he is a super musician."
Even in such a short time performing together, Century Avocado has already played two gigs on campus. Their set encompasses a wide range of sounds, from upbeat pop hits ("Dance Monkey," Bruno Mars's "Treasure") to more jazzy numbers ("Just the Two of Us," KnowKnow's "R&B All Night") and even some holiday classics ("Santa Baby," "Last Christmas").
 

Tarisai Dziire performs with Century Avocado.
Ni plays an active role in guiding the students. "With this band, I can see all the musicians are working hard," he said. "I really enjoy setting a goal and pushing them to become better."
During performances, he blurs the line between band mate and conductor, alternating between performing and directing the band to adjust the tempo or volume. The students find such guidance valuable. "He doesn't say he's the leader, but we all think he is," said Wang.
Century Avocado continues to grow, with plans to introduce a third singer soon. The NYU Shanghai community will have a few more chances to see the band perform in the second-floor lounge before the end of the semester.
Century Avocado features Katherine Guo '25 and Tarisai Dziire '26 on vocals, Jacob Zelvin '25 and David Wang on guitar, Alan Chao on bass, Doris Zhang '25 on drums, Jim Liu on keyboard, and Daniel Ni on saxophone and flute.