Michelle Kwan on Pivoting on and off the Ice
Dec 7 2018
American figure skating legend Michelle Kwan spent the day at NYU Shanghai December 6, meeting with students, joining faculty for their weekly lunch, and engaging in a wide-ranging conversation on stage in the campus auditorium with Vice Chancellor Jeff Lehman about her skating career, her experiences growing up in a Chinese-American immigrant family, and her pivots to diplomacy and politics.
Over the course of a 90-minute "Oprah-style" conversation and Q&A from an audience of about 260, Kwan, a two-time Olympic medalist and five-time world champion, charmed the crowd with her frankness, humor and wit.  
"I just try to be the best version of myself," she said. "For anything public or private, it's just me. There's no situation that somehow I'm different."
Michelle Kwan talks excellence with Chancellor Lehman
Lehman kicked off the conversation by asking Kwan how she defines excellence, as someone who became "the best in the world in a sport that requires a combination of athleticism and artistry."
"It used to be trying to keep up rather than striving for excellence," Kwan said, noting that she followed her two older siblings into skating and just didn't want to be left behind. "When you learn jumps, you start with singles, and then doubles and triples; when you start to compete, there are preliminary, juvenile, junior and senior levels, world championships and Olympics, always one step in front of another."
From 1996 to 2005, Kwan won nine US championships, five world championships, and two Olympic medals, receiving a record 57 perfect scores in major competitions. She was the first figure skater in more than 50 years to receive the James Sullivan Award as the best US amateur athlete, and only the fifth figure skater to be named Sportswoman of the Year by the US Olympic Committee.
"I am always hungry for the next [challenge]. Of course I strive for perfection, but I also create my own game and challenge myself to be better," Kwan said.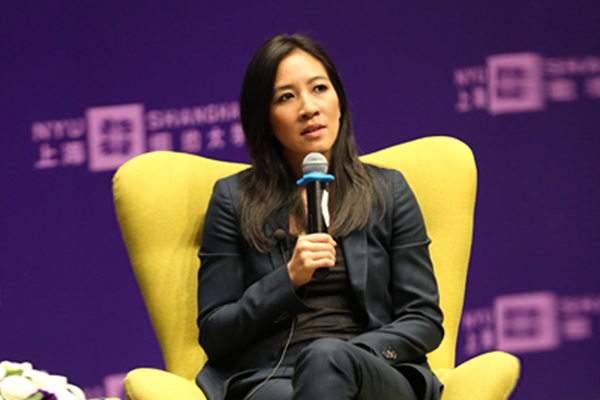 Kwan: "I also create my own game and challenge myself to be better"
During the 1996-97 season, Kwan debuted a change of edge spiral that soon became her signature move, famed not only for her great extension and line, but also her speed, strength, security and smoothness in executing the change of edge.
"There were these creative moments when I thought I wanted a statement piece, a 'Kwan Move,'" she said. "But it didn't happen overnight. The first time I tried it, I fell on my face. There was no shortcut. I worked very persistently to build my flexibility to a level that finally allowed me to do the inside-outside spiral."
After retiring from skating, Kwan earned an undergraduate degree from the University of Denver and a masters degree from the Fletcher School of Law and Diplomacy at Tufts University. In 2006, the US State Department named her a public diplomacy ambassador, and in 2012 she became a State Department senior adviser for public diplomacy and public affairs.
Reflecting on her role changes and new career prospects, Kwan said: "It's a journey of self-discovery, finding out what my passions are outside of sports. I wish athletes could be more open to possibilities, because it's tough when your identity is finally stripped away as an athlete."
As she considered her various options post-skating, Kwan said she was surprised by what her father, who had been a "tiger parent" and pushed her to achieve so much during her skating career, advised her to do next:  "Relax and get married." It was advice she was not ready to take.
Kwan regaled students with the story of how she, too, gave a mortifying elevator pitch to then-US Secretary of State Condoleezza Rice in order to land her first job with the US State Department, albeit under more glamorous conditions than usual. At a State Dinner for then Chinese President Hu Jintao, Kwan said she forced herself to introduce herself to Secretary Rice, who she knew had also been a figure skater. "At the end of a very very very brief conversation, I said, 'if there's anything that you need me to do - ever - please let me know!" Kwan said, recreating the eager yet awkward smile she flashed the Secretary.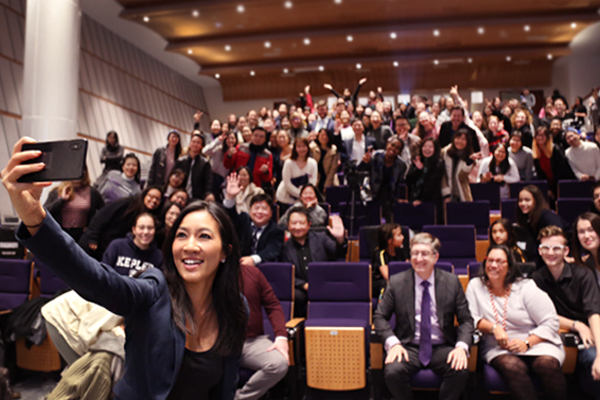 Kwan snaps a selfie with students
Anticipation among Kwan fans built all week, as posters announcing her visit blanketed the Academic Building. Yao Yue '22, who studied skating for years as a child, said she was excited to see her idol here at NYU Shanghai. "She was an extraordinary athlete, but now I'm convinced it is not her only identity," Yue said. "She is an optimistic, humorous and easy-going person. Most importantly, she is a role model from whose experience I've benefited a lot: 'Don't let others define you. Always be yourself. Keep chasing what you really want.'"
Before the conversation on stage, Kwan also shared bubble tea and career advice with students at a roundtable organized by the Diversity Initiatives office. The Olympian also visited an end-of-semester student art exhibition, as well as the Interactive Media Arts lab.
Watch the full video below: