Ling Mei MA TESOL '21: Teaching Chinese in Saudi Arabia
Jun 7 2021
After seven pandemic-related flight delays, TESOL graduate Ling Mei, MA '21 finally landed in Riyadh, Saudi Arabia, last November to start her adventure as the first Chinese teacher at an international school.
Teaching abroad has been a dream of Ling's ever since she started her career as a teaching assistant at an international school in Shanghai. To realize this dream, Ling, who had majored in English Literature instead of education in college, set about gaining the qualifications she needed to advance in her career, including joining NYU Shanghai - NYU Steinhardt's TESOL program in the summer of 2019. Though the program's focus is on English teaching, she knew she would benefit from its systematic training in language teaching in an international context.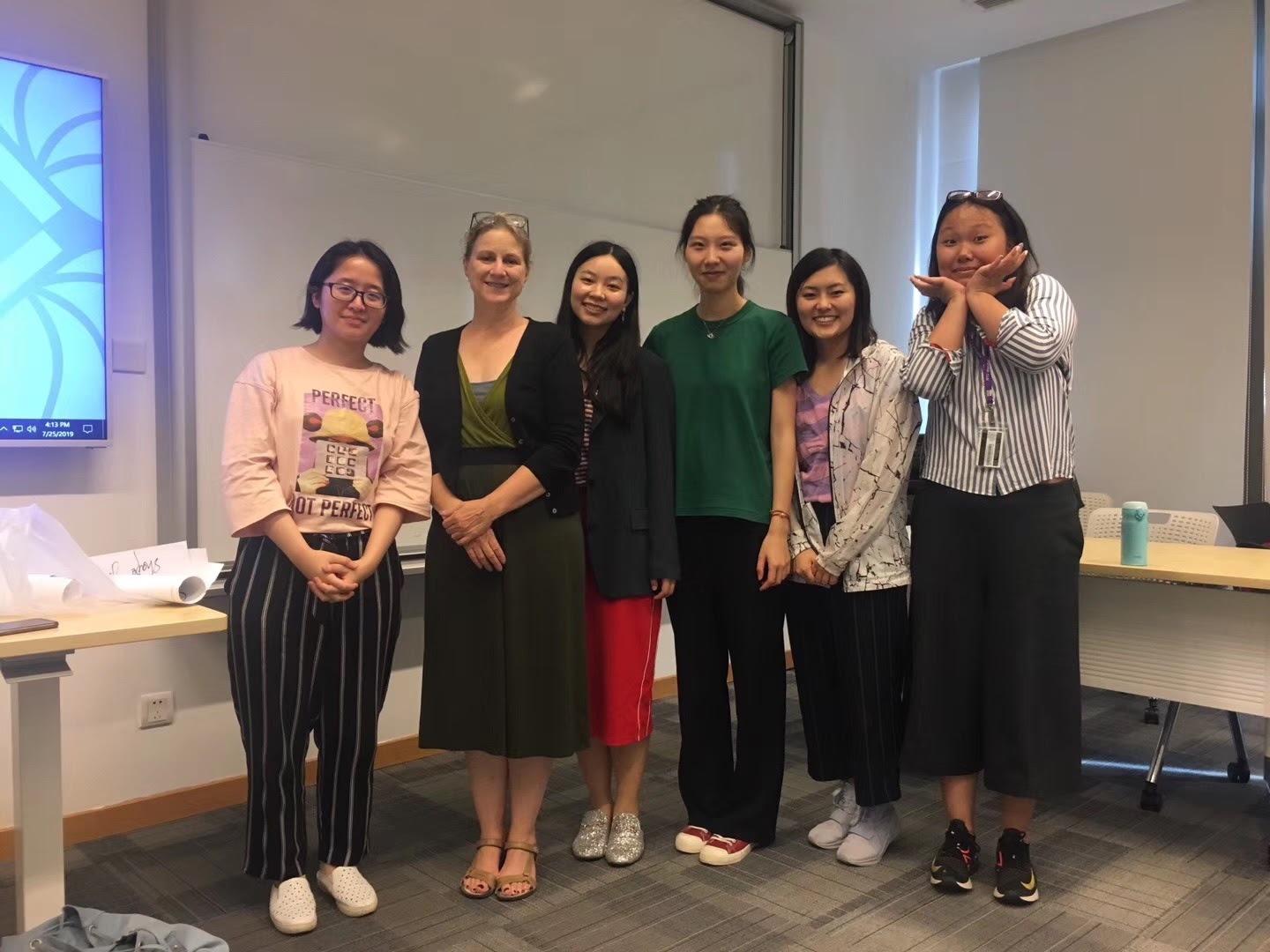 Ling Mei (third from right) in TESOL class
Her dream came true earlier than expected. At the end of her first semester in the program, Ling saw an online ad seeking Chinese teachers for a school in Riyadh. The government of Saudi Arabia had recently announced that Chinese would be taught as a third language in schools, leading to a huge increase in demand there for Chinese language teachers. "I felt I was fully prepared for the challenge," she says. "I thought, 'why not make it my first stop of teaching abroad?'" 
As the first-ever Chinese language teacher at her international school, Ling has had to develop a Chinese language curriculum for students of all age groups from scratch. For kids under Grade 4, Ling started her class with daily conversations and self-introduction to familiarize them with the language. After practicing, the kids were encouraged to extend the words and sentences they learned to a broader range of scenarios, such as introducing their families, communities, and the society.
Once the students mastered basic knowledge, Ling changed her class to a project-based one where she asked them to conduct research on various topics, such as the Silk Road, and dig into the related history and culture.
Ling drew on her TESOL studies almost immediately. "For example, this curriculum was inspired by a theory I learned called Backward Design, which requires teachers to set the goals and desired outcomes before thinking backwards on activities and assignments to reach them," Ling explains. "For upper grade students, my goal was to let them advance their reading and communication skills and have a deeper understanding of the culture. To complete this, I designed the group project in which they needed to read various materials, communicate constantly, and think actively, which made the class more purposeful and efficient."
Living in Riyadh, Ling says she has gained a much deeper understanding of Islamic culture in Saudi Arabia. 
Ling Mei travelling in Saudi Arabia
Gender segregation, for instance, is more severe than she had expected. At her school, boys and girls are strictly separated into two campuses respectively taught by male and female teachers. Though kids under Grade 4 all study on the girls' campus, they are still segregated into different classes. Ling so far has not had any male students in the upper grades, but she's working hard with the IT department at the school to bring her class to the boys online.
Ling says her biggest on-the-job challenge has been introducing Chinese culture in the Saudi context. For instance, in a unit on traditional Chinese festivals, Ling had originally planned to add activities such as sending out red envelopes or telling stories about the moon, but she later dropped this idea as it may offend some religious sensibilities. "It needs to be carefully decided how another culture should be introduced in order not to offend their own culture, which causes many limitations," Ling says.
For guidance, Ling says she turned to the 'Culture Iceberg Theory' she learned from Professors Heather Woodley and Erica Saldívar García in their Workshop in Foreign Language Education class last summer. According to the theory, culture is divided into visible practices, such as dressing styles, food choices, and invisible patterns and mental models, such as religious belief and ethics. People cannot really understand a culture unless they dig into the deep patterns and models. "Thanks to the theory, I got a clear idea of what was appropriate to teach and what was not," Ling said. "It also motivated me to keep making my class more fun and informative."
Even with the constraints posed by the local environment, Ling says she was able to add various traditional activities to her curriculum, such as making lanterns and studying Chinese songs. 
Ling earned her master's degree on May 30 with a thesis on how cultural differences can influence language teaching in Islamic countries. She also hopes to pave the way for future Chinese teachers coming to Saudi Arabia. 
"I designed all the courses at my school, which may to a great extent influence the development of Chinese education in the whole country. This is a huge challenge, but I am confident to do it well despite the restrictions," Ling says. "I also see the potential in this country to develop Chinese education, so I may stay longer to develop my career here. I hope my experiences could be helpful to my future colleagues."