Foreign Experts and the Making of Global China
Nov 30 2018
Historian Julian Gewirtz came to NYU Shanghai November 28 to share his research on the history of how foreign experts influenced the early stages of China's reform and opening-up, which marks its 40th anniversary in December.
Promoting his new book, Unlikely Partners, Gewirtz traced for a crowd of some 40 NYU Shanghai students, faculty and staff China's numerous exchanges with foreign economists from both socialist and capitalist countries beginning with Mao Zedong's death in 1976 to 1993, when China officially embraced a "socialist market economy."
Gewirtz centered his remarks and analysis on the Bashanlun Conference of 1985, which took place on a cruise ship steaming down the Yangtze River and brought leading international economists such as James Tobin, Alec Cairncross, and János Kornai to spend a week with top Chinese policymakers.
"What Julian writes about is the tension between the openness for foreign ideas and insisting that everything is native-born. How could these seemingly contrasting models, former enemies, and polar opposites, possibly be partners?" said Provost Joanna Waley-Cohen in her welcome remarks. "Opposites attract."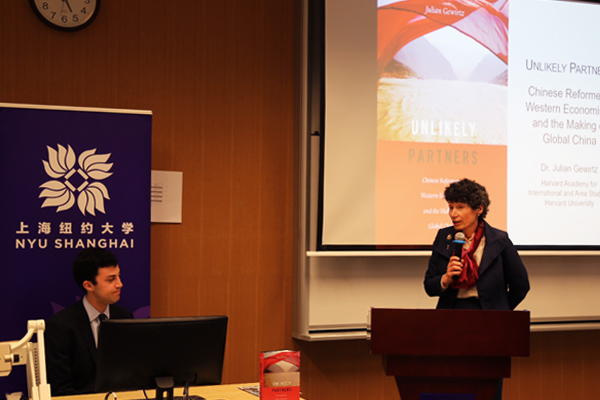 Amy Qi, NYU '20, had the opportunity to interview Gewirtz before his talk and to learn more about his interests and his long-standing relationship with China:
Q: What inspired you to investigate and write about the history of "the making of global China"? Where did your interest in China and international affairs stem from?
I started studying Chinese when I was young, so it's been a part of my life for many years. Then I spent time in Beijing studying Chinese and working at Caijing Magazine, which was perhaps the most independent news outlet in the mainland at the time. At Caijing, I got to experience how Chinese journalists covered news and to see elements of China's economic rise firsthand. Caijing also frequently published works by leading economists who talked openly about how China's reforms had occurred, which stimulated my interest in the themes that would eventually become my first book. In college [at Harvard], I started researching more about Chinese history and politics, coming to focus primarily on China's changes since the 1970s, which also became the focus of my graduate work at Oxford [as a Rhodes Scholar] for my doctorate.
Q: Historically, Chinese policymakers and western scholars collaborated to lead the way to China's future development. What role can young people play today? What about joint venture universities like NYU Shanghai?
There's no better way of crystallizing what the stakes are than to focus on the next generation, because the truth is that we will inherit the US-China relationship that our parents' generation leaves us. We are already beginning to inherit that relationship, and we'll have to live with it, so it's really important for young people ourselves to make the case for continued exchange. Institutions like NYU Shanghai can be one way to put this into practice, because they can exemplify this theme of international exchange potentially advancing intellectual openness in China.
Q: From your own experience, what are the best ways of learning about China? What is your advice for future "China watchers"?
Being able to develop friendships with Chinese people, to learn about how Chinese people of different backgrounds think about the world in different ways, to study Chinese history and society, and also to learn about what life is actually like in China on a day-to-day basis - those things are not only personally meaningful but also extremely rewarding intellectually. I'd encourage future "China watchers" to seek out ways to do those things, because they provide a superb foundation for understanding China and its global role.