Graduate Student Spotlight: Xu Feng, M.A. '20
Aug 19 2020
Hometown: Wuxi, Jiangsu Province
Graduate Program: NYU Shanghai - NYU Steinhardt Master's in Teaching English to Speakers of Other Languages (TESOL)
Undergraduate Major: BA, English Teaching, Shanghai Normal University
Graduate Destination: English teacher, Shanghai Jian Ping High School
 
Xu Feng had been teaching English for 20 years at a Shanghai high school and decided he needed to take some time to recharge himself and advance his own education. 
When a friend told him about the new NYU Shanghai - NYU Steinhardt Master's in Teaching English to Speakers of Other Languages (TESOL), he thought the two-year program might be a perfect fit. 
"I like its curriculum, which is a combination of theory and real practice. It involves essential teaching theories, teaching practices, and cultural awareness. Professors are all experienced in their fields and later they were found to be so considerate and inspiring," Xu says. "As a part-time program, it was perfect for working professionals. Instruction took place on weekends in person or online, which did not conflict with my day job."
Xu speaks highly of the six-weeks he spent studying at NYU's New York campus during the summer of the second year. 
"By visiting local museums, libraries, special learning centers, and language schools, we gained a better understanding of New York culture," says Xu. "We traveled to Boston, Washington, D.C, Los Angeles, and Miami during the weekends and gained  knowledge that we could not get from books." Studying, living, and traveling together with his classmates also reminded him of the fun of his undergraduate days.   

Xu says he also appreciated the opportunities to put his classroom learning into practice. In April 2019, as part of the course, Second Language Classroom, Xu gave a guest lecture at Shanghai High School using online resources such as video to invigorate his presentation.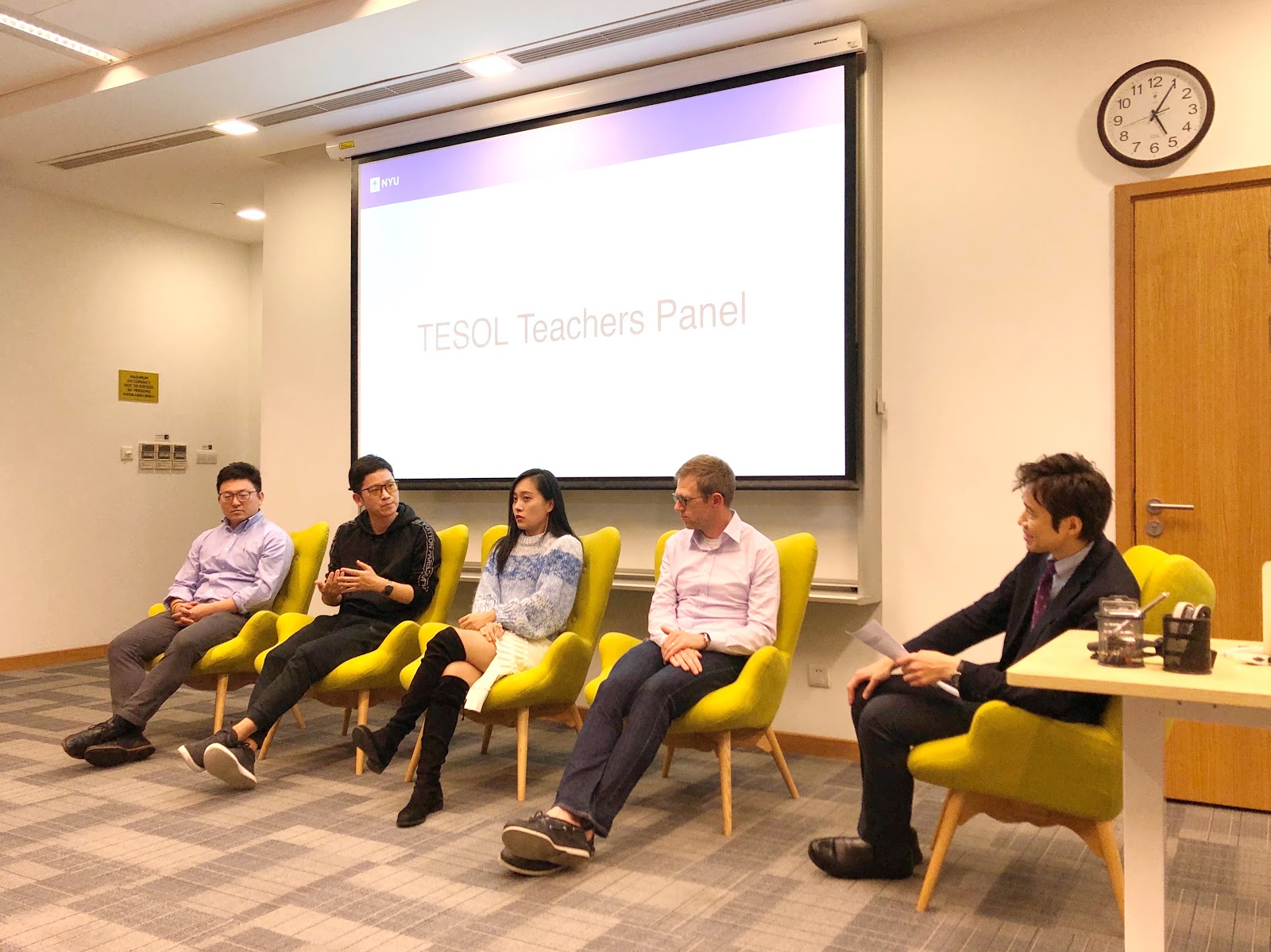 Xu (second from the left) speaking at the TESOL Teachers Panel 

Xu says he is grateful to all his professors, and especially TESOL Program Director at NYU Shanghai Kentei Takaya for his hands-on guidance. "Most of our professors such as Takaya are very responsible and helpful. He guided us in revising our essays and patiently replied to all my questions no matter how late or early I sent them."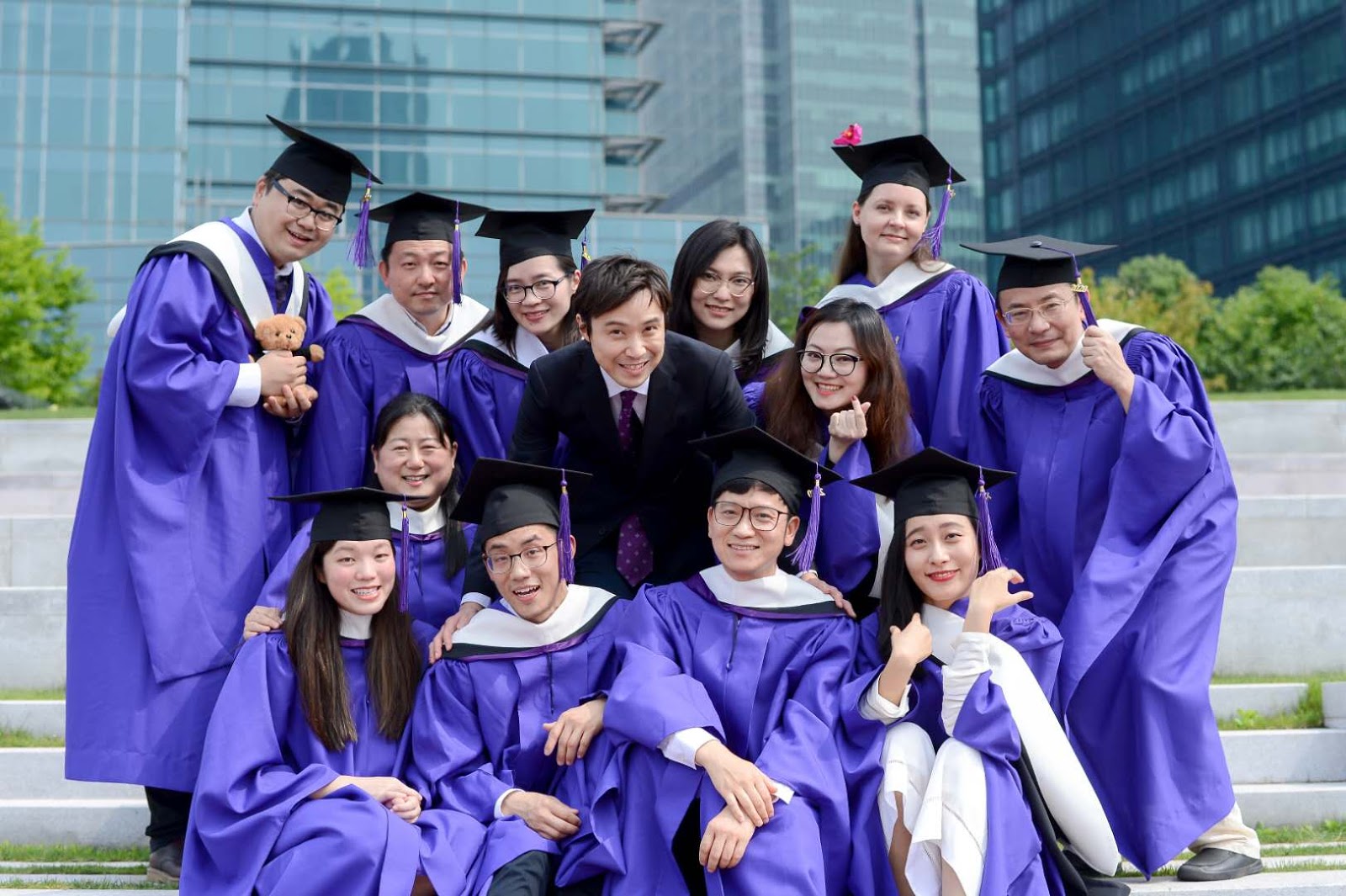 Xu (second from the right in the first row) and his classmates in graduation gowns with Prof. Kentei Takaya (in black suit). Xu says he and his classmates have become great friends: "They are my greatest treasure."
Xu has already observed his changes in teaching since his graduation from the program. "What I gained most is that teachers should establish an emotional bond with language learners because only when students are willing to embrace new knowledge can learning take place. Now before I walk into the classroom, I will take more factors into consideration to cater to students' needs," says Xu.
For Xu, joining the program was a huge investment in terms of both finance and time. But it was worth it. "All the time I devoted to doing the homework, designing lessons, carrying out the research to complete the projects, has made me more confident, more teaching aware, and more ambitious to become a better language teacher."