Graduate Student Spotlight: Wu Kaiwen B.A. '19, M.S. '20
Jul 23 2020
Hometown: Beijing, China
Graduate Program: NYU Shanghai - NYU Stern Joint Master of Science in Data Analytics and Business Computing ("DABC") 
Undergraduate Major: Interactive Media Arts, NYU Shanghai
Graduation Destination: Consultant, Deloitte Beijing 
Q: Your undergraduate major was Interactive Media Arts. Why did you choose NYU Shanghai and NYU Stern's graduate program on data analytics and business computing over other options?
What attracted me most was its industry focus and career orientation. For practical reasons, I wanted to increase my employability and become more competitive in the job market.. 
To me, data analytics has a wide range of applications and business computing is a useful tool for solving business problems. I think this was a very popular program with an impressive prospect, so I chose it among three other media-related graduate programs without hesitation. The one-year study was like an eye-opening journey which equipped me with many practical skills.
Q: How was the transition from the  arts to data analytics?
The finance courses I took in the past were of limited help in my master's study. And since I didn't have a Data Science background at all, I felt stressed at the very beginning. 
But the course sequence Statistics, Introduction to Python, and Stochastic Processes & Simulation helped lay a solid foundation of Mathematics and Programming in the first two-and-a-half months in New York. 
Q: What courses and professors impressed you most?
Professor Liao Ming is one of my favorite professors. I took his Capstone and Data Driven Decision Making courses. It was my first exposure to Machine Learning systematically and Liao's clear explanation of basic concepts and specific models greatly inspired my interest.
Professor Jiawei Zhang not only cared about our study but also shared lots of his own experiences. His Decision Models & Analytics was  one of the most popular courses among all my classmates. He taught us how to use optimization algorithms and how to write code.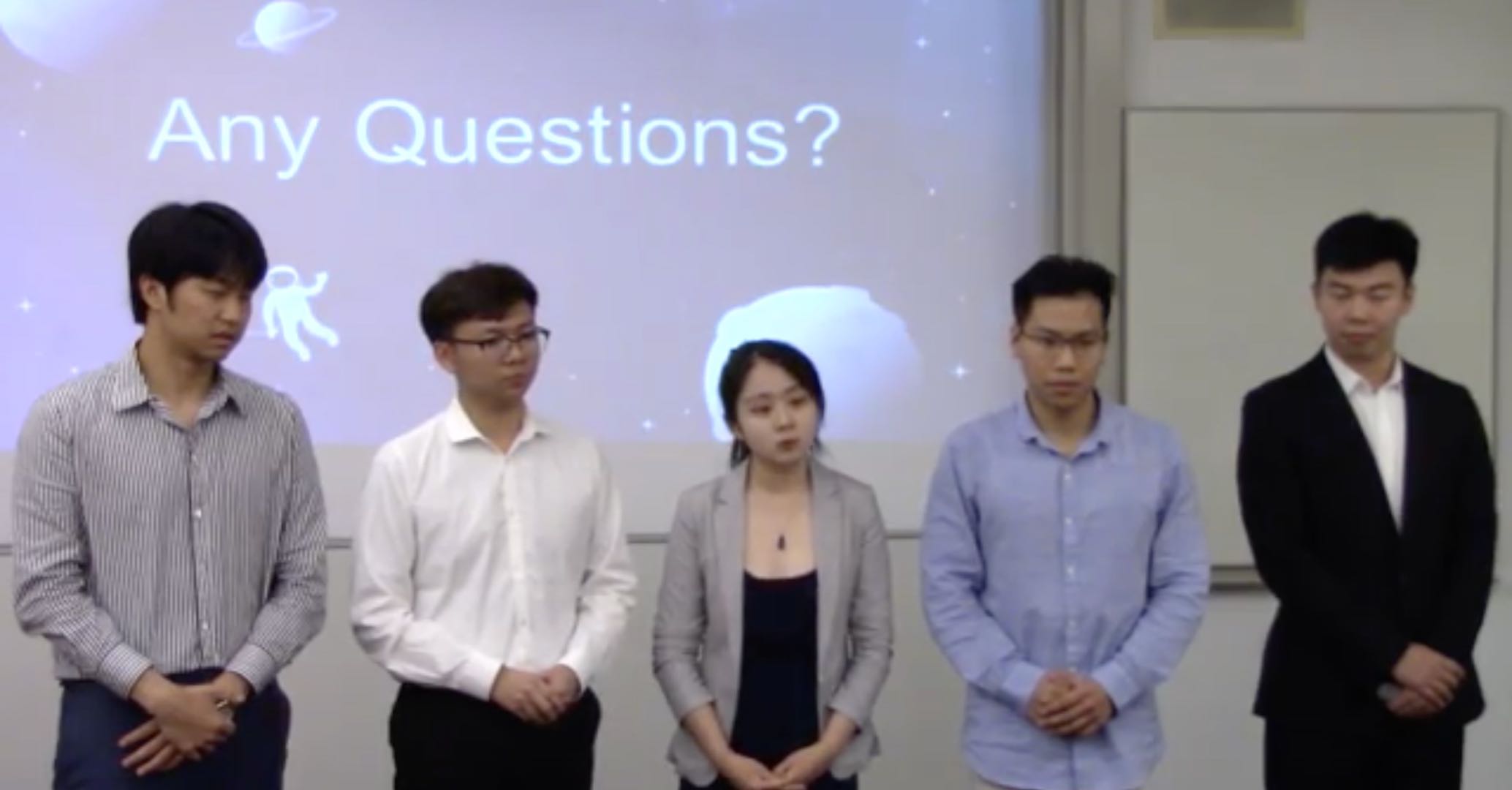 Wu Kaiwen (in the middle) and her classmates presenting at their first class

Q: Tell us about your internship experience.
I'm a big fan of The Three-Body Problem, so I applied for a position at its copyright owner,  YooZoo Pictures, in the fall. It is an international film-television company and I was involved in new media related matters, web data gathering and analysis. It was quite a fulfilling and interesting experience because I was able to apply the media and data analytics skills I learned from class to real cases and I felt that I was contributing to my favorite Sci-Fi. I also gained  unexpected  skills  in event planning, film production, copyright, and legal-related issues.
Q: DABC is a small program - did that help or hinder your studies? 
I made friends with classmates from Korea, Singapore, and the U.S. We went to the same courses, studied together, lived together, struggled together, and supported each other. It gave me a feeling of going back to high school. When I started from scratch, my classmates even took the trouble to explain knowledge points which meant a lot to me.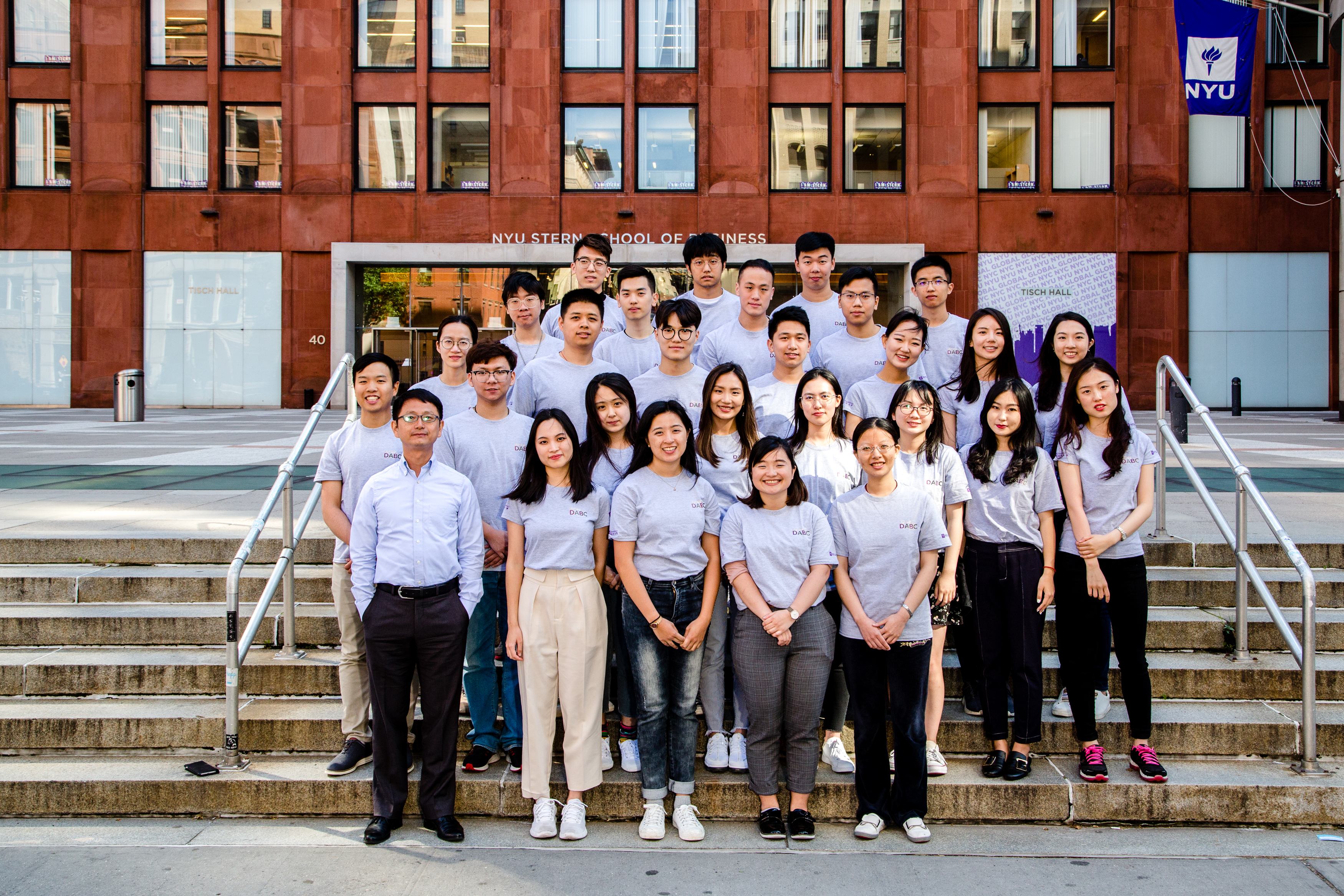 Wu Kaiwen (third from the left in the second row) and her classmates in front of the Stern building