Fall 2018 IMA & Visual Arts Show Preview
Dec 14 2018
True to NYU Shanghai tradition, the Interactive Media Arts (IMA) show will serve as the grand finale for the Fall 2018 end-of-semester-show season. For the first time, on December 14, IMA faculty and students will run the show together with their counterparts in Visual Arts.
The two-hour exhibition on the 8th Floor and Gallery 1250 of the Academic Building is expected to feature more than 100 student projects from foundational IMA courses such as Interaction Lab, Application Lab, and Communications Lab, as well as selective courses such as Creating Immersive Worlds, Re-Made in China and Real-time Audiovisual Performance Systems. Earthworks and installations crafted by students from courses such as Printmaking in an Expanded Field, Visual Culture and Social Art Practice will also be displayed.
"The Visual Arts is delighted to be co-hosting in the IMA End-of-Semester exhibition this year. Our students have worked hard to learn new skills such as Chinese painting and calligraphy, drawing, printmaking, photography, video, and relational/community-engaged practices," said Monika Lin, Clinical Assistant Professor of Arts.
A sampling of the projects on display:
"FerroFORMS" by Kevin Li '19
Course: Kinetic Interfaces & Working with Electrons
FerroFORMS explores how ferrofluid can afford unique interactions and allow users to manipulate, control, and transform the existence of the fluid in order to create an immersive visual and responsive sensation.
The project is done through a feedback loop where the fluid itself exists as a computational state or model which can be updated through user input. When the underlying digital model is updated, the physical material is transformed which then communicates to the user of its affordances.
"My project aims to surprise the user, but also explore ways to interact with new materials. Although we may not be able to completely control matter today, understanding its complexity or structure will give us insights into how we might interact with the physical world or how the physical world can communicate with us in the future," Li said.

"Book of Privileges" by Sam Jianghao Hu '19 
Course: Printmaking in An Expanded Field
Book of Privileges is a collection of individual privilege status mapped into unique color patterns. The patterns are generated by people's different answers to 25 statements about various social identities such as gender, sexuaility, and ethnicity. Those patterns are then printed onto translucent papers with woodblocks and are organized together into a book.
Audiences will be able to read each individual page of the book separately to recognize individual differences, and they can also read a build of several color patterns together and recognize the diversity of our community as a whole.
"I wanted to incorporate the notions of privileges and social identities into my project, especially in a visual form directly engaged with the audience," Hu said. "I'm hoping to raise people's awareness of diversity-related issues both in and out of our community," Hu said.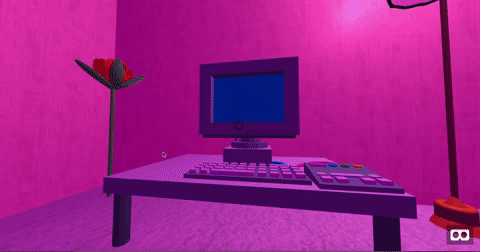 "Broken Heart Museum" by Zeyao Li '19 
Course: Exhibition: Next
Broken Heart Museum is a mixed reality museum that digs into possibilities of mixing the physical world and the virtual world, and blending both of the worlds together. The museum is heavily inspired by "Milk and Honey", a collection of poetry that is written by Rupi Kaur, about the experience of violence, abuse, love, and loss.
The museum is the final work of a 7-week-long class, Exhibition: Next, which explores how emerging technologies can be applied to the museum and exhibition design to enhance the museum visiting experience.
"By creating such experiences, I want to evoke questions about the use of mixed reality in an exhibition. Does mixed reality improve the museum experience or not? Is Virtual Reality necessary for the visiting experience?" Li said.