Estelle Parsons: Nurture the Impulse to Create
Sep 22 2017
Award-winning performing artist Estelle Parsons advised students on Tuesday to unleash their creative impulses and strive for social justice in the first session of this semester's Conversations with the Vice Chancellor series.
Approaching her 90th birthday in November, Parsons sat down with NYU Shanghai Vice Chancellor Jeffrey Lehman in a two-hour dialogue that retrieved her decades of acting experience on stage and screen. She covered topics ranging from actors "finding their truth" to theater's capacity to raise public consciousness about social justice issues like racism and poverty.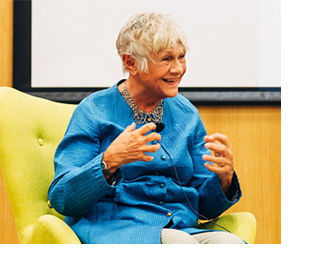 When asked about how to nurture an actor's creative insights, Parsons said a prerequisite is to "lift the strings over an actor's natural, primitive and barbaric impulses," usually controlled in the daily life of a civilized person. "My body is my violin. My violin has to be juiced up in service of my art forms," she said.
Citing examples of the unique teaching methods of the Actors Studio, where she serves as Associate Artistic Director, Parsons also encouraged "de-stifling an impulse" in both performance and other intellectual domains. "A character will only emerge if the actor does not stifle the impulse, no matter how wrong the impulse seems to your brain," she said.
"If you read biographies of famous people, Thomas Edison, the Wright brothers, Einstein, who have achieved tremendous success in their fields, you will see they have all gone through the same challenge," Parsons added.
Shifting from law study to political reporting, from stage performance to film screen, and currently back to directing for the stage, Parsons has enjoyed remarkable career success in each of her chosen fields: she helped create NBC's TODAY Show in the early 1950s, debuted on Broadway in 1956 and won Best Supporting Actress at the Academy Awards, in 1967, for her representation of Blanche Barrow in Bonnie and Clyde.
Last year, Parsons created the Theater & Social Justice program at the Actors Studio to reach out to audiences beyond the occasional, unpublicized public performances the Studio has always offered. Parsons initiated a series of plays to explore racism, religion, poverty and illiteracy and other social justice related issues. For instance, Rhapsody in Black is a play comparing the disparity of choice between black and white children in Pennsylvania during the 1960-70s.
"We open doors for anyone who wants to come see our works and speak up," said Parsons. "We also invite experts focusing on poverty, social biases and other areas to get involved in post-show conversations with our audience."
When asked about the differences among artists, actors and celebrities, Parsons self-identified as both artist and actor. "Celebrities always come with fame and fortune, both of which are repugnant to me. I never take a job unless it appeals to my creativity," she said. "My definition of myself at this stage is that every choice I made has followed my heart."