Connection through Music – "The Friendship of Two Cities: Shanghai–New York"
Mar 7 2023
When melodic strains of the classic Chinese Butterfly Lovers Concerto sounded throughout the Jaguar Shanghai Symphony Hall, the audience held their breath and listened carefully. The jazzy rhythm of Rhapsody in Blue had everyone swaying their heads and tapping along to the beat.These were two of the pieces in the carefully curated program at NYU Shanghai's 10th Year Anniversary Celebration Opening Concert, titled "The Friendship of Two Cities: Shanghai–New York."
The March 3 concert was curated and conducted by Visiting Professor of Music and Composition Bright Sheng. Sheng, an award-winning composer who returned to Shanghai after living in the US for 40 years, selected these two iconic compositions to symbolize the cultural lives of New York City and Shanghai.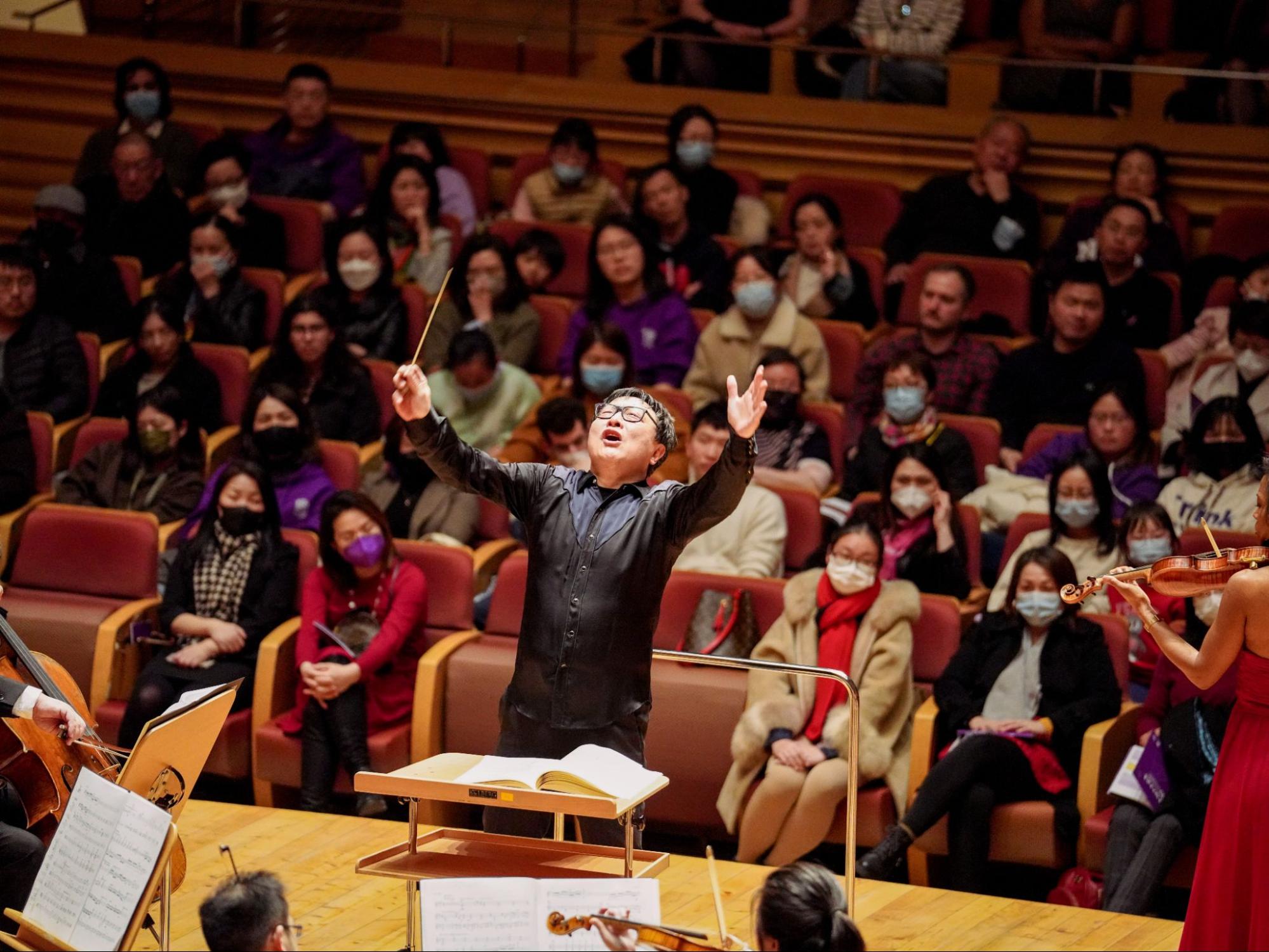 Conductor Bright Sheng at the podium 
The performers Sheng invited were also meant to represent the friendship of the cities New York and Shanghai. American violin soloist  Kelly Hall-Tompkins, accompanied by the Shanghai Symphony Orchestra, shined in The Butterfly Lovers Concerto for Violin and Orchestra, known to be one of the most symbolic compositions of Chinese symphonic music. 
Hall-Tompkins said preparations for her performance were intensive. "I have thoroughly enjoyed immersing myself in aspects of Chinese culture, including learning Mandarin and listening to lots of Chinese traditional folk music, which have both given me much inspiration for approaching this piece," she said. "I love storytelling through music and [am honored] to share my voice in this time-honored tale through this beautiful piece."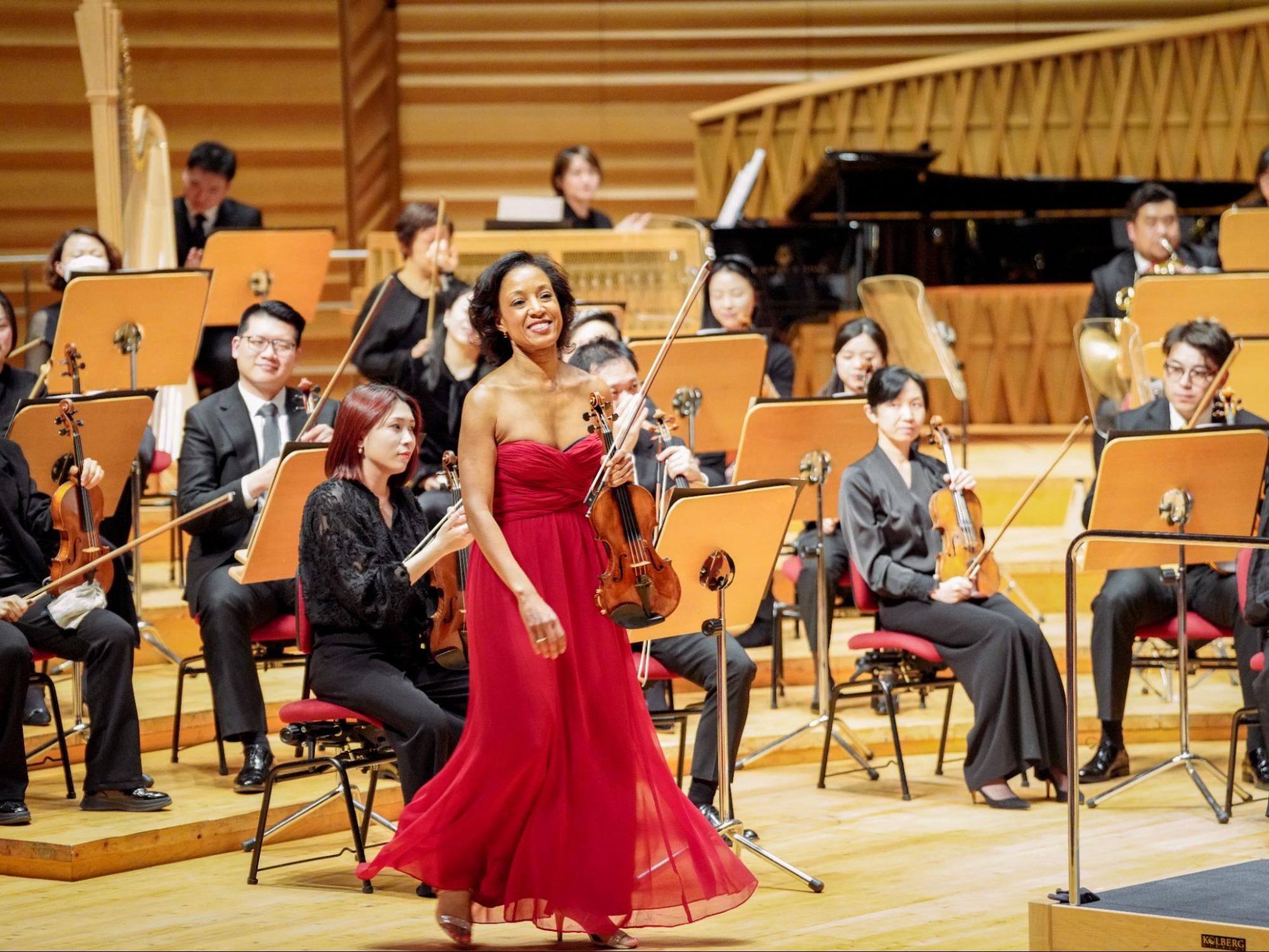 Violinist Kelly Hall Tompkins
Chinese pianist Ming Xie, performed George Gershwin's classic American piece Rhapsody in Blue for Piano and Orchestra originally intended to be performed with a jazz band. Xie, who studied at the Sichuan Conservatory of Music in Chengdu before attending the Juilliard School, found a personal connection to the piece. "New York was where I found myself, where I found my voice and became a complete musician," he said."The people, culture, and lifestyle in New York City shaped who I am and I've built lifelong relationships with people I met there and music was our strongest bond," he added. "I hope through the night's music, we can share this intimate musical moment together."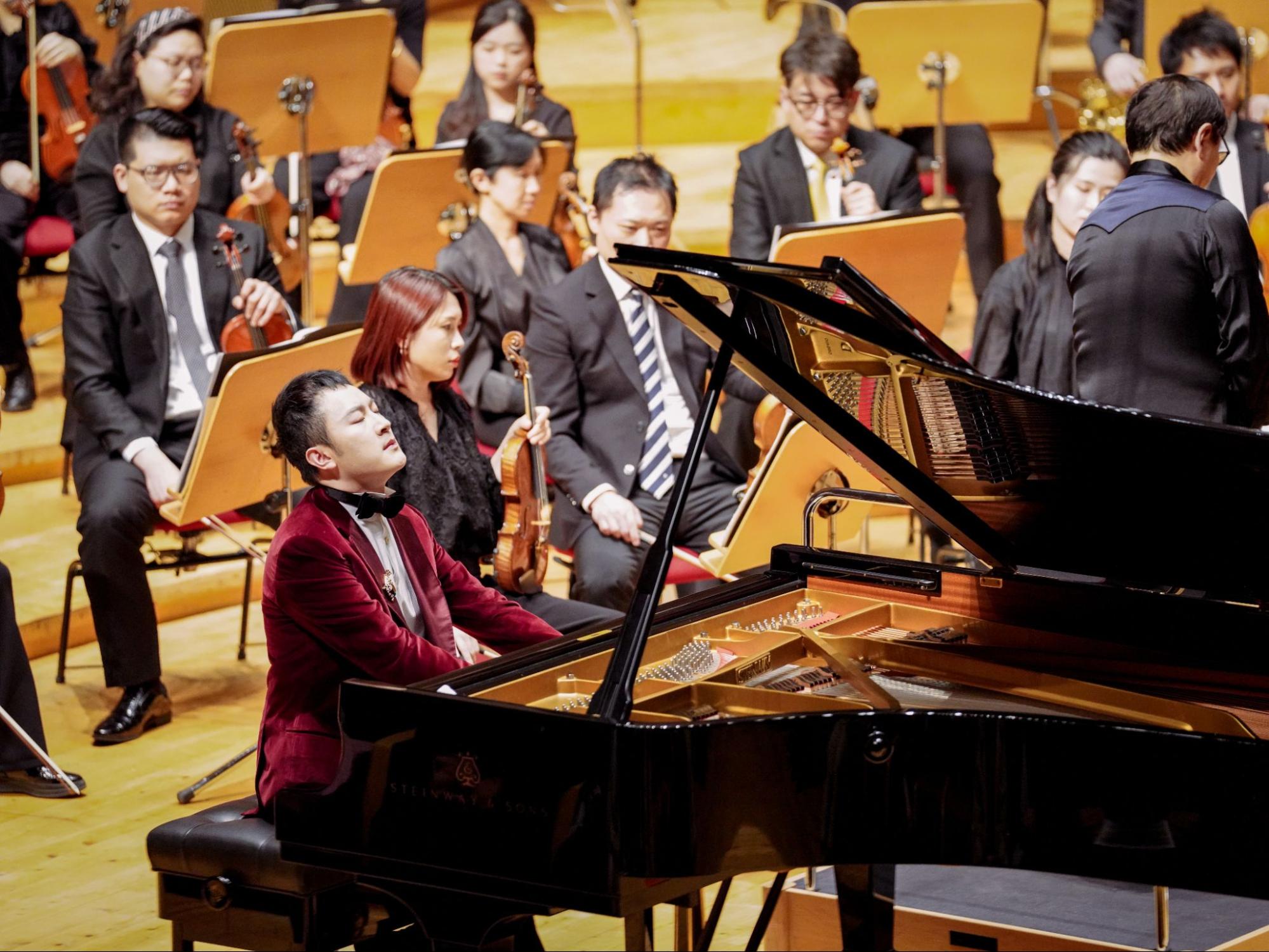 Pianist Ming Xie, accompanied by the Shanghai Symphony Orchestra, performs Rhapsody in Blue
Sheng also conducted the additional two pieces on the concert program, including his own Shanghai Overture, a score that reflect the vibrance of Shanghai – both old and modern, and incorporates traditional Chinese instruments – and Maurice Ravel's Boléro, a piece constructed over a series of orchestral variations on a single theme with a prominent snare drum – ranging from the softest flute to the loudest timpani and crescendoing to a powerful orchestral tour de force at the end. "Whether I perform or write, I want to make sure there is at least one moment in the performance or in the composition that can make the audience forget about their existence, sort of transcending them into this world of art," said Sheng.
The opening 20-seconds of Bright Sheng's Shanghai Overture performed by the Shanghai Symphony Orchestra.
At the conclusion of the concert, the NYU Shanghai chamber singers took the stage in their violet hoodies to sing NYU Shanghai's alma mater song. With Kelly Hall-Tompkins on violin, student bamboo flutist Freddie Yang '26, and members of the Shanghai Symphony Orchestra accompanying the singers, the students' voices carried throughout the concert hall, and were greeted with enthusiastic cheers from the audience.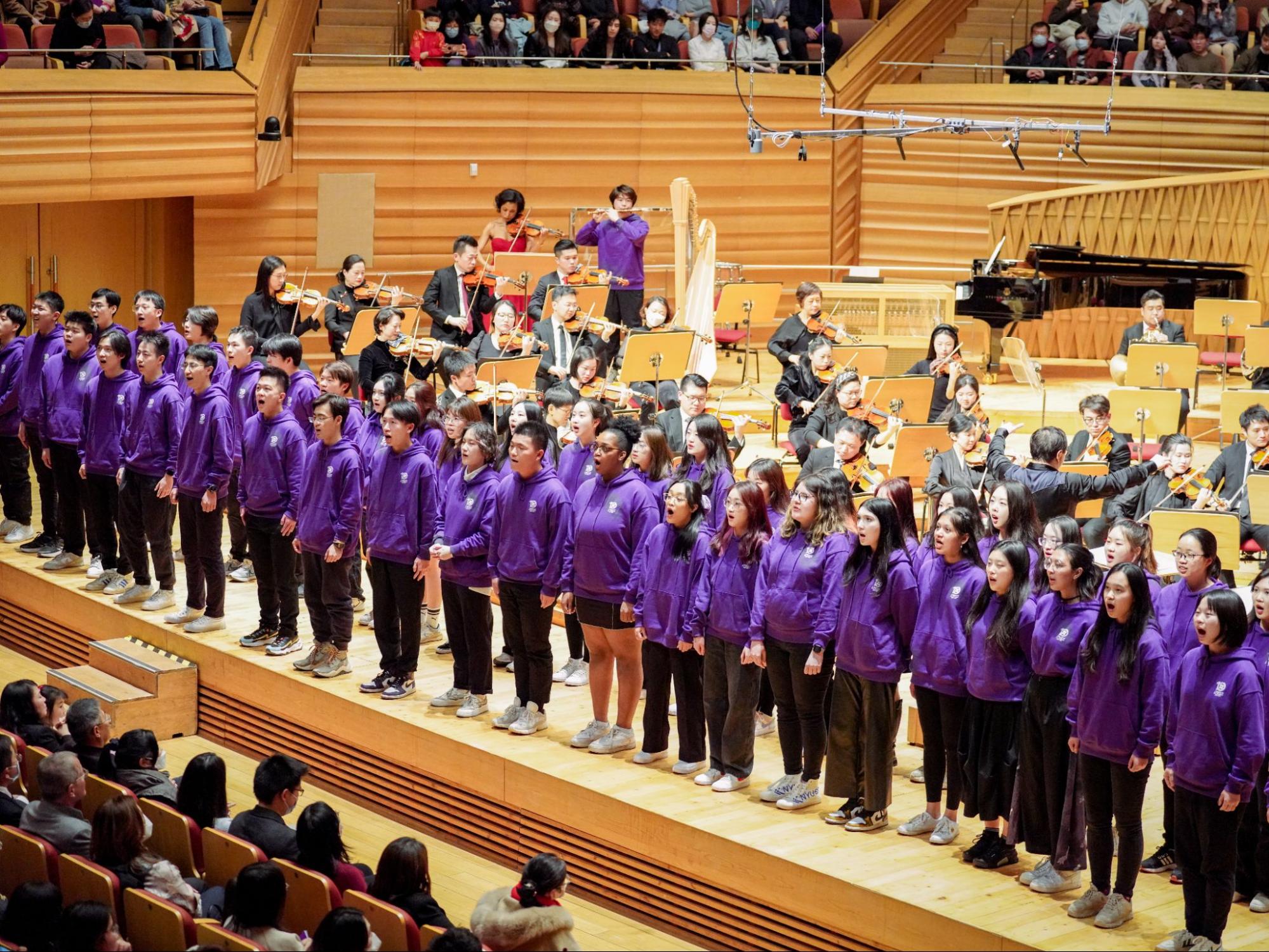 Chamber singers performing NYU Shanghai's alma mater song.
Savanna Peng '26, one of many students in attendance, said she was particularly moved by the closing song. "It was so great to see so many Qilins, even some of my very good friends, perform a piece unique to our university, filling the entire symphony hall with NYU spirit and energy."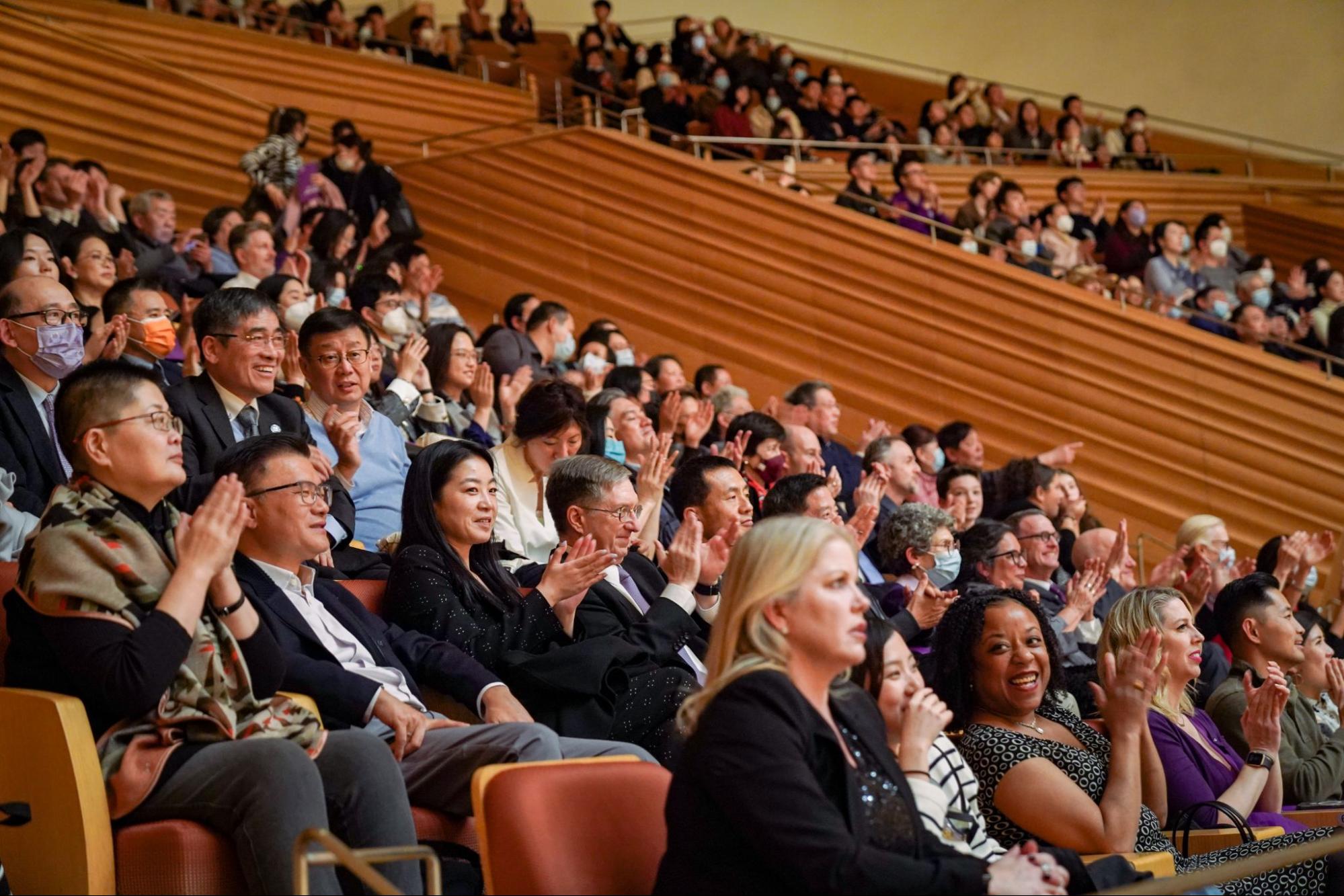 The university will hold a closing concert "Gracious and Transfigured Night" on March 12 at the Shanghai Conservatory of Music's Opera House. Conductor Bright Sheng will provide another feast for the ears of the NYU Shanghai community, together with Clinical Associate Professor of Arts Cheng Yue, violinist Lao Li, and the Shanghai Baroque Chamber Orchestra.