Conference Explores Healthy Aging from Interdisciplinary Perspectives
Mar 24 2023
With population aging becoming an increasingly important global issue, countries around the world are taking different approaches to the growing expectations for healthy aging as life expectancy increases. "Healthy Aging in a Changing Society: An Interdisciplinary Perspective," a two-day conference held at NYU Shanghai on March 18-19, addressed the topic with speakers from a diverse range of fields, including medicine, sociology, demography, anthropology, nursing, public health, and social work. 
The conference was held in collaboration with Duke Kunshan University, Fudan University, and Huadong Hospital and was sponsored by the NYU Shanghai - NYU Silver's Joint Master of Social Work at Shanghai and New York Program with the academic support of NYU Aging Incubator and NYU Silver School of Social Work. Nearly fifty guests from academic institutions, public organizations, and private enterprises attended, with over a thousand viewers watching a live broadcast online.
In her welcoming speech, Provost Joanna Waley-Cohen highlighted the importance of international collaboration in tackling pressing issues such as population aging. "Collaborations of this kind between different types of institutions in different locations can bring important new insights to bear on one of the most pressing issues of our time, an issue that could be said to have sneaked up on us, rather as old age can do on an individual," she said.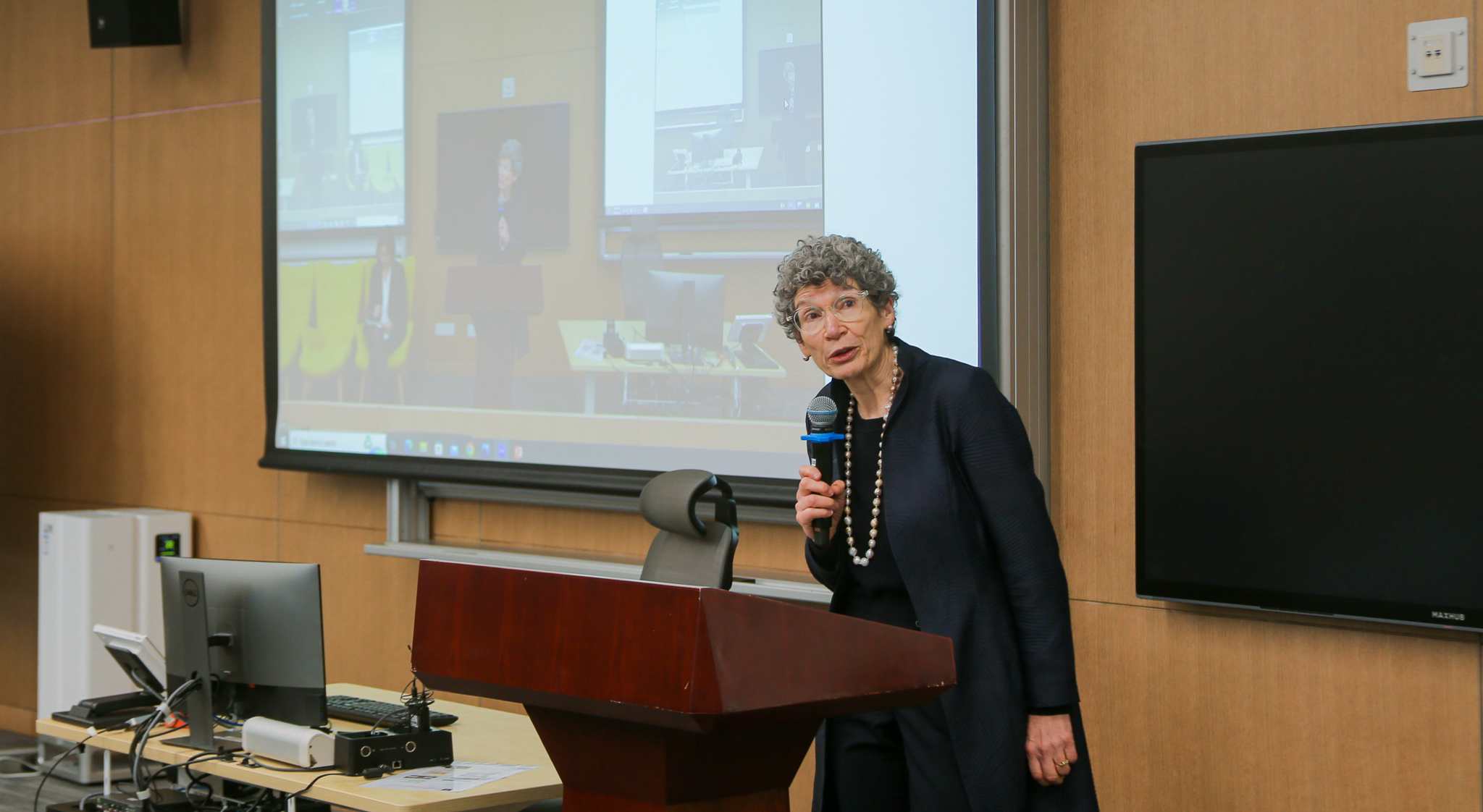 Provost Joanna Waley-Cohen giving welcoming speech
The conference featured scholars and leading academics who discussed the latest research, trends, and future developments. Peng Xizhe, director of the Center for Population and Development Policy Studies at Fudan University, and Lu Jiehua, professor at Peking University, analyzed the newly published census data and discussed the need for a long-term elderly care system in both rural and urban areas. Using examples from around the world, Peng and Lu proposed national policy strategies that China should take to better support its rapidly aging population. Du Peng, director of Gerontology Research at Renmin University of China and Bao Zhijun, vice president of Huadong Hospital, discussed aging from a medical perspective and the impact technological developments could have in the larger field of elderly care.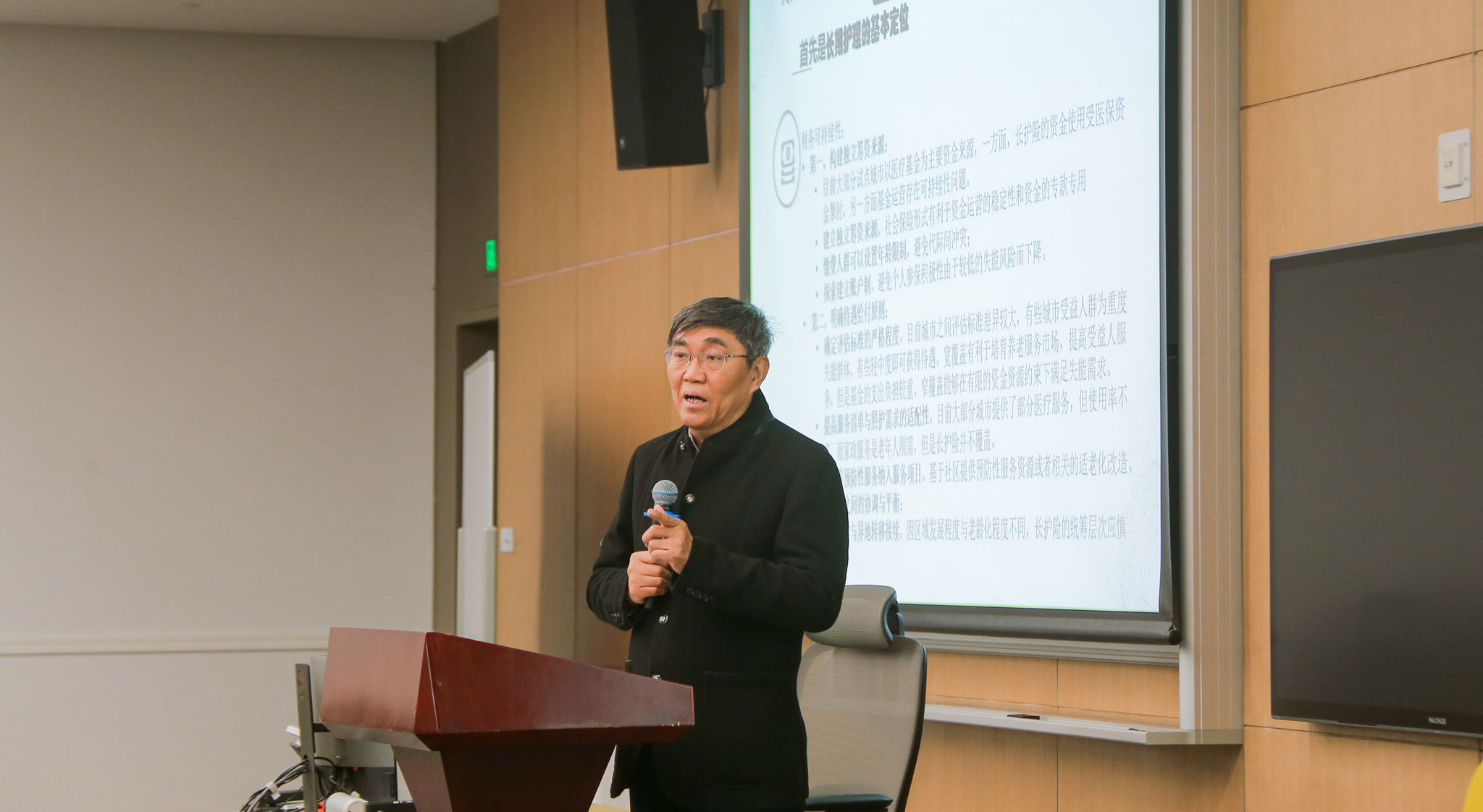 Professor Peng Xizhe giving keynote speech
Scholars also presented the research promoting the integration of health, mental health and social services. Wu Bei, from NYU Rory College of Nursing, presented her team's work  connecting oral health with dementia and diabetes and highlighted the need for a cross-disciplinary approach. John Beard, formerly of the WHO, introduced the concept of intrinsic capacity, which considers health through the lens of functioning, as opposed to through the lens of disease. Using data from the UK and China, Beard indicated that intrinsic capacity is clinically feasible and valuable in both countries, and would support more integrated care. Lum Y.S. Terry, from theUniversity of Hong Kong introduced Hong Kong's JoyAge Project, which offers older adults with common mental health disorders access to timely treatment from primary health care services.
Attendees also participated in discussion sessions, forums, and workshops on topics such as post-pandemic healthy aging, caregiving practices, data research, caregiving workforce, and breakthroughs and developments in geriatric social work.
--------------------
About the Master of Social Work Program (MSW)
NYU Shanghai - NYU Silver's Joint MSW at Shanghai and New York Program is the only MSW program of an American university in China. The program provides the opportunity to experience an innovative global MSW education. Extended immersion in Shanghai and New York allows students to critically reflect on cultural, social, and economic similarities and differences between these two environments, and it enhances their learning about and capacity for culturally appropriate practice.