A Closer Look: Students Learn to Appreciate Century Avenue's Ecology
Oct 21 2022
On the morning of October 15th, members of the NYU Shanghai community gathered to appreciate the beauty and natural wonders of Century Avenue, just meters from their classroom and academic life. Organized by NYU Shanghai's Office of Community Engaged Learning, the Century Avenue nature walk was led by Li Xiang, co-founder of Sorrel Science Studio, and Chen Zihui, president of Fudan University's Herbalsoul Student Club. 
Chen Zihui, president of Herbalsoul Student Club in Fudan University guided students on the Nature Walk
Chen encouraged everyone to pick up fallen leaves while walking, and then guided the participants to identify more than 20 kinds of plants within a 50 meter radius of the Century Avenue campus. Some of these species included Chinese locust, tulip, tallow, hackberry, camphor, sweet-scented osmanthus, redbud, azalea and other shrubs and trees; common flowers such as zijiao (leeks), lycoris, and sage (windmill jasmine); bermuda grass and other seemingly inconspicuous grasses that actually play an important role in regulating Shanghai's urban ecology.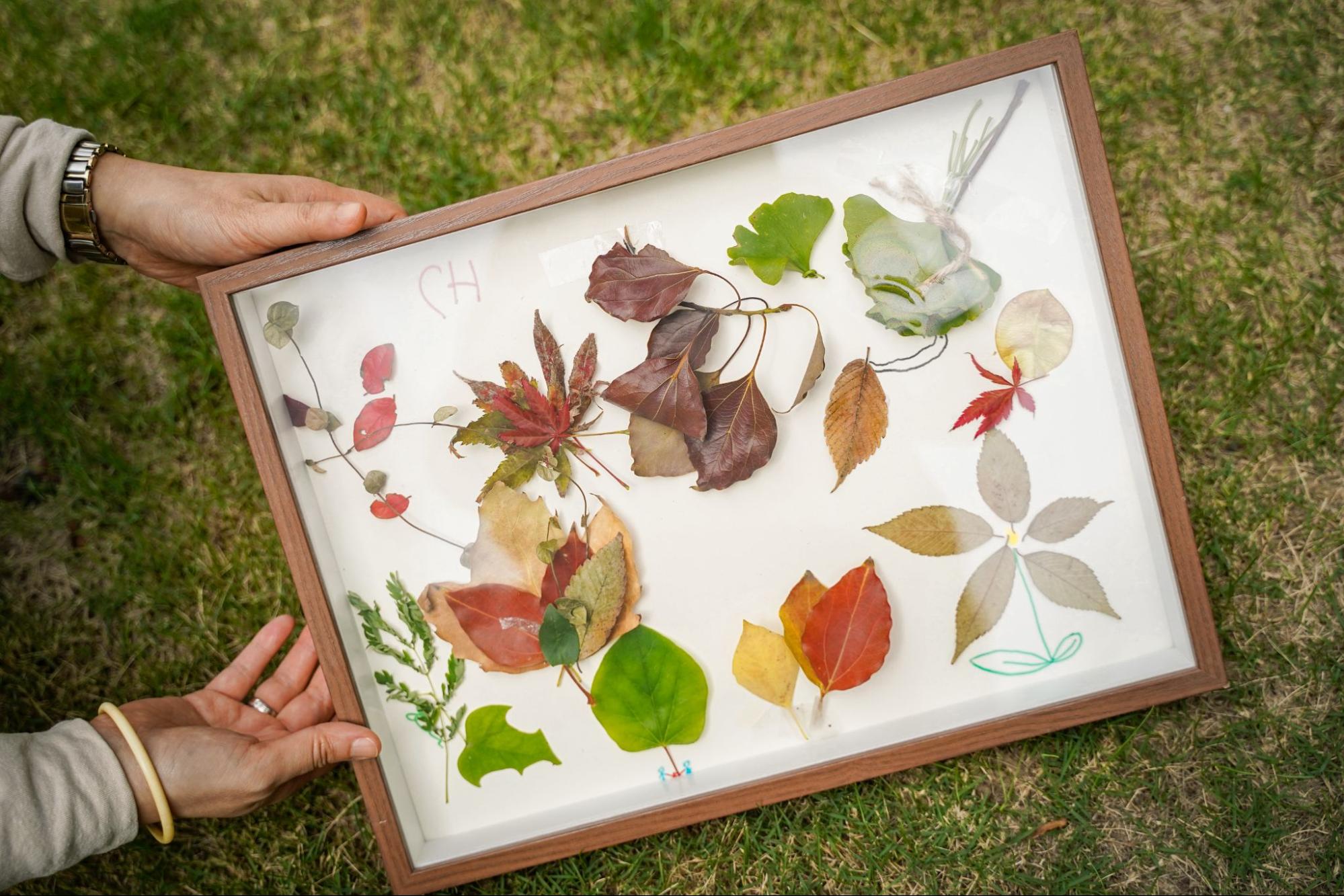 Participants on the walk created this piece of collective art with different leaves found on the walk. 
Zhu Ziyi '25 was one of the participants. "Usually walking on Century Avenue every day, I only pay attention to the sunset or the Lujiazui skyline," she said. She was surprised to find so much nature around her. "There are so many beautiful things to be discovered and felt. Facing nature and immersing yourself in it is better than being obsessed with a mobile phone. Your whole body feels relaxed," she said
First year student Cao Yijia said she was happy to discover the equinox flower. She said that she usually takes the shuttle bus from back entrance of campus and seldom walks on the Century Avenue side. The equinox flower reminded her of her high school years, and helped her make a connection between her hometown and her new life in Shanghai.  "This must be fate ," she said, using the Chinese phrase yuanfen ( 缘分), which means destiny or fate that ties people together.
Participants on the nature walk were surprised to come across a "Chinese-American tree," a hybrid Liriodendron species. Located outside the window of the Academic Building's classroom 101, the tree specimen is the result of cross-breeding a Chinese Liriodendron tulip with a North American Liriodendron.  Chen Zihui and Li Xiang pointed out that this hybrid tree has more obvious genetic advantages including rapid growth and strong pest resistance. Looking closer, there are more than three shapes of  leaves on the same tree, that of the female parent, the male parent and the hybrid leaf type.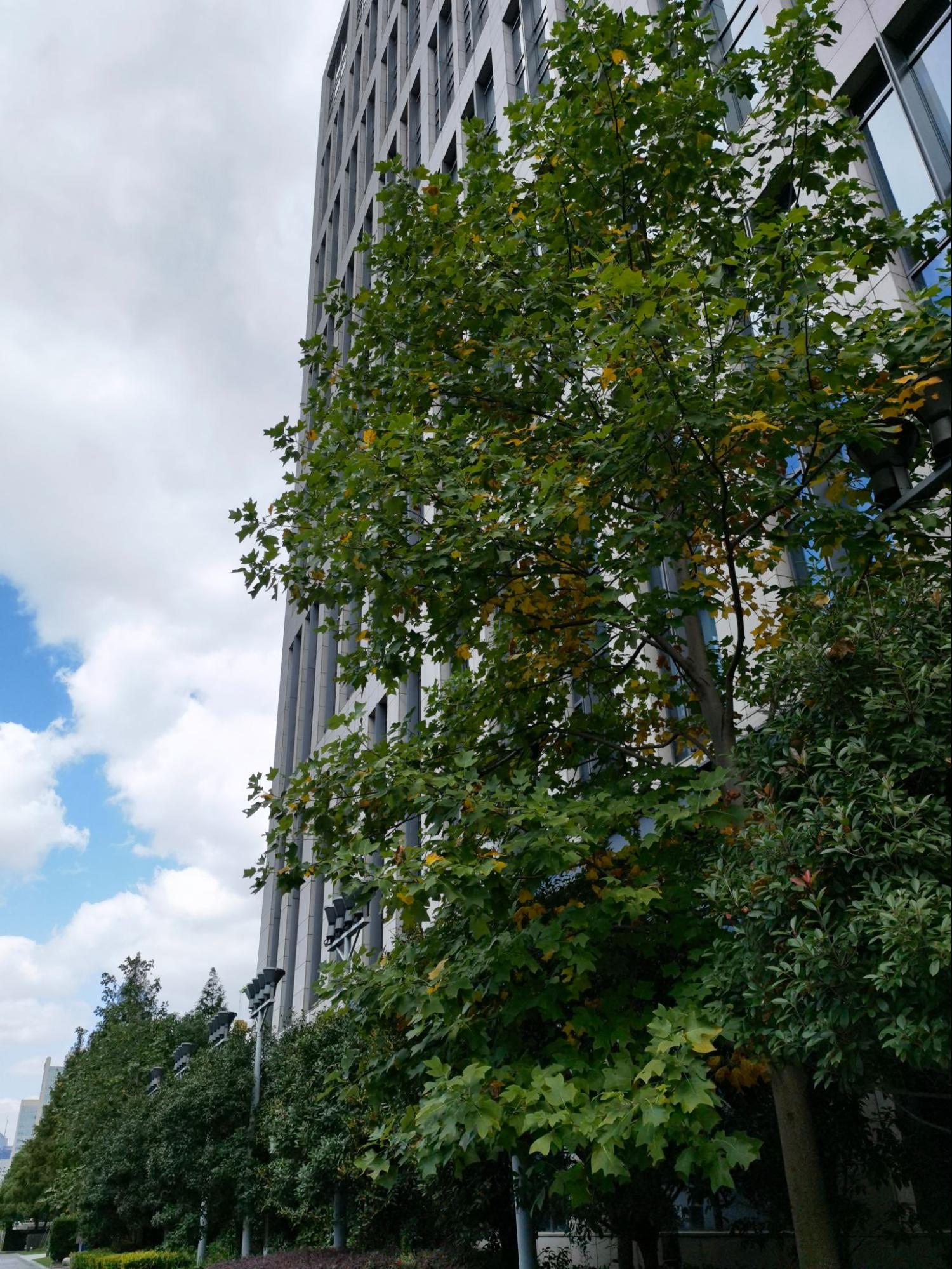 The "Chinese-American tree" out of the academic building on Century Ave.
The nature walk was conceived by the Office for Community Engaged Learning as a way to help the NYU Shanghai community interact with their natural surroundings. Diane Geng, Associate Dean of Academic Affairs, said this was an important aspect of bidding farewell to the Century Avenue campus. "After so many years on Century Avenue, we wanted to create an opportunity for people to slow down, look closely, examine familiar surroundings with new eyes, and learn about the nature in our own front yard, she said. "We look forward to facilitating similar learning experiences to explore our future neighborhood in Qiantan." 
The organizer of the walk, Li Xiang is a graduate from East China Normal University's Ecology Department of. He said he hoped the nature walk would leave a good memory of Century Avenue for the NYU Shanghai community. "In the city, the cost of being happy is getting higher and higher. Paying attention to the greenery around you gives you happiness at no cost," he told the group. "You just need to look, smell and touch them, and you will naturally gain peace and happiness, the happiness that everyone deserves." He said he was optimistic that walks like the one he led can create positive change.  "When people pay attention to nature," he said, "their concept of environmental protection will naturally improve."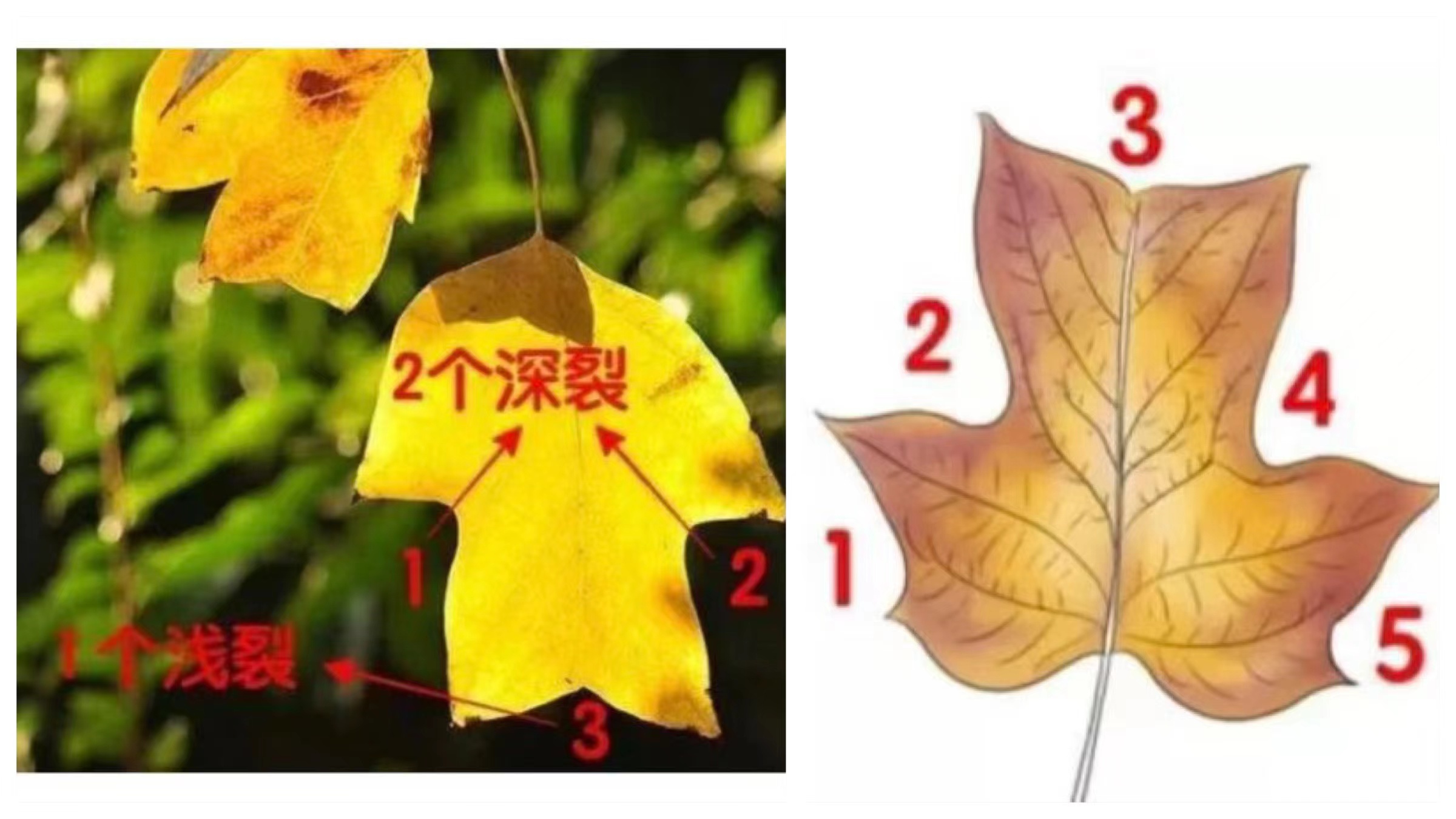 Left: The leaf of the Chinese tulip tree has 3 splits, which shape is similar to a traditional Chinese  jacket. Right: An American Liriodendron leaf has 5 lobes, like a tulip palm.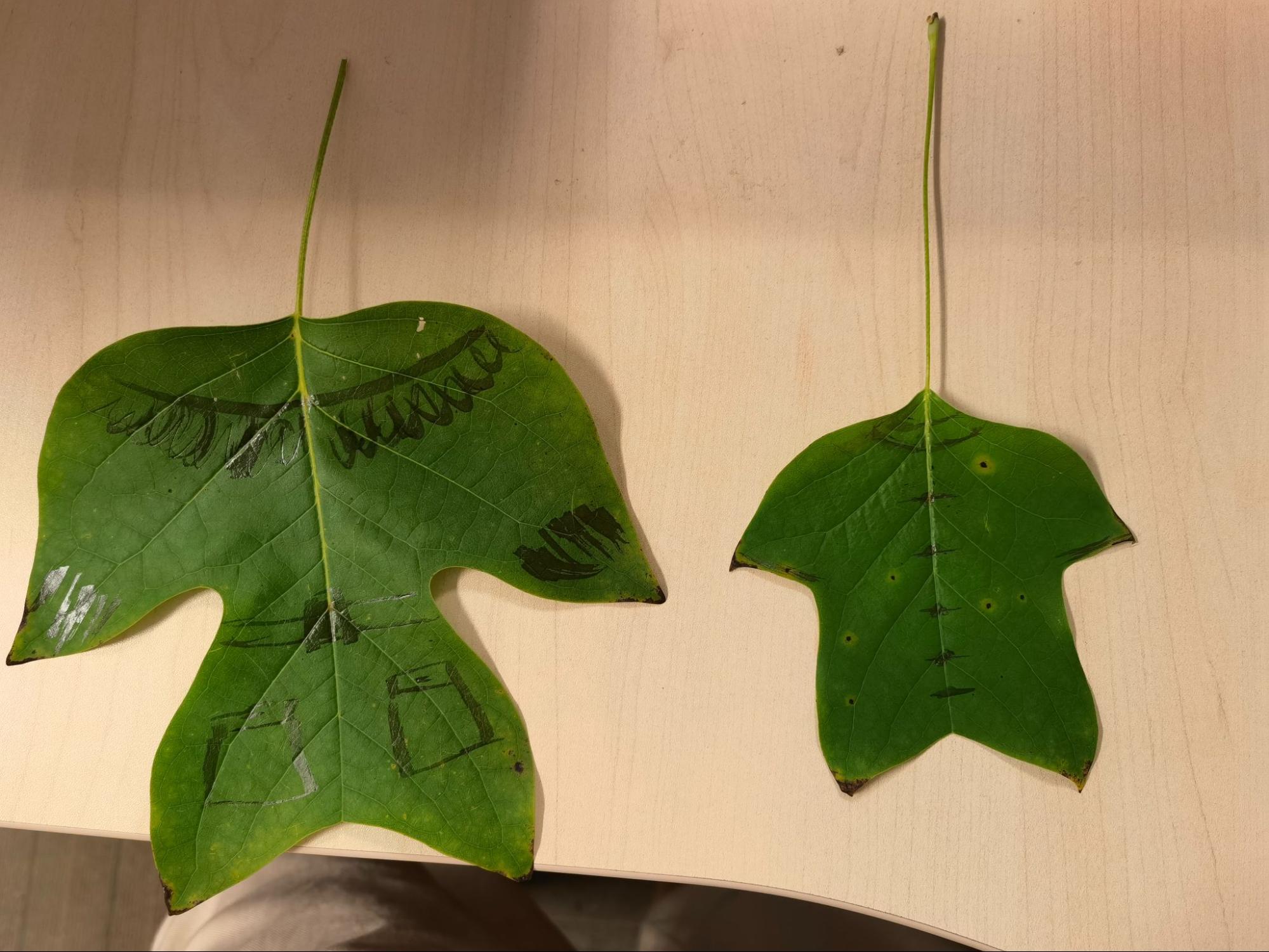 A drawing on the two types of leaves from one tree. The left one shows the western coat and the right is 马褂 Chinese traditional top.