Campus Safety Week Tackles Everything from Cyber-Security to CPR
Nov 17 2022
This week, members of the NYU Shanghai community learned how to give emergency CPR, take preventative measures against possible cyber threats, and perform self-defense techniques as part of a week-long schedule of events during Campus Safety Week.
Events and activities were hosted by NYU Shanghai's Public Safety team in collaboration with NYU Shanghai Laboratories, IT, Student Health Center, and the Shanghai Public Security Bureau and were designed to heighten community knowledge and awareness of safety practices on and off campus.
During Campus Safety Week, students were invited to submit self-made public service videos about any aspect of safety–from science lab protocol to alcohol and drug awareness, or epidemic prevention to the Public Safety team. Some entries became eligible for nomination in a city-wide competition and the best videos may be featured during orientation for new students.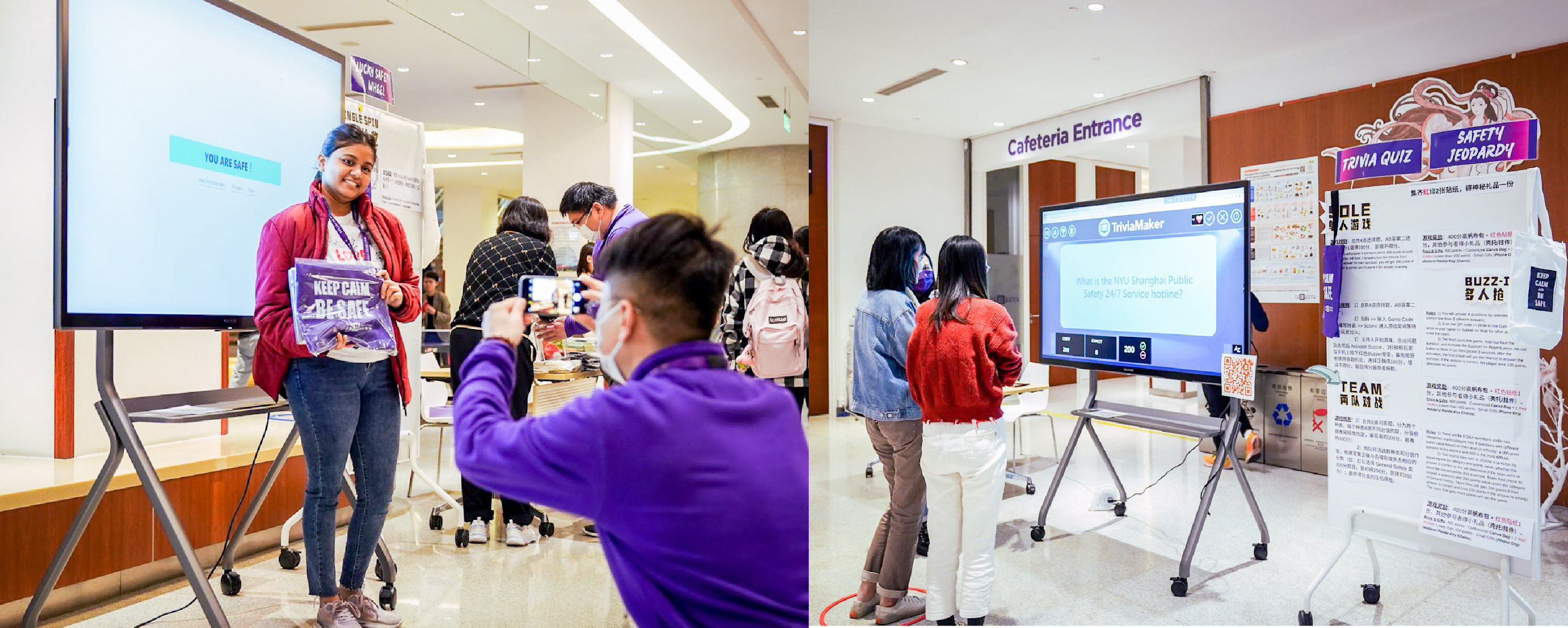 To kick off the week, students spent their Monday lunch hour competing against friends in a safety quiz and Jeopardy-style game that tested general safety knowledge and the do's and don'ts of NYU Shanghai's lab spaces and public areas. Test yourself on some of the questions below.
Q: What does "PASS" stand for when operating a fire extinguisher?
A: Pull, Aim, Squeeze, Sweep.
Q: What's the risk of not protecting your hands when handling liquid nitrogen? 
A: Cold burn or frostbite.

Cybersecurity was another important focus of the week's activities. Our emails, social media accounts, financial accounts, gaming accounts, and personal data are all potentially vulnerable to cyber attacks, according to James Gao, an information and cyber security specialist from NYU Shanghai's IT team, who shared his expertise during Tuesday's Cyber Security Awareness workshop.
"To prevent being a victim of cyber crime, the most powerful weapon is knowledge," said Gao. "Stop and think before you respond to information that you receive, and pay attention to what you've shared or are going to share on social media. Check privacy settings to limit access to your personal information."
The most common cyber threats he discussed were phishing, malware, ransomware, and social engineering–which could be as simple as someone using a phone call or an in-person talk to gain access to your information without using any code or program. Gao also used examples from popular films to illustrate the lengths some cyber attackers go to to obtain sensitive information or access.
So what can we do to better protect ourselves from cyber threats? Gao suggested creating strong passwords for different accounts, enabling multi-factor authentication (MFA) for as many of your accounts as possible, and being mindful of information you share on social media.
NYU Shanghai's cybersecurity resources are also there to support the campus community. Gao reminded students to connect to the NYU VPN when using public wifi networks, and be mindful not to leave phones or computers unattended in public areas. He suggested students to become familiar with and follow NYU Shanghai's IT policies and install a malware protector. NYU IT provides endpoint protection software for all members of the NYU global network. To access, visit NYU Home and search for MalwareBytes, or visit the quick link here.

Being aware of one's physical safety is also important. On Wednesday, Lv Lvjun, a certified instructor on police techniques and tactics from the Shanghai Public Security Bureau, gave a self-defense course that detailed safety and awareness principles, from being mindful of one's surroundings to de-escalating potentially aggressive scenarios. He shared some practical advice: don't let headphones or mobile devices distract you while walking alone, do everything possible to talk the aggressor down before an altercation occurs, and use any means possible to alert those around you for help.
In the case that a physical altercation is unavoidable, Officer Lv demonstrated several self-defense techniques applicable to real-life situations, for example if you're being grabbed by an attacker. 

Public Safety Week also covered how to support others in a medical emergency. Student Health Center Assistant Director Chelina Wang delivered an emergency first aid training session with guided practices on how to use a defibrillator, assist someone suffering from severe allergic reaction, and perform CPR. More than twenty participants practiced timed compressions on a CPR mannequin and received feedback from Wang about posture and technique. After the session, participants received a complimentary emergency kit.
The Public Safety team said the weeklong activities covered a wide range of situations which NYU Shanghai community members hopefully never will experience in real life.  "It's still important to be aware of potential risks and try our best to avoid them," said Echo Zhou Yaming from Public Safety. "Ask for help if you need it. You are always connected to the NYU Shanghai community."