Campus Lounges Get Makeovers
Sep 27 2019
The second floor Cafe used to be one of the few go-to spots for students looking to relax, study, and socialize. Now, thanks to the efforts of World Languages, Student Life and the Office of Graduate and Advanced Education over the summer, several new inviting and Instagram-worthy lounges have come online in the Academic Building's second, third, and fifth floors.   
Each of the spaces has been outfitted for a specific purpose. The second floor lounge has been transformed  into a World Languages Lounge where small groups of students can gather to practice different languages. Moving from B1 to the third floor, the Leadership in Action lounge is now a brighter, more accessible space for students to work on group projects. The new Graduate Lounge on the fifth floor provides a quiet, meditative space for master's and PhD students to work. Finally, the popular Allyship in Action Lounge on the sixth floor has also been redesigned to reflect some of the activities and presentations that students have participated in over the last two years.
The second floor World Languages Lounge
World Languages Lounge
Languages from around the world can be heard in every corner of the NYU Shanghai campus, but until now, there has never been a designated space for practicing a second or third language. Director of World Languages Melanie Hackney says she wanted to create a space where students could go and start a conversation in any language at any time.
Working with Dean of Students David Pe, Hackney centered her concept for the bright and colorful World Languages Lounge around creating a "space for conversation." She arranged the furniture in clusters to promote conversation, used bright and interesting patterns to create a fun and lively atmosphere, and added many pieces like stools and ottomans that could be moved around for larger groups of students. 
Students can engage in one on one practice, or form small to medium-sized study groups. The furniture is arranged in eight distinct configurations, and reflects design styles from around the world, including Europe, the Middle East, Africa, Asia, and South America. The clever use of different furniture styles makes it feel like each grouping of furniture is a "living room" from a different house; students only have to sit down to immediately feel at home.
Each section of the Lounge features a distinct style.
Chinese-inspired design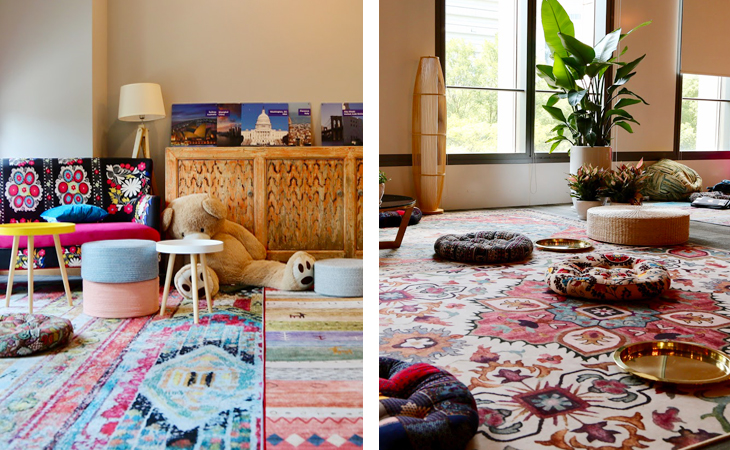 Middle Eastern-inspired and South American-inspired spaces
"Language builds relationships. It shapes how we think, how we behave, and how we interact with others, so we designed the space to reflect how different cultures intersect. We didn't want to create regions or divisions in the space, because our main consideration was communication," Hackney says. "We hope that this unique space will promote community and conversation at NYU Shanghai."
This summer, Hackney says she and Pe explored more than a dozen furniture stores around Shanghai to find each of the pieces in the lounge. "There are repeating themes and elements throughout the space, but we wanted to showcase diverse styles and designs," says Hackney. "We selected each table, chair, and light in order to show off the differences and similarities across cultures."
Students have already started participating in events for the space. On the evening of September 19th, Shi Yitao '23 held a Japanese language exchange in the Lounge. Shi says she has been studying Japanese since primary school, passed the highest level of the Japanese language proficiency test in Junior High, and received her certificate for Japanese interpretation in high school. "Some twenty students came to our event. I was thrilled to meet so many peers from so many different backgrounds who were all studying Japanese at different levels," says Shi. "The Lounge is definitely a place where students can feel at ease to study and practice their speaking skills. I'll definitely be coming here often for events."
Business and marketing major Chelsea Mclean '22 says she loves the design concept of the Lounge. Mclean and her classmates use the lounge to do their Chinese homework together, sitting around a Chinese style square table and discussing the work in low voices. "I think the design is lovely. There are so many styles here, but they all come together beautifully," says Mclean. "The American-style furniture especially reminds me of home."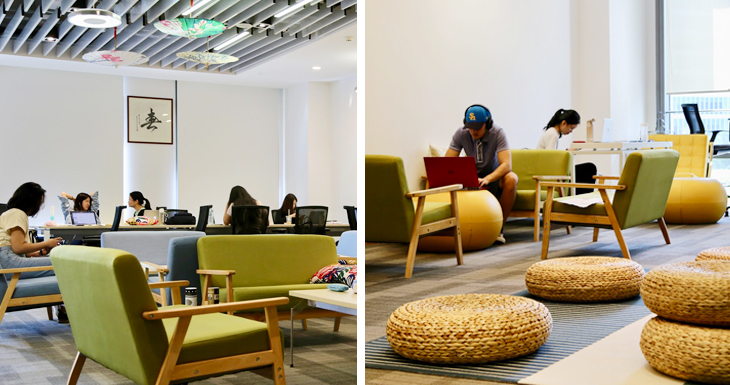 The Leadership in Action Lounge on the 3rd floor
Leadership in Action Lounge
Instead of keeping the student government lounge in B1, Student Life has repurposed furniture and other items from around campus, and built a "Leadership in Action" Lounge open to all clubs and organizations on campus. The new lounge is a perfect place for student organizations to meet, plan events, and host activities.
"The student government offices in B1 were not very visible, and they weren't being used to their full potential," says Assistant Director of Student Life Patty Xu. "We wanted to meet the needs of the diverse range of student organizations here on campus, and tried to create a space where any club can host meetings, exhibitions, and small events."
Xu says the new Lounge was designed around the theme of "leadership," and student clubs should use it as a shared office space. There are areas for 10-20 person meetings, as well as smaller 4-6 person meeting spaces. Like the World Languages Lounge, chairs and ottomans can be moved around as needed. 
"I think our efforts have paid off," says Xu. "Since fall semester started, the lounge is always full of students."
Graduate Lounge
The new fifth floor graduate lounge is located in room 500. It was designed as a dedicated space for master's and PhD students to study and socialize. The Office of Graduate and Advanced Education spent six months learning about graduate students' needs through questionnaires and focus groups. One in two graduate students during AY 2018-19 responded to the surveys, and the office built the space to reflect the students' feedback about functionality, color, and atmosphere.
The new graduate lounge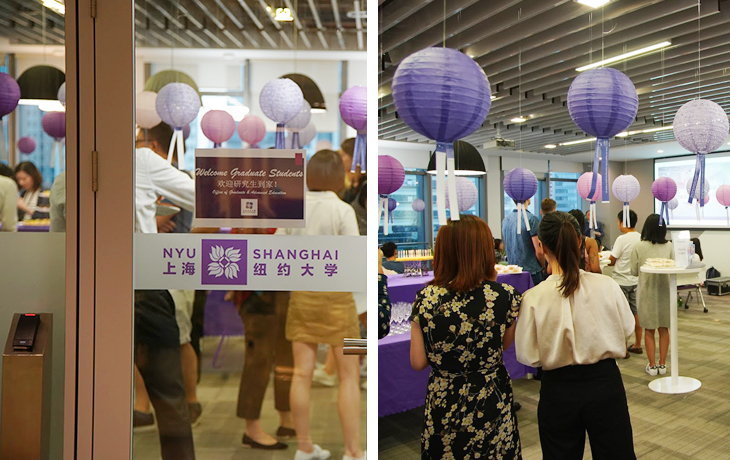 Graduate students participated in a Graduate Mixer on September 16. The space will also be used to host a full slate of events throughout the year.
The lounge includes enclosed spaces for group discussions, open team work spaces, and individual study areas. Graduate students can work at desks or sit on comfortable reading chairs to study. The space also includes several desktop computers, a projector, a magazine rack, and lighting with adjustable settings to suit students' individual tastes.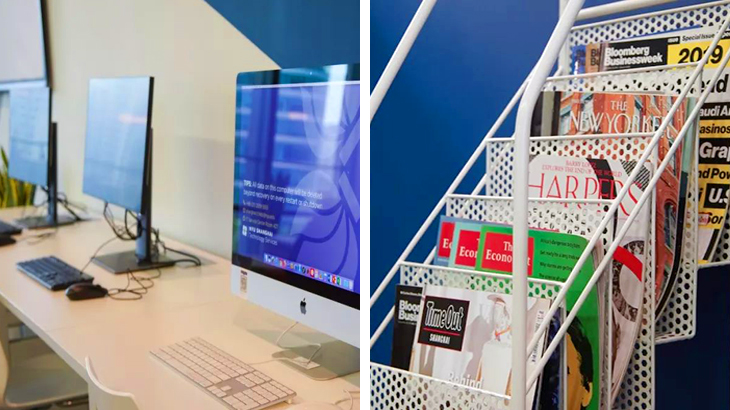 Graduate Lounge interior shots
"The opening of the Graduate Lounge fulfills a long-standing wish within the NYU Shanghai graduate student community. Our design team thought through every detail and sought to incorporate as much feedback as possible from graduate students," says Associate Dean for the Office of Graduate and Advanced Education Eric Mao. "We hope the lounge will be a sanctuary for quiet study, collaboration, socializing, and relaxation, as well as a popular venue for graduate students of all disciplines to come together for events throughout the year."
Newly-enrolled Master of Social Work student Max Petee calls the space his "basecamp" at NYU Shanghai. "It's spacious, bright, and peaceful. I come here every day to hang out with fellow grad students in the gaps between classes," says Petee. "Graduate students are used to independent study, and our studies are more concentrated in a specific area. This kind of space is ideal for us."
Design as a State of Mind
Like Hackney, many of the staff who worked on the lounges say that their projects have shown them how environment can impact human behavior and change individual habits.
"Culture changes with the times, but humans are still social animals. If you provide an attractive space, students will naturally gravitate toward it," says Hackney. "In and of themselves, these shared faces don't create harmony or acceptance, but they do create connections between people. When we create spaces that better meet the needs of faculty and staff, the community becomes more tightly knit, and in the process of coming together, we learn how to better get along with each other."
WORLD LANGUAGE PROGRAM'S SCHEDULE OF UPCOMING CONVERSATION NIGHTS
Location: 2F World Languages Lounge
Chinese Conversation Night - Elementary to Intermediate level
5:00-6:00pm, September 11th

5:00-6:00pm, October 8th

5:00-6:00pm, November 6th
Chinese Conversation Night - All levels
5:00-6:00pm, September 23rd

5:00-6:00pm, October 28th

5:00-6:00pm, November 26th

5:00-6:00pm, December 5th
Spanish Conversation Night
5:00-6:00pm, September 16th

5:00-6:00pm, October 9th

5:00-6:00pm, November 4th

5:00-6:00pm, December 2nd
Japanese Conversation Night
5:00-6:00pm, September 18th

5:00-6:00pm, October 22nd

5:00-6:00pm, November 20th

5:00-6:00pm, December 4th
French Conversation Night
5:00-6:00pm, September 24th

5:00-6:00pm, October 15th

5:00-6:00pm, November 12th

5:00-6:00pm, December 3rd