Alternative Spring Break Trip in Yunnan and Sichuan
Apr 13 2014
During the spring break from April 5th to 12th, the NYU Shanghai Student Involvement Office led two community service oriented week-long trips to Yunnan and Sichuan, providing participating students with rewarding experiences in learning about new cultures and giving back to those in need.
The trip to Yunnan Province, co-organized by NYU Shanghai and Chi Heng Foundation, focused on providing services to HIV/AIDS-impacted children. Nine NYU Shanghai students and two staff leaders visited two rural primary schools, provided supplemental English language services, and visited a few HIV/AIDS-impacted families in Lincang, a city on the border between China and Myanmar. Megan Graham, one participating student from the US, found English teaching in the rural primary schools very "inspiring and fulfilling", and hoped that she could go back to continue her teaching in the future. July Xie, another student from mainland China who went on this alternative break trip as well, expressed her shock when she saw the living conditions of the HIV/AIDS-impacted families. "Although we know there is poverty, it was still very depressing to see the actual situation. Now I feel more compelled to do something for them."
The trip to Sichuan Province, supported by Habitat for Humanity, offered students opportunities to help with home-building in rural areas. Jose Cabrera, a student participant from Spain, expressed his thrill in experiencing a different side of China. "Although the labor work is really intensive, I am really happy to go on such an adventure!" Over four days, NYU Shanghai students helped lay the foundation for four different houses.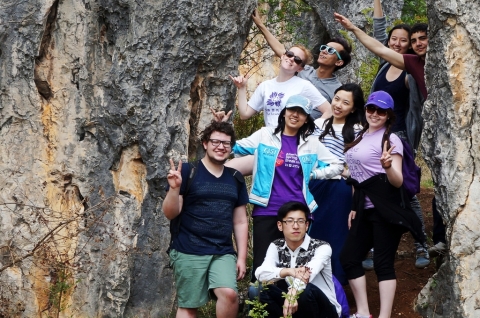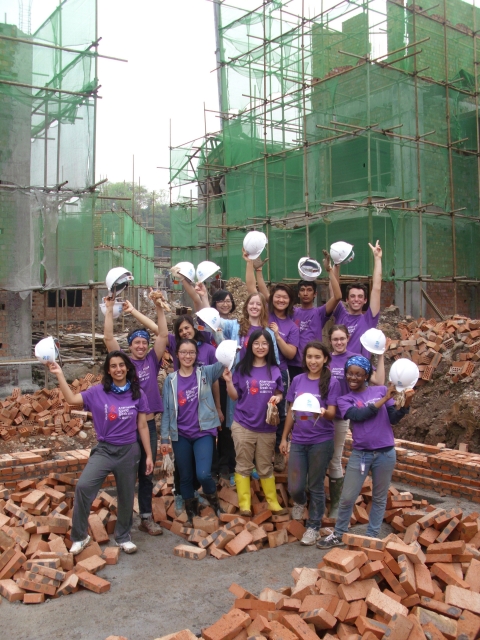 Alternative breaks, a newly established tradition at NYU, offer students opportunities to engage in volunteer service, typically for a week. For NYU Shanghai's inaugural year, student participants of alternative breaks were immersed in projects focusing on social issues, service work, and reflection.  After the break, they returned to NYU Shanghai with a new perspective, and continue to exert a positive influence in the NYU Shanghai community.
Written by Roman Chen