Impacting Aerospace History
Mar 30 2018
Professor Alexander Geppert, a leading historian of Europe, has recently been named the Charles A. Lindbergh Chair in Aerospace History at the Smithsonian National Air and Space Museum in Washington DC for the year 2019–20, a distinguished award that will facilitate his research on the history of outer space and twentieth-century astroculture.
Named after the legendary American aviator Charles A. Lindbergh (1902–74), the Chair offers senior scholars with prominent publication records a competitive 12-month fellowship that encourages their book projects in aerospace history, supported by a maximum of US$100,000 towards living expenses.  
Alexander Geppert is the first European and third non-US citizen to win the prestigious award since its inauguration in 1978. For the year 2019–20, while immersed at the Smithsonian National Air and Space Museum, he will be working on a new book project that analyzes global perspectives on outer space.

Shortly after the announcement, The Gazette talked to Professor Geppert about the impact the award will have on his current research and The Global Space Age, one of the courses he will teach at NYU Shanghai in the upcoming fall semester before heading to Washington DC next year.
What does this award mean to you on both an academic and personal level?
With more than 7 million visitors per year, the Smithsonian National Air and Space Museum in Washington, DC is one of the most visited museums in the world. What fewer people know is that it is also a fantastic research institution that comprises three departments: Aeronautics, Earth and Planetary Sciences, and Space History, which will be my "home" there. Its circa 30 curators are not only responsible for organizing top-notch exhibitions but are also deeply engaged in historical research and, in fact, among the world's leading experts in their fields.
I spent an extremely productive year there in 2014–15 before joining NYU, and I am much looking forward to returning to such a stimulating environment five years later. The Lindbergh Chair is the most advanced fellowship they offer. I am truly excited to take it on, as I love that place as much as I love my research–even if I will certainly miss colleagues, students and friends in Shanghai, New York and Berlin.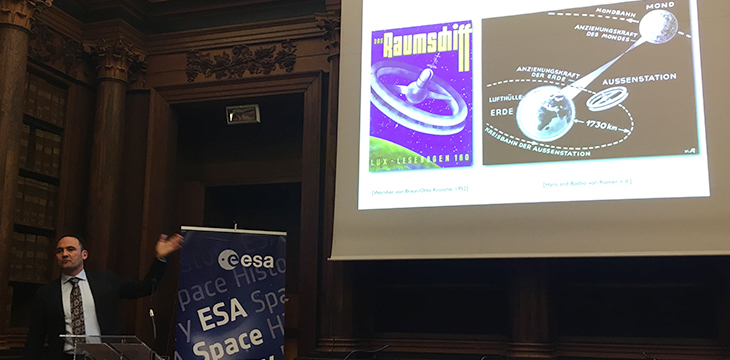 Can you describe what your research plans are during your fellowship year at Smithsonian National Air and Space Museum?
By the time I arrive in DC, I hope to have finished the book that I am currently working on, The Future in the Stars: Time and Transcendence in the European Space Age, 1942–1972, and I plan to start with my next project during that year. Tentatively entitled Planetizing Earth: Outer Space and the Making of a Global Age, 1972–1990, it will take the study of outer space to a global level.
Most historical scholarship has focused on the first spacefaring nations, the former USSR, the USA and, to a lesser extent, Europe. But what explains the appeal of astroculture in places such as Congo, China, Egypt, French Guiana and Sri Lanka? At the same time I will be investigating a historical process that I call "planetization," a term I borrow from French philosopher Pierre Teilhard de Chardin.
In particular after the end of the "classical" Space Age in the early 1970s, outer space has become a technological precondition of present-day globalism—just think of all the communication satellites and invisible infrastructures on which we all depend so much in our globally interconnected lives.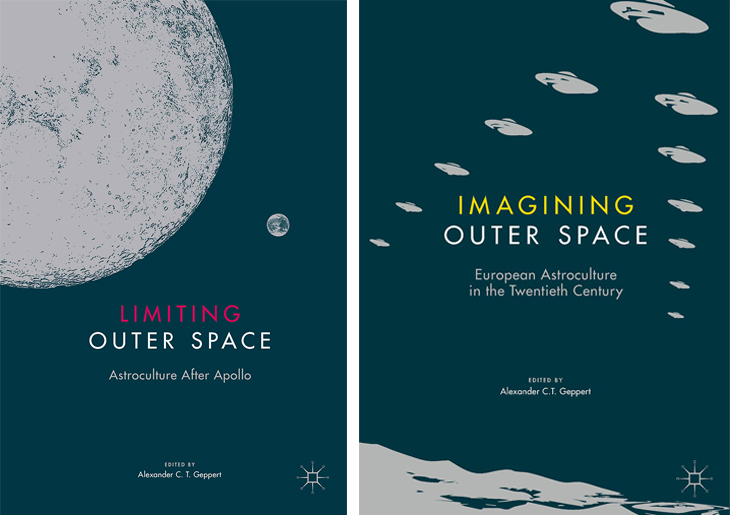 What do you hope students will gain from your upcoming course "The Global Space Age"? How might they understand space exploration or competition in a current context?
I hope that students will learn that outer space has its own history, and that examining this history is necessary to understand what is going on both here on earth and "out there." While outer space, extraterrestrial life, and global astroculture might at first seem obscure and peripheral, if not entirely exotic topics, we will consider the central role space and spaceflight have played over the course of the twentieth century, both in science and in fiction, and in particular, seen in the second so-called Space Race in Asia of today.
We will cover a broad range of themes, from science fiction, literature and alleged UFO encounters to the history of science, technopolitics and warfare. We will also watch historical space movies, visit Shanghai Jiao Tong University's Qián Xúesēn Museum and meet with experts from the Chinese Academy of Sciences. All my classes are very work- and reading-intense, but I also make sure that we have a lot of fun—serious fun!