24 Hour Film Race Screens Winning Entries
Oct 21 2022
On September 24-25, 24 Frames, NYU Shanghai's student film club, hosted its fifth annual film race. The "One in 24" race concluded with a screening and award ceremony in the auditorium on October 14. As in previous years, the competition gathered a dozen teams of filmmakers to create original short films within 24 hours. 
The theme of this year's contest was "Again". "We hope this annual contest can inspire NYU Shanghai students' creativity, promote their teamwork skills, and most importantly, fulfill their dreams of being a filmmaker," said Xu Ziyun '25, president of 24 Frames.
The submissions were as diverse as the backgrounds and cultures of the contestants. A team led by Robbin Wu '25 portrayed an office worker who tries to break out of the cage of his boring life. They used a coffin as a metaphor to describe the character's depressing daily life. In a final twist, the main character breaks out to embrace a colorful world. As the first-prize winner, Wu said he felt honored to be recognized by the judges and excited to get a valuable learning opportunity.

Left: Second Prize & Audience Choice - "Foggy Notion" group brainstorming concepts of their filming; Right: group photo of 24 Frames club leaders
Another film, "Foggy Notion" portrays a young woman's life through her daily routine but the meaning of her actions remains unclear. "That's why daily life seems foggy," said Mateo Rengifo '25, one of the team members. "A 24-hour film will never be perfect but it has its charm. Making a movie is a huge team effort and finishing is the best accomplishment," he said.
At the screening and award ceremony, NYU Shanghai Chancellor Tong Shijun addressed the student teams and gave them his encouragement and good wishes. "This is the last event that happened in the first decade of NYU Shanghai, since tomorrow (October 15, 2022) is our 10th Anniversary," he said."I hope it will bring a good start for the next decade." Next year, the 24 Frames club plans to host an exhibition at the new Qiantan campus.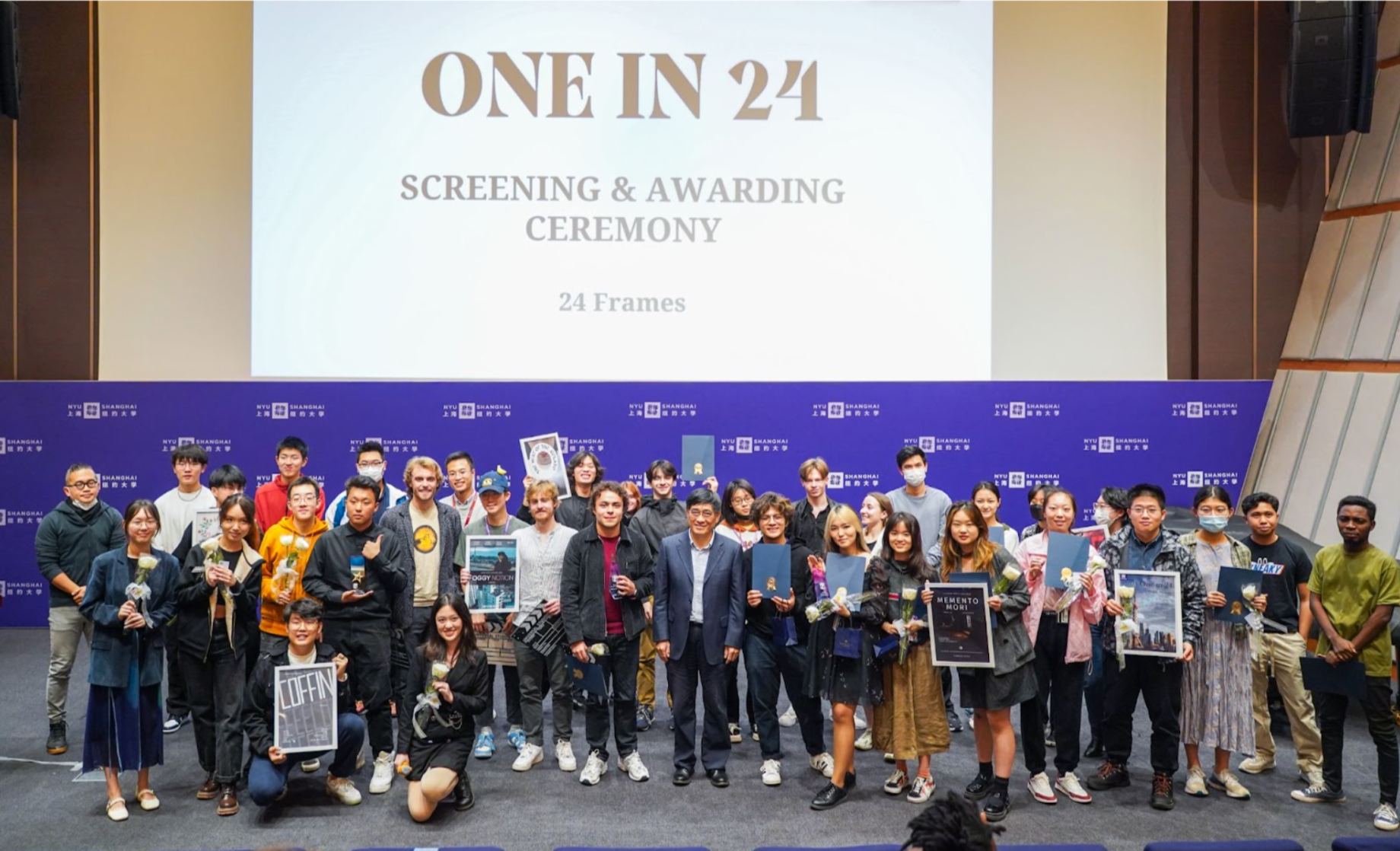 Group photo at screening and awarding ceremony
Awards List:
First Prize - Coffin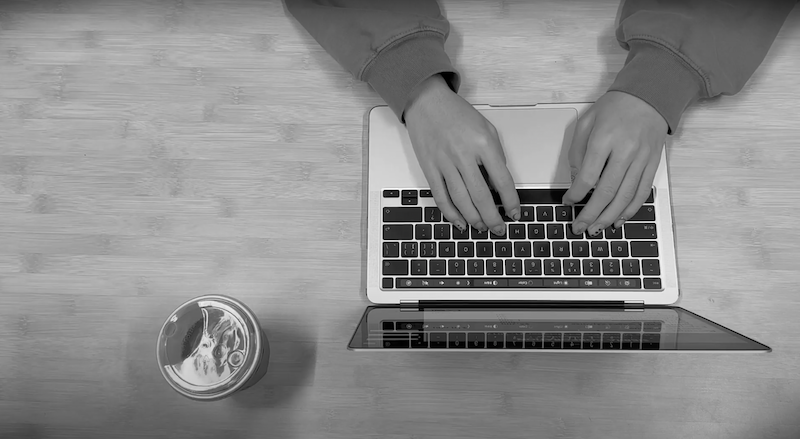 By Robbin Wu '25, Owen Ji '25, and Kelvin Qin '25
Second Prize & Audience Choice - Foggy Notion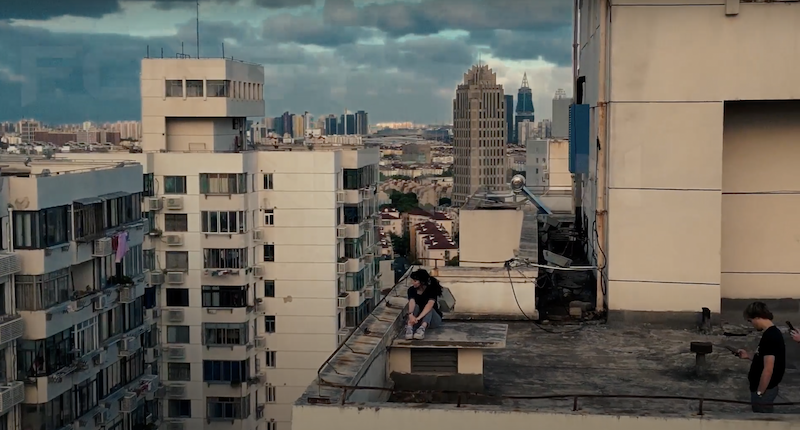 By Charlie Howes '25, Mateo Rengifo '25, Will Yeh '25, Finn Cosgrove '25, Regan Slattery '26, Aya Oihbi '26, and Milena Rams '26
Third Prize - Memento Mori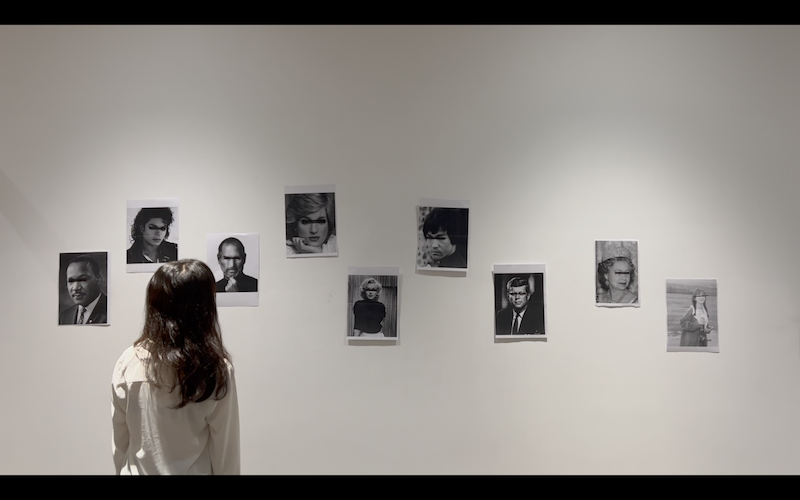 By Daniel Arturo Woc García '26, Wang Jingjing '25, Liu Chengchun '25, Tomiris Suleimenova '25 
Best Story - The Way of The Gelato
By Evan Pan '26 Ilan Alarez '26, Li Yifei '26
Best Reality - Again
By Liu Zhijia'26, Sheng Yang'26, Shi Yunhan '26, Cheng Xiaohan '26
Best Innovation - VOYAGE
By Mathew Ponon '26
Best Performance - Bounded
By Mattis Nurit '26, Rudraksha Bhukhanwala '26, Tom Chen '26, Wang Ruofan '26, Yvonne Tsao '26
Best Genre Breakthrough - Nightmare
By Cheska Dong'26, Angela Guo '25, Shaun E '25, and Jaidyn Perry '25
Best Concept - Again Magic
By Zhang Cheng '26, Zhu Ziyi '25, Yuky Yan '26, and Kanyo Forex '26
Best Potential - A Colorful Day
By Cao Yijia '26, Li Anyuan '26, Jiang Yicheng '26, and Shi Yukun '26
Scan the QR code to watch all the films: