2022 Fall Undergraduate Research Symposium Makes In-Person Comeback
Nov 11 2022
NYU Shanghai undergraduates shared their work in person at the Fall 2022 Undergraduate Research Symposium held on campus November 5. Standing before classroom-sized audiences, they introduced research on a diverse range of topics, including realtime AR performance enhancement, emojis as social media sentiment indicator, "coming out" strategies,and a redefinition of the neighborhood concept.
Presentations covered a blend of Capstone projects, Deans' Undergraduate Research Fund (DURF) projects, and works by major honors students—all conducted under the guidance and support of faculty mentors. Students presented under two categories: Liberal Arts & Business and STEM & Media.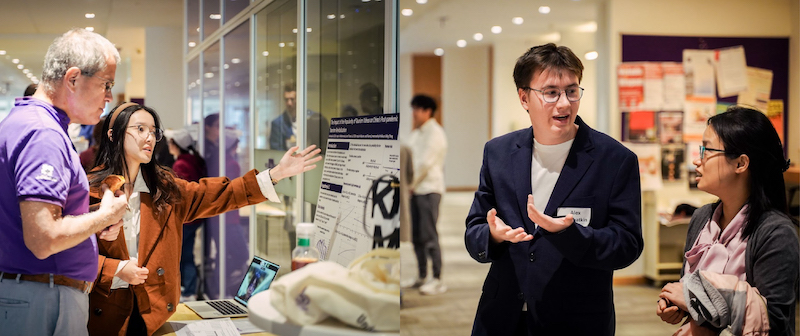 After two years of navigating mixed-mode and online research symposia due to challenges posed by COVID-19, symposium participants appreciated a return to in-person intellectual exchange. After delivering their presentations, students engaged in one-on-one conversations during a Q&A session in the hallways, where they introduced their posters and interacted with audience and faculty judges. Afterwards, winners were announced for best presentations, best research projects, as well as the audience favorite.
"There is a saying that 'the wise start with whys,'" said Assistant Professor of Practice in Economics Ilaf Elard, one of the event's judges. His advice to students? "Start your research by asking yourself why you want to research, why that question matters—to you personally, to your friends or family, to your community, the country, or the world. Time is precious, hence your research ideally is a conscious, intentional and purpose-directed action and effort."
This year's symposium also featured a retrospective in the cafe displaying posters from past awardees as well as snippets of their most memorable research-related NYU Shanghai experiences and advice to current students.


Faculty judges (left to right): Assistant Professor of Mathematics and Data Science Mathieu Laurière, Assistant Professor of Practice in IMB and Social Sciences Anna Hopper, Associate Dean of Arts and Sciences and Professor of Practice in Computer Science Olivier Marin, Assistant Professor of Practice in Economics Ilaf Elard, Assistant Arts Professor of IMA Rodolfo Cossovich and (not pictured) Assistant Professor of Sociology Jia Miao.
Below, learn more about the experiences and research projects of our winners:
Liberal Arts & Business
Best Research Project

Title: How Sexual Minority Men Should Plan "Coming Out": Lessons from Straight People's Reactions
By: Huang Xiaoyu '24
Area: Social Science
Mentor: Assistant Professor of Psychology Gu Li

 
What was it like working with your mentor?
Working with Professor Gu Li was a wonderful experience. He provided me with lots of insights on designing the survey and data collection. He was very supportive throughout the entire process.

Did you face any unexpected challenges?
Identifying the most important predictors among more than 60 predictors. Professor Li and I used classification and regression trees to analyze our data and solved this problem.

Any advice to future student researchers?
Minimize the words on the poster so that the poster can serve as a visual aid for better comprehension. For students who want to collect data for psychological research, make the survey or the experiment fun and engaging—it greatly helps!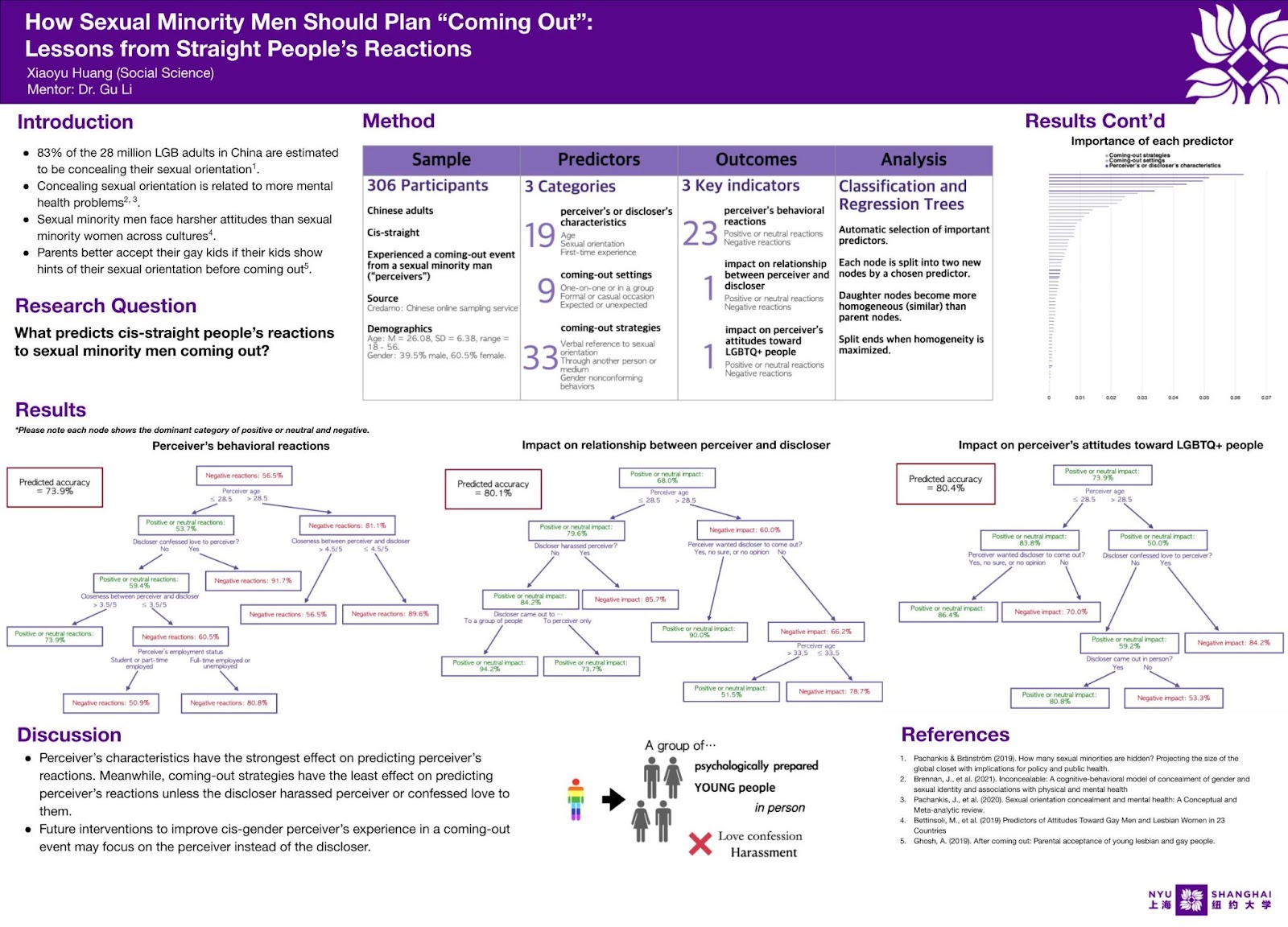 Project Abstract: This project studied Chinese heterosexual adults' reactions to a sexual minority adult man disclosing his sexual orientation ("coming out") with various strategies. A survey was conducted on a sample size of 500 Chinese cisgender heterosexual adult participants' perception of 32 potential "coming out" strategies that may be used by sexual minority men and their experience where a sexual minority man "came out" to them. The findings will identify "coming out" strategies that are best received by heterosexual people in China, which will inform those who decide to "come out."
Best Presentation

Title: What is a Neighborhood?—Redefine the Sociological Concept of Neighborhood via Mental Mapping
By: Zha Yuhong '24 
Area: Social Science 
Mentor: Assistant Professor of Sociology Angran Li

What was it like working with your mentor?
Professor Angran Li helped me a lot in framing my research arguments in a way that could be easily understood by audiences. I also practiced my presentation with him beforehand which gave me a better sense of timing and enhanced my presentation skills.

Did you face any unexpected challenges?
My research was conducted in April 2022 in Shanghai when the governmental lockdown policy reached its peak moment. Because I could not go out to do interviews, I decided to conduct the mental mapping exercise online via social media and within the NYU Shanghai community. The challenge  provided me with surprisingly substantial and interesting empirical data. I would love to have the same group of participants [who are now out of lockdown] do the exercise again to see whether I could identify some amazing findings. I give credit and my appreciation to all participants who voluntarily helped me do this research despite the tough moment back in April. 

Advice to future student researchers?
Listen to the initial tiny doubts and hesitations you encounter in daily life, and try to find the answer or reveal the truth in your own way.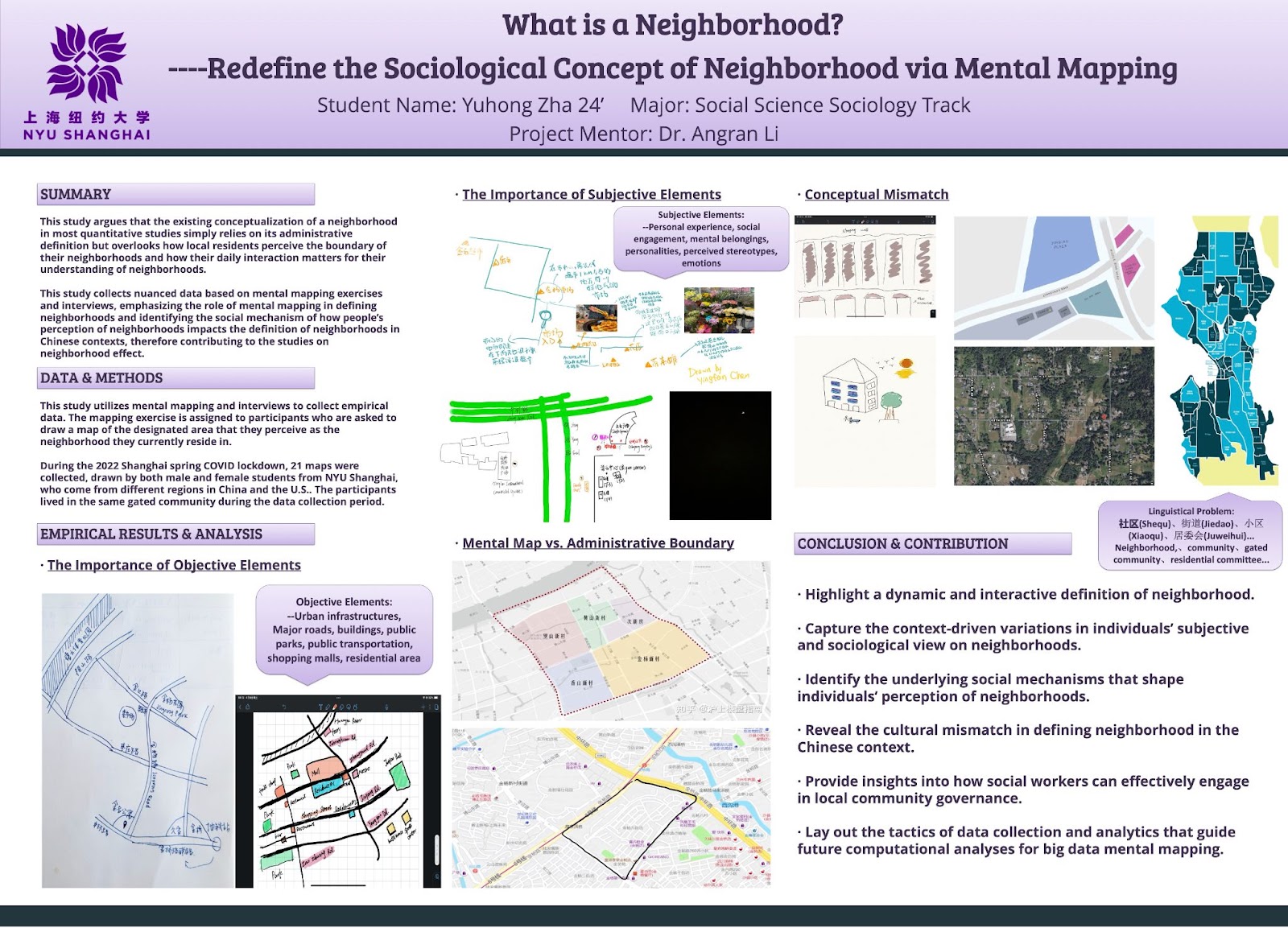 Project Abstract: The neighborhood effect has been recognized and studied in world academia as an important and complicated phenomenon. This study argues that before identifying the neighborhood effect, researchers need to define the neighborhood first. Using the quantitative method to define a neighborhood cannot well-represent the neighborhood from residents' perspectives. Abundant empirical evidence was collected based on mental mapping exercises and interviews, emphasizing the value of mental mapping in defining neighborhoods and identifying the socialization mechanism of how people's perception of neighborhoods is socially constructed particularly in the Chinese local context, therefore contributing to the general studies on neighborhood effect.
STEM & Media

Best Research Project
 

Title: Trash or Treasure: How to Utilize Emojis in Social Media Sentiment Classification
By: Bale Chen '24 
Area: Data Science
Mentor: Assistant Professor of Mathematics and Data Science Matheiu Laurière


What was it like working with your mentor?
As an undergrad who has never done individual research, it's so nice to have an expert's advice. Professor Laurière helped me sort out the research framework to help me stay on track. He also wished me a Happy Birthday over the summer, which was heartwarming.

Did you face any unexpected challenges?
It was challenging to find valid datasets with sentiment labels, and a lot of datasets don't preserve emojis. It took us a month of constantly digging into every research paper's Github page or related websites that provided such Twitter datasets, which was frustrating but an important lesson learned as a data science researcher.

Advice to future student researchers?
Stay tuned for the most recent updates in the field. Natural language processing and many other machine learning-related fields are developing so fast these years!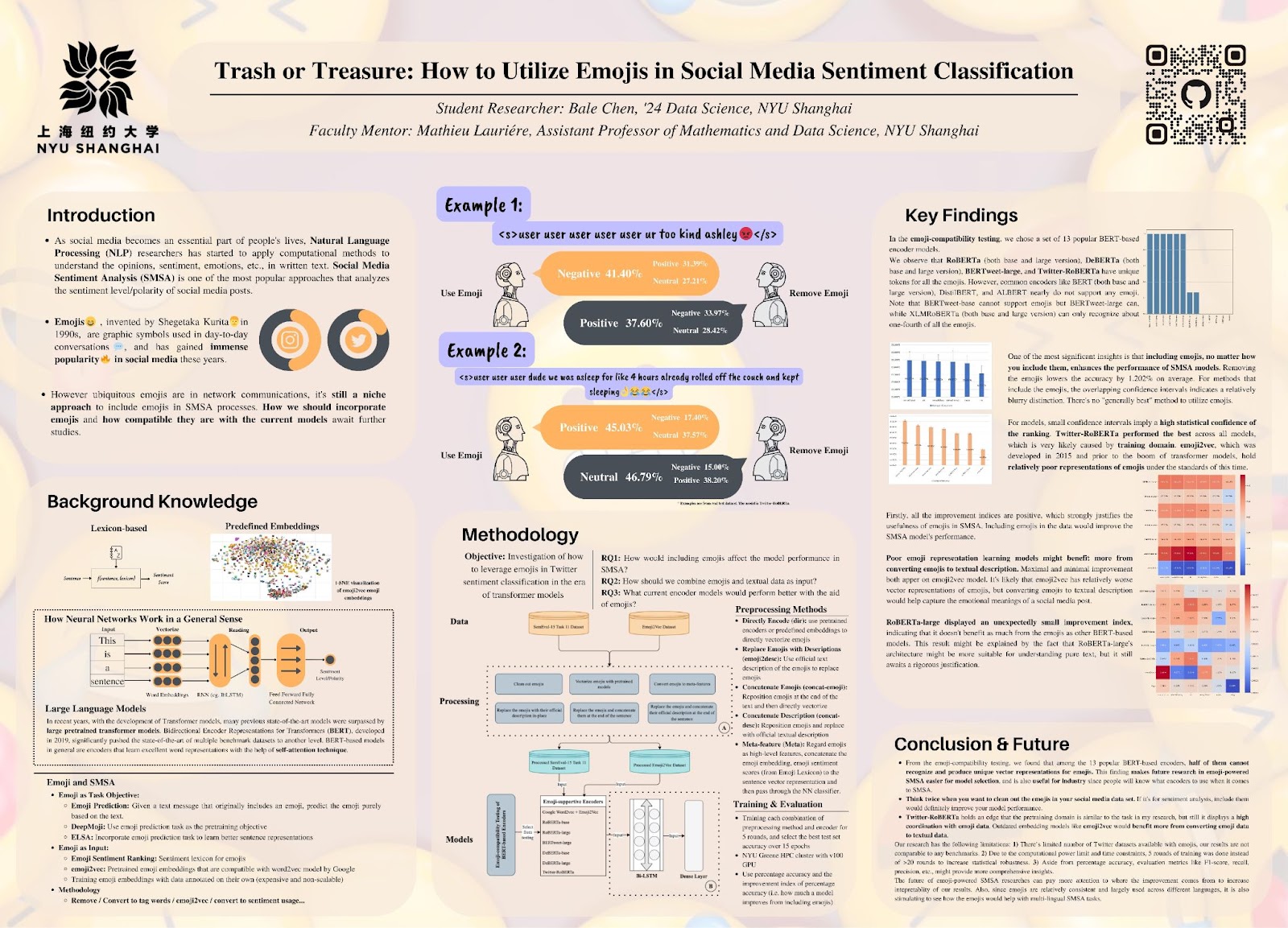 Project Abstract: Social Media Sentiment Analysis (SMSA) has become a popular topic in Natural Language Processing, which can help monitor social trends and emotions. Besides, emojis have also been prevalent due to its efficiency in embedding emotional cues in written text, but treated as useless tokens to be cleaned out. Therefore, we probe into possible methodologies to include emojis in the SMSA process. Also, we investigated the emoji-compatibility of Transformer-based models. This study bridges the literature gap about encoding emojis with BERT-based encoders, strongly indicates that emojis improve the models' performance, and proposes a feasible and promising methodology for SMSA.
Best Presentation

Title: Realtime AR Performance Enhancement
By: Guo Yuanhe '25, Yu Morui '25
Area: Interactive Media Arts
Mentor: Program Coordinator and Assistant Arts Professor of IMA Marcela Godoy


What was it like working with your mentor?
Our mentor Marcela was not in Shanghai when we did this DURF project this summer, but we still kept in touch with each other, sending emails and scheduling weekly Zoom meetings to sync all our work in a shared drive and logging the outcome of each week and expectations for the next week.

Did you face any unexpected challenges?
The software we chose to carry out our project, Touchdesigner, did not support any existing well-known augmented reality solutions, which meant we had to write the AR code ourselves using Python and OpenCV, and turn it into a plug-in for Touchdesigner. We were stuck on that for nearly two months, but after self-learning some math theories in computer graphics and reading official documentations of OpenCV and OpenGL, we had success in making this augmented reality effect.

Advice to future student researchers?
Think more about diverse interactions from the users' perspective, and don't be afraid of adjusting your work thousands of times in user or field tests. Searching for tutorials helps when you struggle with difficulties or errors. There are plenty of 3-D rendering tools out there, feel free to play around with them.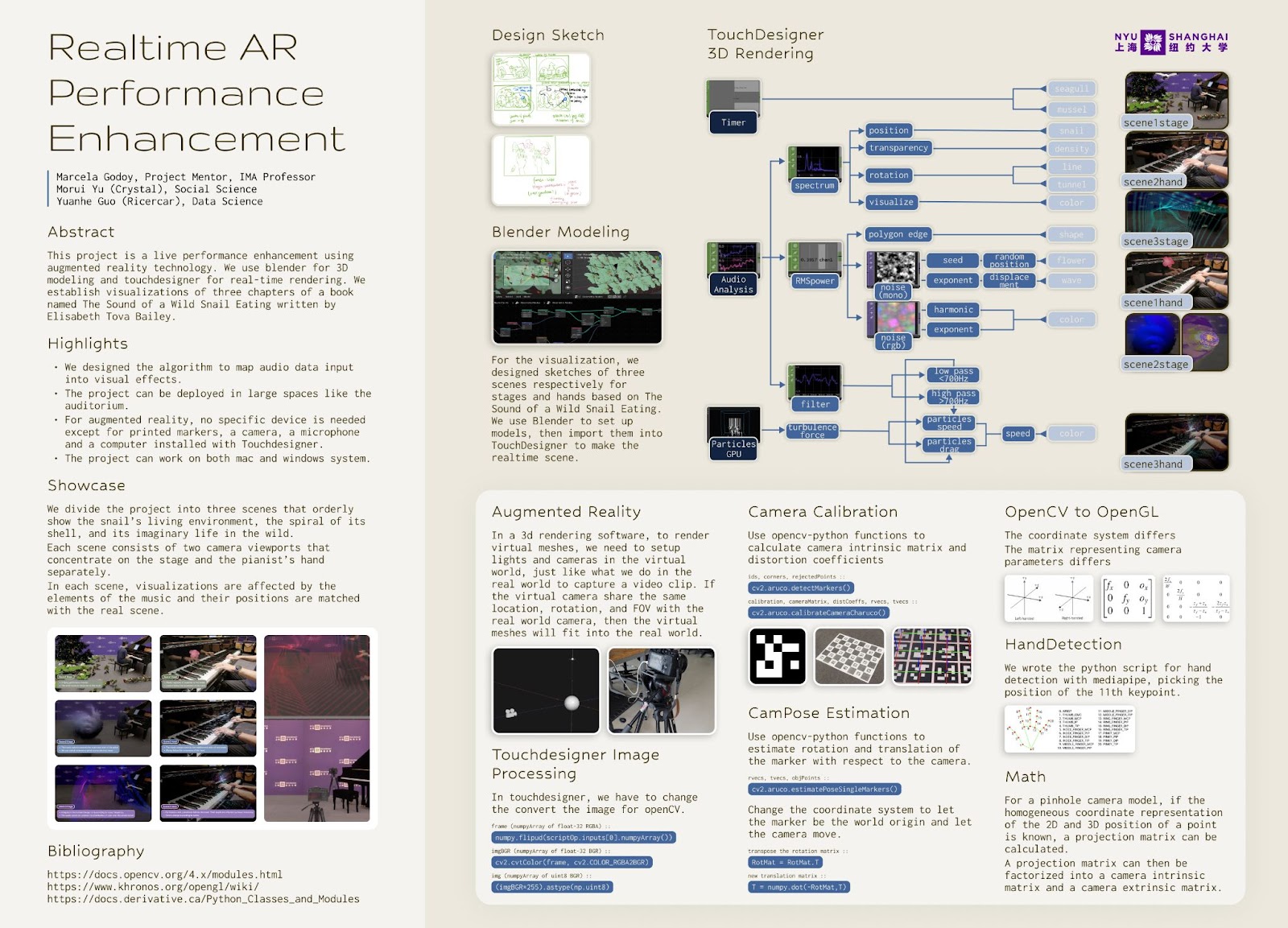 Project Abstract: This project is a live performance enhancement using augmented reality technology. We use Blender for 3D modeling, OpenCV-python for camera pose estimation, and Touchdesigner for real-time rendering. No extra hardware is required except for cameras and a PC or a Mac. Visual effects we made are affected by the elements of the music, and their positions are matched with the real scene. They are placed over the input video stream and can be streamed onto any display. With our performance enhancement, audiences can enjoy a more immersive experience in places like the school auditorium.
Most Popular Project
 

Title: Identifying the Relationship Between Economic Conditions and Entertainment Choices
By: Skyler Chen Yumeng '23, Lu Shan '23
Area: Interdisciplinary 
Mentor: Associate Professor of Marketing Masakazu Ishihara


What was it like working with your mentor?
Skyler: Since my previous research background was mostly behavioral, our advisor Kazu, an expert in quantitative marketing, gave us a lot of valuable advice on quantitative methods. It has been a pleasure working with him, and I have learned a lot about empirical data analysis throughout the course of our research.

Did you face any unexpected challenges?
Shan: One of the models kept producing uninformative results, and we were struggling to find underlying reasons. After some failed attempts, we had no choice but to give up that model. We instead invested more energy into explaining our main model to improve our analysis.

Advice to future student researchers?
Shan: Do your research non-stop. When you are stuck, find another angle, search for alternative theories, or explore more advanced models. The bolt of lighting moments come from constant reading and writing. 
Skyler: As an Economics major, I have enjoyed conducting research in different fields, such as marketing, management, and psychology, and I feel that they've all helped me better understand and address questions within Economics.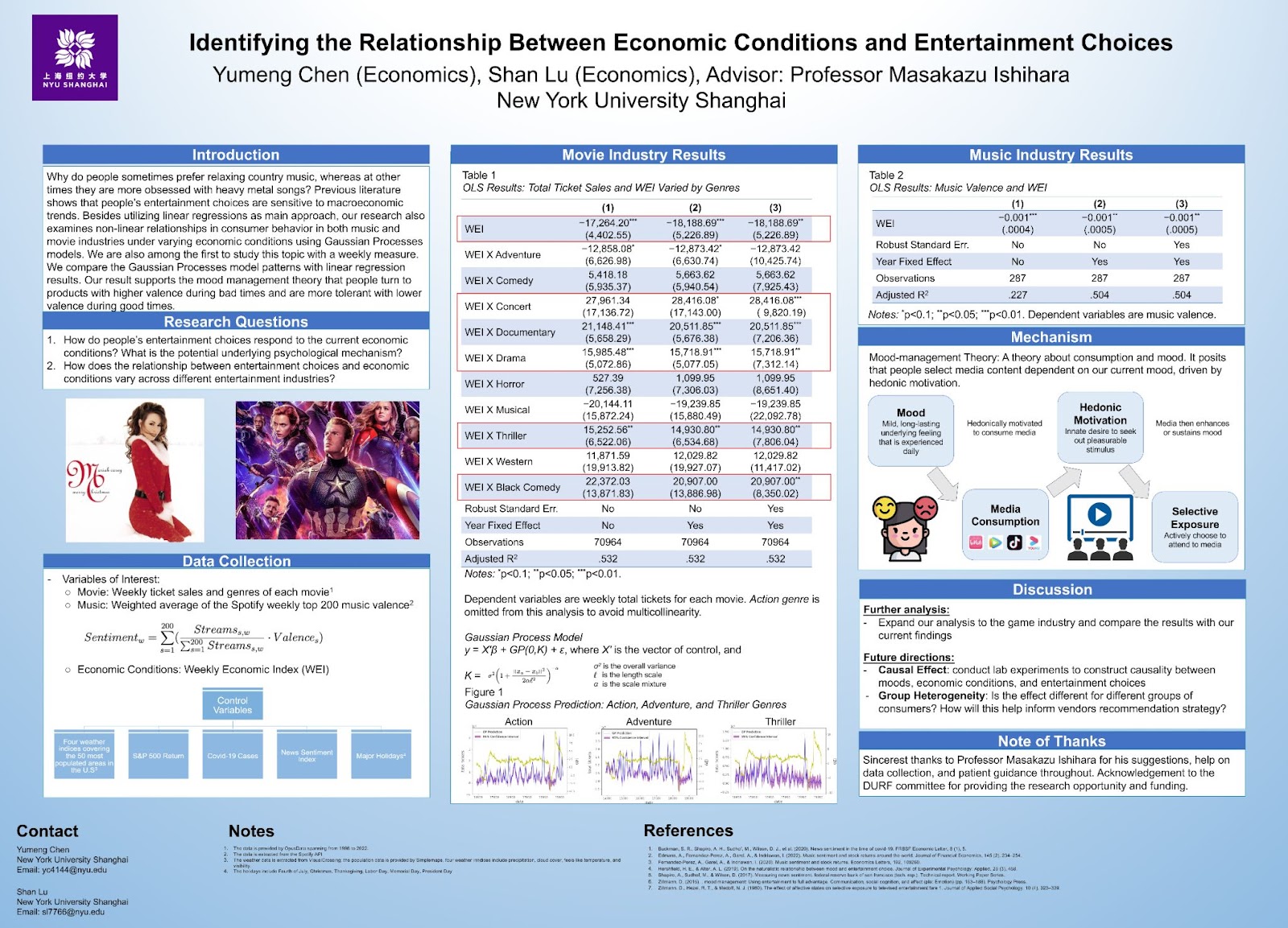 Project Abstract: Why do people sometimes prefer relaxing country music, whereas at other times they are more open to heavy metal songs? Previous literature shows that people's entertainment choices are sensitive to macroeconomic trends; they tend to purchase lighter cultural products during recession periods and switch to heavier ones during booms. By analyzing people's entertainment choices in the music and movie industries, we found a negative relationship between economic conditions and the valence of the products consumed, which supports the "mood management" theory. Our study is the first to examine how changes in economic conditions affect entertainment choices with a weekly measure.