The Center for Applied Social and Economic Research (CASER) at NYU Shanghai, established in 2020, is dedicated to advancing social and economic research in China for the betterment of society. CASER supports rigorous empirical analyses of issues related to child development, education, health, housing, inequality and poverty, migration, population aging, and urban governance, particularly in the context of China's emerging metropolises. CASER is also home of the Chinese Sociological Review, an English peer-reviewed journal published since 1968. CASER Director and Yufeng Global Professor of Social Science Wu Xiaogang shared his insights into CASER's ongoing work and future plans.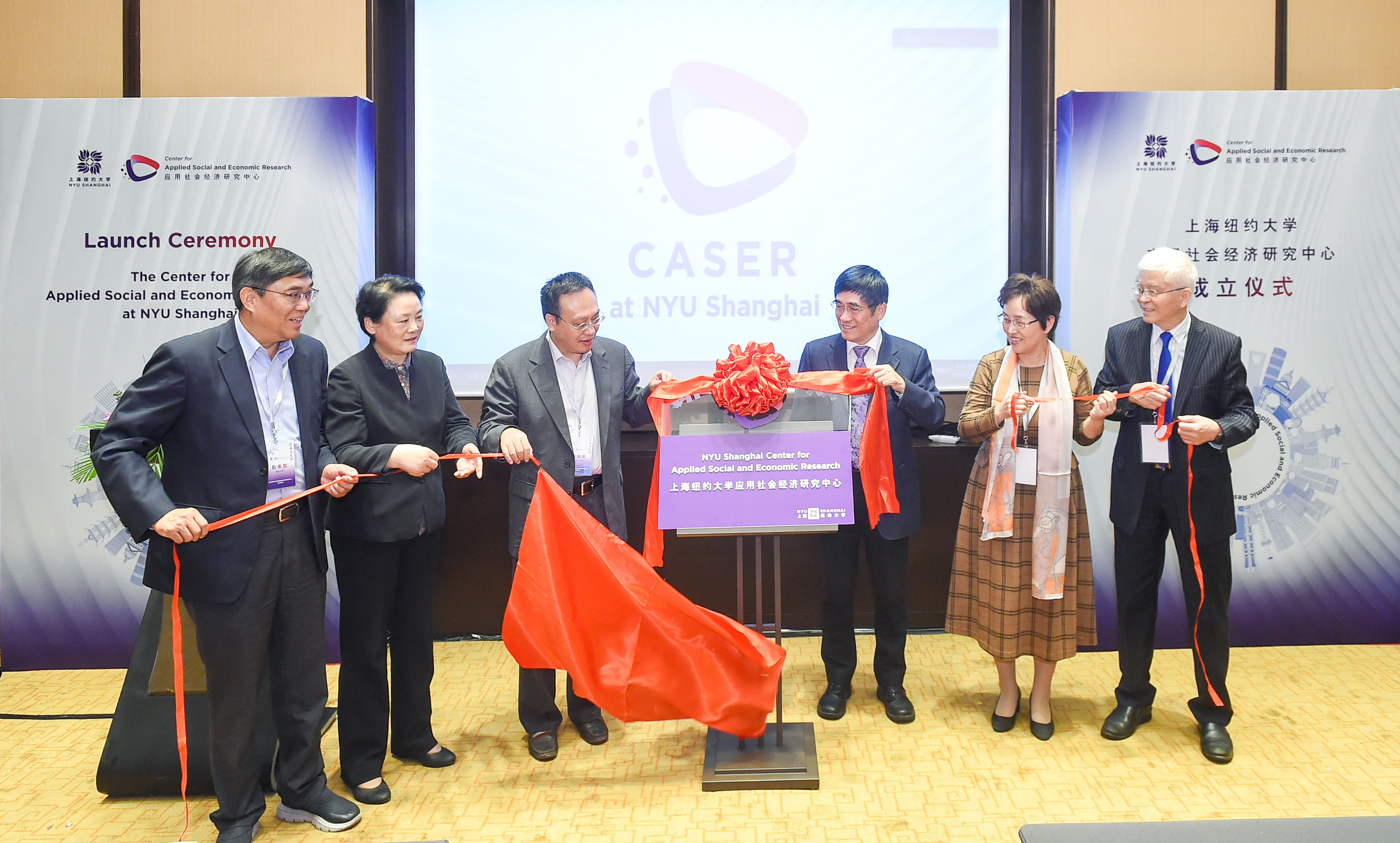 Launch Ceremony of CASER
Can you tell us about CASER's mission? 
CASER has four primary missions listed in our homepage. The first is to create or disseminate comprehensive, multi-level, and longitudinal data on cities such as Shanghai, Hong Kong,  Shenzhen, and beyond. With detailed geocode information, the micro-level individual data can be further integrated with administrative data and big data for a broad usage. Our research team had spent a decade establishing the two parallel data projects in Shanghai and Hong Kong,and we plan to extend the data collection to Shenzhen and perhaps also Guangzhou. In June 2022, with HKUST (Guangzhou) and Shanghai University, we launched the Joint Urban Survey and Intervention Lab (JUST Lab) to further coordination and collaborations in urban survey and quantitative research on Chinese cities. 
Having the data at hand is like having great ingredients to cook with, therefore our second mission is to analyze high-quality data with innovative designs and rigorous methods, to produce credible results to further our understanding of social trends and their causes. At CASER, we advocate quantitative research with local specifics and insightful interpretation rooted in Chinese society, which can also be published with high professional standards to reach a global audience. Last year, our Center launched a new Chinese journal, Journal of Cities and Society (JCS) (《城市与社会学刊》).
The third mission is to employ evidence-based research to inform public policy. The ultimate goal of our scientific research is to generate social impact and to contribute to the improvement of life quality of Chinese people, most of whom live or will be living in cities. I think that this is also aligned with our university's mission to become a leading research institution with a high commitment to public service and deep engagement in community affairs.
Our final mission is to educate and train the next generation of Chinese social scientists. In Fall 2020, we launched our joint PhD program in sociology with the Graduate School of Arts & Sciences of NYU, and a joint graduate training program with ECNU. We incorporate our research in design undergraduate courses in sociology. The Center also regularly organizes public lectures, research seminars, conferences, and summer schools, with participants coming from all over the world. 
How can social science research contribute to social development in China and why is it important to focus on these issues in cities like Shanghai?
After 40 years of rapid economic development, China is now ranked the world's second largest economy, and it is time for the country to tackle some long-standing issues in social development related to people's livelihood. As a scientist, we rely on empirical data to obtain systematic knowledge of society. I believe that social science research has an even greater role to play in furthering our understanding of the complications of social problems and, hopefully, to come up with some possible solutions.  
Shanghai is the most developed metropolis in China. With continuing urbanization and emerging metropolises in China, studying metropolitan cities like Shanghai and Shenzhen will be key to understanding the future of Chinese society. While Shanghai cannot represent China, the city can serve as a social "lab" for scientific research, and any insights from the study of the city may be also applicable in other urban contexts. For CASER, our goal is to collect data from metropolitan cities in the Yangtze River and Pearl River deltas, the two most dynamic regions in China. While our substantive research topics are  situated in local contexts, we ask forward-looking questions, with well-thought designs and cutting-edge methods. 
Can you tell us more about CASER's ongoing projects and next steps?
CASER's strength lies in our established research infrastructure. One focus is on expanding our comparative urban research project. With years of data already collected, we wish to conduct more in-depth analyses of longitudinal data, situating the data interpretation in the historical context of our study sites, and extend our data collection project to other cities such as Shenzhen. Chinese metropolises are the frontier of both scientific research and sociological imagination. Shenzhen, Shanghai and Hong Kong serve as good pairs for comparison. 
In addition, CASER is launching a panel study on early childhood education and development, entitled the "Shanghai Early Education and Development Survey" (SEEDS). China's rapid economic growth over the past four decades has been accompanied by rising income inequality and stagnant social mobility. While fierce competition for and keen investment on quality childcare and early childhood education resources are often observed among emerging urban middle class families, children from disadvantaged families are further disadvantaged as the gap in nurturing qualities appears to be even larger due to either the lack of economic resources, quality care time, or knowledge of child care. As China faces the challenge of low fertility and governments attempt to find measures to boost birth rates, we believe that the SEEDS is a timely project.  
The SEEDS aims to become a signatory project of CASER to exemplify our tenet of "Local research, Global impact." With colleagues from University of Pennsylvania, we recently co-organized two workshops on child development and have started developing research networks and partnership.