We sat down with six members of NYU Shanghai's Class of 2026—in person and via Zoom—to find out who they are and what they're looking forward to most as they start their college lives. Read on for an overview of class stats and personal stories from the students themselves.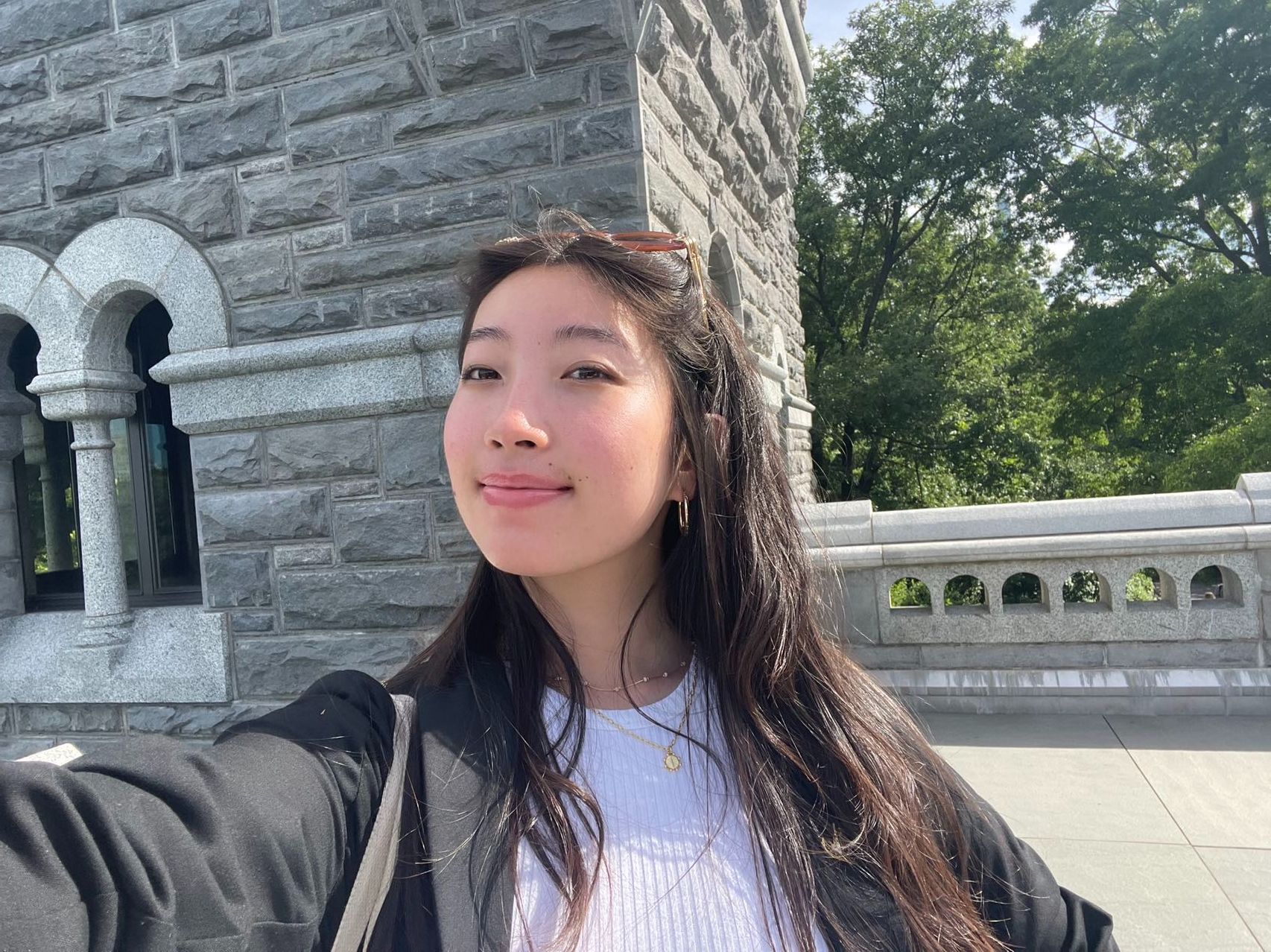 Victoria Liao '26 
Hometown: Belmont, California, United States
How did you choose to attend NYU Shanghai?
I knew that I wanted to go abroad because I've grown up pretty much only in the Bay Area. I really wanted a new experience, so I was looking at colleges with unique study abroad opportunities or campuses abroad. What drew me to NYU Shanghai was the extensive reach it has around the world with its fourteen campuses and study away sites. At NYU Shanghai, I feel like we can experience the world right from the comfort of our own dorms and classrooms.  
Something that I really am looking forward to is spending more time with my extended family living in Shanghai. My parents and I are the only members of our family who live outside of China, and being able to visit our family has been logistically challenging throughout my life. I'm hoping that I'll be able to reconnect with my family and reconnect with my heritage. 
What do you hope to study? 
I'm hoping to double major in the humanities and data science. I believe that a lot of what can be learned through humanities education comes from different cultural backgrounds, and how different people interpret the world. Things like literature, politics, and how people's values are shaped, affect how each nation operates and how our world operates together. I thought it would be really interesting to study humanities at NYU Shanghai where I have access to all of these different people with different ideologies.
For data science, I believe that data drives our world and can help us understand the world a lot better. Data is fact, and there aren't a lot of ways to skew hard fact. I think studying something like data science and being able to apply the logic that you learn in studying data science to something as broad as public health, and being able to intertwine that with the nuances that are introduced through humanities, social science studies would be a really valuable development.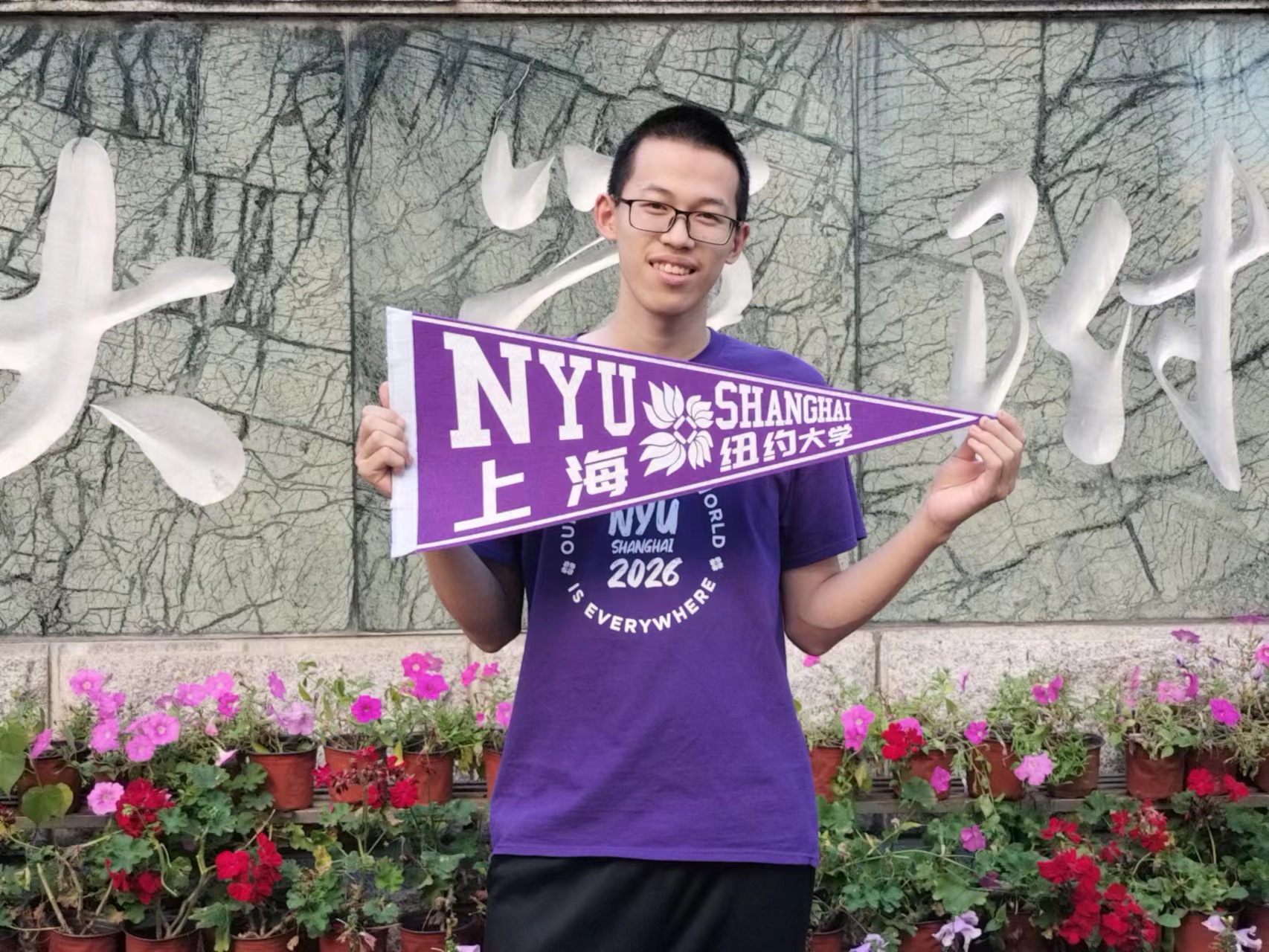 Han Xiaoyong '26 
Hometown: Changchun, Jilin Province
How did you hear about NYU Shanghai?
I learned about NYU Shanghai two years before I took the Gaokao, China's national college entrance exam. Intrigued by NYU Shanghai's liberal arts education, I scoured the official website page by page, discovering more about its location, ratio of international students, its international recognition, and the excellency of its math program. I decided to try my luck and set NYU Shanghai as my dream school. 
Among the six subjects I studied for Gaokao, I put physics, chemistry, and biology aside and devoted my time mainly to English study–tailoring my study plan just for NYU Shanghai's application. I spent the whole year reading English books, finishing 10 to 15 books in a row. My high school classmates thought it was a waste of time, but I wanted to give it a shot!
What did you do this summer?
For the first month of my summer vacation, I worked as a tutor, teaching 30 to 40 students ranging from primary school to middle school and high school. After that, I started my first internship in Beijing–an opportunity I found thanks to an NYU Shanghai student WeChat group. Within four days, I was working as an international community operator, chatting in English with customers online to promote the company brand and answer questions. I got to know many interesting colleagues and honed my communication skills.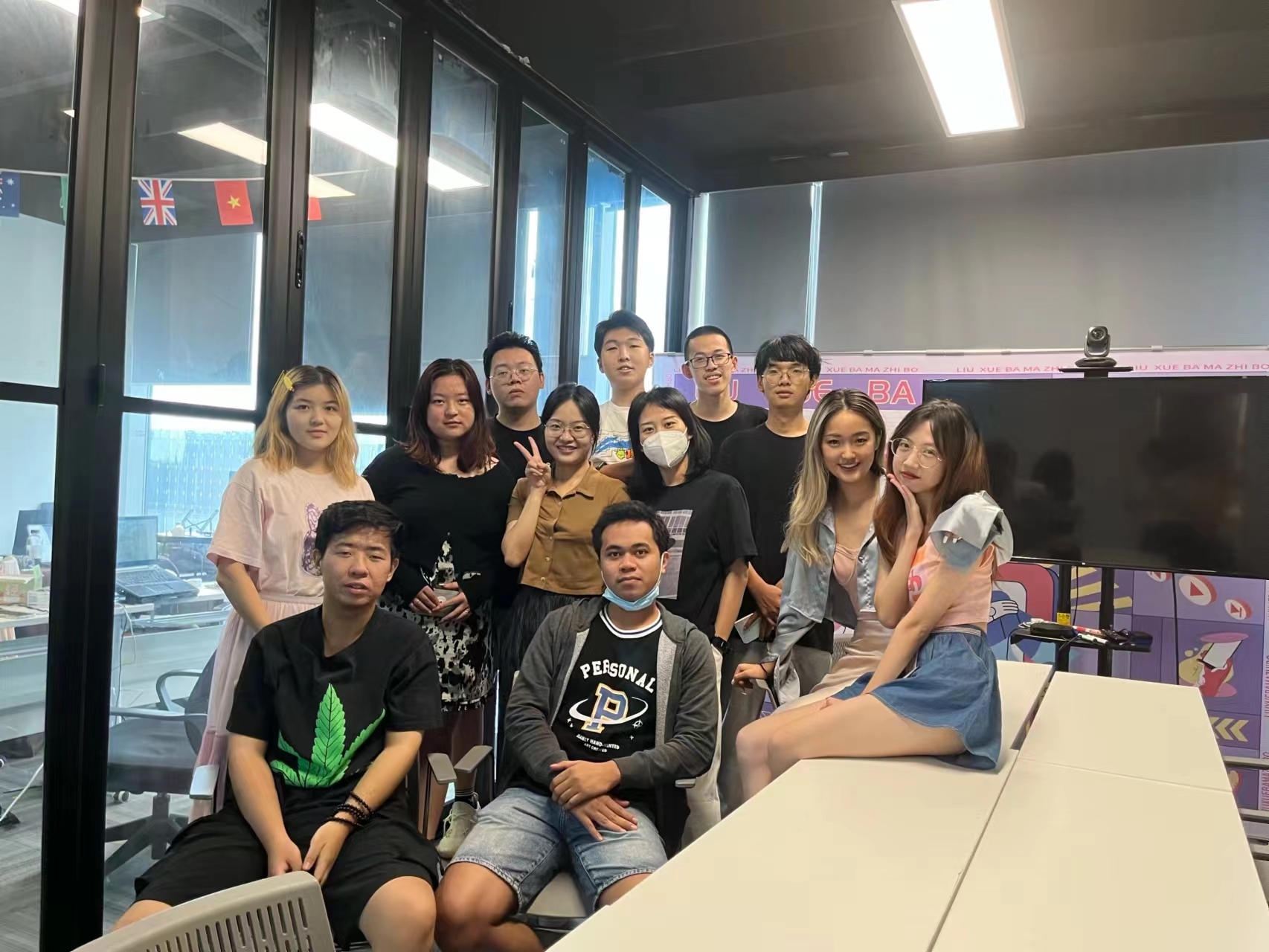 Han (in the middle with black-framed glasses) and his Beijing-based colleagues.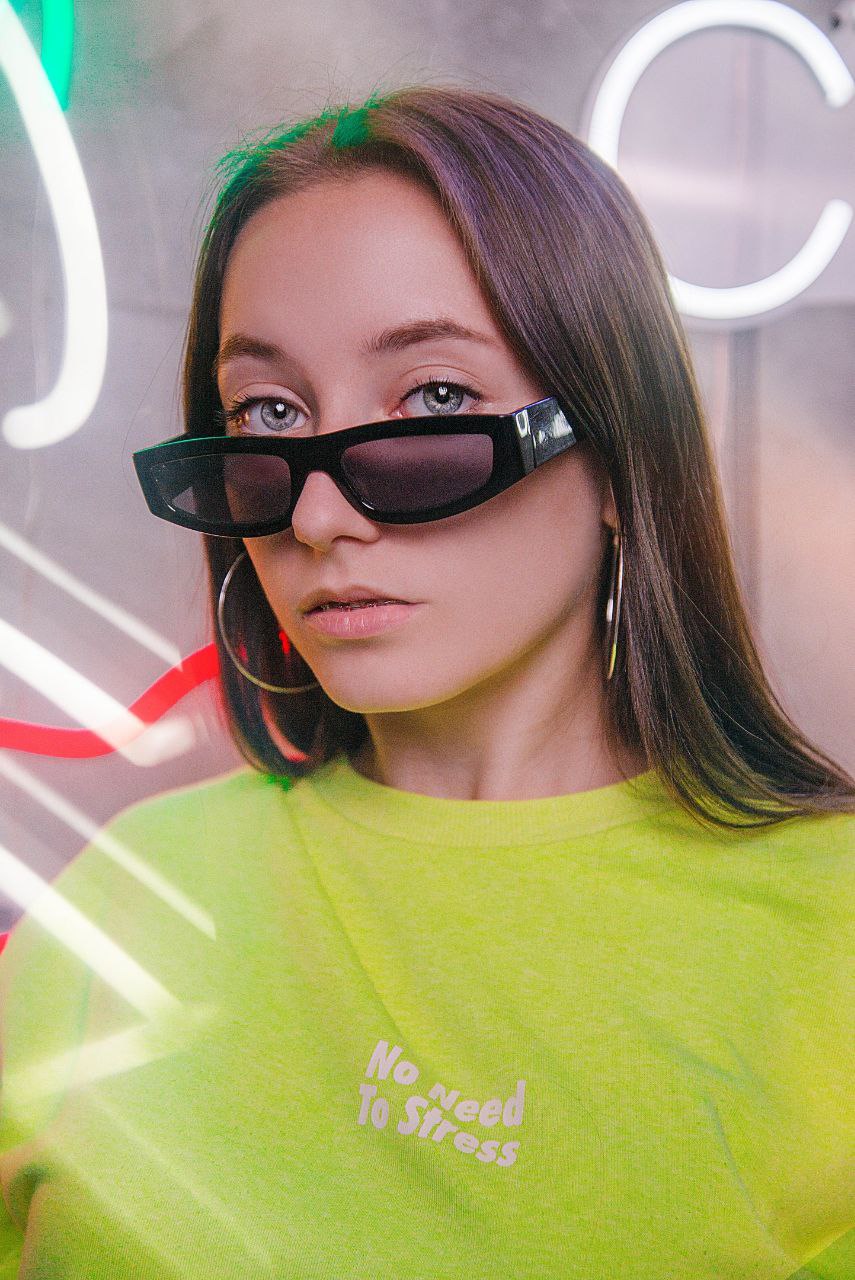 Dana Zinchenko '26
Hometown: Bryansk, Russia 
What are some of your hobbies? 
I'm a professional dancer and have over fourteen years of dance experience. My favorite style is hip hop, and I also like street styles of dancing like 'popping and locking.' In my childhood I danced disco for seven years, and I'm also a huge fan of acrobatics and ice skating! My dance team even became the World Dance Olympiad champions twice. 
In addition to dance, my family and I also run an arts and crafts company. In Russia, we have our own family workshop "LiveInColor handmade" where we create exclusive crocheted monsters and toys and participate in international exhibitions.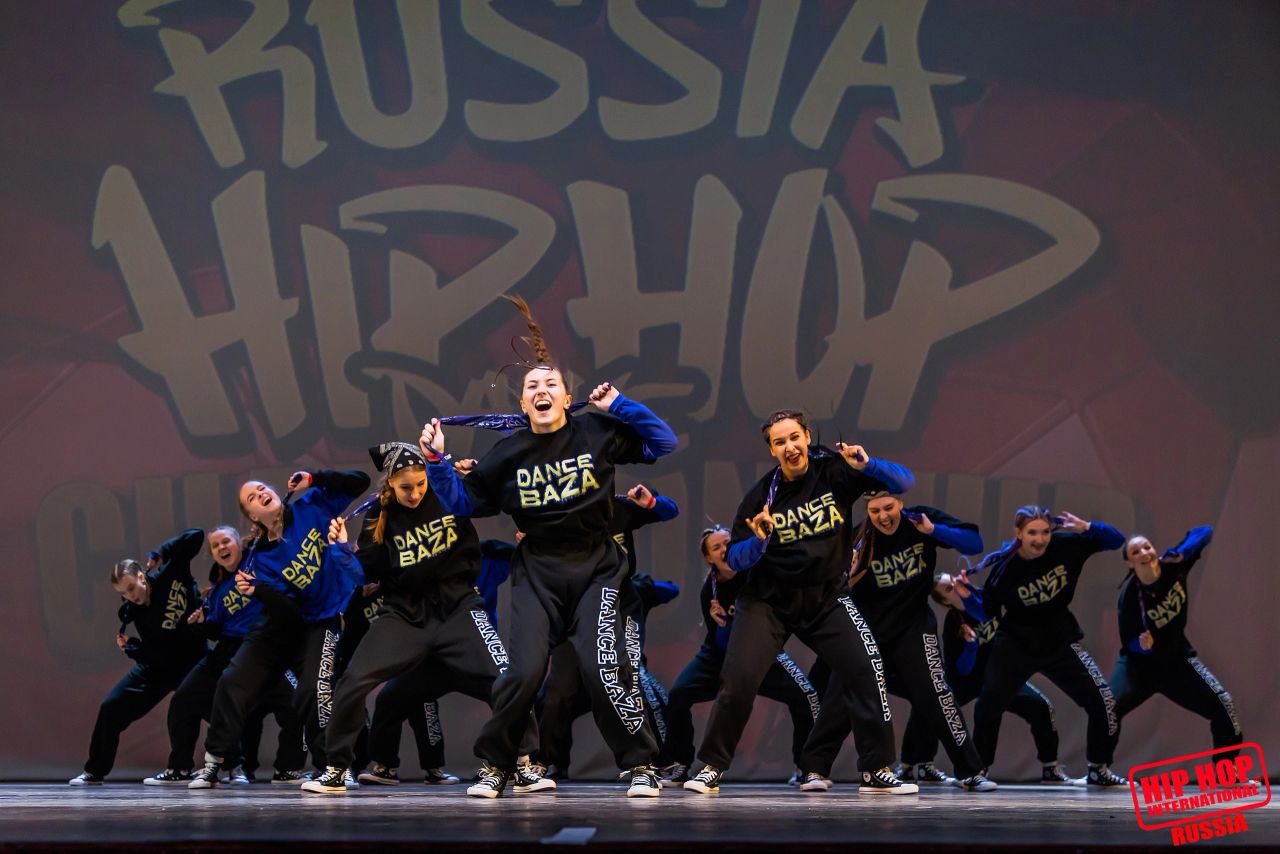 Dana (front and center) competing with her dance team at the Hip-Hop International Russia dance competition in Moscow. 
What are you most looking forward to during your time in Shanghai? 
I'm really looking forward to exploring Shanghai and walking down the streets to experience the whole vibe and culture of the city; I love skyscrapers and am really looking forward to walking along the Bund to take photos. 
I hope to volunteer as a dance coach. One of the reasons I wanted to go abroad for college was to understand dance in another culture. I really hope to dance as much as I can in Shanghai! 
American universities have a reputation for having a fascinating spirit of college life. In Russia, you cannot choose your courses and here, I have the great opportunity to take all the courses I want, like in arts and programming. In my university life, I want to have a lot of new friends and experiences. I want my room to have NYU Shanghai flags, to join clubs, to watch sporting events and to work and volunteer on campus. I want to take all the opportunities I can on this fascinating journey.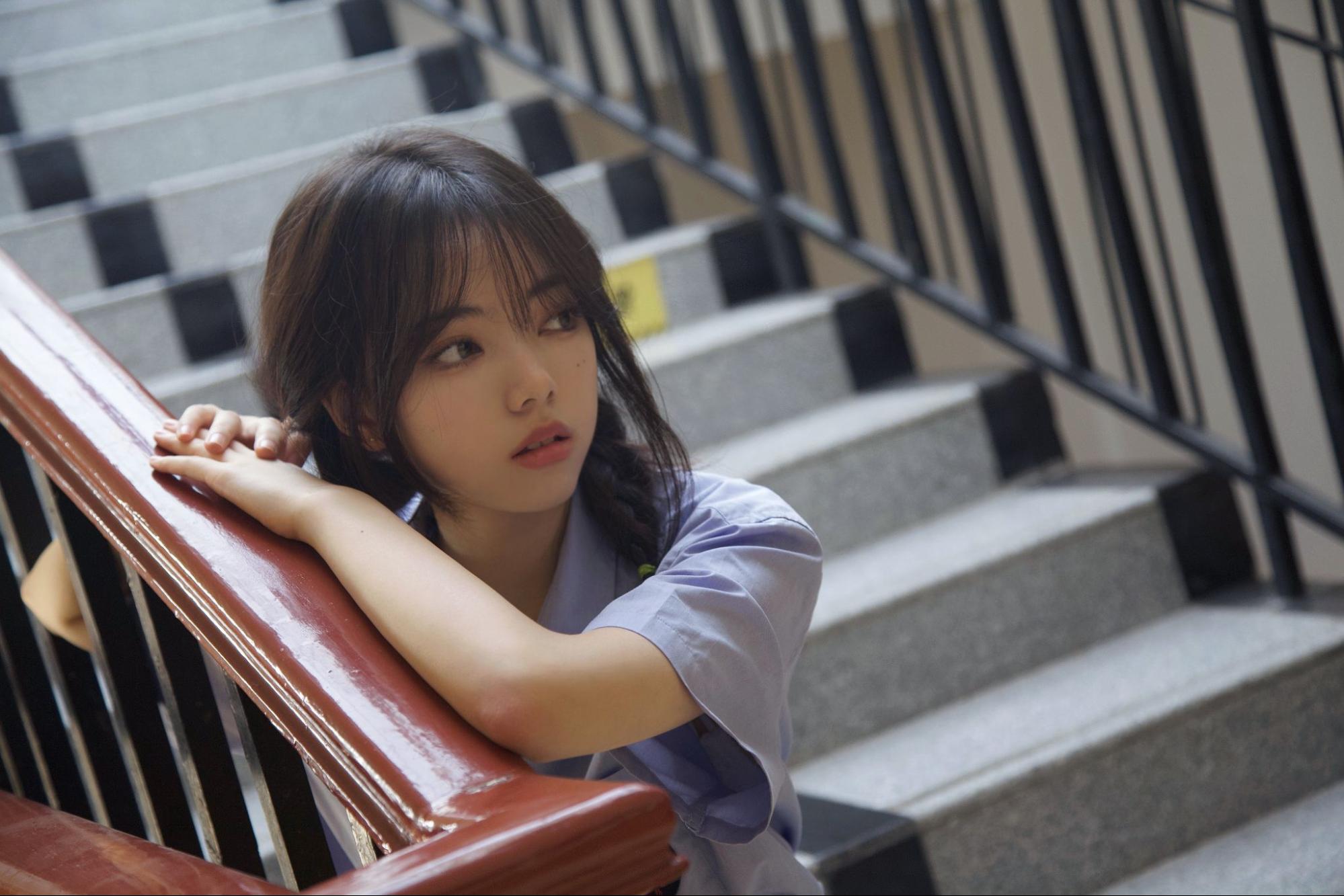 Luo Wenxin '26
Hometown: Chengdu, Sichuan Province
Why did you apply to NYU Shanghai?
Choosing a university is like choosing a partner. What matters most is whether you two are a match. I truly believe that NYU Shanghai can offer me a unique platform–where different cultures intertwine to form cross-cultural communications. 
What is it like to have 250,000 followers on Douyin, the Chinese TikTok? 
My popularity on Douyin has increased greatly after I was interviewed by some off-campus media, explaining Chinese literary allusions in English. My followers are mainly students, so I usually share my daily life and English learning tips on my personal channel. After reading different comments on my videos, good or bad, I have a better understanding of the influence of the internet and media and have more interest in studying this field. Maybe I'll major in Interactive Media Business (IMB) in the future. This major looks like a good combination of creativity and business.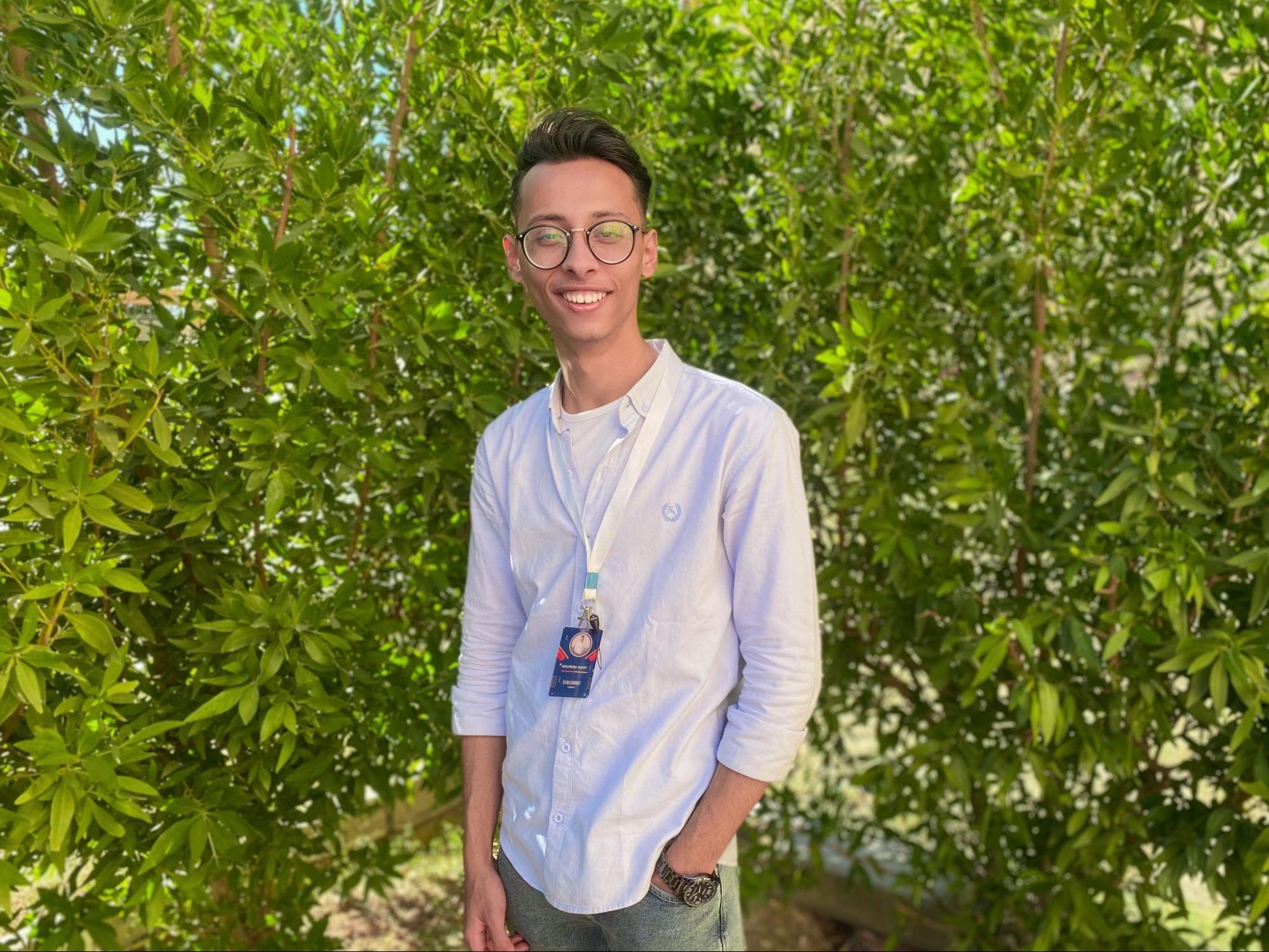 Androw Ramy '26
Hometown: Hurghada, Egypt 
How did you first hear about NYU Shanghai and what made you want to come here?
I first heard about the school through Instagram, where I discovered the Interactive Media Arts (IMA) lab. It caught my attention, and reminded me of the Fab Lab I currently lead at my school in Egypt. I'm looking forward to studying biology and neuroscience. I also want to explore more in IMA. In Egypt, if you choose a college major, you can't change it, ever. I picked NYU Shanghai so that I could have the flexibility of choosing my major and wait until sophomore year to decide.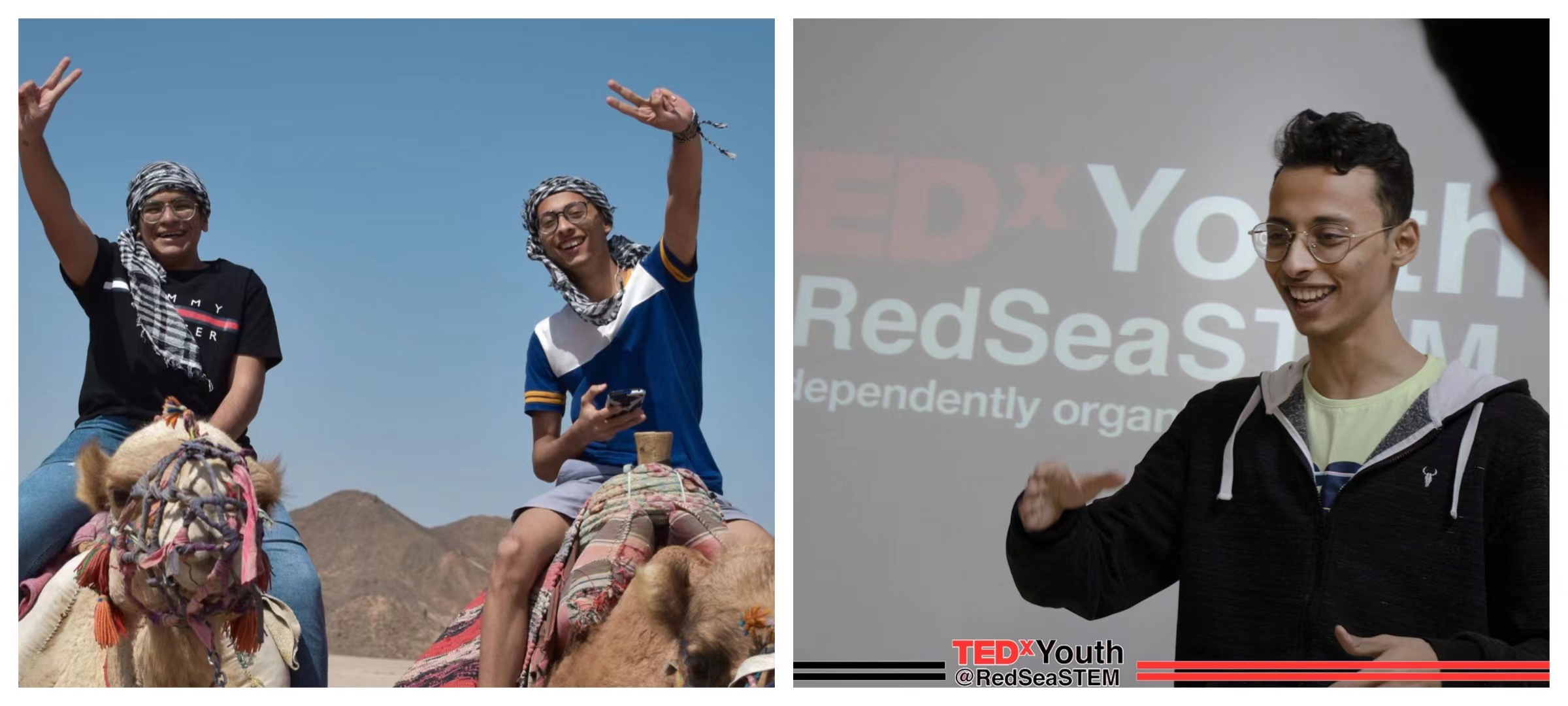 (Left) On a field trip to Egypt's southern desert, learning about Bedouin culture. (Right) Speaking to students at a TEDxYouth @RedseaSTEM session about how to contribute to the community and learn new skills.
What are you anticipating about your new life here in China?
I've never been to China, and I have no prior experience learning the Chinese language. I'm looking forward to being immersed in a new culture. Before me, there had never been a student who studied abroad from my high school. One of my greatest fears is getting lost in Shanghai's subway. In Egypt, we have a subway, but there are only three lines.

Have you made any friends ahead of your trip? 
I've met many classmates through social media and online games that we played together on Discord (l like to play chess and Valorant). They are lovely and helpful people. This August, I had exactly one month to prepare everything to come to China, including my visa and flights, and my classmates were super supportive.My roommate helped me with setting up WeChat payments. This is my first time using an online payment system; in Egypt we use cash most of the time. My roommate even helped me get something to combat mosquitoes. I didn't think about mosquitoes, since we don't have them where I'm from. Even though we come from different backgrounds, I feel like we are all already good friends.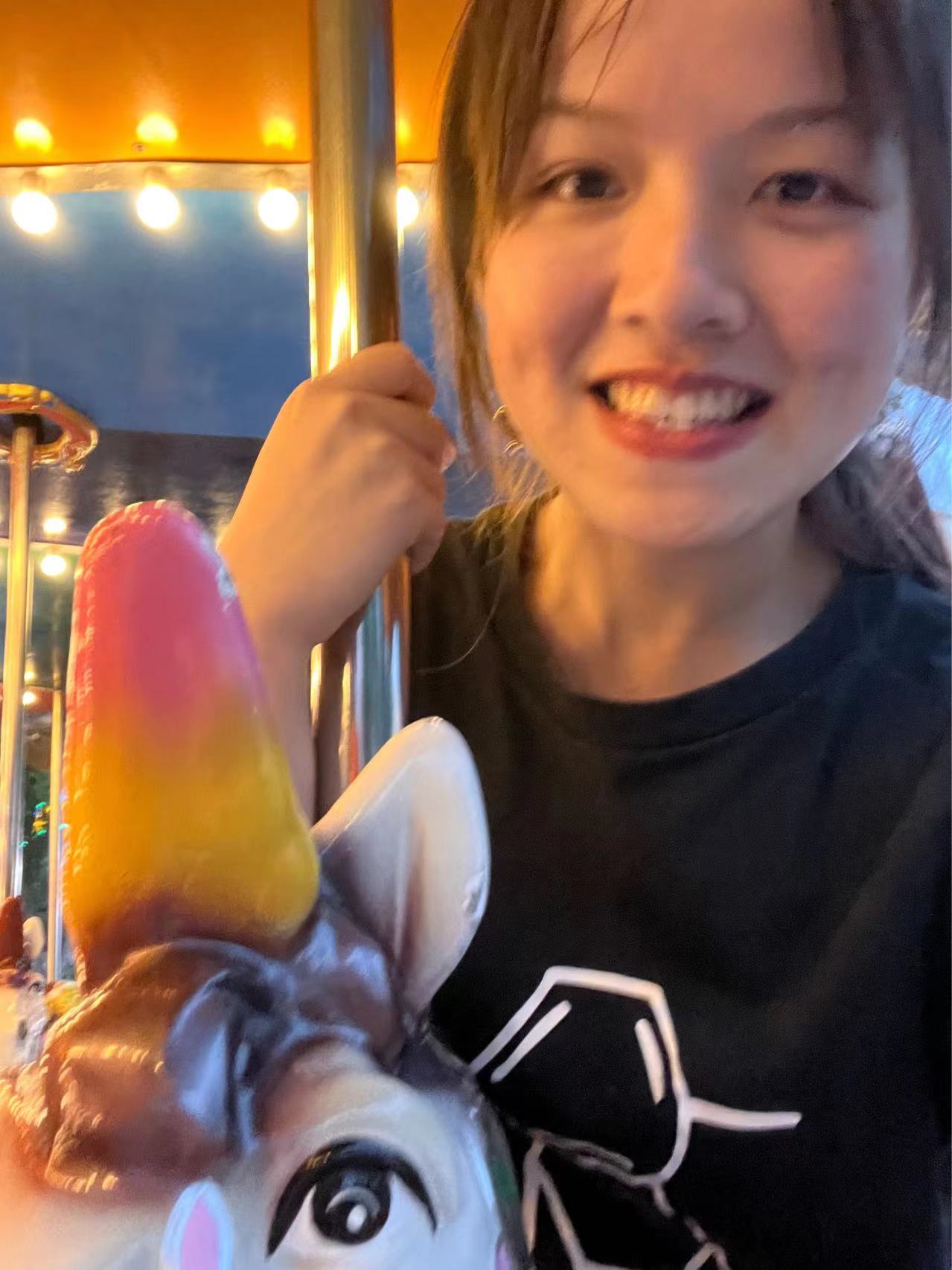 Wu Yufei '26
Hometown: Hefei, Anhui Province
What are your plans for university life?
Currently, I prefer to major in mathematics, and I'm also interested in computer science and data science, though I still have no idea what they are really about. I'd like to know more about them by trying different courses in the first two weeks. It will be great if I can complete a double major during my four years.
Even before the semester started, my inbox was flooded with emails about various clubs and activities. I feel so excited about life on campus. I'm interested in many things, including badminton, debate, piano, painting and computer games. I want to continue developing my interests at NYU Shanghai and try something new, for example, playing erhu! 
What did you do this summer?
I spent my vacation fulfilling my dreams that have piled up over the past three years. As soon as I finished the Gaokao, I dyed my hair and pierced my ears.  I also traveled with my classmates, went climbing, visited an amusement park, played role-play detective games, and went to a karaoke bar.
After one month of fun, I started to do something. I spent one month successfully getting my driver's license and practiced English by reading English novels and watching American TV series. I also played volleyball with some seniors at NYU Shanghai. I discovered I had a new interest in photography–so I bought myself a camera.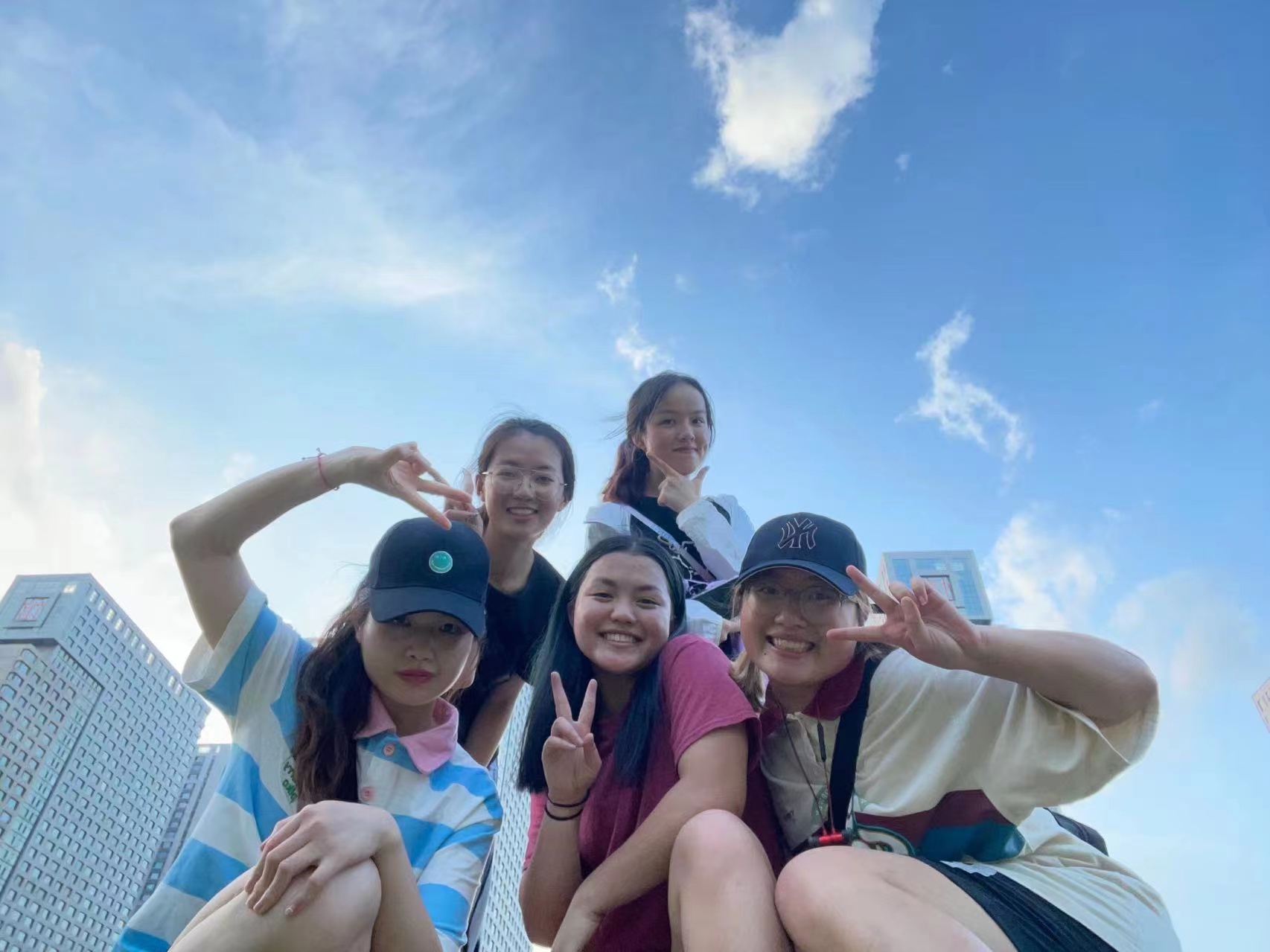 Wu (middle at the back) playing badminton with NYU Shanghai students this summer.