Professor Michael Naimark has served as faculty at NYU's Interactive Telecommunications Program, USC Cinema's Interactive Media Division, and the MIT Media Lab, and was Google's first-ever Resident Artist in its new Virtual Reality Division in 2015. This semester, he brings his experience to NYU Shanghai. He tells the Gazette about his Interactive Media Arts class, and his predictions for the future of Virtual and Augmented Reality technology (VR/AR).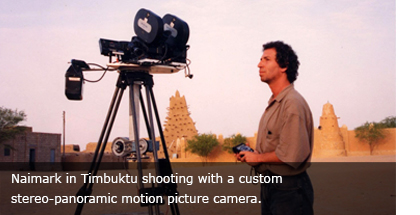 You have been researching and developing VR technology since the late 1970s—how far has VR come since then?
The cost is a big difference. In 1990, NASA's VR 1.0 was in many ways the same as what we have now, except it cost $500,000 for a computer. Now quality is getting a lot better very, very quickly because the cost has dropped so much, and so many people are involved—investors, hackers, artists, museums.
For example, just this week, Pimax—a VR company based in Silicon Valley and in Shanghai—launched a Kickstarter campaign to fund a VR headset project that boasts 4x more resolution than anything out there today. They reached their goal of $200,000 in one hour and thirteen minutes.  It just shows how much VR is on a lot of people's radar.
What are the challenges facing VR today?
Getting past the hype. The hype of VR has been thicker than anything I've seen in my career, and, frankly, I think it does more harm than good. To have more realistic expectations and then to over-deliver is better than to have high expectations and under-deliver. That's the conceptual challenge.
Another huge issue is working with what is sometimes called 'simulator sickness'. Everyone has different tolerances for the ambiguities that VR has, and getting all the factors right is especially important if you want to push something out on the mass market.

How do you think we will use VR/AR in the future?
The vision that is generally accepted is that VR and AR will combine and become like a single pair of standard-looking glasses in terms of technology. The Facebook people say that's about 5 years away. During this 5 year period VR/AR will continue parallel developments in gaming, cinema, virtual travel, medical fields, and education.
At IMA [Interactive Media Arts], we are supporting the hackers, the artists, and the people 'working under the radar,' like collectives of young people whose incredible innovation make the Apples and Microsofts of the world go "Oh, we should have done that!"
Tell us about your VR/AR Fundamentals class at NYU Shanghai.
The class is my attempt to walk people through the basic foundations of VR and AR—the first class we spent two hours conveying what it takes to understand how to fool one eye and one ear looking at a framed image while the head doesn't move and are expanding from there to panoramics, 3D, interactivity, and so on.
In the second half of the semester, we'll be producing studies—not epics, but several seconds long—that help us understand some of the confusions and dilemmas and tradeoffs in VR today.
VR and AR are in an embryonic moment, where small changes, perhaps made by lean little projects from the creative community, can have big and lasting effects. So what I really want to encourage and expect from my students and from the creative community is to surprise us.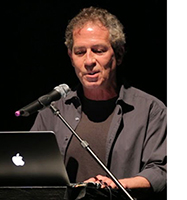 Michael Naimark is a producer, inventor, and scholar in the fields of virtual reality (VR) and new media art. He has been awarded 16 patents relating to his work with projection mapping, virtual travel, and live global video, and his productions have been seen in over 300 art exhibitions, film festivals, and presentations around the world.


Find out more about Interactive Media Arts and the Program on Creativity + Innovation at NYU Shanghai.