This year, the Academic Building's sixth floor is now hosting a new spot for students to relax, de-stress, and take a deep breath of essential oil-infused air. 
The Calm Corner, located in room 614, is filled with items to encourage students to practice self-care and reflection –  pillows, yoga mats, colorful padded chairs and cushions, crafting supplies, and meditation bowls. The concept of the calm corner has existed for several semesters now in a pop-up format – a temporary space set up during midterms and finals – but this school year is the first time it has existed in such a permanent state. 
Now, students are welcome to come in Monday-Friday from 1-5 PM for drop-in hours, when they can use the space however they like. "Our whole philosophy is to offer a lot of different resources so people can figure out strategies for stress management, mental health, and well-being that work for them and are sustainable," says Carly Siuta, Senior Specialist in Health Promotion and Student Well-being at NYU Shanghai's Student Health Center. "The Calm Corner is a place for students to be able to do what they need in the amount of time they have to do it. It's 'self-serve' – people can come and take what they need from the space."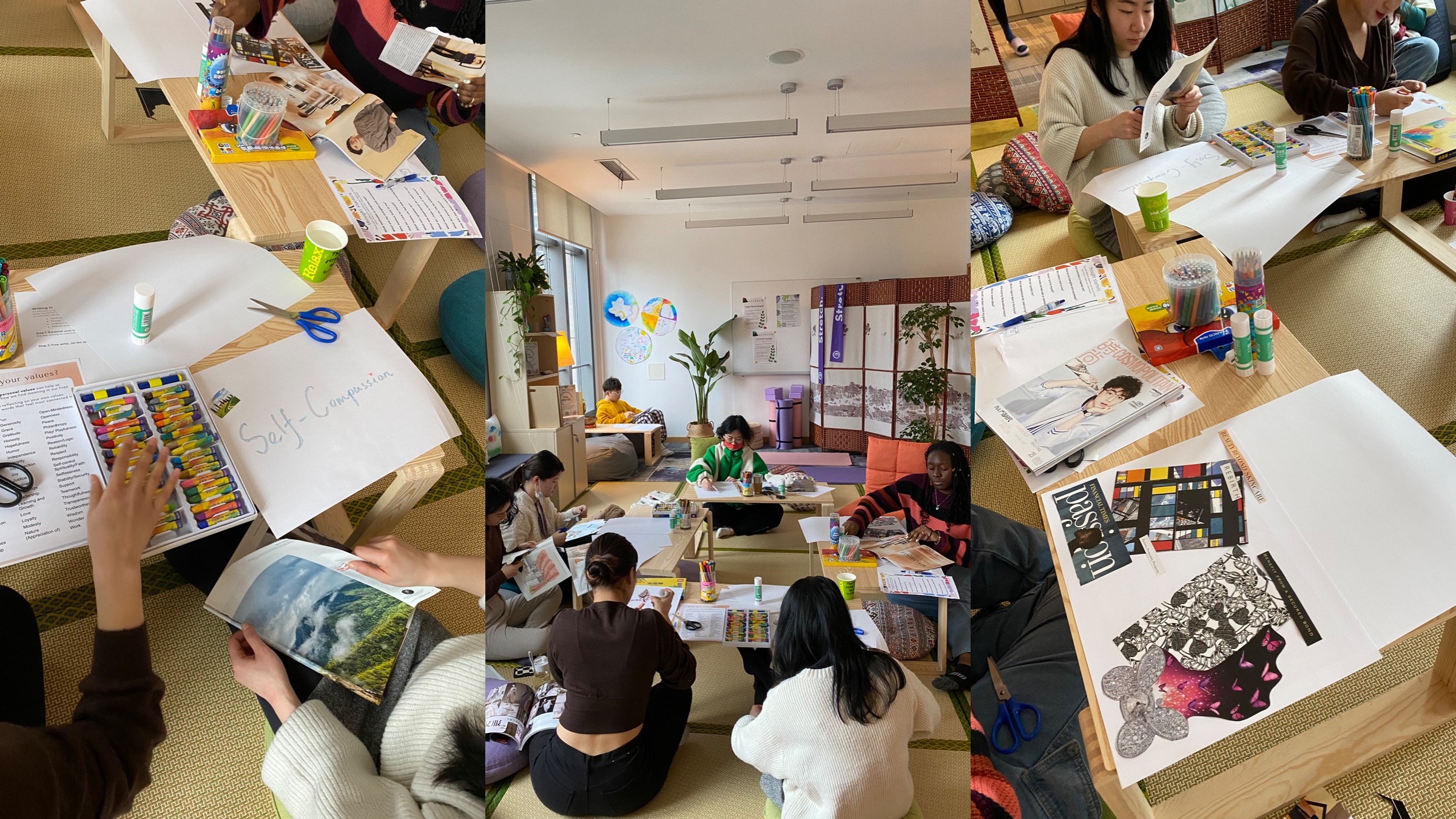 Student work from last week's "Expressive Art" workshop. Almost every week there are planned workshops and programs held in the space. 
In addition to the drop-in hours, the Calm Corner collaborates with student groups and offices on campus to provide students with new self-care ideas and habits. This week, in honor of Black History Month, the Black Student Association hosted an event, "Literally Just Vibing," where students gathered to appreciate music by Black artists across genres. 
Last semester, the Student Health Center's student workers used the space to host student-led workshops on sexual health and well-being, and this semester they will be hosting  "Love Your Body" week, which will include programs and events related to holistic health and self-care. 
 Siuta is also working with the library to collaborate on reading events where students can enjoy books to read for fun. Although there are a variety of "coffee table books" in the space, the Calm Corner specifically asks that students leave their homework outside.
 "It's really a space for people to take a break from schoolwork and screens," says Siuta. "We want students to take a break from the pressure of their studies, and be intentional about recharging."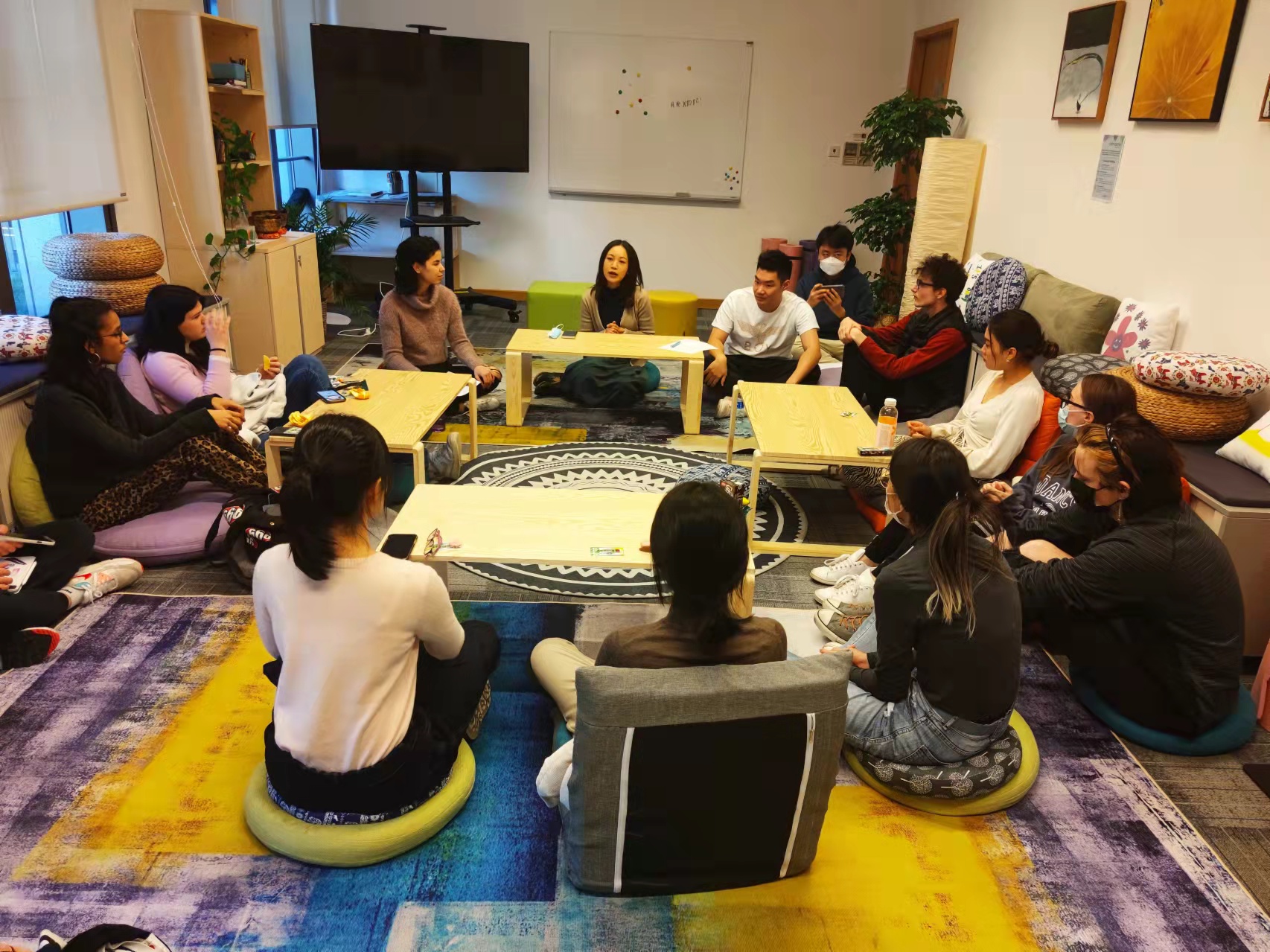 In December, student Health and Wellness Ambassadors hosted a peer-led workshop on sexual health. 
Mu Zhong '25 is a regular attendee of programming at the Calm Corner. "I did mindfulness practice every week in the Calm Corner last semester. I sometimes feel we're too carried away by our essays and exams and live a really fast-paced life," says Zhong. "This weekly mindfulness practice is an escape from all the pressure and worries in my daily life. It feels so good to just pause for a moment and turn your attention to yourself."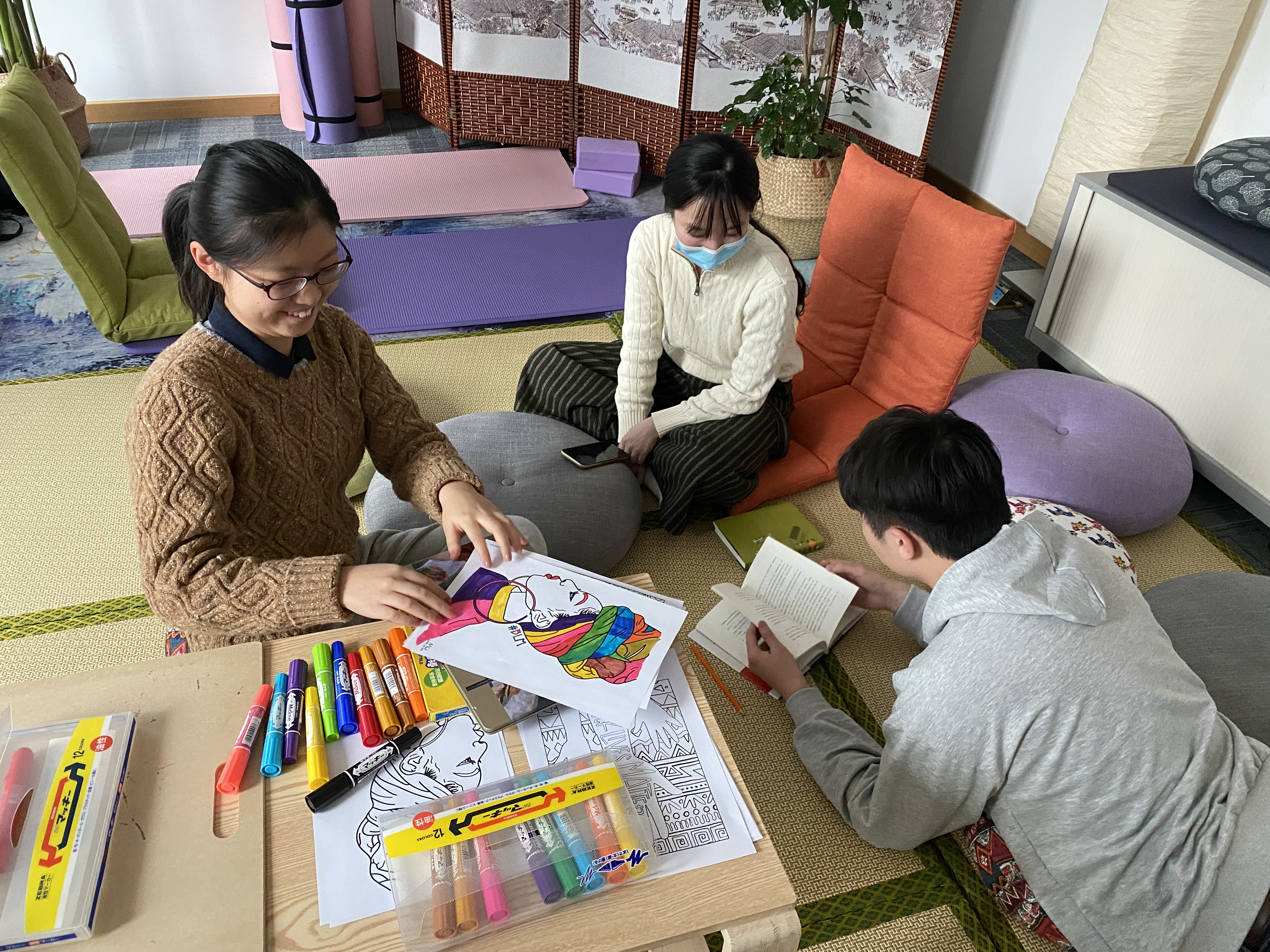 Zhong '25 (left) with her classmates taking a break. "I can always meet some interesting people in this room. Last week when I went to the Calm Corner, I started a conversation on my favorite books with the person sitting next to me. You never know who you're going to meet in this magical room, so just open yourself to all the possibilities!" says Zhong. 

More program information can be found on the NYU Shanghai Student Health Center Website. For students, please RSVP through NYU Engage to secure your spot due to limited group size. 
The Student Health Center offers counseling services to support students with stress, anxiety, or other concerns. Students can schedule counseling appointments by email (shanghai.health@nyu.edu,) phone or in-person. Students who need immediate support can also use the 24/7 Wellness Exchange by calling 021-2059-9999 or chatting via the Wellness Exchange app anytime.