For much of its history, Shanghai has been a city with one foot firmly set in the future, a metropolis where the friction of old against new sparks a host of daringly novel ideas, technologies, and ways of life. And for the many NYU Shanghai faculty trying to figure out how we can build better future cities, Shanghai is an ideal living laboratory. 
With a population of over 24 million, Shanghai is the third-largest city in a world that is becoming ever more urbanized. The United Nations estimates that the world's urban population will grow from 55 percent of the total global population in 2018 to 68 percent in 2050, meaning that megacities like Shanghai increasingly serve as models for billions of people's futures.
From public big data sharing, to breaking down barriers to clean energy adoption, to re-envisioning nature's role in the city, here are just a few of the ways that NYU Shanghai faculty are looking closely at real contemporary life in Shanghai to reimagine the cities of tomorrow.
_____________
Cities of Data 
For centuries, urban planning focused on the spatial dimensions of city development. But with the digitization of all kinds of urban infrastructure, planners and urban researchers can now look closely at the temporal dimensions of urban life – things such as seasonal variations in peak usage hours for a space, the mode of transportation weekday vs. weekend visitors use to reach an area, or how the age of visitors varies over the course of a day.
"Almost nothing in the city is static. Information is constantly flowing and changing, and people are always moving – even the daytime and nighttime populations of Shanghai are different," says Assistant Professor of Urban Science and Policy Guan ChengHe. "That has a lot to do with how we can plan future urban infrastructure like road systems, or how to lay out a metro system."
In several studies, Guan has sifted through big data to find the rhythms of Shanghai's urban green spaces, its housing markets, and even its hospital access patterns. But his investigations increasingly pulled him toward a key dimension of the urban landscape that -- although it isn't visible -- is crucial to contemporary urban planning and development: the urban digital infrastructure that governs and transmits big data.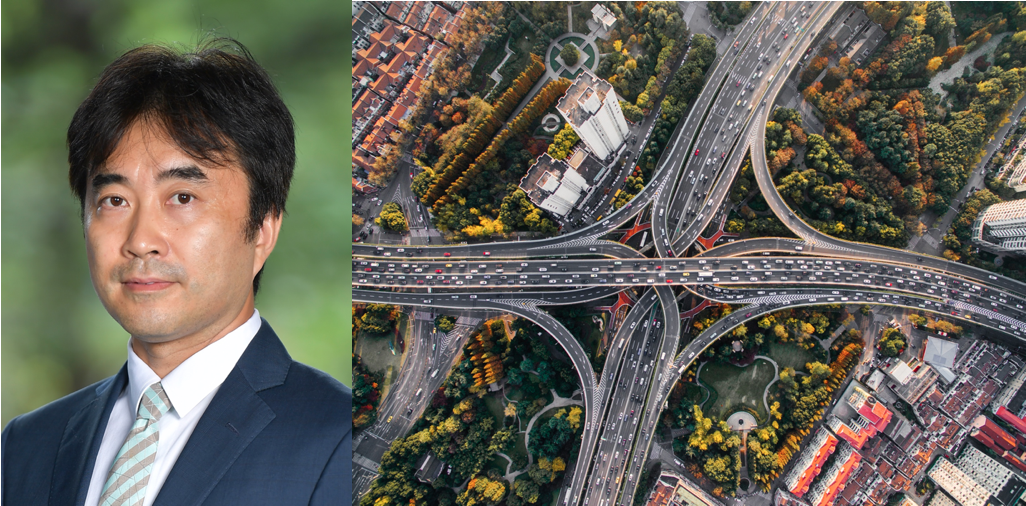 Guan (left) is working with regional NGOs, businesses and planners to make urban big data easier and more equitable to share and process. Right photo by Denys Nevozhai via Unsplash.
 
Guan has partnered with the NGO Shanghai Yangtze River Delta Business Innovation Research Institute to devise "digital transformation standards" that govern how urban big data is classified, owned, and shared across organizations and jurisdictions. They also propose a data trading platform that standardizes data pricing and finds ways to share profits with the urban residents who are actually creating these highly sought-after data points. Their work has brought together over 100 collaborators from policymakers, to planners, to e-commerce giants, to regular city dwellers throughout the Yangtze River Delta region.
"If I travel from Shanghai to Nanjing to talk to my colleagues there, should this travel pattern data belong to Shanghai or to Nanjing? And when my cell phone company uses my travel data to create information, should they give me the money they make from that information?" Guan says. "We need to use a lot of data collection and processing techniques and different data structures to make sure we exchange this data fairly, so these are some of the foundational ideas we are working on."
Creating a more equitable and transparent public data market can also become the powerhouse of urban economic growth, Guan argues. "Urban data is going to be a multi-billion- or even multi-trillion-dollar industry," he says. "It will become the 'renewable energy' to support future sustainable urban growth."
Guan is also working on the launch of the NYU Shanghai Urban Lab, a research platform that will work closely with the Science and Technology Commission of Shanghai Municipality, public agencies, and private enterprises to turn big data into real community plans and policy recommendations.
"We hope to be able to tackle China's new urban challenges from a global perspective and share our experience in building digital smart cities with the world," Guan says. 
_____________
Electric Dreams?
Guan's efforts to open urban data platforms have a direct positive impact on researchers like Assistant Professor of Engineering Chen Zhibin, who is delving deep into the habits and patterns of real-life electric vehicle drivers to help Shanghai realize its dream of phasing out fossil fuel-powered vehicles. Chen's study in collaboration with the Shanghai Electric Vehicle Public Data Collecting, Monitoring and Research Center is one of the first to use millions of real-time data points from nearly 10,000 electric vehicles (including both battery-powered vehicles and plug-in hybrids, or PHEVs), traversing Shanghai's streets.
"Most existing studies focusing on electric vehicles' behavior patterns have a sample size limited to only a few hundred electric vehicles, and most of them don't even have battery state-of-charge data," Chen says. "To improve policies that support the use of electric vehicles in many countries, we need a better understanding about the driving and charging patterns of actual electric vehicles."
Shanghai became China's first electric vehicle adoption pilot zone in 2011, and the city's  preferential license registration policies and charging subsidies for electric vehicles and PHEVs have helped put over 600,000 new energy vehicles on the city's roadways. Chen's dataset allows him to look closely at how these vehicles actually consume energy, where they consumed that energy, and even how much charge remains in a vehicle's battery when the driver decides to charge it.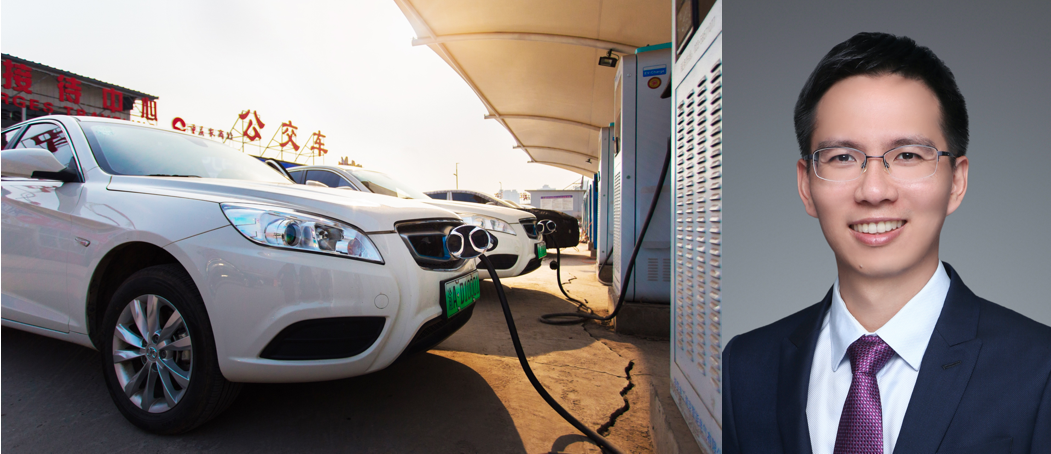 Chen (right) is investigating whether electric and hybrid vehicles in Shanghai are living up to the promises the green license plate system is trying to realize. Left photo by Dadao via iStock.
Identifying real patterns in the way electric vehicles operate shows policymakers around the world how to improve electric vehicle tech and infrastructure, and how to better align incentivization policies with environmental goals. Those patterns can also help city, regional, and even national-level planners better predict the ripple effects that expanded electric vehicle use will have on urban life - from real estate prices, to public transport restructuring, to municipal power supply.
Chen's study also found surprising facts that challenge prior assumptions about electric vehicles. PHEVs used in Shanghai run on gasoline power for a much higher proportion of traveled distance than many previous studies have estimated, often cutting their expected emissions reductions in half. Chen and fellow researcher Li Zhi, a transportation planning and engineering PhD candidate at NYU Shanghai, also found that given current driving and charging habits, replacing all gas-powered vehicles in the city with electric vehicles would require Shanghai to increase its electricity generation capacity by a minimum of 30 percent. 
"Although electric vehicle drivers may have very different behaviors in different regions, the kinds of questions we are trying to answer in our study and the way that we think about these questions can hopefully provide some guidance for scholars in different countries," Chen says.
_____________
Garden Metropolis
When she arrived in Shanghai over a decade ago, Assistant Professor of Contemporary Global Media Anna Greenspan was captivated by how Shanghai's former role as a globalized metropolis suffused the city's ideas about what kind of 21st-century city it should become, and how to do it.  "I was struck by this incredible embrace of optimistic futurism that harkened back to Shanghai's own cosmopolitan past," she says. 
Greenspan has been looking closely at how China's past is playing a role in urban ecology – the way in which urban residents  and the city's infrastructure use and interact with non-human species. In "The Cultivated City," a class co-taught with Visiting Associate Professor of Buddhist Cultures Francesca Tarocco, Greenspan is leading NYU Shanghai students in their own investigation of how Shanghai residents' past and present practice of the Chinese garden tradition continues to shape the city's relationship with nature.
"Chinese gardening practice is built on principles of using human culture to enhance the beauty and meaning of nature, and vice versa," Greenspan explains. "In many contemporary societies, there's this idea that we cultivate an urban nature. But if we think about this from the perspective of the Chinese garden, it's clear that urban nature actually cultivates us – cultivates both the life of the city as a living organism and cultivates human actors in the city."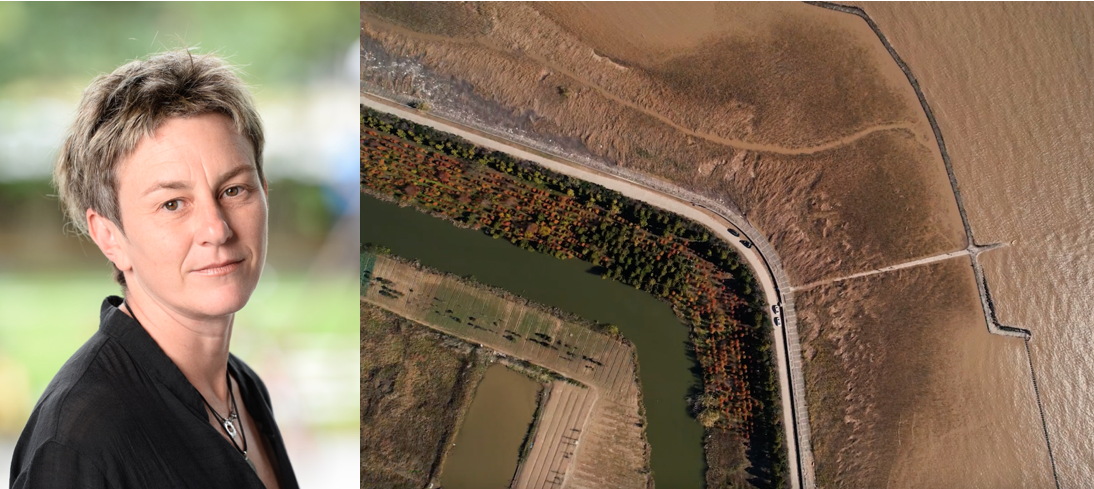 Greenspan (left) leads her students in exploring the problems and potential of contemporary practices reflecting the philosophical principles of Chinese gardening. Right photo of Chongming Island's Yangtze River coast by Greenspan student Ken Wu '24 and Li Peirong '24.
Through field trips to Shanghai's Confucian Temple, a park built around a 1,000-year-old gingko tree, Suzhou Creek-area rooftop garden The Peace Place, and Tongji University's urban farming cooperative Cloverfield, students in "The Cultivated City" examine how contemporary Shanghai residents are adapting urban spaces into sites where "nature" forms a nexus of community life and opens up alternatives to the extractive, consumption-based lifestyles often associated with city living.
The class culminates in developing proposals for a community-use green space to be located on the 7th floor terrace of NYU Shanghai's new Qiantan campus (see p.4). Greenspan says she hopes her students will not only help the university build its own community-cultivating green space, but also carry the practices and ideas they have observed into communities around the globe.
"One of my main goals for the students is simply for them to understand that the city itself is alive. The Chinese gardening tradition doesn't draw distinctions between the natural and the artificial, or between humans and nature," Greenspan says. "We can mobilize that concept to really think through many of the problems and crises of the 21st century."
_____________
Cohesive Communities
From 2015 to 2019, Yufeng Global Professor of Social Science Wu Xiaogang and researchers now at NYU Shanghai's Center for Applied Social and Economic Research (CASER) collaborated with scholars at Shanghai University to design and implement the Shanghai Urban Neighborhoods Survey (SUNS), the most comprehensive household panel survey on life and community governance in a single Chinese metropolitan area. In 2021, Wu and fellow researchers Zeng Donglin and Chen Wei used SUNS data to capture how migrants' residential proximity to others from their home province affected perceived "social distance" from Shanghai natives. The team's results showed that migrants living among high concentrations of migrants from their home province often tended to perceive a greater social distance from Shanghai natives than migrants living in "non-segregated" neighborhoods. "These findings contribute to understanding the spatial dimensions of migrants' assimilation into urban life," says Wu.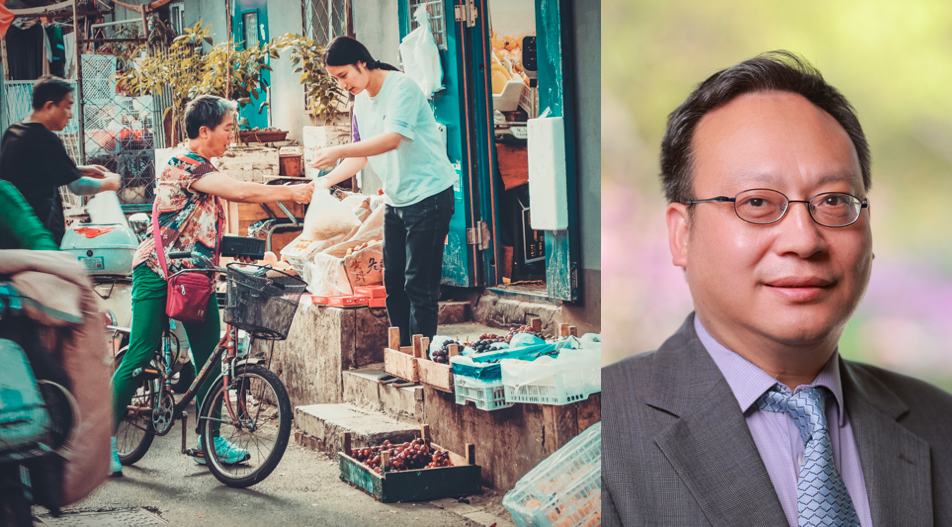 Wu (right) and fellow researchers investigate how Shanghai's migrant residents interact with city natives. Left photo by Zhang Kaiyv via Pexels.