Alec Gatewood '25
Hometown: Smackover, Arkansas, United States
Tell us about where you come from.
Smackover - with a population of over one thousand people - was named after Sumac trees covering a path. We have two gas stations and almost every building downtown is on the national historic register. There is an oil refining plant that has pipelines throughout the town. Chicken and dumplings and green bean casserole are staples. Unfortunately, confederate flags fly on the tailgate of most teenagers' trucks. Homophobia is unspoken and racism is internally suppressed by the older population. Smackover has its good things and its horrible things. I'm an independent thinker, so I left Smackover to become a student at NYU.
What are your hobbies / academic interests?
 
Photography (I give free sessions), painting (impressionist realism/surrealism), singing, reading books, fishing, listening to music, and kayaking would have to be some of my favorite hobbies. While I am definitely not that good at it, playing chess was one of my outlets at Smackover. I also sang in the choir, marched with our band, and played quiz-bowl—like the football of academia for me. Every week, I also participated in Ocean Bowl. If you ever have a question about some random oceanography, give me a call. 
I love plants so much; the monstera deliciosa is my favorite. Environmental policy has to be my greatest passion. It is so much fun! I love reading the Intergovernmental Panel on Climate Change's reports (not all 3,000 pages) and studying previous environmental legislation. I am actually majoring in social sciences focused on environmental studies. If you ever want to discuss environmental policy or anything of that nature, please send me a DM or come talk. Also, if you ever need some headshots for anything at all don't hesitate to message me.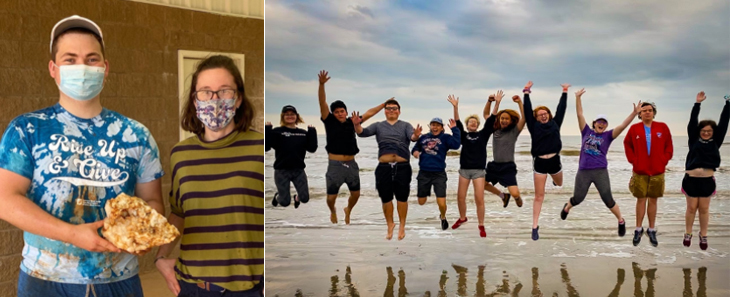 "I founded the GEO club, where I gave presentations on environmentalism, oceanography, and geology. I also organized some pretty cool field trips, including quartz mining."
What made you want to apply to NYU Shanghai, and what do you look forward to in your university life?
I have always loved studying Chinese. I do not know how that came about, considering I am from southern Arkansas. NYU Shanghai gave me the opportunity to study in a place that I have grown to love through Google searches, second-hand accounts, and food. I really do not understand how I was accepted, but I am so grateful to be here.  
During these four years, I expect to taste some of the spiciest food of my life. I also expect to be able to differentiate between tones easily or write the infamous biangbiangmian character. I expect to learn from the blend of cultures that is NYU Shanghai and become a better version of myself. Most importantly, I expect to help y'all in every way possible and make lifelong friendships.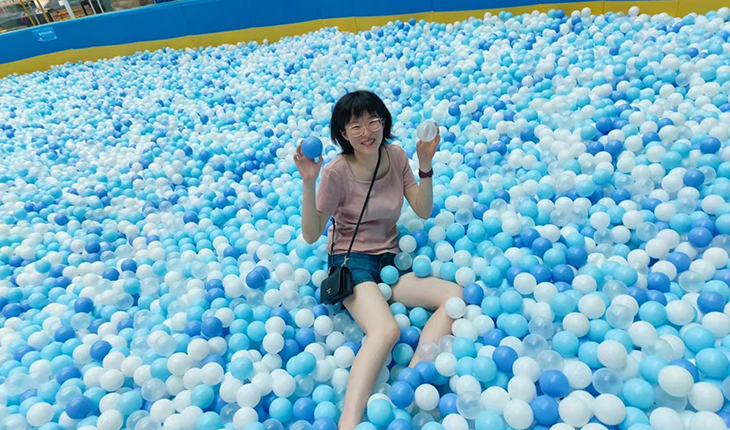 Qu Ziran '25
Hometown: Chongqing, China
How did you get to know NYU Shanghai?
NYU Shanghai became my dream school during my 10th grade summer vacation, when I signed up for an NYU Shanghai summer course called Entrepreneur Problem Solving and designed and presented an app for quickly filling one's free time with entertainment plans. Throughout the course, I found that everything at NYU Shanghai fit with my imagination about a university -- qualified faculty, highly international environment, and most importantly, students respected as individuals and independent thinkers.
My family and I live on a university campus in Chongqing, where my mother is a professor. My parents have always hoped for me to become a global citizen. When I received my acceptance letter to NYU Shanghai, I told my parents that I felt there was little boundary between the students and leadership and professors. This is the atmosphere that I really look forward to. 
What are your plans once you begin university?  
I am interested in studying IMB [interactive media business], but I want to take some humanities courses as well. NYU Shanghai encourages students to step out of their comfort zone, which is why I want to explore various areas.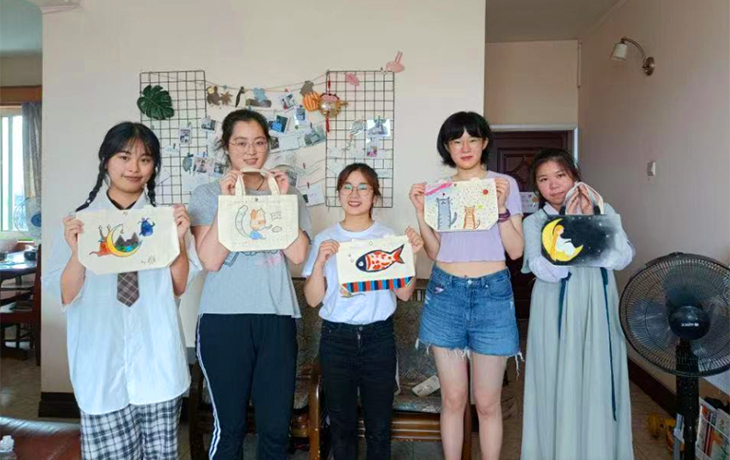 Qu Ziran (second from right) making handicrafts for sick children with other volunteers
Since 10th grade, I've been volunteering at a children's hospital. At first, I took part in the volunteer work only because my friends accidentally took me there, but something I saw touched my heart. When we were about to take the children out for some activities, a father was showing the bill to his four or five-year-old child, saying, "Look at how much money we spent today on your treatment." My heart ached when I saw this. That's when I made up my mind to continue volunteering at the hospital, to bring the children something good of life. The hospital I volunteered at in Chongqing has recommended some hospitals in Shanghai, and I plan to keep in touch with them as soon as I settle down.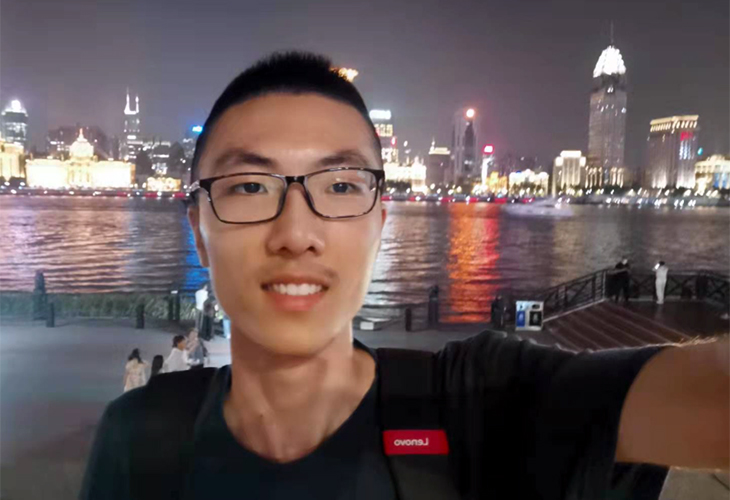 Xu Mingyuan '25
Hometown: Wuxi, Jiangsu, China
How were you inspired to study business at NYU Shanghai?
The online game that inspired my interest in business was FIFA--a football game that I've been playing since middle school. It was the first 'teacher' to cultivate my financial IQ, and taught me that making money isn't solely dependent on winning football games but rather about having a keen eye to discover a player's value, ultimately earning profits through buying and selling players. I want to major in business and finance at NYU Shanghai, and I actually wrote about meeting my idol--the great German football player Thomas Muller--in my college application essay. I learned from a friend of mine from NYU Shanghai's Class of 2022 that the university has a good academic vibe that allows students to pursue their dreams and that most students are quite self-motivated. I believe I can grow in this fast-growing community.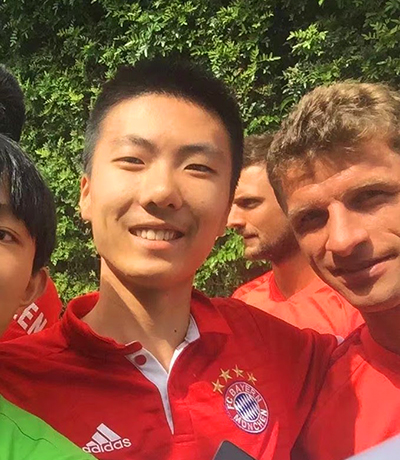 Mingyuan takes a selfie with his football idol, Thomas Muller.
How did you spend your summer, and what are your expectations of campus life?
This summer I cycled with my friends around Lake Tai and the surrounding mountains for some fresh air. I also read some English books and practiced my pronunciation to prepare myself for NYU Shanghai's all-English environment. I hope NYU Shanghai can change me into a better person. I look forward to improving my personality, becoming more active and outgoing, and learning how to handle emergency situations here.
What do you like to read? 
I like reading very much, from philosophy to fiction. My favorite book is The Consolations of Philosophy by Alain de Botton. It's a book of simple truths illustrated in artistic language, and many of its ideas are very enlightening and helped me solve some of my practical problems. I wish I had read it when I just started high school. There were many ideas that struck me in this book--for example, the writer believes man has few options and "we must, between periods of digging in the dark, endeavour always to transform our tears into knowledge" and "it is not because an argument is denounced by a majority that it is wrong nor, for those drawn to heroic defiance, that it is right."

Yu Morui '25
Hometown: Shanghai, China
What made you want to come to NYU Shanghai?
Before I was even in high school, I attended a lecture where an NYU Shanghai student shared his Candidate Weekend and school life experience--and that's where my admiration for the university started. He painted a unique picture of campus life and made it sound so interesting. NYU Shanghai's Admissions Office also visited my high school during my senior year, and I got to know more about the school. I also visited campus by myself, and was attracted to the university's open and free academic atmosphere.
One of the main reasons why I chose NYU Shanghai is because we don't need to choose a major until our sophomore year, based on our own interests and learning experience. For a long time I was afraid that I would choose something that I later was not interested in, but at NYU Shanghai I will experience the core curriculum of different majors and can think independently about my future studies. This is impossible at many other universities.
What are your hobbies?
I am keen on reading and writing, especially prose. Reading and writing have been habits of mine since childhood. Although most of my high school writing was exam-oriented, I still managed to participate in and enter the Shanghai Composition Competition for Middle School Students. Topics ranged from shared bike services to saying goodbye to others. There was even a contest where we wrote about the social relationships in The Hunchback of Notre-Dame. It was really challenging, given that we had to think and compose a full essay within two hours. Writing gives me a chance to think about philosophy, reality, and fables. In high school, I mostly wrote about the self, looking into my own life for examples and learning how to better understand myself and my relationship with the world around me.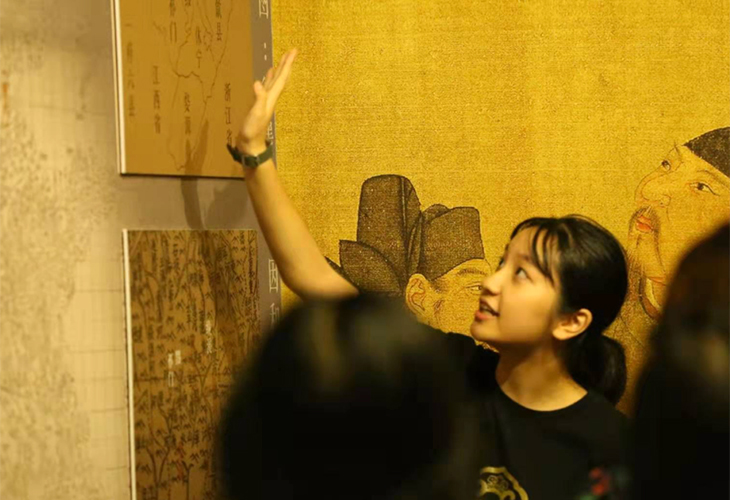 Morui also volunteered at the Xuhui Art Museum introducing visitors to different aspects of Chinese art such as the Huizhou ink-stick used for painting and calligraphy.
Which writer has influenced you the most?
Zhang Xiaofeng is my favorite writer. Her wordings are gentle but are embedded with long and powerful thoughts on small events. Reading her works is very comforting. One of my favorite works of hers is "Wo Zai" ("I am here"). It is about the existence and belonging of individuals, describing humans as an individual with emotions and senses in a certain time and space. It provided me with some confessions of self-existence. Another prose I like, "Ye Shi Shui Mei" ("Water Side"), is about the existence and passing of spring. Her prose selection Xing Xing Dou Yi Jing Dao Qi Le (The Stars Are All Here) is also worth reading!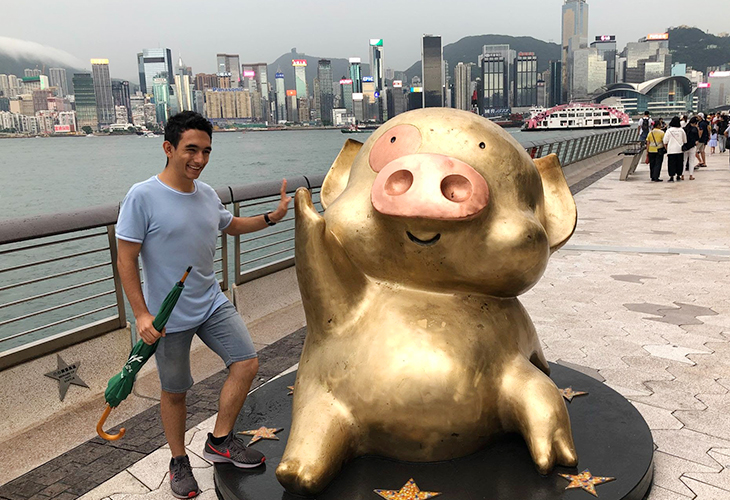 Shavarsh Melikyan '25
Hometown: Yerevan, Armenia
Tell us about where you come from?
I was born and raised in Yerevan, the capital of the Republic of Armenia. It is a very unique city and is one of the oldest cities in the world (even older than Rome): 782 BC. It is a very colorful city with lots of unique buildings, people, minds, etc.
What are you planning to study and what do you do in your spare time?
I adore swimming. I've been swimming since I was five, and I swim as a member of the National Youth team of Armenia. I like chess; it's the only game I play. Also, this is a bit of a strange hobby, but I like learning national anthems by heart. I know 33.
My academic interests are mainly related to Physics and IT. From a very young age, I wished to become an aerospace engineer who might construct different flying vessels that might help humanity decrease the amount of fuel used in the world. And IT is in my blood--half of my family is in the ICT sphere, and seeing what they do exponentially fueled my love for the field.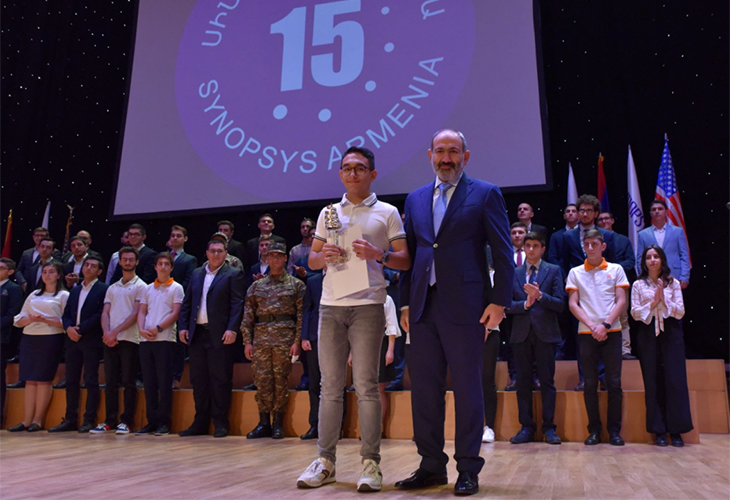 Meliykan and the Prime Minister of the Republic of Armenia Nikol Pashinyan, at the Inauguration of the State Educational Award in IT of Armenia
Why did you choose NYU Shanghai, and what would you like to achieve here?
I chose NYU Shanghai for its diversity and density of academically-motivated youngsters, for its STEM-oriented faculty in a STEM-oriented country, and for its fair attitude towards students. 
I wish to major in Data Science or Computer Science (and gain knowledge in Business), and I am very interested in "smart" things: "smart" cars, tables, houses, cities. I expect to learn more about AI and Machine Learning, and also about Business Administration and Management, so I can make my dreams come. Also, I want to learn how to make relationships with people, and become, in general, a global thinker, as NYU Shanghai wants us to become. In my university life, I hope to take what I've learned from NYU's top-faculty and use it to make our world stronger and more developed alongside my classmates, because together we are power.

Nathalie Brzesowsky '25
Hometown: Texas, United States  
How did you become interested in Chinese culture and learning Chinese?
When I was ten, I had a good friend who was Chinese American. At lunchtime, while I ate my sandwiches, she opened her thermos jar to reveal a steaming hot soup or sticky rice and meat. She told me about the importance that Chinese culture places on eating warm food and drinking warm water. I was stunned, as I'd always thought a cold salad was one of the healthiest meals. So our friendship was the catalyst for my curiosity. 
Around the Lunar New Year, I visited her home. The calligraphy on bright red paper on the door and the red-golden ornaments throughout her house caught my attention. It was then that I first heard Chinese, as my friend was talking to her parents. When I got home I asked  my parents for  Chinese classes. They didn't take me seriously. But after two years, they signed me up, thinking that once I got a taste of the difficulty, I would quit. And yes, it WAS difficult: the class of kindergarten-age Chinese American kids I joined were already conversing in Chinese easily. However, my curiosity kept me going. 
Eventually I became champion of the Chinese Bridge Competition in the US, and won second place in the world. Along with representatives from 110 countries, I competed on Chinese TV for two weeks. We were tested on China's geography, history and culture. 
I hold many cultures within me. One of my grandmothers is Polish, my parents are German, I have lived in the US for most of my life, where I am immersed in American culture, and thanks to the Chinese community in Texas, I was able to get very close to understanding Chinese culture. It's my dream to work on the crossroads of all these cultures, promoting mutual understanding in either business, law, or politics.
Apart from learning Chinese, what are your other interests? 
I devote most of my time to playing guzheng and practicing kuaiban, which is a form of oral storytelling performance popular in northern China. The latter one brought me the closest to Chinese people, as I would spend whole mornings in the park, practicing with a group of fellow enthusiasts when I was studying at BLCU (Beijing Language and Culture University) on a summer scholarship two years ago. The elderly kuaiban master would demonstrate movements and we'd all take hours to learn each, splitting into smaller groups and encouraging each other. I was so happy to find an excited community with whom to practice such an ancient, but unfortunately dwindling, art.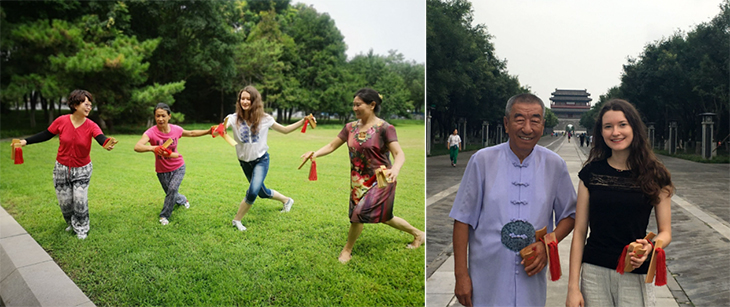 Practicing kuaiban (快板) with others in Tiantan Park, Beijing (left). Natalie with her kuaiban teacher (right).

Playing guzheng (left). Team travels during the Chinese Bridge Competition (right).
You got a head start as a NYU Shanghai research assistant this summer?
When I heard about Assistant Professor Maria Adele Carrai and incoming professor Liang Jiayong's (an expert in Remote Sensing Geography Information Science) research project on mapping the Belt and Road Initiative ("BRI"), I couldn't resist joining. I am part of their team of research assistants, responsible for identifying BRI projects worldwide, describing them, and adding satellite images to show the infrastructure development in those points of interest. We are creating a virtual map which can later be used by scholars for further academic work. The project aims to bring together faculty and students from different disciplines and NYU campuses to look at the Belt and Road Initiative. I find it amazing that we can participate in such real-time research under welcoming professors at NYU Shanghai. I can't wait for more! 
Like many international freshmen, you aren't able to physically be in Shanghai to meet your Class of 2025 classmates as the new semester starts. Is there anything you'd like to say to them?
Not being able to immediately meet everyone this fall at our campus in Shanghai has certainly left many of us disheartened, no matter where we're from. I am sure that we all can't wait to meet in person at one location as soon as possible to make change, help each other learn our respective languages, laugh about our mistakes, and work on our hopes and dreams. I'm so excited to meet each and every one of you in Shanghai when the time comes!