NYU Shanghai students are as talented as they are passionate—and are already earning recognition for their work. We hear from four students whose passion has won them awards in fields ranging from language to leadership, business and innovation.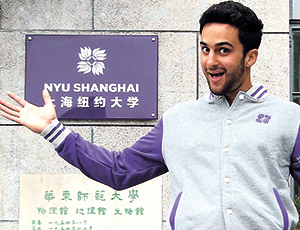 Ivan Marks '17, Global China Studies and Chinese — Master of Shanghainese
Before coming to NYU Shanghai, I'd lived in New York my entire life. I became interested in China and learning Chinese in high school, so I decided to study abroad.
After three years here, I'm pretty much fluent in Chinese. To challenge myself, because I genuinely love learning languages, I started picking up Shanghai's local dialect. I practice any chance I get. On campus, I chat with the security guards, many of whom are local Shanghainese. The key to learning any language is practice and fearlessness. I speak Chinese as much as possible--whether at a restaurant ordering food or going somewhere on the subway, I force myself to initiate talking with waiters or strangers. My advice is never be afraid of making mistakes. Of course, being an extrovert definitely helps!
I originally wanted to learn Chinese because my father told me it would open up many job opportunities, but after coming to China I changed my motivation. I like communicating with people and want to learn more about Chinese culture.  
Ivan won first place at the 2016 Shanghai Dialect Showdown, a city-wide competition raise awareness of and help preserve the language. His performance with a local comedian on new interpretations of Chinese idioms was a big hit with local media declaring Ivan's Shanghai dialect more fluent than many residents'.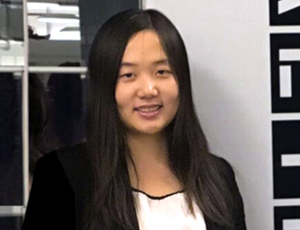 Xiaoyue Gong '17, Honors Mathematics and Interactive Media Arts major
I came to NYU Shanghai with a passion for engineering and arts, and found a true love in mathematics after being inspired by wonderful professors. In the Interactive Media Arts course, Rapid Prototyping, with Professor Matthew Belanger, I devised a smart indoor air-purifying system to monitor and purify poor air strategically. This has since morphed into a social venture, Aeolian(Aeo), which won the 2015 NYU Reynolds Changemaker Challenge Best Overall Venture.
Aeolian(Aeo) combats the severe health effects of indoor air pollution by building an air monitoring network, and an app to provide access to air quality information, empowering and providing a significantly wider range of the population with access to clean air.
Gong Xiaoyue also won recognition for her efforts in social venture at the United Nations' 2016 Youth Assembly and from VentureWell's E-Team Grant Program.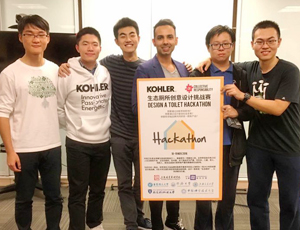 Qi Huang '19, Business & Finance and Data Science major — Creative Business Thinker
For our first hackathon experience, my team of fellow sophomores designed and developed an "off-grid" toilet--which works without connection to water or electricity network--for leading bathroom brand Kohler and NGO Collective Responsibility. We were the youngest students in the competition with the least experience in design, engineering or sanitation going up against graduate students from some of China's top universities, but our concept, which included a sustainable business model that addressed maintenance and availability, won.
It was exciting to generate a business idea that a company like Kohler could implement. At hackathons, where you must come up with a solution to a problem in a short amount of time, it is important to be able to work together and think creatively.
Qi Huang won first place in the Kohler 24 Hour Sustainability Hackathon in November with his team-mates Yilun Li, Zijie Lu, Xincheng Huang And Wentao Wang.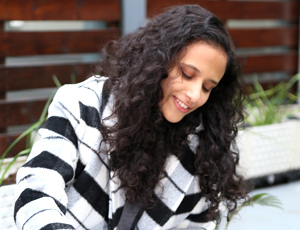 Nofar Hamrany '18, Economics major, President of Green Shanghai and co-founder of GoGreen Week — The Campaigner
Growing up in Israel, I was used to recycling and seeing solar panels on every house. When I looked at environmental issues in Shanghai, I first thought I couldn't make much of an impact--how could I change the entire sky? Walking around Lujiazui, I saw a tiny girl with a Hello Kitty mask and it left a great impression on me. I thought, how can we tackle the problem at large?
When I became president of Green Shanghai, we worked with the Animal Rights and Herbivores Society group on a simple 'go vegan' challenge for GoGreen Week. That later expanded to attract a variety of interests--from fashion with recycled materials to green careers and sustainable businesses. The event is now an official fixture on all NYU campuses, involving academics, local businesses, artists and film-makers.
I also really love the urban garden I helped initiate here to help change the nature of how people interact with their environment and with each other in a common space.
As an economics major, I focus on sustainable development in economics. In the future, I plan to become involved in solving the Israel-Palestine conflict by helping to develop economies in the Middle East in a sustainable and ecological way, especially in Palestinian Authorities.
Nofar was awarded the Catherine B. Reynolds Foundation Fellowship Award for social entrepreneurship in the greater NYU community and the Leadership in Clean Energy and Sustainable Solutions Award for inspiring innovation, change, and action in the clean energy and sustainability arena.
"NYU Shanghai students show their natural boldness when they embrace the challenge of attending a brand new institution. They grapple with new modes of learning; absorb unfamiliar concepts; and gain comfort with taking intellectual risks. They learn how to come up with new ideas and with fresh solutions to old problems. I applaud their inventiveness, their entrepreneurial spirit, and their productive embrace of the spirit of experimentation. This is the essence of the creativity and innovation that epitomizes NYU Shanghai." ⎼ Provost Joanna Waley-Cohen