The NYU Shanghai Center for Career Development offers Social Impact Internship Grants to talented and dedicated students pursuing unpaid internships in non-profit organizations.

The applications will be open in April 2023
Eligibility
Students must be enrolled in NYU Shanghai during the whole internship period.
Students must be in good academic and judicial standing with a GPA above 3.0.
Students must secure a non-paying internship at a not-for-profit organization.
The organization will be reviewed by the Center for Career Development to ensure it is legitimate and properly registered.
Students must NOT be enrolled in any summer classes or NYU Shanghai DURF during the summer break.
The internship must be a minimum of 20 hours per week AND last for a duration of at least 8 weeks.
All of the above criteria must be met before an application is considered.
Scholarship Commitment
If selected, the student must comply with the following guidelines. Failure to follow these guidelines will result in the scholarship being revoked.
Application Components:
Personal Statement
Official Offer Letter
Internship Job Description
Student Resume
Student LinkedIn Profile
Transcript
Organization's proof of non-profit status
Decisions and Payment
Decisions are made approximately 2 weeks after the deadline. Payment will be issued 4 weeks after decisions are made.
Frequently Asked Questions
Spotlight Students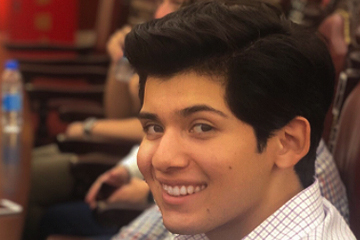 Angel Olvera '22
2019 and 2020 Grant Recipient
Center for Peace Victoria (CFPV), Texas, USA
As the Head Intern at CFPV, I did many things from operating our social media accounts to directing junior interns to leading public events. It was a lot of work, but also really rewarding. Reflecting on my time with CFPV, I can't help but think that the peace-building skills I learned and developed will be tremendously useful for building and maintaining the political coalitions necessary to achieve the radical transformations our society desperately needs.
Check here to learn more about Angel's story.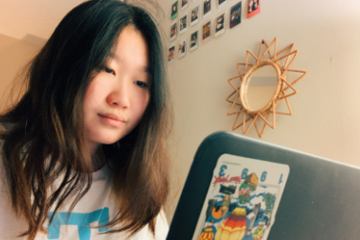 Ashley Zhu '22
2020 Grant Recipient
Globalteer, UK
This internship was definitely one to remember because not only have I gained skills that aided my professional goals, but it also taught me how to navigate and think outside the box in an ever-changing environment, as I gained a sense of situational flexibility. If you are considering an internship that is focused on making a social impact, make sure that you are passionate about what you are wanting to achieve. Definitely research the company or organization beforehand!
Check here to learn more about Ashley's story.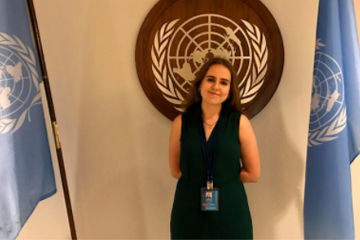 Viktorija Ruzelyte '20
2019 Grant Recipient
Permanent Mission of Lithuania to the United Nations, New York, USA
The most important skill I gained through the experience was understanding work culture and learning how to fit in in a working environment. I feel much more confident in my abilities to adapt to a larger organization.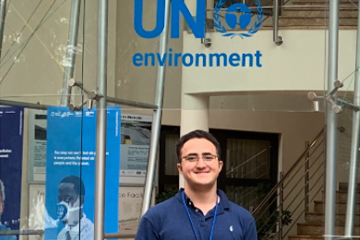 Frank Mattimoe '22
2019 Grant Recipient
United Nations Environmental Programme (UNEP), Nairobi, Kenya
My internship at UNEP coincided with my love of global affairs and environmental stewardship and my interest in China's role on the world stage. It permitted me to learn more about topics in my major of International Relations and allowed me to connect with interesting and accomplished coworkers and mentors at UNEP.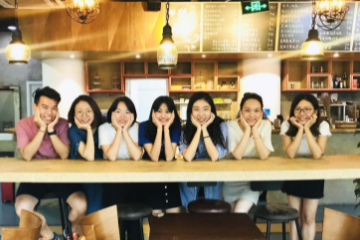 Zhang Liyuan '21
2018 Grant Recipient
Non-profit Incubator (NPI), Shanghai, China
I was responsible for researching organizations that support social enterprises in China, and assisted my colleagues with the HSBC Social Enterprise Facilitation Program. As NPI's business almost covers all the main fields of the philanthropy sector in China, I have gotten a deep understanding in the field of social entrepreneurship in general.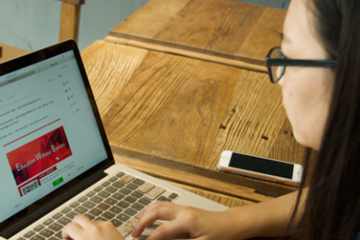 Cai Xiyan '20
2017 Grant Recipient
Interned at Education Without Barriers (EWB)
During my 10 months at EWB, I learned to be responsible, sympathetic and modest. Looking for an internship should not only focus on the job type but also the management ideas of companies or organizations. The idea of EWB was "It's all about helping others." I could see the pure love of this organization. The experience confirmed my ambition to do something for the education of less fortunate children in the future.
See more students' stories
Social Impact Internship Grants Support Student Interning in Nonprofit Organizations 
Students Step Out of the Classroom and Gain Non-Profit Experience