NYU Shanghai welcomes diverse, energetic and talented people to join us in growing and succeeding together. By working here, you will have countless opportunities to inspire innovation and collaboration. Working with other talented people from around the world, you will be part of a significant and unprecedented transformation in higher education.
Work Environment
NYU Shanghai is a community where each individual is respected, valued, and cared for. 
By working at NYU Shanghai, you will support the University's mission to build NYU Shanghai into a world class research university. Our staff's areas of responsibility cover a wide range of functionalities and professional competencies.
We support the University's operations, with expertise in facility management, human resources, finance, technology, and more.
We support teaching, learning, and research by providing administrative assistance and problem-solving with our knowledge and versatility.
We support the enrichment of student communities outside of class with warmth, passion, perspective, and sound advice.
At NYU Shanghai, we strive to provide staff with a comfortable, convenient, and connected work environment. You will have full access to our state of the art facilities, technology, and library resources which will help you improve work efficiency and productivity. After work, you can unwind with your colleagues in the spacious dining areas, the on-campus Art Gallery, or any of the common areas in the Academic Building. The campus is also equipped with a central air filtration system to ensure a safe and high-quality work environment for all employees.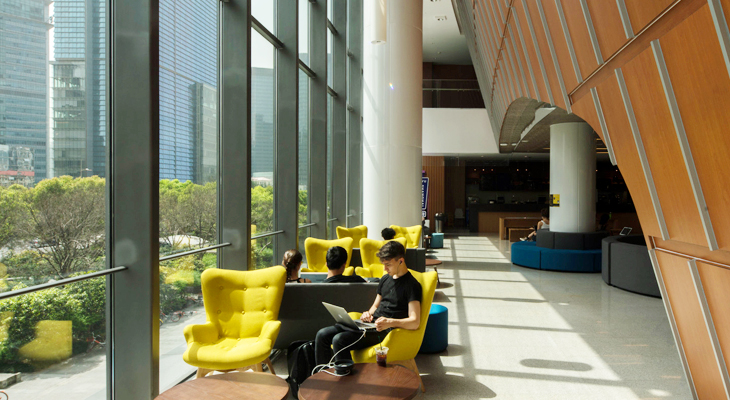 Benefits
NYU Shanghai offers comprehensive benefit programs that allow staff to access outstanding health care resources. We also provide statutory benefits and supplemental insurance that aim to help our employees maintain a healthy lifestyle, and achieve long-term wellbeing.
Statutory Social Insurance and Supplemental Housing Fund
We provide statutory social insurances and supplemental housing fund to eligible employees. 
Supplemental Commercial Insurance
In addition to statutory social insurances and supplemental housing fund, we offer commercial health insurance to employees and their eligible dependents. We also cover all full-time employees with international business travel insurance and Life and Accidental Death and Dismemberment Insurance.
Supplemental Retirement Plan
In addition to paying into a statutory pension, we also provide a supplemental retirement plan to eligible employees.
Employment Assistance Program (EAP)
The Employment Assistance Program (EAP) provides confidential, 24/7 telephone counseling services along with other wellness resources to our employees and their eligible dependents from anywhere in the world.
Birthday and Holiday Celebration
Every year, we prepare a birthday gift to each of our employees to show our appreciation and also organize various university-wide recreational activities and celebrations for holidays and festivals.
Leave
We offer staff various types of paid leave, including annual leave (12-20 days), NYU Shanghai Special Holidays, marriage leave, maternity/paternity leave, and more.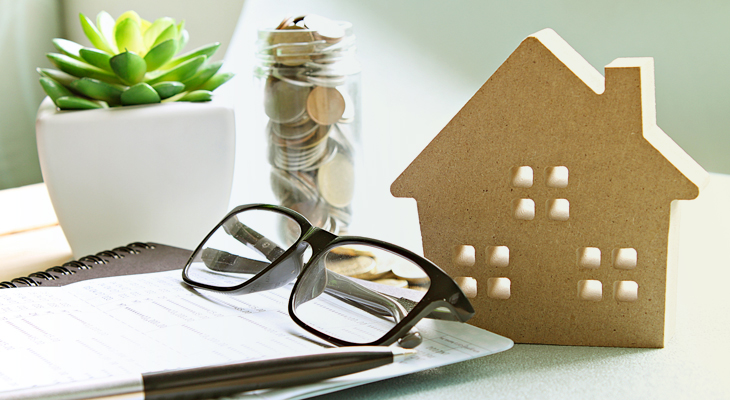 Career Development
We provide numerous opportunities to take on challenges and hone your potential.
We offer a variety of learning programs that help staff deepen their knowledge and skill sets to better fulfill their duties and achieve professional advancement.
We have a clear staff job grading structure which provides guidance for career planning. 
We also have numerous opportunities for individuals to explore new areas through horizontal career development paths. Internal job opportunities are regularly circulated to all staff members.
We are dedicated to assisting employees in reaching their professional goals.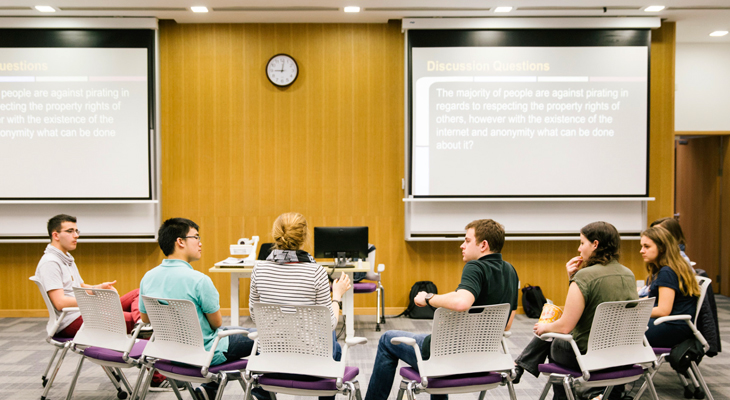 Global Connections
As one of the three degree-granting campuses in the NYU Global Network, NYU Shanghai has close connections with the other two portal campuses, NYU in New York and NYU Abu Dhabi, and 12 study away sites. These connections extend beyond academics and also include operations and employee development. 
Every year, various global programs and projects are held across all campuses, and we encourage all employees to actively participate. We have launched online training programs to enhance employees' awareness of University policies and other work-related knowledge and skills. Our global wellness programs help employees maintain their physical and mental health. We have built continuity plans across campuses and functions, so that we can share insights and ideas on how to maintain healthy operations when faced with difficult and challenging situations.
All of these  programs and projects are designed to create community and connections between our employees, and provide opportunities for employees to develop global awareness and partnerships. 
Work-Life Balance 
NYU Shanghai provides a number of programs to help our employees achieve a balance between their work and personal life, such as:
NYU Global Walking Challenge
NYU Shanghai Field Day
Yoga Classes
Employee clubs including:

Badminton Club
Reading Group
New Moms Network