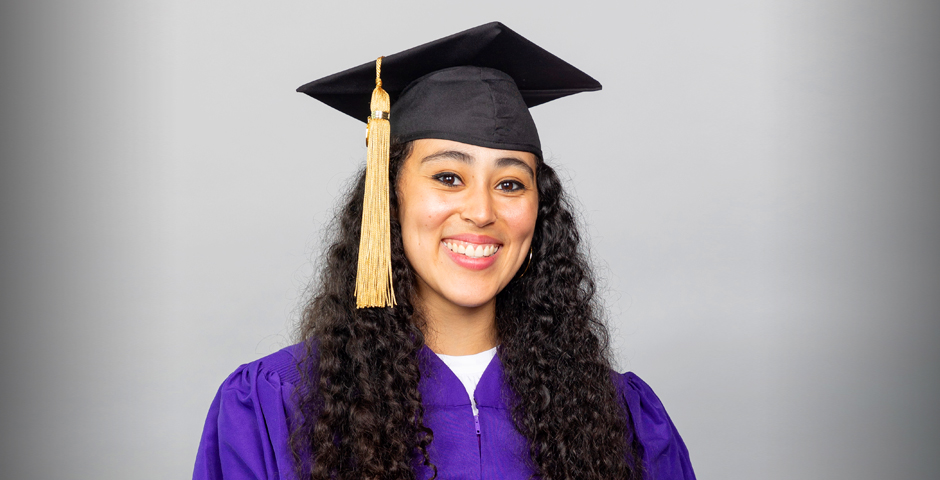 Christina Bowllan has always used souvenirs and snacks as a way to share her life in China with her family in New York City. Hickory nuts from a trip to Moganshan, where she traveled with other Chinese language students during her sophomore year. Green tea from E'mei Mountain in Sichuan Province. Fungus soup from Yunnan. A lesson in dumpling wrapping.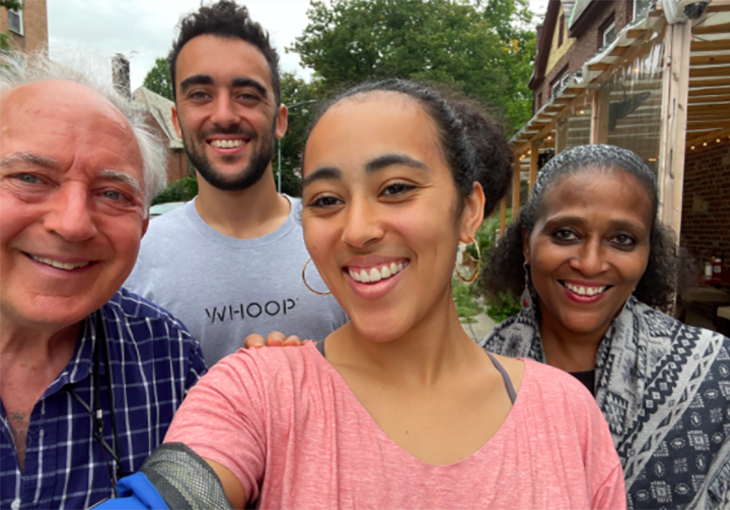 Christina Bowllan with her family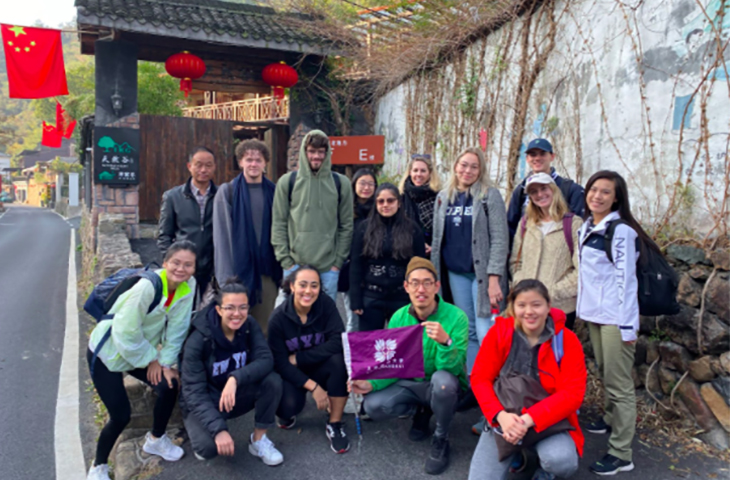 Bowllan with her classmates on a trip to Moganshan in 2019
Since her sophomore year, when she took Provost Joanna Waley-Cohen's course Food and Drugs in Chinese History, Bowllan has sought to understand China and Chinese society through its food. "Food is truly the essence and defining factor of a family. I have experienced sipping chai in Pakistan and eating pineapple rice in Yunnan, that culture's history is embedded in their cuisine," she says. 
 
The social sciences major's budding interest in China's food culture led her to volunteer at a halal restaurant in the neighborhood near her dorm. "I knew that in order to become fluent in Mandarin, I needed to engage with my surroundings, and volunteering at the halal restaurant was a perfect opportunity to immerse myself in the neighborhood and in the language." Overcoming language and cultural barriers, she took orders from the customers with different accents and worked alongside colleagues from different areas of China. "It was a great challenge to translate what I had learned for years in the classroom to a real-life setting. I would take orders from classmates and from regulars who come to the restaurant several times a week. I will never forget how to say 'Cumin-Spiced Beef Noodles' in Chinese!"
Bowllan remembers fondly the endless "chuan chuan" or lamb kabobs and fried rice she and her colleagues would share at closing time, after their evening shifts. The owner and chefs talked about their lives in Gansu, and Bowllan shared stories about hers in New York City. "The best evenings were when my parents would FaceTime in, and I would translate back and forth between them and my colleagues. My parents always thanked the family running the restaurant for taking care of me while I was so far away from home."
During Chinese New Year, the restaurant closed, and the Ma family who ran the restaurant invited Bowllan to share in their New Year's Eve dinner, treating her as a member of the family. "This experience showed me that no matter where you go, people are people, and even if we don't have the same native language, or we don't have the same cultural background, we can relate to each other about life accomplishments and challenges and just be in the moment together."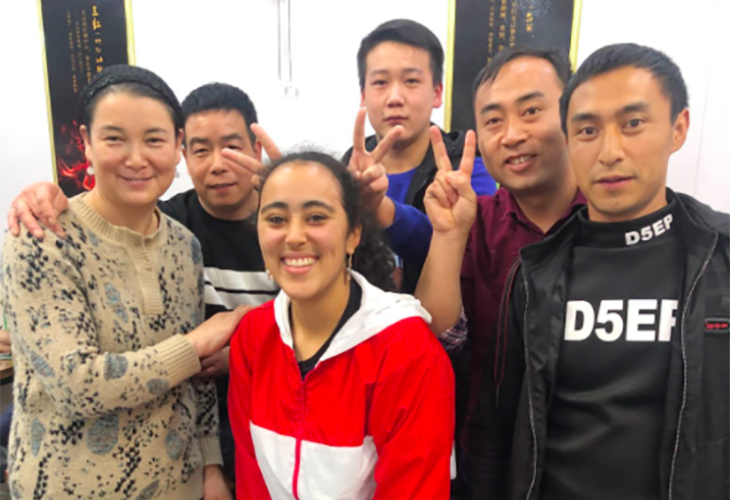 Christina with the Ma family, who run the halal restaurant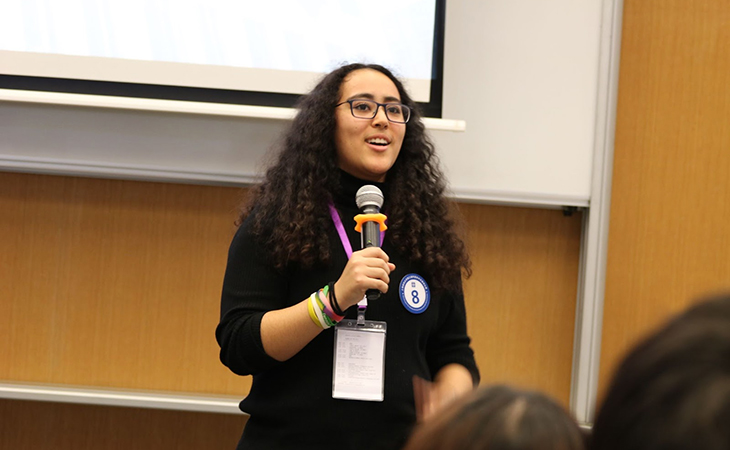 As a first-year student, Bowllan competed in NYU Shanghai's Huaxia Cup - a Chinese Speech Competition. In her speech, she posed the question, "How would the world change if everyone spent more time outside, on the streets, getting to know each other?"
In the Spring of 2020, Bowllan studied away in Washington DC. As a participant in NYU's Global Leadership Program, she served on the Executive Board of DC Dialogues, a student-engaged initiative to introduce the NYU DC community to key discussions on politics, culture, business, environment, education and more.  
During the early days of the pandemic, while interning at the Asia Society, Bowllan again turned to food to help build bridges between communities. She developed a virtual initiative called Breaking Bread. 
First, she organized  an online competition similar to the  American  food show "Chopped." "I reached out to four friends from different universities and paired them in groups of two. Within 90 minutes, both teams had to help each other combine four hidden ingredients (turmeric, cilantro, sesame oil, cumin) into a dish. At the end of the competition, all of the participants and myself talked about why food is such an important catalyst to bring people together, and the inspiration behind the dishes they created."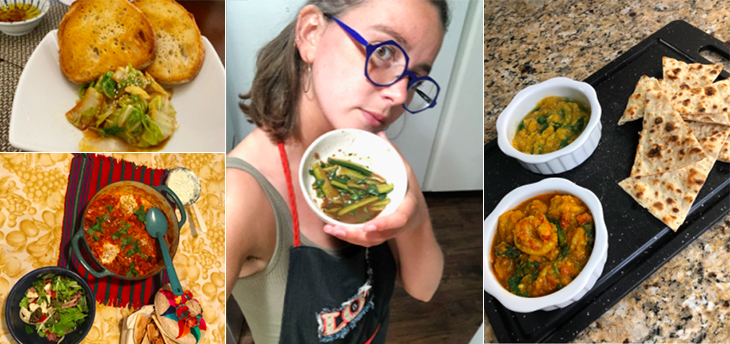 Screenshots from the virtual cooking competition Breaking Bread
She invited Ambassador Capricia Marshall, former Chief of Protocol under President Barack Obama, and Sabrina Lynn Motley, head of the Smithsonian Folklife Festival to join in a discussion.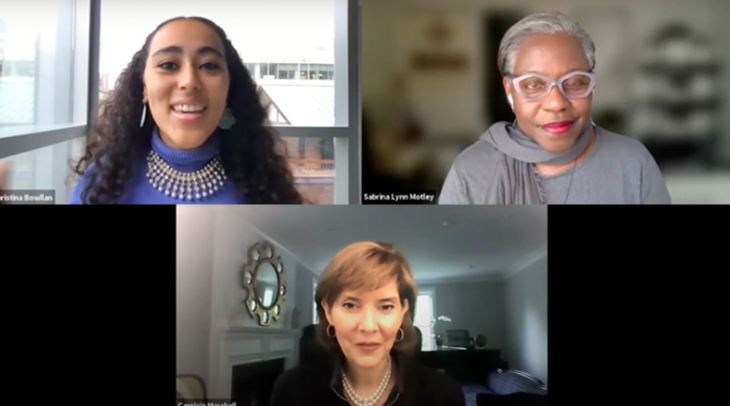 While studying away in Washington, DC, Bowllan moderated a conversation with Ambassador Capricia Marshall, former Chief of Protocol under President Barack Obama, and Sabrina Lynn Motley, head of the Smithsonian Folklife Festival.
After completing a capstone research project on China's expanding engagement in many sectors in Latin American countries, Bowllan plans to work in one of these countries to understand China's impact on the ground. 
There's no doubt that food will play a key role in her postgraduate adventures and efforts to connect and truly understand people from different places and cultures. "So many of us are glued to our phones that we forget that there is a whole world around us. I saw, working at the halal restaurant, eating street food near our dorms, and talking for hours with passengers on slow trains to other provinces, that there is only so much you can learn about people when you don't meet face to face. "
Cover image courtesy of ©Hollenshead: Courtesy of NYU Photo Bureau
Photo contributed by Christina Bowllan