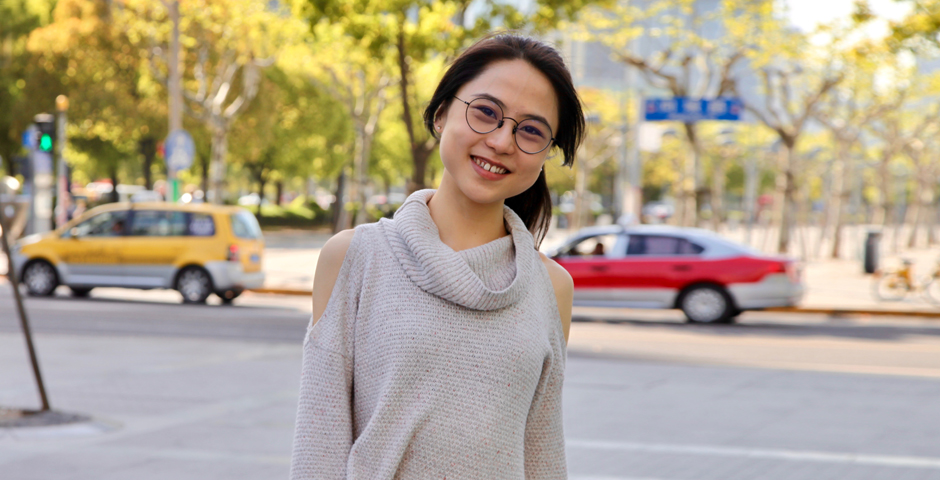 "Early on in my childhood, I learned traditional art forms like oil painting and sketching, but I wanted to make art that was meaningful to people and create designs that were a two-way conversation with the audience," says Nan Zhao '18. "I wanted to incorporate technology into art and make it both dynamic and interactive."
Zhao, who will start work as a user experience designer for Huawei after graduation, found a way to do this by combining her interests of science, art and meaningful design with an interactive media arts major and computer science minor.
"I chose NYU Shanghai because I thought it was a great opportunity for me to study abroad and live in China, and the opportunity to learn in a multicultural environment sounded amazing," she says. "When I heard that NYU Shanghai offered a major in interactive media arts, I felt like it was the future."
"Learning computer science while taking business and marketing classes has allowed me as a designer to really understand users and how to make a product attractive and meaningful," says Zhao. "At NYU Shanghai, all of these disciplines can be combined and affect each other in some way."
Cross-disciplinary studies and collaboration have been integral to Zhao's NYU Shanghai experience—she participated in the Dean's Undergraduate Research Fund, twice. "For my first DURF, I worked with computer science students, IMA students, and professors to build a web app for reading poems," she says. Her second DURF project was a physical therapy app that inspired her current career path of user experience design.
"My friend's dad broke his leg and needed exercise to completely recover, so we created an app that tracks the progress of patients and makes sure their movements were correct," she says. "It's such a good opportunity to practice what you have learned, design for a better life, and to take responsibility over your own project."
From assistive technology to generative art, an imperative element to Zhao's work is human interactivity. Inspired to personalize the stars, her IMA artwork "Constellation" was part of the INFINITE·New Born exhibition at the Shanghai MixC Mall in Minhang this February. It combined a reading of a Bagua map—the fundamental principles of reality represented through eight Taoist symbols, with creative coding.
"I made it interactive so that the voices of people generate constellations, and I challenged myself to use a more difficult computer language so that I could have better visuals that helped create empathy with the audience." Zhao says.
She also challenged herself the summer before senior year by interning with CTrip's international unit as an interaction designer, expanding and developing web page experience. "I worked with a team of product managers, developers, and other designers to optimize the whole website and booking page. Even though I was just an intern, they treated me like a real designer."
Along with taking on DURF projects and internships, Zhao's advice for NYU Shanghai newcomers is: "When you first get to NYU Shanghai, enjoy every opportunity you are given. Go to events; join clubs and organizations. Just try it and meet new people. Don't just focus on your studies—seek out interesting activities that can really help you in your college life."