Hometown:  Charlotte, North Carolina, USA.   
Major:  Global China Studies
Amy DeCillis '20 remembers exactly where she was when she realized she would be heading to NYU Shanghai for college: in her hometown of Charlotte, North Carolina, on her way to vote for the first time ever in a primary election for the 2016 US presidential race.
"I was in the car, driving, and I saw the acceptance email from NYU Shanghai. I felt like such an adult – going to go vote, and I just got into a university in China," DeCillis says with a laugh. "It was just so exciting. I knew what China had to offer, and it was going to be a new adventure."
China had always been somewhere in the background of DeCillis's life. She was adopted as a very young child from an orphanage in Xiangtan, Hunan Province. Her family had always encouraged her to embrace her Chinese heritage, even moving to Charlotte in part so DeCillis could attend a school that offered Chinese language courses. Those classes eventually led her to study abroad in Beijing during her junior year of high school.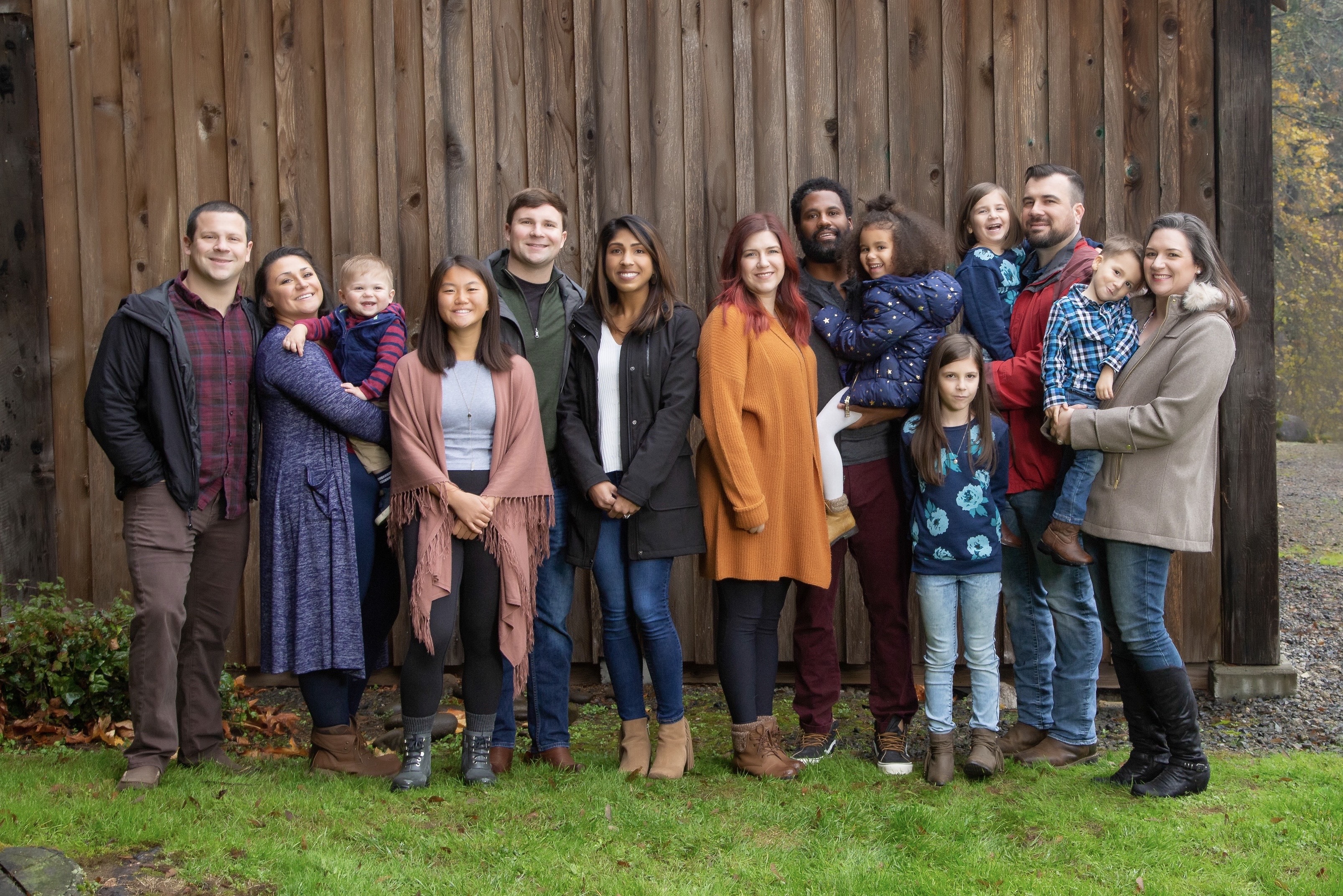 DeCillis (4th from left) with her siblings and their spouses and children.
DeCillis's experience abroad opened her eyes to a wholly different way of life and a wholly different perspective on China and the world. She took courses in Chinese history, politics, economics, and literature, going far beyond the typical American high school curriculum. DeCillis realized she couldn't be satisfied with anything less than a truly international education, and when an NYU Shanghai admissions representative visited her program in Beijing, she knew she had found the university for her.
"Beijing is just so full of culture, and I was constantly discovering new things around every corner, so part of me wanted to chase that lifestyle," DeCillis says. "At the same time, I was getting an American education but learning so much about China from a very unique perspective. I knew that NYU Shanghai would be similar, that it would help me understand China through a lens that I could really trust to be international."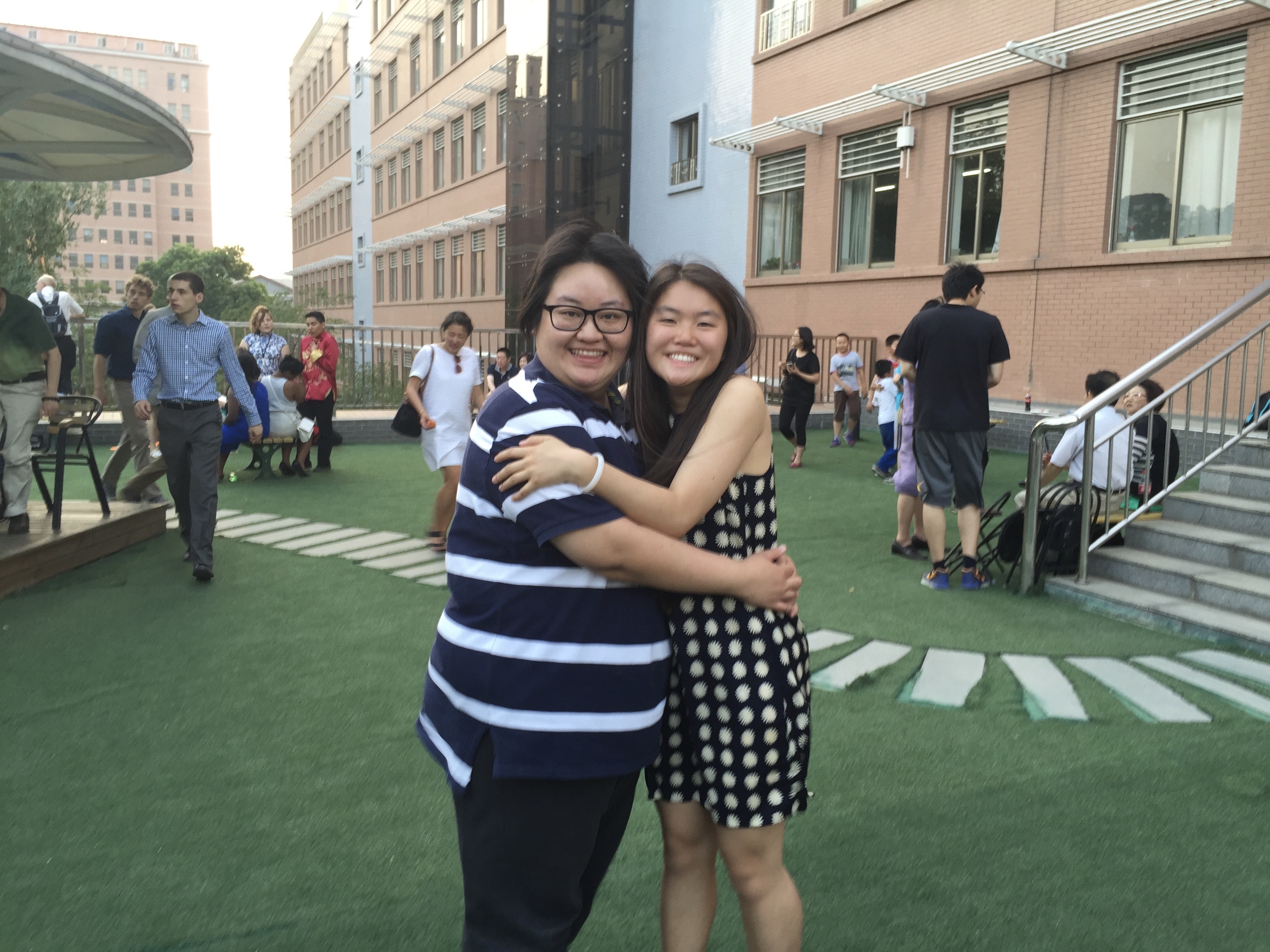 DeCillis with her high school host sister Wang Rui (王蕊) in Beijing in 2015. DeCillis remains close with her host family, visiting them regularly in Beijing.
As a newly-arrived first-year student at NYU Shanghai, DeCillis planned to study international relations and dreamed of working as a diplomat for the US Department of State. But her coursework in her major, Global China Studies – where she studied not only Chinese law and politics, but also contemporary Chinese writers and the global Chinese diaspora – showed her that there were so many dimensions to US-China relations outside of formal diplomacy, and so many different ways to be a bridge between the two countries.
Feeling free to explore interests she had never delved into before, DeCillis found her way to a minor in Interactive Media Arts (IMA). The interdisciplinary program taught her not only how to code, but also how to tell compelling stories about herself and the incredible people of Shanghai, Chinese and expat alike. In fact, DeCillis emphasizes that it wasn't just NYU Shanghai's course content that exposed her to new ideas and new ways of being in the world – it was the people she was able to surround herself with.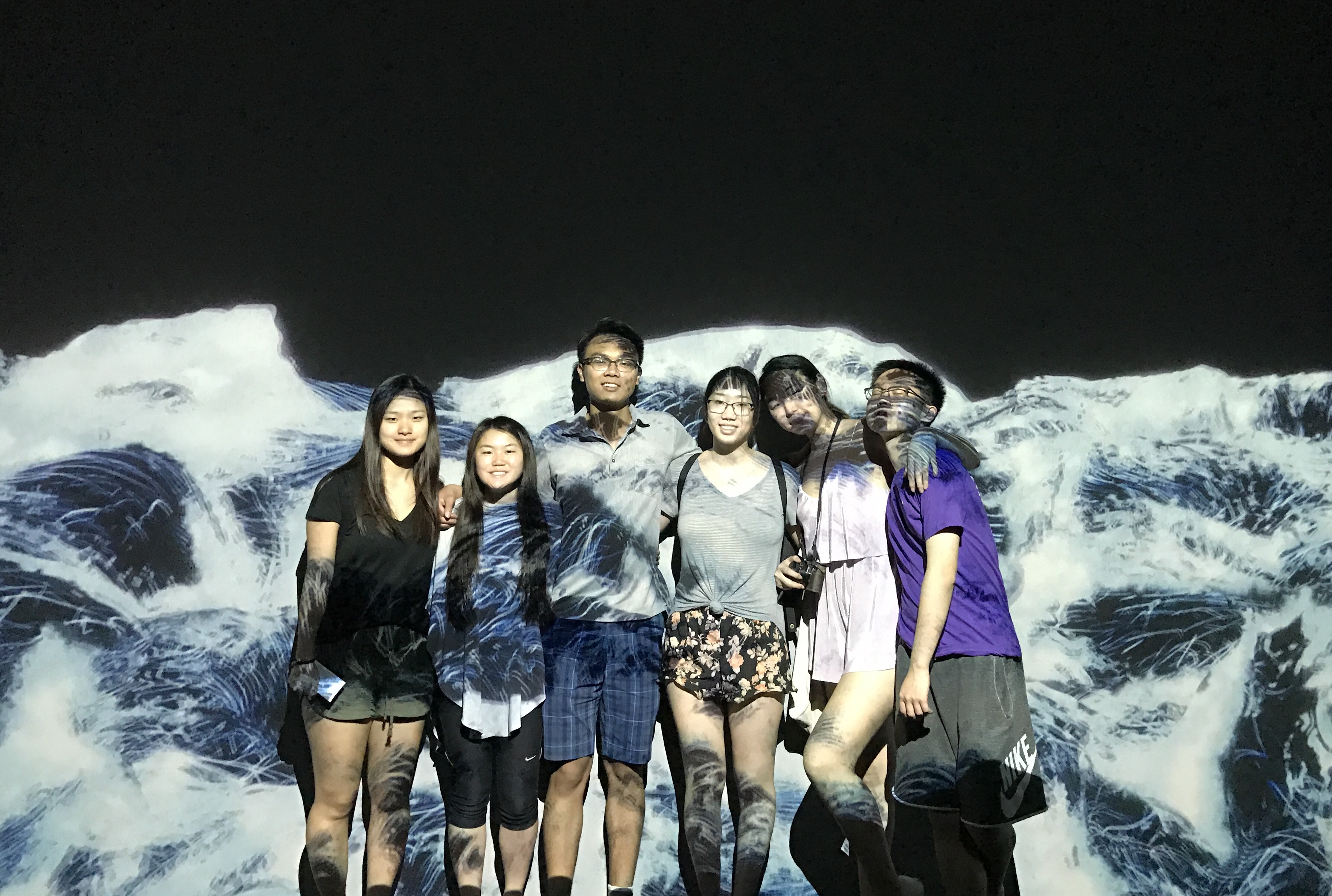 DeCillis (2nd from left) at Singapore's ArtScience Museum with (from left to right, all Class of 2020) Nathalia Lin, Ryan Yee, Maya Wang, Linda Yao, and Wang Dashan. 
"I remember meeting so many people from all over the world during orientation, like people who are Sri Lankan but born and raised in Ghana, and people who are born and raised in Brazil but ethnically Chinese," DeCillis says. "We were sitting in the café hearing one of our new classmates talk about why Poland and Lithuania don't like each other, and I realized I was learning so much more outside the classroom in Shanghai than I would ever have learned at a regular US university."
DeCillis also revelled in diversity on the field as captain of the NYU Shanghai women's soccer team, which got a shoutout on the official Twitter feed of the FIFA Women's World Cup for having players from 5 different countries. "Even though we're a Sino-American university in Shanghai, this is the part of us that I still feel is very of Shanghai," DeCillis explains. "We're an international team of Chinese and foreign players, but we're in the local leagues, and we're playing the local teams."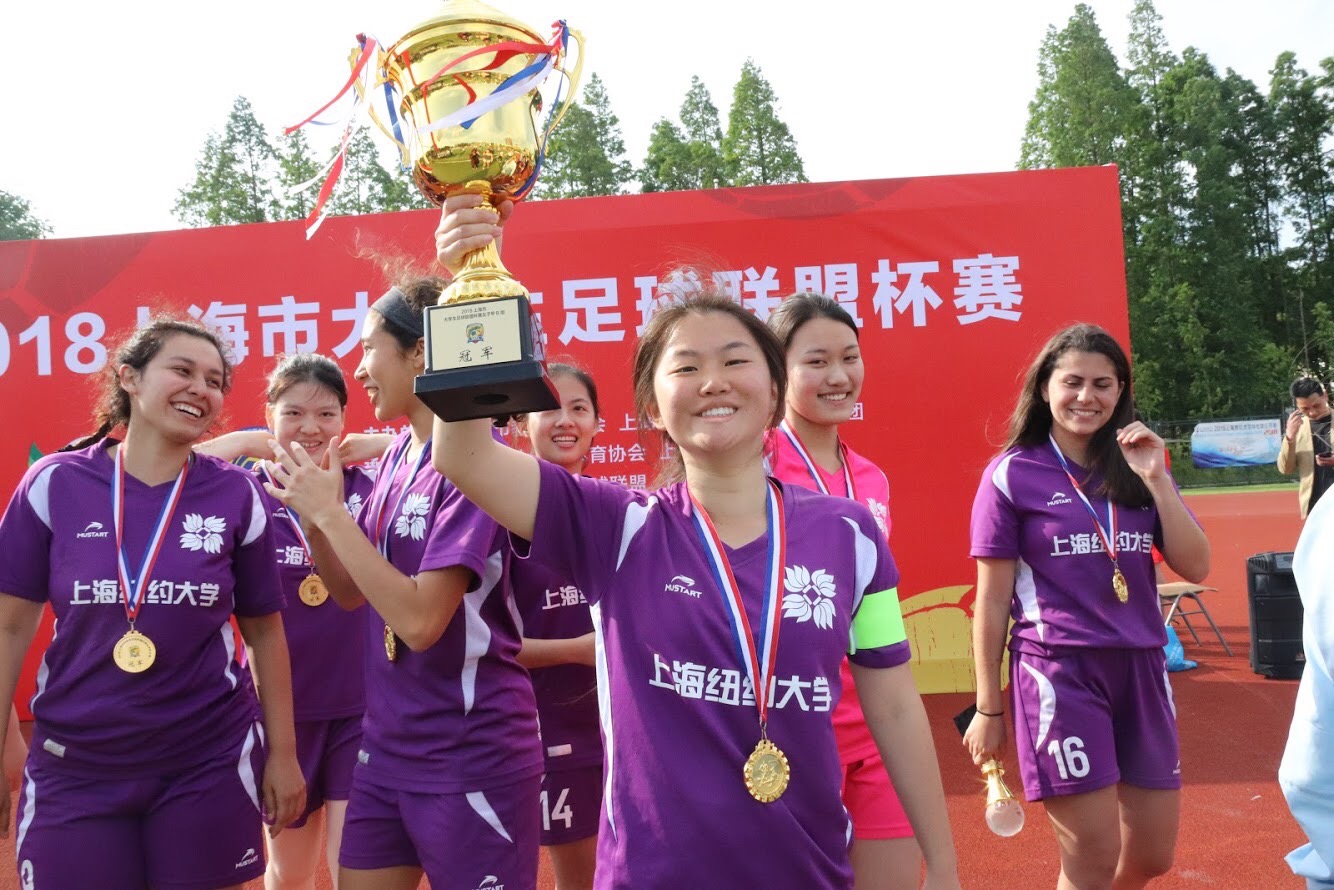 Raising the Shanghai Intercollegiate Soccer League Championship winners' trophy in May 2018. DeCillis scored the team's winning goal to secure the first major title for any NYU Shanghai athletics team.
When it came time to choose a study away destination, DeCillis says she knew student diversity would be the most valuable part of her social and academic experience. So she eschewed the familiar and chose to study at NYU Abu Dhabi in the fall and at NYU Tel Aviv in the spring of her junior year. DeCillis soon found herself taking courses from philosophy to tech, from art to diplomacy, in classrooms where it was rare for any two students to share the same national origin.
That year away made her think frequently about the concept of mobility, DeCillis says – physical mobility as well as social mobility in many dimensions, especially the way in which these unfamiliar people and cultures would perceive her Asian-ness.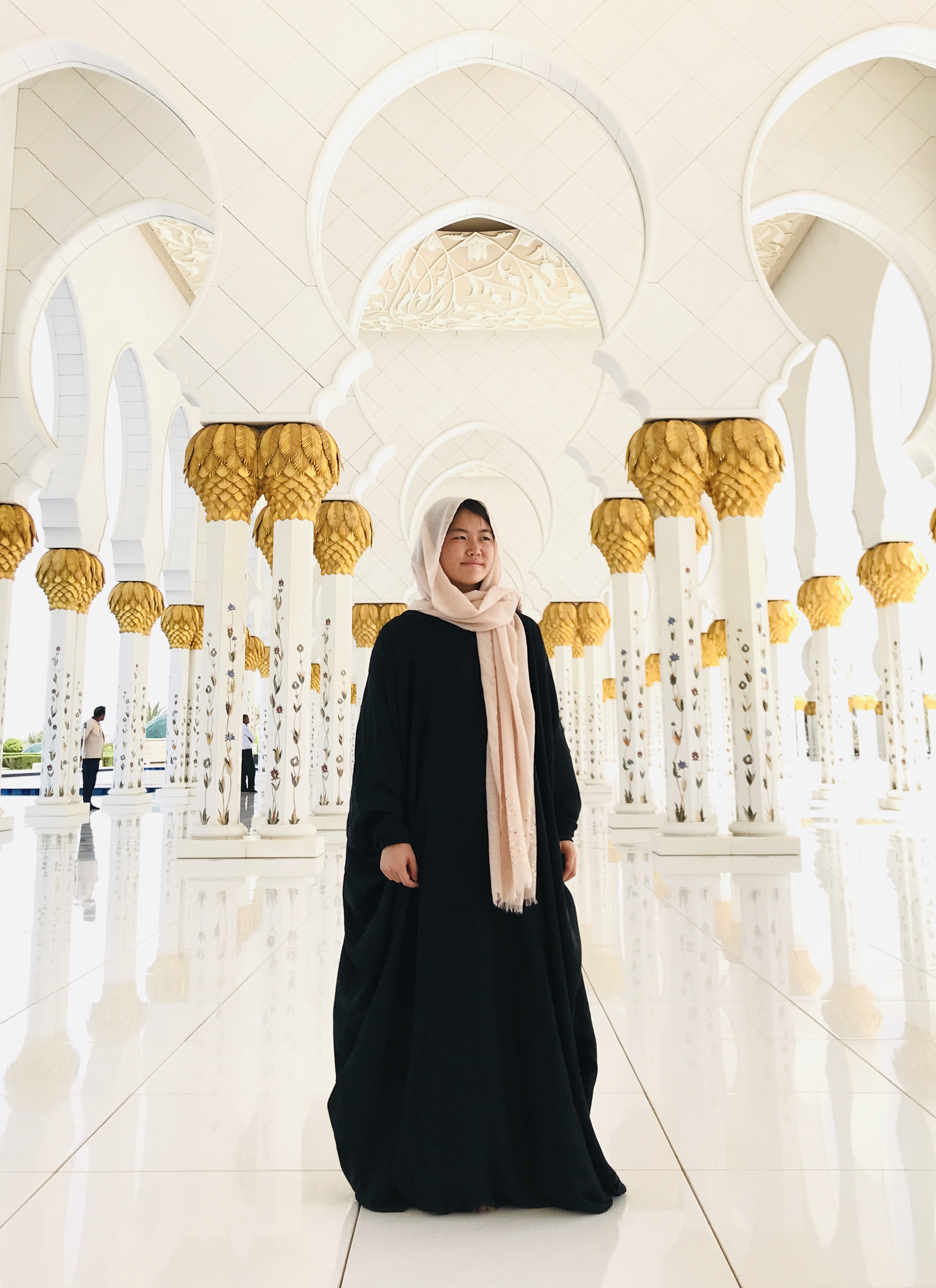 DeCillis at Abu Dhabi's Sheikh Zayed Grand Mosque in September 2018.
For DeCillis, musings about mobility seemed like just an interesting thought experiment until the advent of the COVID-19 pandemic. Cooped up in her Shanghai apartment with only a classmate's rescued cat for company, DeCillis says she watched with dismay as news coverage and acquaintances' social media posts took a Sinophobic turn.
"I had never really encountered any racism or anything like that before, but I saw a lot of racist stuff that was surfacing around this time, and I started to get concerned," DeCillis says.
"I realized that if I were to leave Shanghai, not only would I be flying directly from China, I look Chinese. I mean, before I even open my mouth, people would see my face, and I didn't want to be in the grocery store and have people move away from me because of that."
"So I thought, 'You know what? I started this journey in Shanghai, and I'm going to end it in Shanghai.'" 
DeCillis decided to stay in Shanghai and turn a critical eye on her experiences during the pandemic, reworking her plans for her Global China Studies Capstone project into a "autoethnography." Her project chronicles the ups and downs of navigating her unique Chinese-American identity throughout the global crisis, both in the physical space of Shanghai and the virtual space of her interactions with friends, family, and classmates around the world. DeCillis's work documenting her experience throughout the ordeal for her Mixed Media Writing: Radio and Television class (taught by NYU Professor of Journalism and Mass Communications Mitchell Stephens) has also earned her a spot in coronavirus coverage in outlets ranging from NPR to Vogue.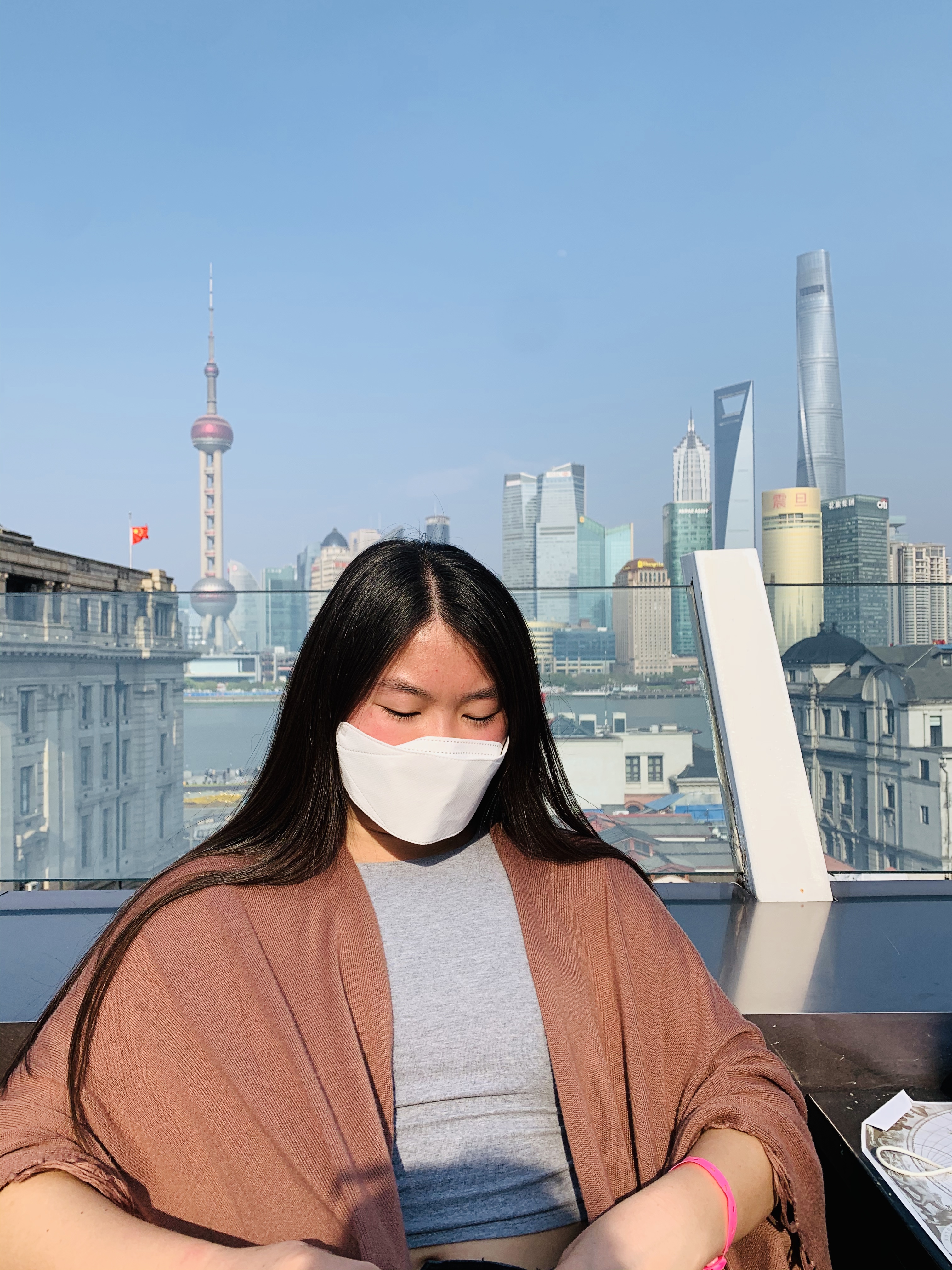 In appropriate anti-COVID gear at The Captain restaurant on the Bund on April 2, 2020.
DeCillis says that riding out the coronavirus storm in Shanghai solidified her desire to stay in her adopted home city after graduation. "I just felt this fierce loyalty to Shanghai and to China through all of it," she explains. "I can't part with it now."
So DeCillis is taking a big leap and starting her own company, Okra (哦可惹), one that will let her be a bridge between China and the world as a photographer, as a storyteller, as a translator, as a teacher, as a tour guide, as a go-between for Chinese media companies and expat creatives … and the list goes on. She will also be taking a position with Chinese news and cultural analysis media platform RADII. In the true spirit of Shanghai, DeCillis says, her plan is to do what needs doing and seize every opportunity she comes across in order to make things work.
"I think that's one thing that NYU Shanghai does so well: They are so good at balancing being there for you and equipping you with all the tools you need to be independent, and then also throwing you in the deep end. Because Shanghai is the deep end," DeCillis says.
And she could not be more excited to dive in once more.