University Welcomes 1st Interactive Media Arts MA Class Among 172 New Grad Students
Aug 12 2020
NYU Shanghai welcomed 172 new graduate students this summer across 13 different master's and doctoral degree programs, including the inaugural class of students in the Interactive Media Arts (IMA) Global Low Residency Master of Arts program.
The year-long IMA "Low Res" MA program – a collaboration between NYU Shanghai's innovative IMA program and the Interactive Telecommunications Program (ITP) at NYU's Tisch School of the Arts – began July 13 with an online orientation week for the inaugural class's 31 students, who hail from seven different countries and regions across Asia, North America, and Europe. Low Res students currently in China were also welcomed to campus for an in-person orientation on July 16, where they toured the university's makerspace and were briefed on the university's COVID safety measures.
"We have an incredibly engaged and talented group of students who have jumped on board with us for the inaugural year of the program," said Craig Protzel, Director of the Global Low Residency MA program and Assistant Arts Professor at NYU Tisch's ITP. "Everyone is excited to be forging ahead into new terrain to fulfill the vision for this ambitious curriculum."

 Members of the inaugural class of the IMA Low Res Master of Arts program join faculty for a virtual group photo during the class's orientation on July 13.
Low Res MA students will learn to design and create interactive projects that combine creative coding, hardware engineering, and digital media, crafting user experiences that encourage critical thinking.
The program's faculty and contributors range from fine artists to interaction designers to digital entrepreneurs and social activists, and the first class of students comes from a variety of professional backgrounds spanning museum work, software engineering, and global media. Combining their interdisciplinary perspectives into a single curriculum gives students new ways to get users critically engaged with the world around them, whether through creating seamless wearable tech, inventing programs to make original art from open datasets, or finding new methods to teach students with learning disabilities.
Although the program was initially intended to begin with a 5-week in-person term in New York, due to the COVID-19 pandemic, classes and coursework are now taking place remotely. The dialogues with local practitioners, artist talks, industry visits, and collaborative courses that form the core of the Shanghai residency are scheduled to take place in Summer 2021.
"Since the Low Res program already had online semesters incorporated into its original design, much of the tooling and technical platforms being used are exactly as planned. We're just relying on them a bit sooner than we anticipated," Protzel said. Students will continue taking online courses throughout Fall 2020 and Spring 2021, with an additional 2-week residency at NYU Berlin scheduled for January. The final 5-week residency in Shanghai in Summer 2021 will mark the culmination of the 1-year program.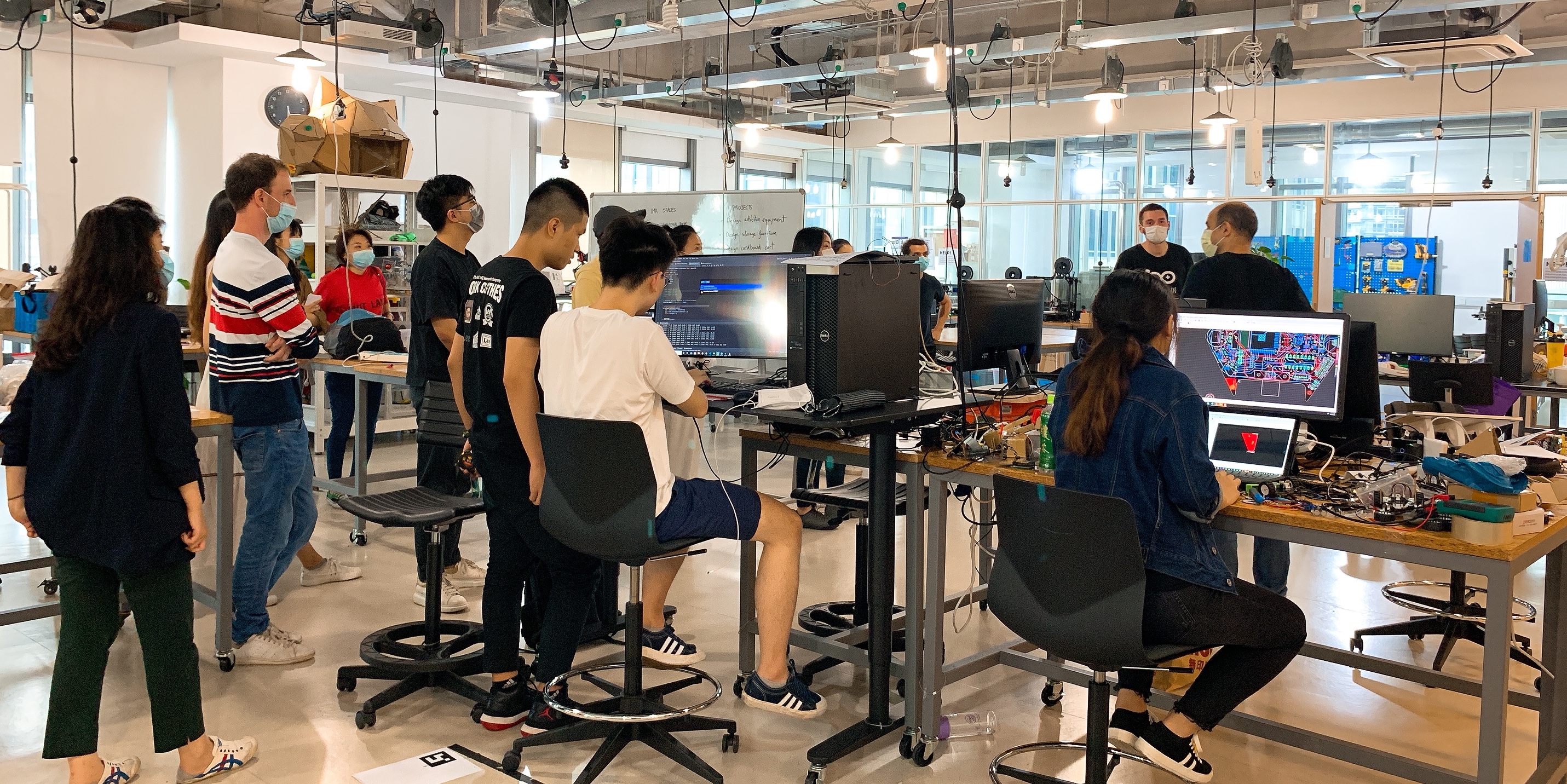 New IMA MA students learn their way around the Maker Space on the 8th floor of NYU Shanghai's Century Avenue campus.
 "The IMA Low Residency degree really anticipated our times," said Dan O'Sullivan, Associate Dean for Emerging Media at the Tisch School of the Arts and the TBS Chair at ITP. "The COVID crisis has made our innovations in accessibility necessary for all educators, and interactive media has become the lifeline for all communication. Just in the opening days of the program, you can feel the excitement of the students and faculty on a mission that so clearly connects with today's important challenges."
Inaugural Low Res class member Jay Mollica, who has a degree in literature and has spent nearly 10 years working in museums on the US West Coast, says the program's "emphasis on how geographic context shapes how we use and what we make with available technology" was what initially pushed him to apply.
"I am most excited about getting to know my cohort," Mollica says. "It was clear from the first week how diverse everyone's background is. Getting to work with and learn with folks from so many different perspectives is going to make my work even better."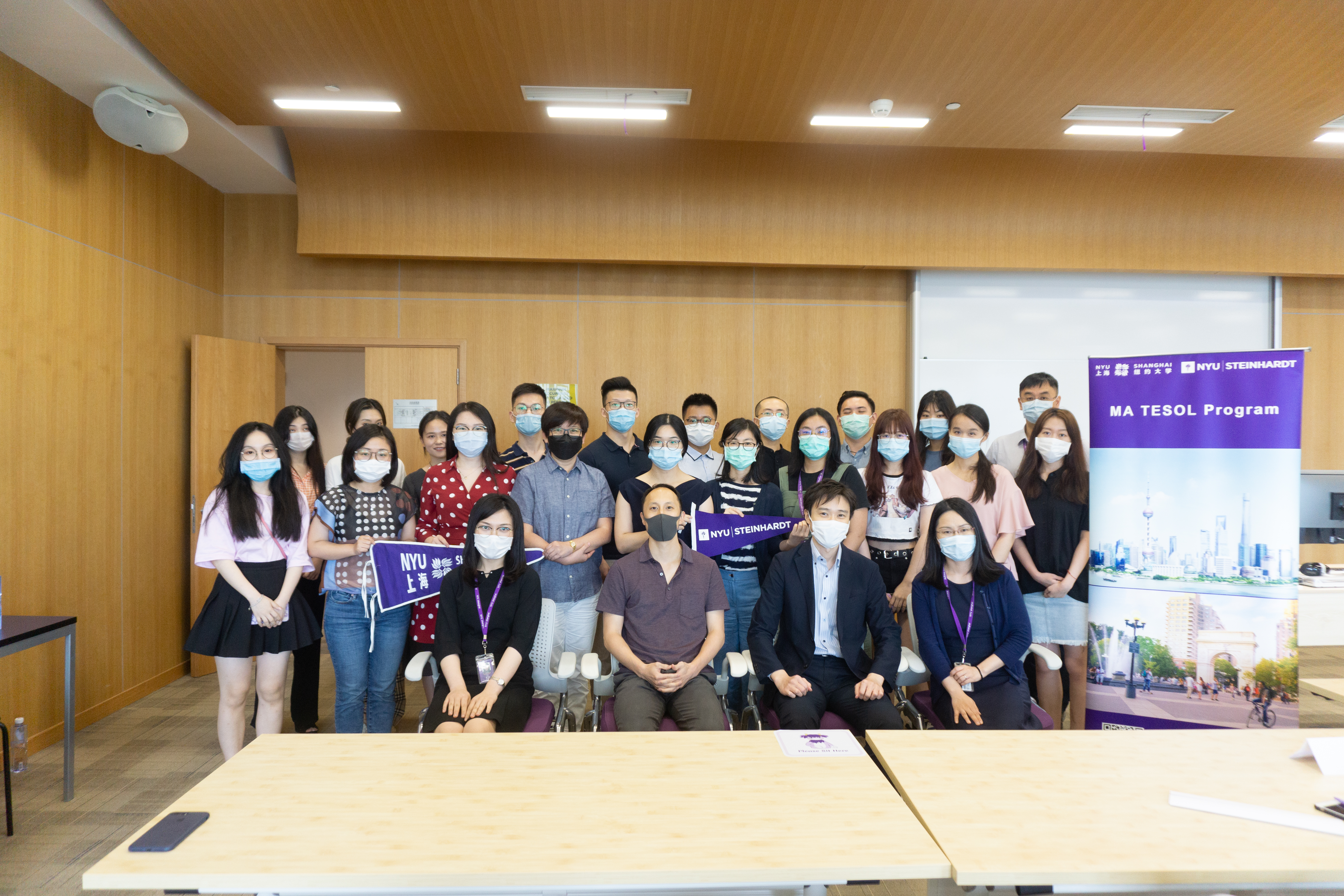 Members of the MA TESOL Class of 2022 celebrate the start of their program at NYU Shanghai on July 4.
July also saw the induction of the third class of Master of Arts in Teaching English to Speakers of Other Languages (TESOL) students, while 13 PhD candidates in seven fields ranging from biology to computer science to electrical engineering (EE) also began their courses of study.  The biology and EE doctoral candidates broke ground as the first students to be admitted to NYU Shanghai's PhD programs in their respective fields.
Another 84 students began their Master of Science programs in Quantitative Finance (QF) and Data Analytics and Business Computing (DABC) – offered in collaboration with NYU Stern School of Business – in Shanghai this month.
NYU Shanghai also welcomed  20 master's degree students from NYU's School of Global Public Health as part of the NYU Global Network's Go Local initiative. These China-based students will take the majority of their classes remotely from New York, while also taking one in-person course with students from NYU Shanghai's QF and DABC master's students. 
"These 172 students are among the first students to matriculate at NYU across any campus since the beginning of the global pandemic," said Eric Mao, NYU Shanghai Associate Dean of Graduate and Advanced Education. "They've achieved no small feat in commencing their studies during this exceptional time. With their resolve and resilience over the past several weeks, they are paving the way for the thousands more who will follow in their footsteps at NYU Shanghai this fall."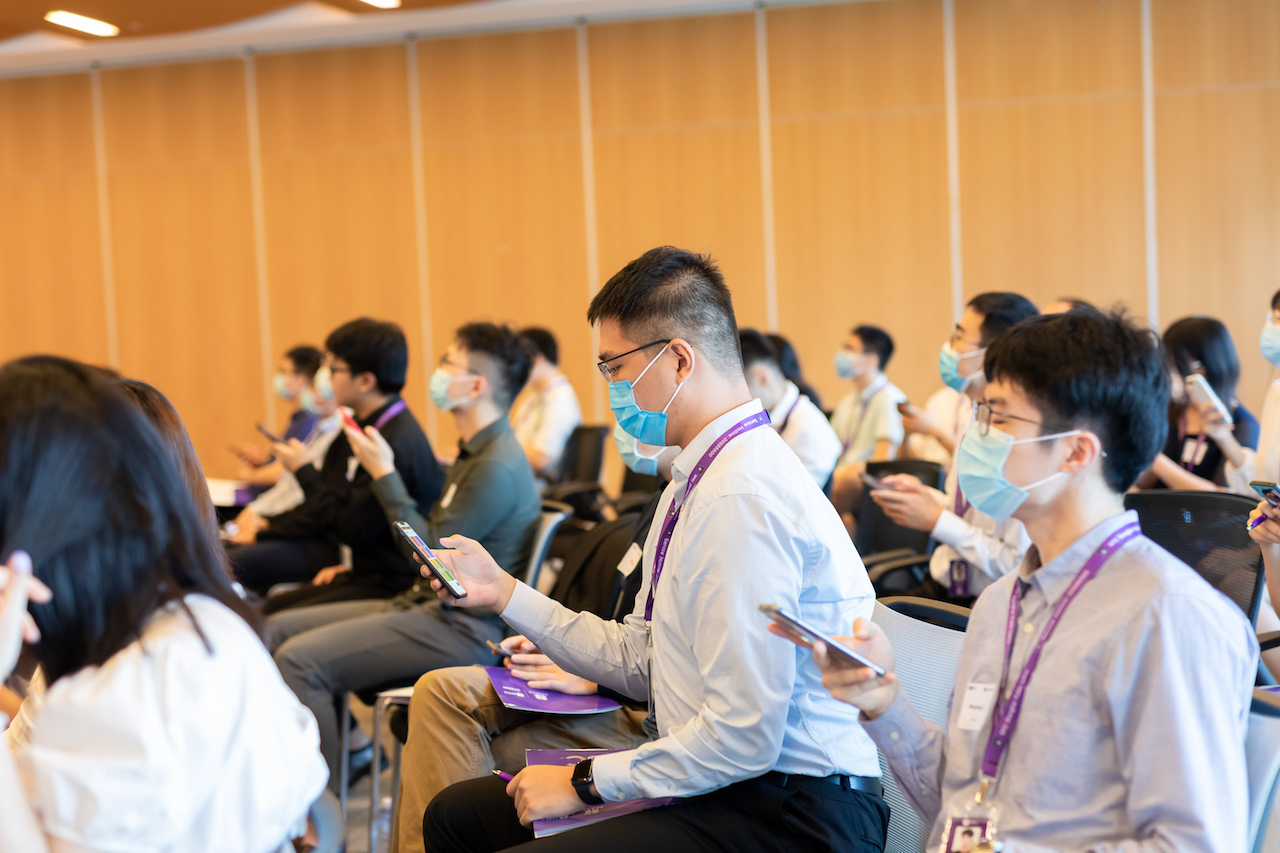 New MS DABC and MS QF students break the ice with a mobile quiz during their orientation at NYU Shanghai's Century Avenue campus on August 3.