Chancellor Yu Receives 2013 Shanghai Education Notable Person of the Year Award
Jan 26 2014
On January 25, the ten recipients of the 2013 Shanghai Education Notable Person of the Year were announced on the Shanghai Education Television Station. In recognition of his upholding the educational philosophy of "make the world your major" and exploring international educational reform and cooperation, NYU Shanghai's Chancellor Yu Lizhong was selected to receive this honor.
"You are NYU Shanghai's first-ever Chancellor and you are aiming for international excellence and bearing the responsibility of reform. You are reflecting on the new explorations and developments of Chinese higher education on the world stage, which is part of the Chinese Dream," wrote the prize ceremony's organizing committee in its congratulatory remarks to Chancellor Yu, entitled "Education: Because of You, We Have a Dream."
The event was hosted jointly by the Shanghai Educational Press Group, the Shanghai Education Television Station, and the Shanghai Elementary and Middle School Teachers Fund.  Support was provided by organizations including Liberation Daily, Wenhui News, Xinmin Evening News, and Shanghai Morning News.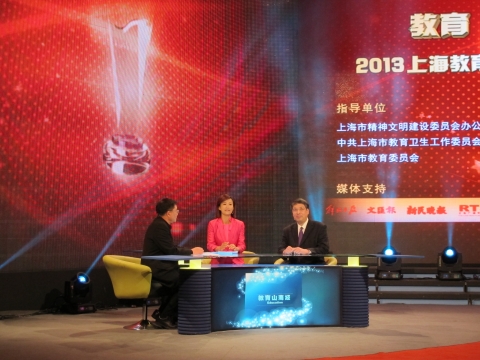 Photo Credit: Rhine LU