NYU Shanghai students from the performing arts and interactive media arts programs took to the stage at The Power Station of Art on Sunday to present their end-of semester show in front of a packed audience. 
The colorful palette of contemporary dance, music, and interactive media captivated viewers during the three-hour program.  
The group performance is the university's first collaboration with the PSA: "We are delighted to have NYU Shanghai faculty and students present their music, dance and interactive media art projects on stage," said Catherine Ma, Education Manager at The Power Station of Art. "It is wonderful to bring contemporary dance and art to a wider audience."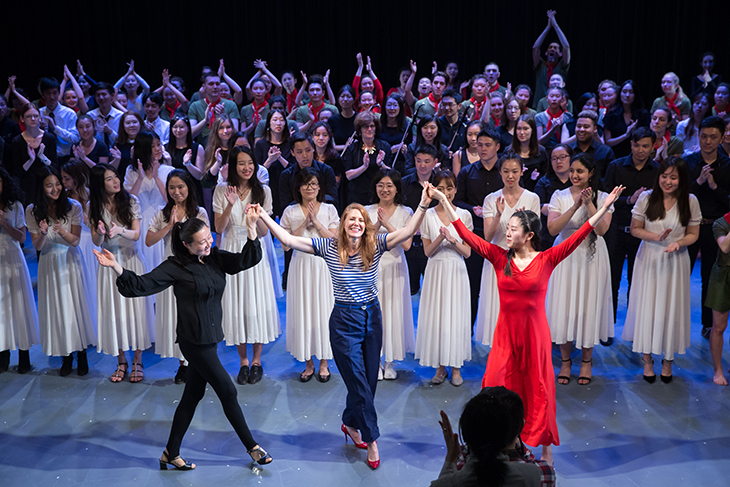 Aly Rose, clinical assistant professor of dance at NYU Shanghai, added it was a great opportunity for students "to learn what it means to perform in front of a live audience." 
"Having them be part of the process teaches them about production, the power of performance and audience development," she said. 
Watch the video below for highlights from the performance and to find out more about the special collaboration.
Courses participating in the performance included: Ballet, Bamboo Flute Intermediate Level, Chamber Ensemble, Minority Dance, Choral Arts, Choreography & Performance, Contemporary Dance, Erhu Intermediate Level, Group Piano for Inter Beginner, and Group Piano for Advanced, and students in Interactive Media Arts (IMA) courses - Hyperbolic Orchestra & Video Art and New Interface for Musical Expression (NIME).
Among the faculty who prepared the students for the performance were Meiling Chen, Wei Chen, Yue Cheng, Aiai Duan, Aly Rose, Siye Tao, Jie Wang and Yi Zhang, instructing music and dance courses, and Ann Chen, Sean Clute and Antonius Wiriadjaja in Interactive Media Arts (IMA).