NYU Shanghai Honors the Class of 2018
May 23 2018
NYU Shanghai has held its 2018 commencement exercises to honor the many accomplishments of its 265 graduating seniors. The graduates, hailing from 35 countries, including 138 Chinese students from 21 provincial regions, were bestowed NYU bachelor's degrees as well as NYU Shanghai diplomas during a ceremony at the Shanghai Oriental Arts Center.
Scroll to end to watch ceremony in full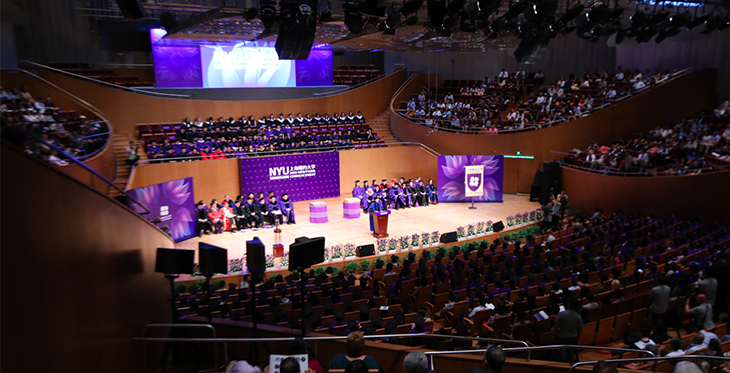 Led by the banner bearer, Yao Yuxia '18, and torch bearer, Leidy Tapasco '18, the Class of 2018 entered the hall, to the cheer of family, friends, faculty and fellow students, as audiences around the world also watched the event live online.
The first to address the graduating class, NYU Shanghai's top academic officer, Provost Joanna Waley-Cohen, urged graduates to hold on to "creativity, character, and community," explaining that "these are the values that will inform your every action as you move forward and will form the basis of lives lived with joy."
Before joining Chancellor Yu Lizhong to confer the degrees, NYU President Andrew Hamilton honored the pioneering Class of 2018 for their "ideas and initiative," which have helped transform NYU Shanghai from a vision into a community.  
"NYU Shanghai has grown into one of the most exciting universities in China. With rigorous academics; a unique blending of Chinese, American, and international cultures and traditions; a liberal arts curriculum that helps develop nuanced and well-rounded leaders; world-class faculty and top-notch research centers; and a spirit and dynamism and warmth that is all its own," he said.
Gallery: See More Photos from Graduation Day
Video: This is the NYU Shanghai Class of 2018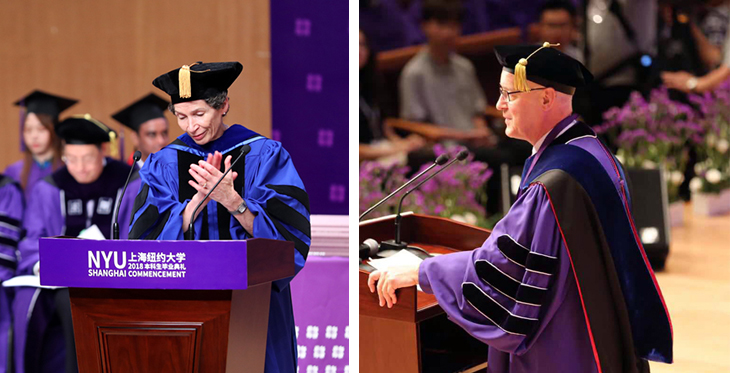 William Berkley, Stern '66, chairman of NYU's Board of Trustees, also saluted the new members of NYU's alumni community.
From landing jobs in top-flight companies and intergovernmental organizations such as Amazon, Alibaba, Bank of America Merrill Lynch, IBM, L'Oreal, Morgan Stanley, Roland Berger, Standard Chartered, Tencent and UBS, to earning coveted postgraduate scholarships including one Schwarzman and two Yenching scholars, the Class of 2018 has distinguished themselves across industry sectors and education institutions around the world.  
Drawing cheers from their classmates, Itmum Momin '18 and Chen Mengzhu '18 joined the platform party and delivered inspiring speeches that proved to be one of the soaring highlights of the event.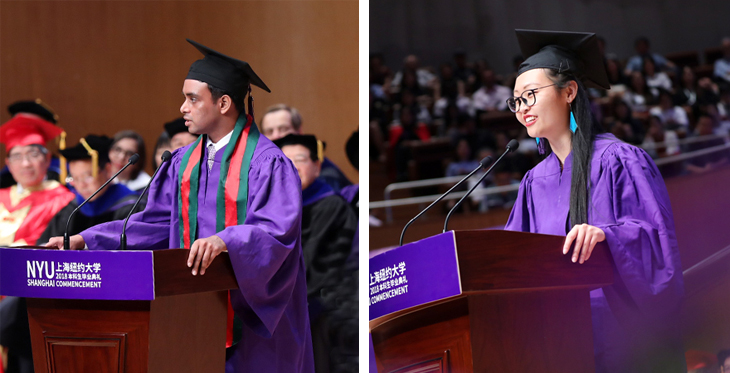 "NYU Shanghai showed us, and continues to show us that if someone is open to it, the ties that bind people - from their race, skin color, nationalities, etc. can be transcended by common ground - whether that's going through GPS together and learning that the answer is often 'it depends', to leaving home for the first time and exploring different parts of China with new friends," Momin said.
"As we navigate in this turbulent world, we will inevitably be disoriented, lost, frustrated, and anxious, but we are also equipped with an open mind, an intellectual cerebrum, and a major called 'the world' to tackle on," Chen said.
Chancellor Yu Lizhong said NYU Shanghai has followed the city's spirit of "tolerance to diversity, pursuit of excellence, enlightened wisdom and humble openness" over the past five years and has truly integrated into the city.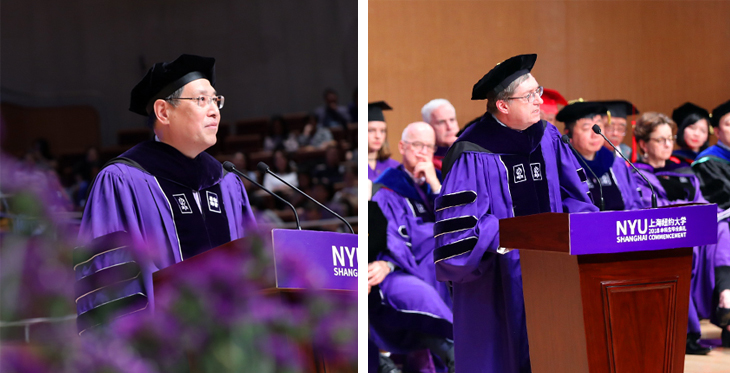 He reminded the young, pioneering graduates that they have grown with the University and "inherited the DNA of exploration, transformation and innovation." Citing André Gide, a French Nobel laureate, he encouraged them to respond to global challenges with the courage of "losing sight of the shore," so as to "discover new oceans."
Revisiting memories of Global Perspectives on Society with the graduates, Vice Chancellor Jeff Lehman encouraged students to counter stereotypes and prejudice invoked by prevalent fear and isolation for foreign languages, ideas, religions, and races.
"Familiarity breeds respect," Lehman said. "As you shared your NYU Shanghai experience with classmates from 34 other countries, you offered a model for how genuine mutual knowledge diminishes the kinds of misunderstanding that lead to wars of weapons and wars of trade."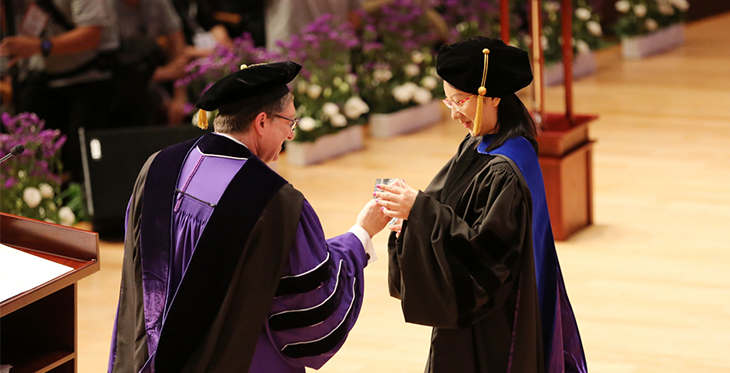 Celebrating the University's values and mission, both Chancellors conferred honors to individuals that have exemplified the spirit of NYU Shanghai or shaped its development. Prominent angel investor Xu Xiaoping was recognized as this year's Chancellor's Medal of Honor while Zhang Qiling, a parent of the Class of 2018, received the University's first Vice Chancellor's Service Award for her commitment to community building. Both addressed the graduating students, their families and dignitaries in attendance.
Reflecting on "a few unexpected turns" from his decades of career experience across the fields of music, education and investment, Xu advised the graduates "to stay open to new possibilities, however far they might be from the original plan."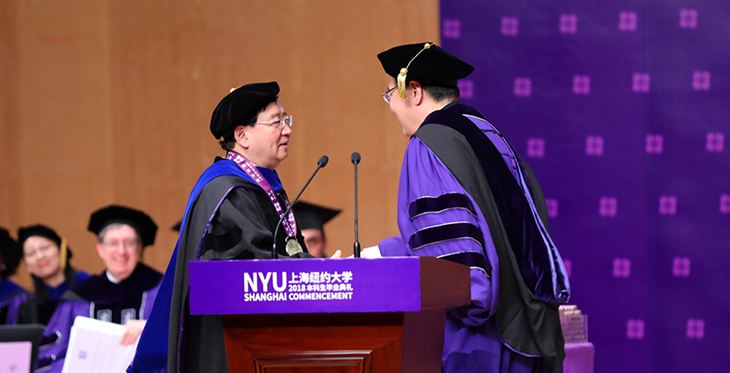 "In the fine motto of NYU Shanghai, you have made the world your major. And the best part is that when the world is your major, the course of discovery never ends," he said.
"If you have a vision of yourself as the kind of man or woman you aspire to be, that alone will carry you far. Think less about finding the ideal job, and more about making yourself the ideal person. When that is your outlook, opportunity, I promise, has a way of finding you," he added.
Following the conferral of degrees and the passing of the NYU Shanghai Torch from the graduating class to the rising senior class, the NYU Shanghai Chorale closed the ceremony with a spirited rendition of NYU Shanghai's Alma Mater.  
On May 22-23, Shanghai's iconic landmark--the Oriental Pearl Tower, was once again lit up in violet in honor of NYU Shanghai class 2018, in the same way the Empire State Building is illuminated each year to salute NYU's graduation. Three cruise ships on Huangpu River were also dressed in violet light to celebrate the joyous occasion.
Gallery: See More Photos from Graduation Day | Lighting the Pearl Tower
Video: This is the NYU Shanghai Class of 2018