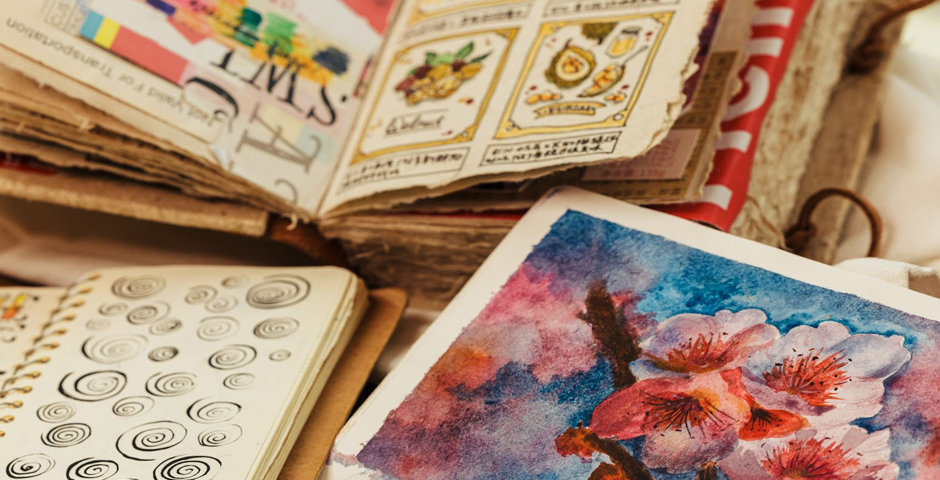 Tracey Lan '22 has been sketching, painting and collaging her life as an NYU Shanghai student since day one. In her world, the smallest details offer inspiration—from the first time her roommate French-braided her hair, celebrating Pi Day on campus with slices of actual pie, studying away in Washington DC and standing awestruck before the Library of Congress, or replicating spiral brush strokes from Tibetan Tangka artwork. 

Lan—a Global China Studies major from Chengdu who this year was also one of two NYU Shanghai finalists for the prestigious Rhodes Scholarship (one of only 14 students across China to earn this distinction)—recently offered a glimpse into her sketchbooks, filled with depictions of food, flora, and travel, and reminisced about her NYU Shanghai journey so far.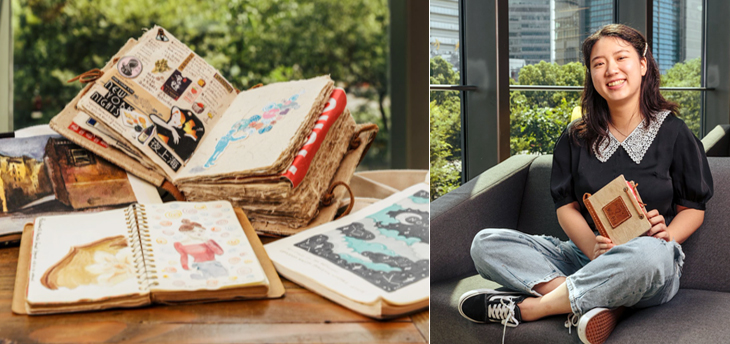 Which of your sketches can most NYU Shanghai students relate to?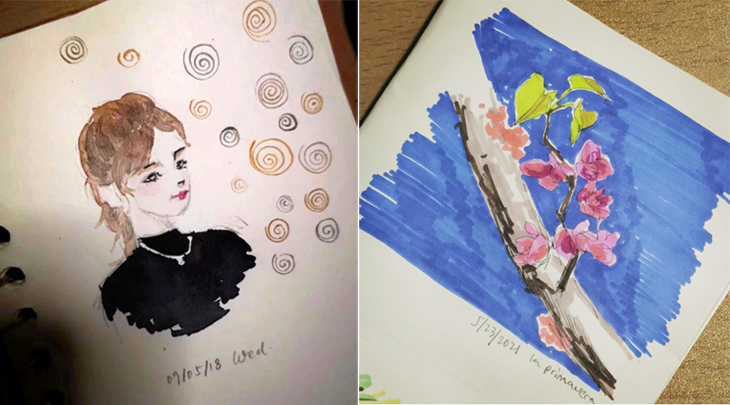 Roommate experience: On the left is a self-portrait of me in my first year at NYU Shanghai after my American roommate French-braided my hair. And the spring cherry blossoms on Century Avenue. We all love sitting on the grass in front of the AB (Academic Building) when it is sunny and the blue sky is clear.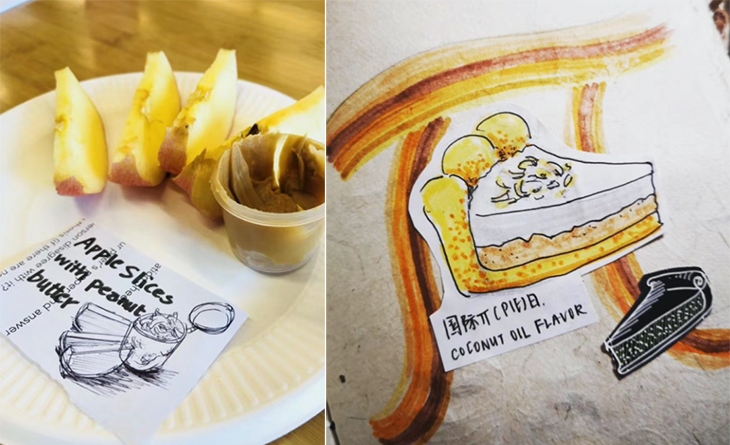 I've also drawn my favorite campus cafe snack -- apple slices and peanut butter--a very American combo. When NYU Shanghai served pie for International Pi Day, it was my first time celebrating. I still remember the coconut cream taste.
 
You clearly have a gift for sketching and painting.  Does art run in your family?
My parents were art students and high school classmates. My mom is well-versed in traditional Chinese painting. My dad also grew up learning traditional Chinese painting but taught himself oil painting and that's his style now. His father, my grandfather, is also a traditional Chinese calligrapher and artist in his free time. My parents always say that artists do not teach their own kids to paint, so they sent me to learn from an art educator at a very young age.
In high school, I was an illustrator for my school literary magazine. I also painted for a book project on the city's history called My Chengdu, published by Zhongguo Wenshi Chubanshe [Chinese Culture and History Press]. Since arriving at NYU Shanghai, I've been blogging about my inspirations and observations of art and museums on my WeChat account, Born for Art. I also record and talk about art, my NYU Shanghai life, and my love for learning languages (I'm learning Spanish!) on my tri-lingual Bilibili video channel—I want to be a multimedia storyteller.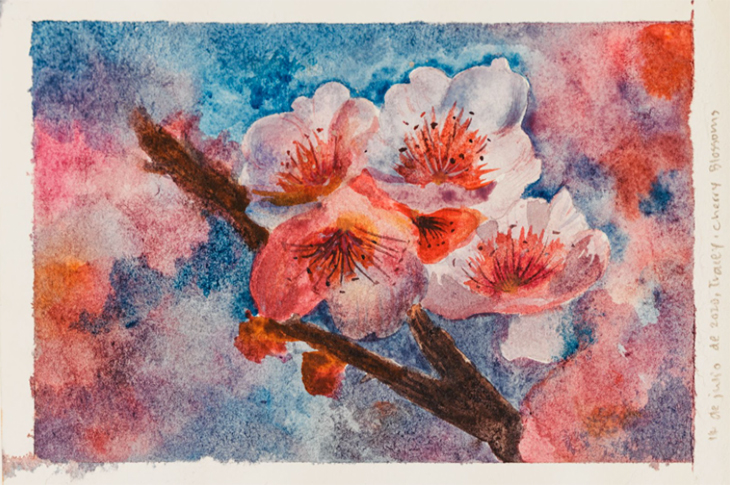 Did you consider going to art school? What made you choose NYU Shanghai?
In China, to go to a prominent art academy, people usually will spend most of their senior year in art camps. My mom sent me to art camps during my first two summers of high school, and I was immersed in that environment. My classmates at the camps often drew all day from 7am to 1am the next morning. It was really tough.
That experience helped me figure out that I didn't want to pursue art as my major, because when you make something the only thing you do every day, it becomes something else—you don't like it anymore. Art is quite personal for me. I didn't want to capitalize on it or make it my major, because that means putting a grade or price on it. I just want to keep it simple.  
I did take the entrance exams for the Central Academy of Fine Arts in Beijing, my parents' dream school. Upon hearing that I was ranked nationwide number 2 for the Fine Arts major and number 7 for the Art Theory major, my parents told me that I helped them achieve their dream. They were supportive when I said that I did not want to accept the offer. I thought it was more important to have exposure to different cultures and ideas, and to expand myself. I was totally fascinated by NYU Shanghai's slogan "make the world your major."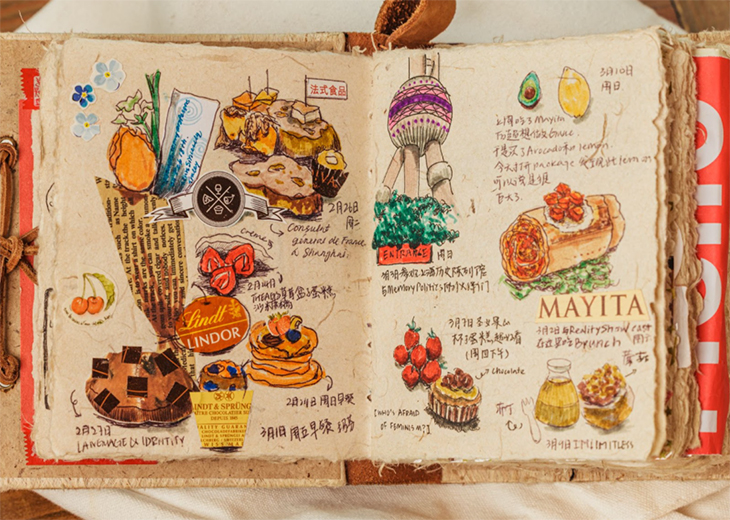 How does your work reflect your NYU Shanghai experience?
A lot of my drawings are related to NYU Shanghai events and involve food. It's all related to people that I worked with, events that I was a part of, and projects I worked on. 
During my first and second year, I was involved in four different student clubs—Queer and Ally Society, The Restaurateur Club, Beauty Industry Club, and TEDxNYUShanghai. Someone asked me how I managed to get people to attend the events we organized. I was frank and told them that free food was the key!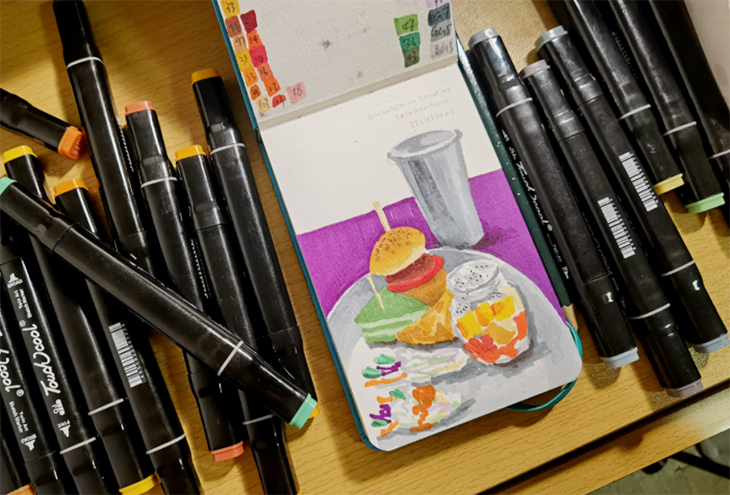 I also co-organized panel discussions for a student initiative sponsored by NYU Shanghai's Global China Studies major called Conversations on China. In 2019, we hosted two events, one called Multilingual China and the other one about Hong Kong. Our most recent discussion, which took place just this week, was on ethnic appearance and language expectation. The sketch above is from our end-of-semester lunch with Global China Studies students, professors, and staff. I remember laughter, applause, and a sense of community and belonging in the room.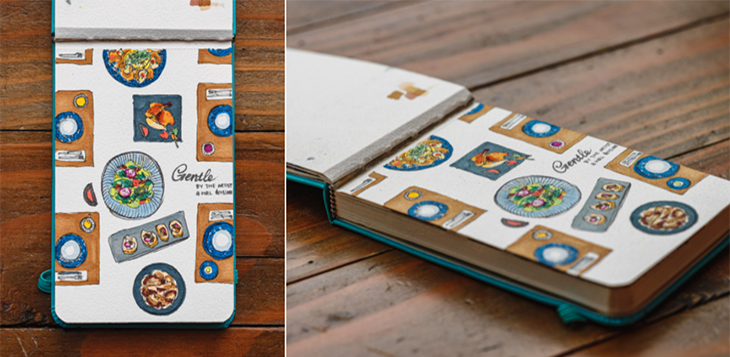 Last year, I was also a research assistant working with Professor Heather Ruth Lee on a project about the immigration history of New York through the lens of restaurants. [Read Data Science, History Students Team Up to Uncover NYC Immigrant Lives]. The sketch above is from a dinner we had together while talking about our work on the project.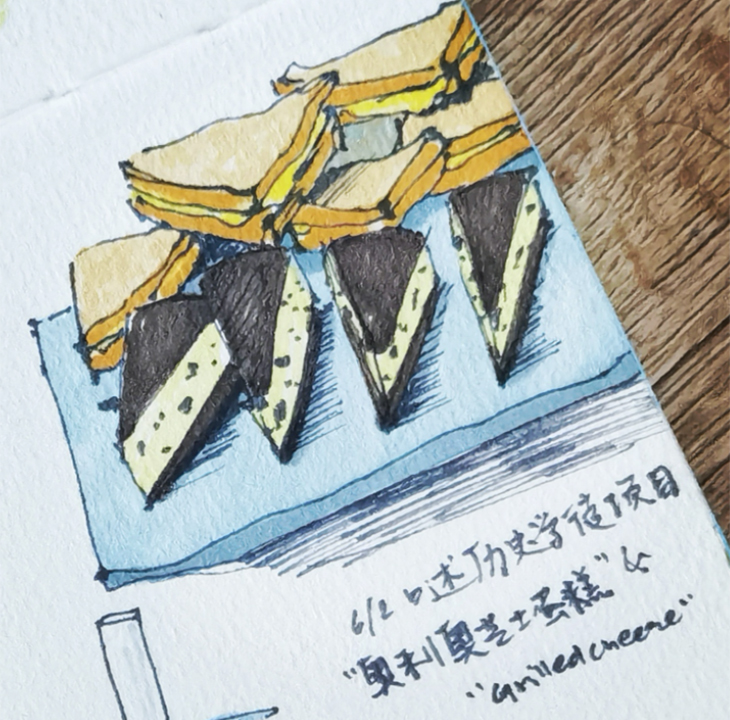 Over the summer, I participated in Oral History Apprenticeship with Clinical Assistant Professor of History Wen Shuang which introduced me to oral history as an important methodology especially for social historians and inspired me to incorporate oral history interviews into my future research. I drew the snacks, which were always different for every session--it added a layer of anticipation to the experience of learning about oral history.
My interest in oral history stems back to high school, when I asked my grandparents about their early life experiences. I now see how those experiences affect them today--down to the foods they prefer to eat, which also continues to impact me. I feel like this also ties into my attention to food in my own artwork. At NYU Shanghai I was creating art about foods that were novel or meaningful to me.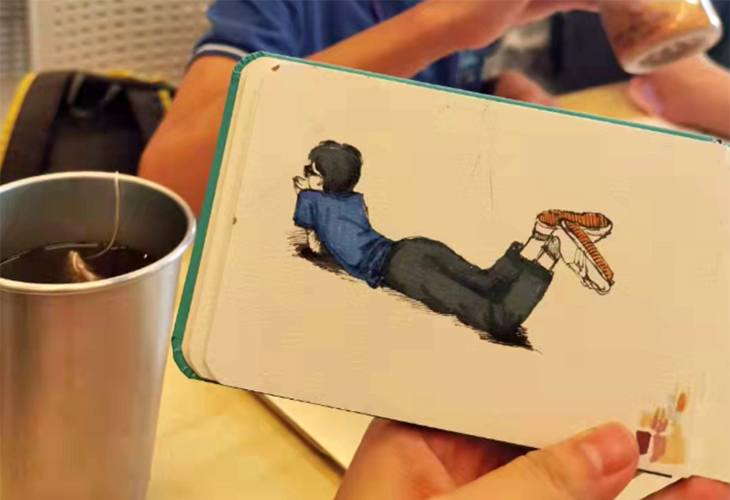 This summer, I also took part in NYU Shanghai's College and Career Lab camp, where I guided underprivileged migrant children through activities that taught them about team building and self-expression. Throughout these experiences, I've made sketches to remind me of the little in-the-moment details.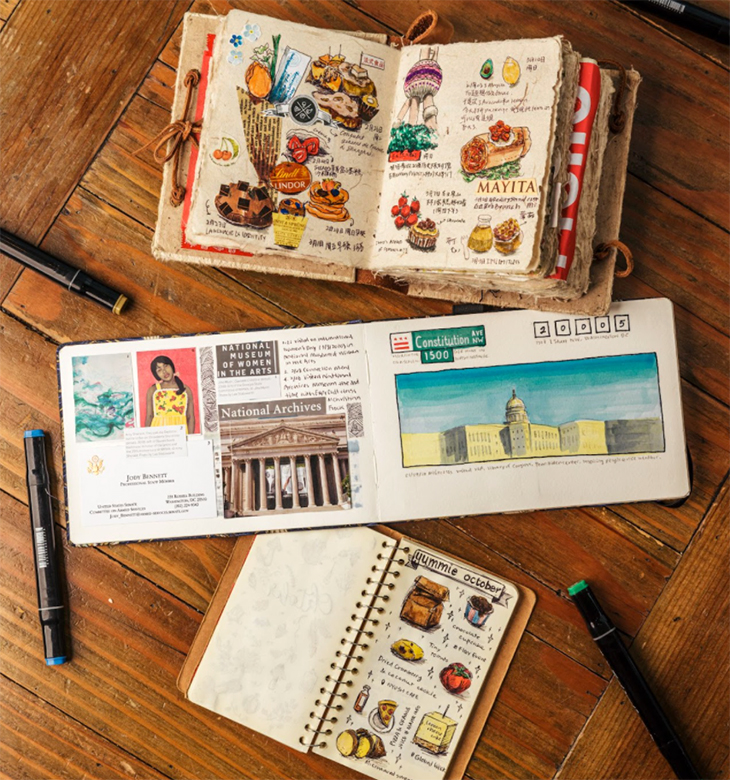 What inspired your art while you were in New York or when you studied away at NYU in Washington DC?
My 2019 summer in New York never fails to inspire me: my 3-hour Reality Show rehearsals at NYU Tisch, visiting museums and seeing musicals, and being around New Yorkers.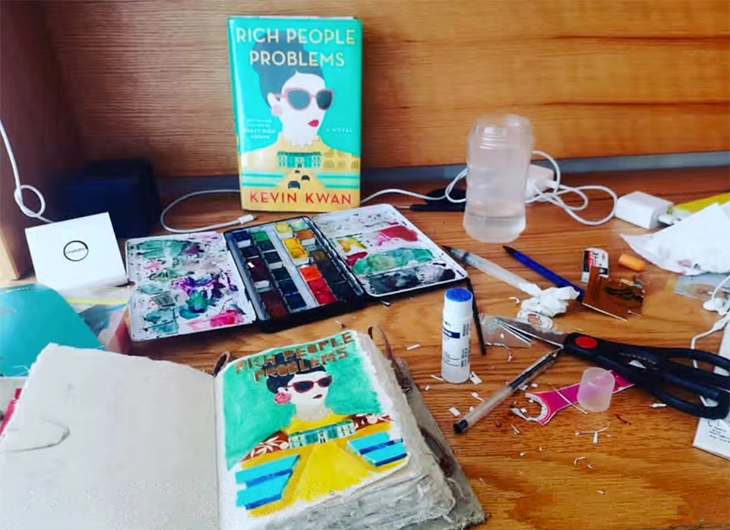 I remember being in NYU's Bobst Library and this novel Rich People Problems caught my eye with its bright-colored cover. I borrowed it from the library, read it, and remade its cover with packing materials I collected.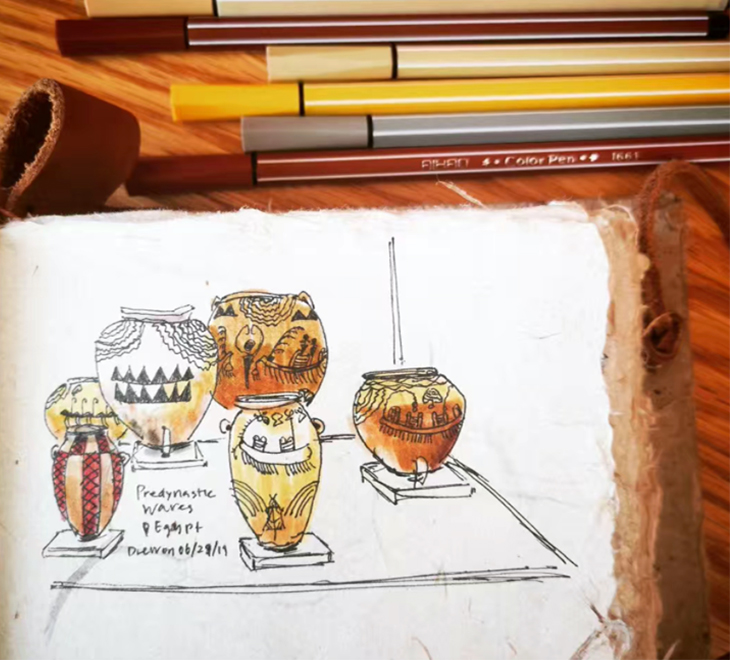 An interesting moment: upon showing my NYU ID card at the Metropolitan Museum of Art, I was told that I didn't need to buy the ticket: I could pay whatever amount because I was categorized as a New York resident. This made me feel a sense of belonging in the city of New York as part of the greater NYU community. I spent my whole day at the Met, painting as I visited along the way.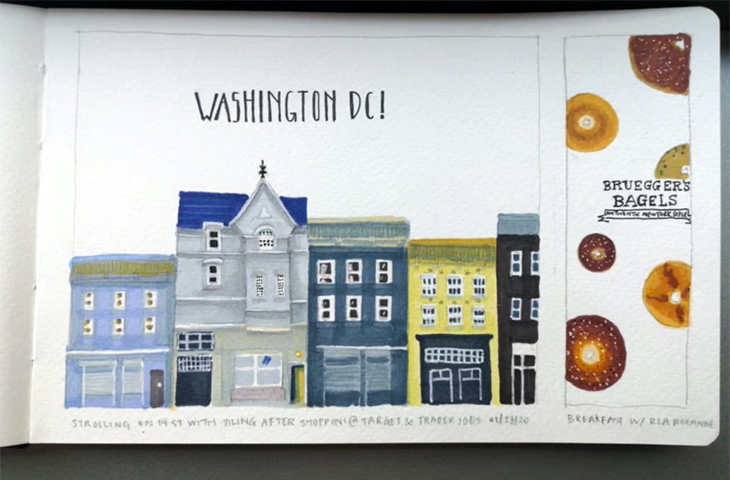 My first day in Washington DC started with a bagel breakfast organized by NYU DC. Later, the staff took us on a trip to Target to get our necessities. I decided to walk back, exploring the city and recreating it in my mind and with my colored pens.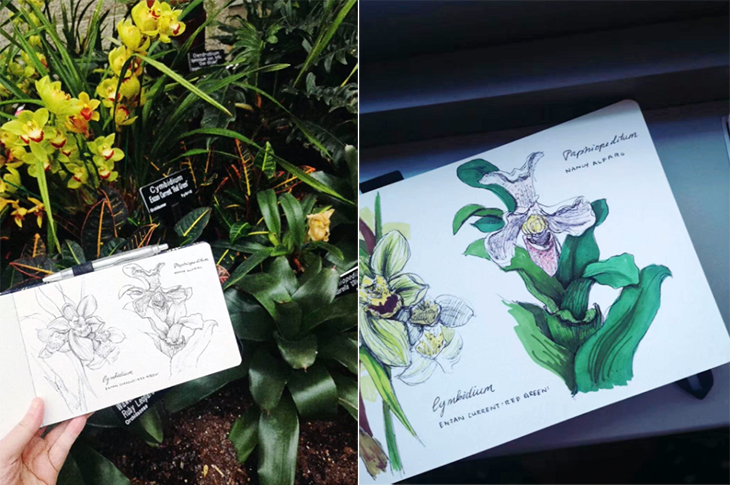 I remember having a meeting with my advisor Viktoria at NYU DC and we decided to take a tour of the National Portrait Gallery together and work on my application essays for a summer internship, in its garden. I painted these plants while she was looking at my long essay.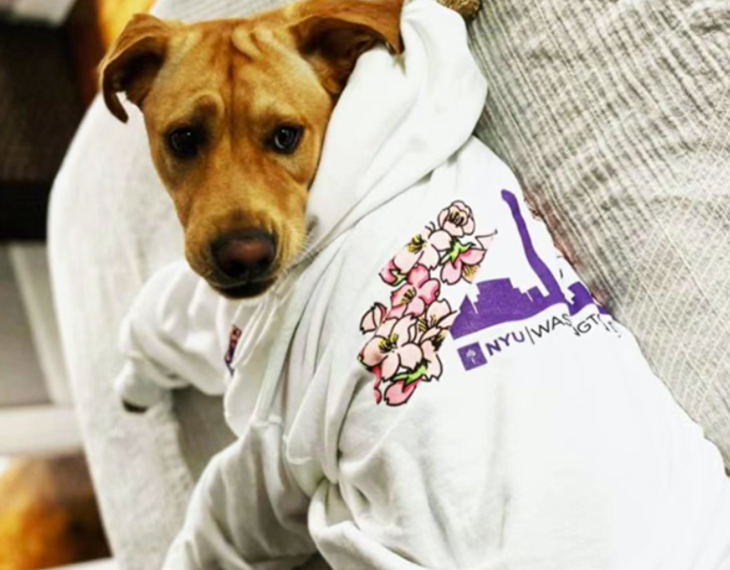 After returning to China at the beginning of  COVID-19, I designed this NYU DC hoodie with cherry blossoms. NYU DC shipped the hoodie I designed to NYU DC students wherever we were. They also posted this cute picture of a dog wearing the hoodie.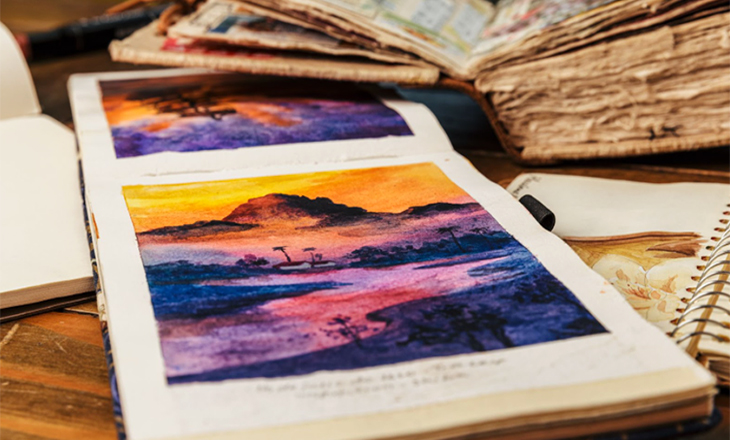 What are you doing now and what's next for you? What do you want to do after you graduate?
This semester, I am taking a course on Food in Chinese History taught by Provost Joanna Waley-Cohen where I reflected on the food I grew up eating, and different perspectives to understand history through food. I am currently studying tomatoes in the late Qing period and Republican Era (late 19th century and early 20th century) and how Chinese people's attitudes toward this foodstuff reflected their ideas of Western culture and modernity. I wish to further unpack those nuances and explore lived history through food and everyday objects. 
The application process for the Rhodes Scholarship really helped me clarify what I wanted to do in the future. It helped me recognize my specific interests in social history and shedding light on how actual everyday people in China lived. I'm really interested in growing this part of my identity as a cross-cultural communicator who provides a platform for people to talk about things, and who shares stories with different media to make those voices heard. 
Next semester, I'm going to Madrid, Spain to be part of NYU's Global Internship Program and I'll continue taking Spanish. After that, I'm considering continuing my education and becoming a scholar and professor, but I'm always open to opportunities.