DSS Service-Learning Course: Language and Power
You came to NYU Shanghai because, at some point in your life, you had a language learning experience that challenged and changed you. You also had a language teacher who inspired you. Now, it's your turn. This 2019-20 Deans' Service Scholars course offers you an opportunity to teach, to serve, and to think critically about what it means to teach and serve in Shanghai.
Linguist James Paul Gee has described English language teachers as standing "at the heart of the most crucial educational, cultural, and political issues of our time." The course will examine this phenomenon, placing you at the intersection of service-learning, English language teaching, and critical applied linguistics. It is designed to integrate experiential learning with an exploration of the broader forces which influence educational settings.
With the support of Professor Steve Iams, an experienced teacher-trainer and faculty member at NYU Shanghai, and in partnership with a local volunteer organization, you will teach English at a local school for migrant communities in Shanghai. At the same time, through discussion seminars, readings, and reflective writing, you will explore the social, cultural, and political factors which often intersect with language teaching, and consider how these factors operate in the context of your service-learning project. Seminar topics will include linguistic imperialism, language stigma and status, English as a lingua franca, and the rise of global Englishes.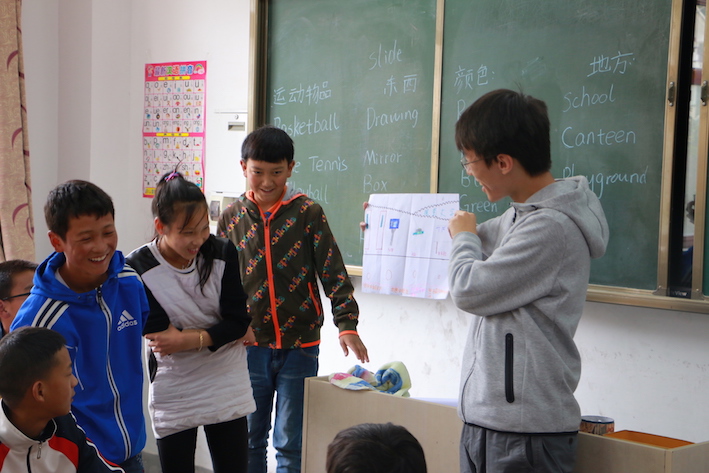 Course Details: "Topics in Service Learning: Language and Power" is a letter-graded course taught by Professor Steve Iams, spanning the second 7 weeks of the fall semester and the first 7 weeks of the spring semester. Scholars earn a total of 4 credits overall (2 credits per 7-week stage) and are required to commit to both the fall and spring because the spring course and service builds on the fall experience. We will meet once in September for an orientation to the course, then meet regularly from October 31, 2019 to March 19, 2020, with time off for winter break in between. In the fall, the course meets on Thursdays from 4:45 - 7:45 PM.
Service Commitment: In the fall, students commit to teaching at a local school for 3 hours per week (1 hour round-trip commute and 2 hours of teaching). You will be given time slots to sign up for through our community non-profit organization partner, Stepping Stones. You should choose a time slot in which you do not have any time conflicts because you will need to commit to that time slot on a weekly basis for the semester. In the spring, you will not be required to teach (although you are welcome to continue doing so in your free time if you wish). Instead, you will have the opportunity to design a new project to serve the school community you got to know in the fall, based on what you learned about their situation and needs. This project can take many forms and you can use your creativity and understanding of the school community gained from the fall semester to create a project in response to one of its needs.
Eligibility to Apply: Students of all years who can commit to the above requirements are eligible to apply. Anyone with an interest in service-learning, language learning, or language teaching is encouraged to apply, regardless of your first language. A multilingual cohort of students is desired to facilitate learning from one another.
Application Instructions: Please fill out the application form. (Please note that new applications after 5pm August 30 will be waitlisted.) Questions? Email Vincent Qian at cq7@nyu.edu.