Women's Soccer Team Become Champions of Shanghai - Again!
May 28 2021
This week, the NYU Shanghai Women's Soccer team captured the city championship title with a 6-0 victory against Tongji University. The squad beat out fifteen other university teams in the Shanghai School Football League's season-ending tournament, the second time they've claimed this title in three years. 
The win is particularly special since it is the first trophy the Qilins have won since intercollegiate sports were suspended by the government following the outbreak of COVID-19 last winter. "Despite our women's soccer team having a significantly shorter season this spring, they were still able to take the road to the championship again," said NYU Shanghai Athletic Director Luis Wang. "We are so proud of what they have achieved this season even after many challenges."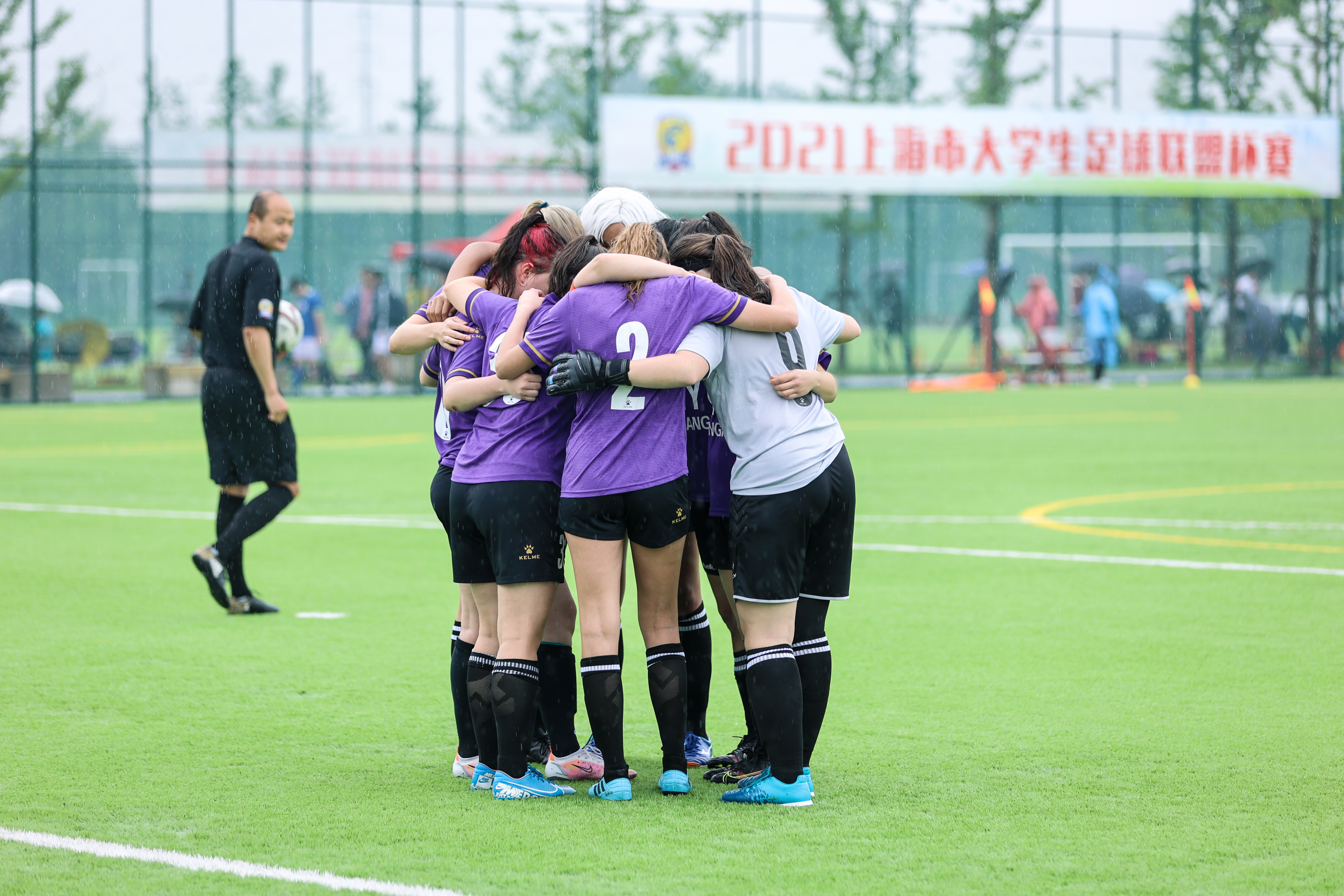 The squad huddles for a pep talk before kick-off. 
The match started off slowly, with both teams taking time to adjust to the day's intense rain and large puddles on the field. But at the 15 minute mark, NYU Shanghai found their groove, scoring three goals in three minutes, starting with a goal by defender Brooklin Dozier '24 off a corner kick from striker Clara Luehrs '22. Then in minute 16, Luehrs netted the second goal with an assist from right wing Ali Debow '24. And in the very next minute the NYU Shanghai women made it 3-0 with a spectacular feat of teamwork, starting with a punt from keeper Sarah Armstrong '22, settled by Sophia Alfred '24, and scored by Luehrs off of a cross from Debow.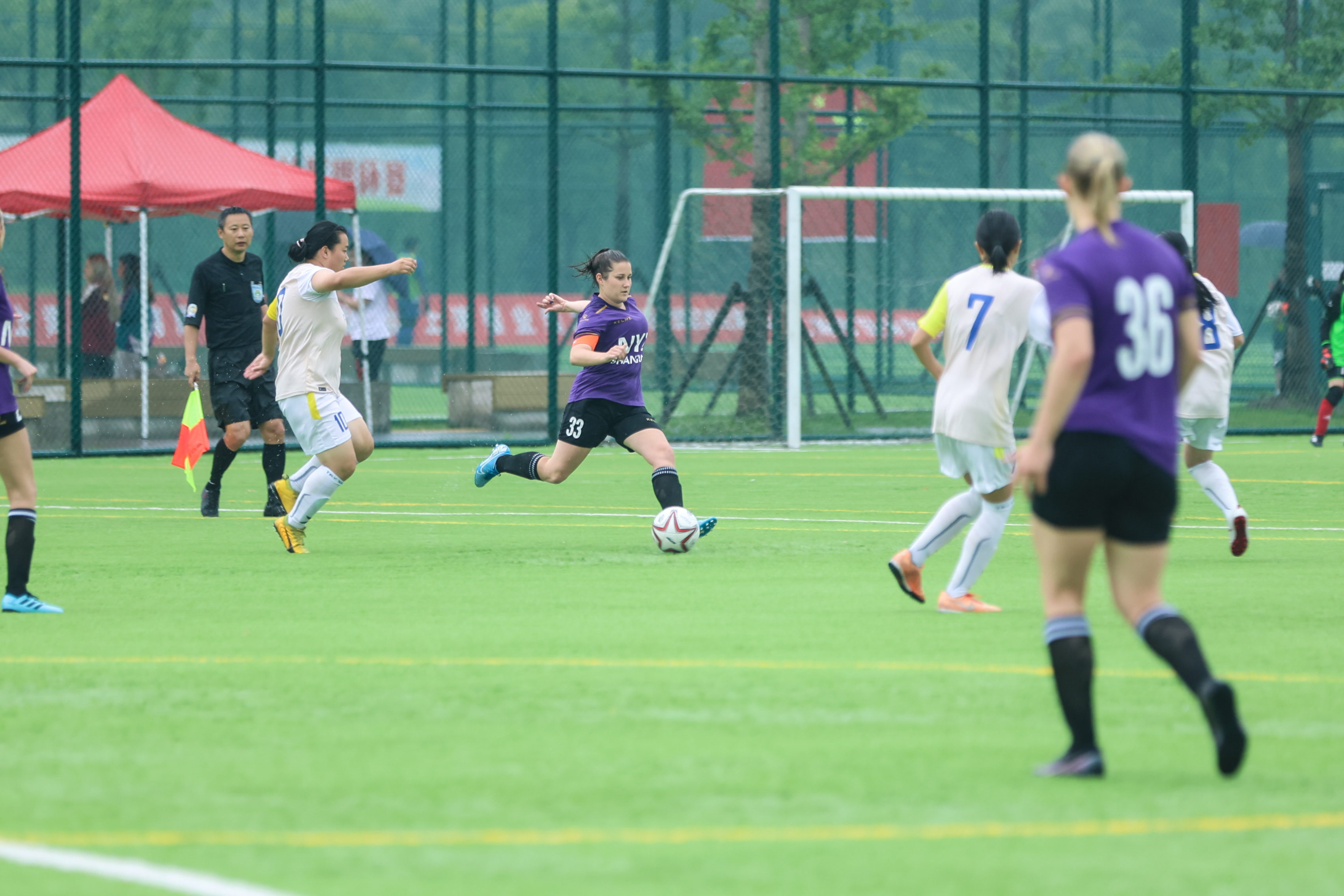 Co-captain Stephanie Anderson '23 clears a ball from the back. 
The Qilins continued their dominance in the second half, as center back Stephanie Anderson '23 took the ball up the field before crossing to Luehrs, who scored in a spectacular flying finish. Luehrs netted goal five (and a personal hat trick) with an assist from Debow, while Anderson scored the match's final goal with an assist from Zoe Liu '21. 
"I'm so proud of my teammates and I also want to recognize the effort and work of the Tongji team," said Anderson. "We know the players and the coach of Tongji very well, and are looking forward to continuing to play together and develop women's soccer in Shanghai."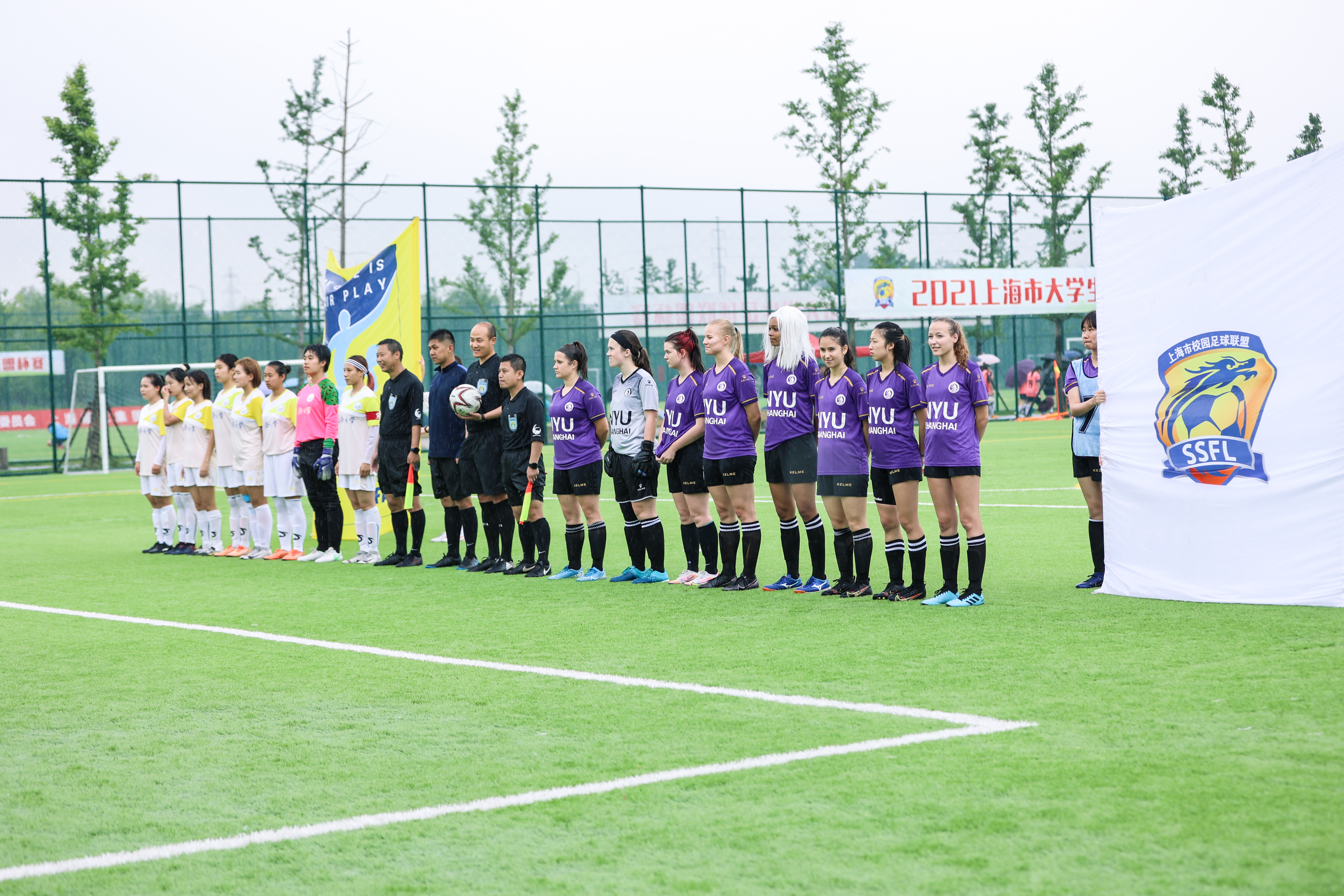 The Tongji University and NYU Shanghai squads line up before the match.
The Qilins were joined by an unusually large post-Commencement crowd of thirty fans who braved the inclement weather to come out and support the women, including Vice Chancellor Jeff Lehman, Provost Joanna Waley-Cohen, alumni, and current students. "Usually we only get five fans coming to our game, so it was amazing to have a bus full of our friends come out and support," said striker Alexandra Berkley-Kogler '23. "Our captains did a great job publicizing the event and getting people to come out."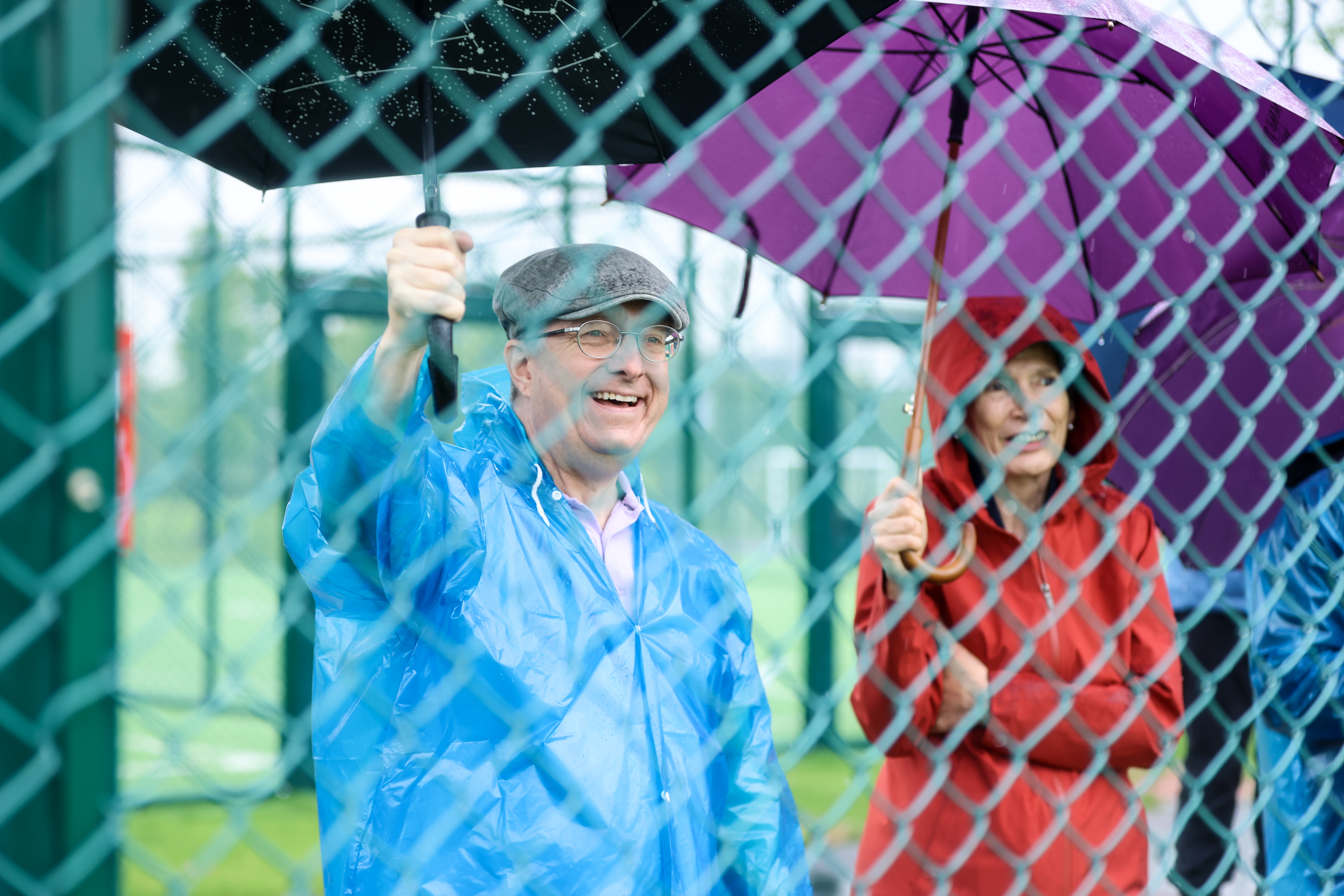 Vice Chancellor Jeff Lehman and Provost Joanna Waley-Cohen celebrate a goal. 
Several Qilin alumni also turned out to cheer on their former team. "It's so exciting to be out here, and it makes me think about my old times playing," said Li Xinyu '20, who was a defender on the team. "It's been great to see the growth of this team. Now there are three times the number of people as when I played. We have a great coach, good communication, amazing team spirit, and now more people want to play!" 
In addition to the team victory, several Qilins were recognized with individual accolades. Clara Luehrs '22, received the Golden Boot as the tournament's leading goal scorer with eleven goals. Co-captain Stephanie Anderson '23 received the Most Valuable Player award, and Coach Darren Lu, who is in his 5th season at the helm, received the tournament's Most Valuable Coach award.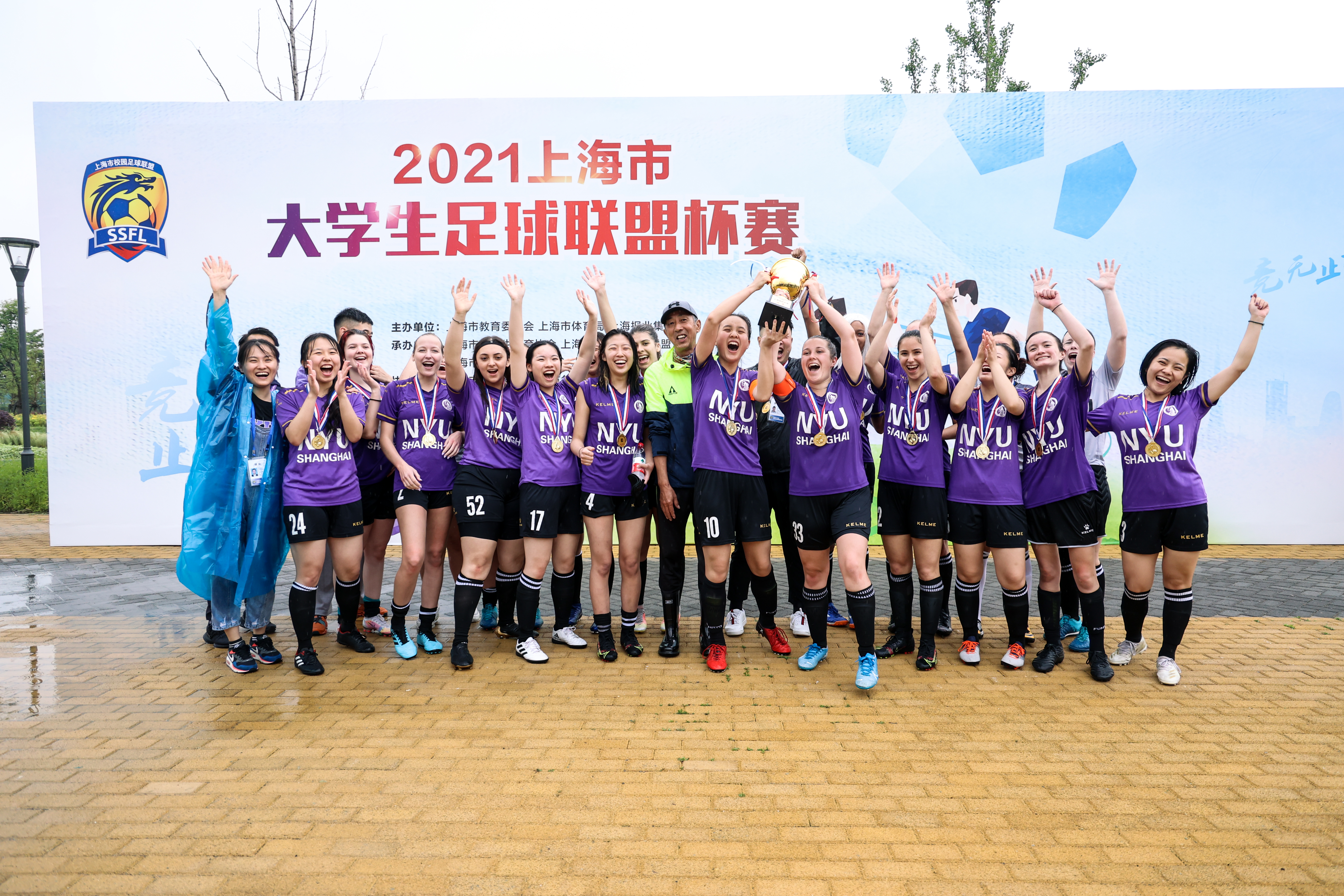 The Qilins celebrate with their trophy at the award ceremony post-match. 
Team members said that they hoped that more trophies will follow in the coming months and years. Just two seniors graduated from the Qilin roster this spring, so the future is very bright."We're really excited for the fall season. It's going to be a lot of fun and we're already looking forward to the competition," said Anderson. "We're looking forward to bringing home some more hardware; looking forward to once again bringing home that gold for NYU Shanghai."