Shanghai Honors Chen Yuxin with Magnolia Silver Award
Dec 13 2022
This month, NYU Shanghai Dean of Business Chen Yuxin was awarded the Shanghai Magnolia Silver Award to honor his contributions to the development of Shanghai. Named after Shanghai's city flower, the Magnolia Award was initiated by the Shanghai government in 1989 to recognize foreigners who have made outstanding social, economic, and cultural contributions to the city.  
Chen was one of 50 foreign residents to receive the accolade. His fellow awardees were selected from the fields of biological medicine, business consulting, new energy materials, and higher education.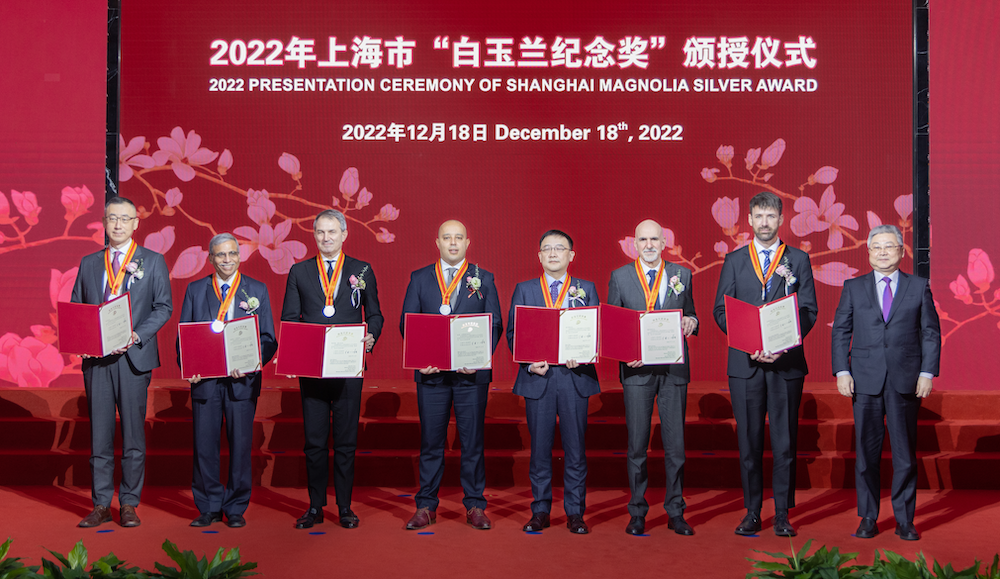 On December 18, Chen Yuxin (fourth from the right) was awarded the Shanghai Magnolia Silver Award
"I think it's also a recognition of NYU Shanghai's 10 years of continuous contributions to Shanghai," said Chen. "I'm particularly proud of what we've done to build a world-class research university and provide youngsters with a first-class business education."
Chen said Shanghai had a formative impact on his life and he values the city's unique culture connecting east and west, tradition and modernity.  
"I have had a special attachment to Shanghai as I attended part of primary school and then college here," he said. "I lived with my grandparents for a few years as a child and my grandpa, who was a salesperson, often took me [with him] to work." That experience brought him to every corner of the city and taught him to speak with an authentic Shanghai dialect, he said. 
After living in the U.S. for almost two decades, Chen was invited to launch NYU Shanghai's Business department. He returned to Shanghai with his family in 2012. "I was so impressed by Shanghai's tremendous potential and felt excited to cultivate young talents at this forefront of business innovation and global hub of economic and consumption activities," he said. 
Chen Yuxin is the fifth member of the NYU Shanghai community to receive the Magnolia Silver Award for "outstanding contributions to academia and academic exchanges." He joins Vice Chancellor Jeffrey Lehman, a 2013 recipient, Provost Joanna Waley-Cohen, a 2015 recipient, and 2019 recipients Dean of Computer Science, Data Science & Engineering Keith W. Ross and NYU Shanghai's Affiliated Professor of Mathematics Charles M. Newman. Lehman and Waley-Cohen were also awarded the Shanghai Magnolia Gold Award in 2015 and 2019, respectively.