NYU Shanghai Students Win National Championships in Unilever Competition, Head to London for Finals
Mar 22 2019
Three NYU Shanghai students have won the National Championship for China in the Unilever Future Leaders' League (FLL), a business case competition that challenges university students to work with business leaders to come up with innovative marketing and branding solutions for Unilever brands.
The team of Echo Ma '19, Lyndsy Qu '19, and Leanne Li '21 bested six other groups chosen from more than 2,100 participants across 300 universities. On April 8, Ma, Qu, and Li will represent China in the Global FFL Final in London, competing against 29 other teams from around the world.
Global championship team members will be invited to join the Unilever Leadership Internship Program. Previous years' winners have also been fast-tracked into the company as management trainees.
Ma said the team spent four months working on intensive case studies and presentations to prepare for the competition, on top of coursework and internship schedules. "All those sleepless nights discussing presentations seem really worth it now," says Ma. "We have learned so much through the process!"
Marketing majors Qu and Li met finance major Ma through the 4-credit course, "Branding and Innovation," co-taught by Assistant Arts Professor Christian Grewell, and Assistant Dean of Business and Clinical Assistant Professor of Business Raymond Ro. 
"This particular group was well-prepared, had an engaging presence, and most importantly, they clearly articulated their idea," says Christian Grewell. "They also stood out because each member complemented the others--in terms of how they communicated individual ideas to weave together a story, and used their public speaking skills."
Qu, who is involved in Student Life and the Commencement Committee, naturally took on a leadership role in the team. Li, who has studied art, piano, and dance, was the team's 'creative.' Ma leveraged her finance knowledge for cost and budgeting calculations. In the lead-up to crucial presentations, the team would meet every evening after class.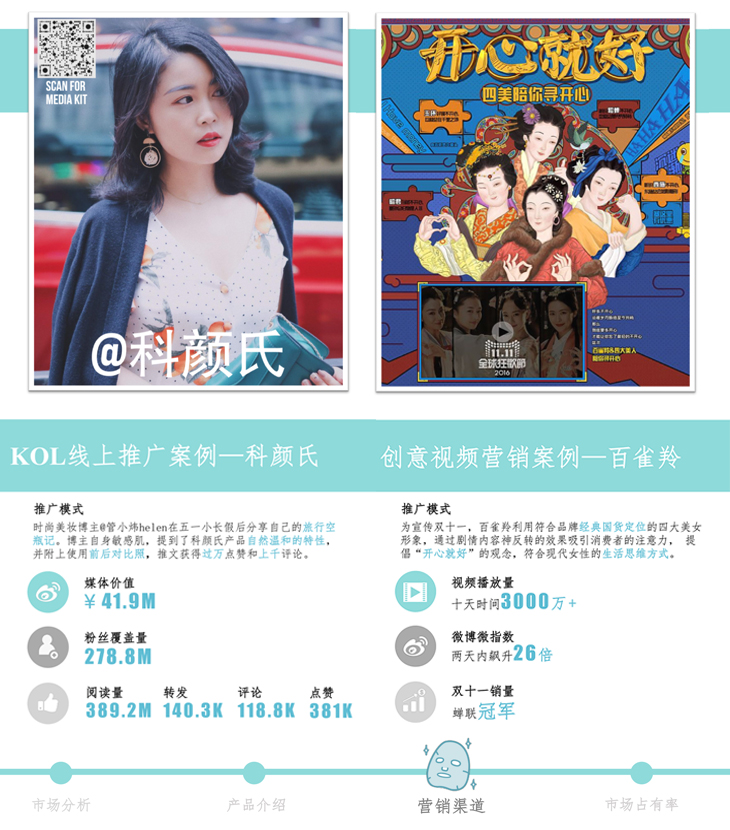 A screenshot of the team's presentation on successful online campaigns by Kiehl's and Pechoin
For one of the challenges, the team designed a marketing campaign to make a dated skincare brand accessible to Generation Z consumers. First, the team analyzed consumer behaviors and isolated their pain points. Then, they researched successful online campaigns involving Key Opinion Leaders and short video sharing platforms like TikTok. The resulting 20-page presentation included a strategy for improving the brand's market penetration while increasing the loyalty of existing customers.
"After each round, we received comprehensive feedback from the brand manager and marketing manager on our presentation. That feedback helped us learn what it is like to do brand marketing campaigns in the real world," says Qu. "We learned how to use data to identify pain points for customers, and to use that information in a brand narrative."
Scott Gu, who manages employer branding at Unilever, says he observed five key strengths in the NYU Shanghai students. "They are fluent in English, confident, hardworking and therefore reliable, academically driven, and they are all fast learners."
Three teams from NYU Shanghai, iSkin, Timeless and Super Rise, have also made it to the China National Final for the L'Oreal Brandstorm competition this year. The competition will take place on April 2, and the teams will compete with nine other teams across China for two spots in the global final in Paris.