NYU Shanghai Sports Teams Return to Action
Jun 17 2021
After almost a year and a half on the sidelines due to COVID-19, all eight of NYU Shanghai's sports teams—co-ed badminton, co-ed tennis, men's and women's basketball, men's and women's volleyball and men's and women's soccer—were revived this spring, halfway through the last semester.
In late February, as soon as the Federation of University Sports of Shanghai (FUSS) approved the restart of intercollegiate sports competitions, NYU Shanghai's Athletics & Fitness went into high gear, reserving practice facilities, finalizing the season schedule, and notifying the student body of tryouts—all in one week.
Even with midterm exams on the horizon, 235 students signed up for tryouts with 126 selected to become NYU Shanghai student-athletes, said Senior Athletics Program Coordinator Nicole Wu. About a fifth of last semester's team members were NYU Go Local students.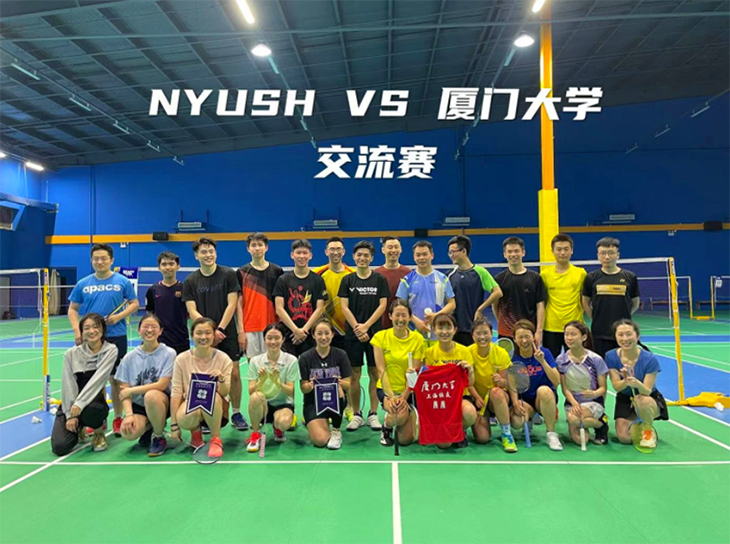 NYU Shanghai's co-ed badminton team
"Students were extremely looking forward to participating in any kind of game, because it was the first time in almost two years that they could officially represent NYU Shanghai or play any sports," said Wu. "Everyone deeply missed feeling that moment of pride when wearing violet on the field or court."
"Around 70 students signed up for our badminton team tryouts, and we could tell that they were all passionate about representing the school and competing," said Sky Lyu '21. "Our final team represented different countries and home campuses; it made me feel that we were all connected—that no matter where our home campus was, we were all playing for NYU."
Except for volleyball and tennis who had no games this spring, the teams played a total of 15 matches—half were friendly scrimmages and the rest official contests of the SSFL Tournament. The Qilins went head to head against a dozen different schools, including the University of Nottingham Ningbo China, Duke Kunshan University, East China Normal University, Tongji University, Shanghai Jiaotong University, Shanghai Business School and more, with 9 wins and 6 losses.

One highlight of the season was the weekend tournament for both men's and women's basketball teams at University of Nottingham Ningbo China (UNNC)—for some of them, it was their first official game. The teams stayed overnight and played two games back-to-back. "They were challenged physically due to the tight game schedule, yet demonstrated excellent teamwork and athletic integrity," said Wu.
"The game with UNNC was particularly unforgettable," says Yida Chen '21. "We had only seven players on our side—one was injured and another suffering from heatstroke during the game, but with barely any substitution, we fought down to the last minute. It truly represented our team spirit of courage, perseverance and mutual support. That was my last basketball game at NYU Shanghai, as I graduated in May. I'll always miss the Women's Basketball Team. Go Qilins!"
The men's soccer team also made their last match count, winning 4:1. After the match, the senior players celebrated their farewell to the pitch and remarked that it was the perfect ending to their college life.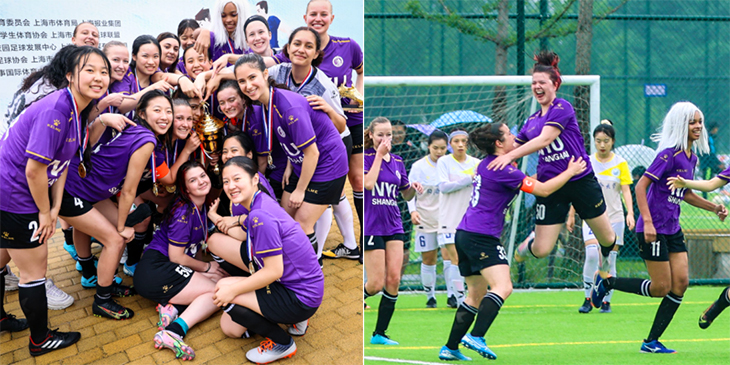 But the grand finale of the sports season was when the women's soccer team became Shanghai champions again, picking up the first trophy the Qilins have won since intercollegiate sports were suspended by the government following the outbreak of COVID-19 last winter.
All eight teams have much to look forward to this fall as they anticipate the upcoming competition schedule from the Federation of University Sports of Shanghai. They'll also be joining the 7th Pudong New Area Sports Games;  the co-ed badminton team has already signed up.
"We are excited to bring sports back to NYU Shanghai and we can't wait to have more competitions next season!" said Athletic Director Luis Wang. "Go Qilins!"