NYU Shanghai Fitness Center Reopens with Safety Protocols
Oct 29 2020
After a prolonged eight-month shutdown following the COVID-19 outbreak, NYU Shanghai's Student Fitness Center finally reopened this month with reduced capacity and other safety measures in place.

About 50 to 60 students a day will be able to hit the gym, compared to the more than 200 a day who exercised there before the pandemic.

"We were very excited when we learned we could reopen," says Jason Tao '19, Fitness Program Coordinator. "Before we established the new procedures and regulations, we consulted with NYU Abu Dhabi's fitness department, since they had experience reopening their gym before us." The Fitness Center also consulted with NYU Shanghai's on-site doctor, who provided them with helpful advice.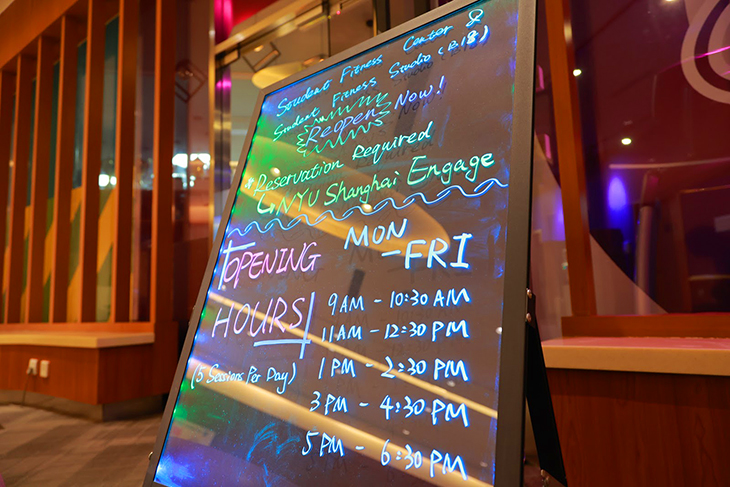 Students will be required to make a reservation in advance on Engage--there's a QR code in the Athletics office that directs to the reservation page, and depending on traffic, same day booking may be possible. 
The Center offers five workout sessions every day--each session is 1.5 hours long, and open to a maximum of 17 students at a time. Because mask-wearing during workout sessions is mandatory, the Fitness Center has hit pause on all cardio machines this year--including the treadmills, elliptical machines, stair climbing machines, and Jacob's ladder.

Reservations can be canceled, but "no-shows" who bail on their spots will be penalized by not being able to sign up the following week. To accommodate the entire student body, students are limited to three sessions a week.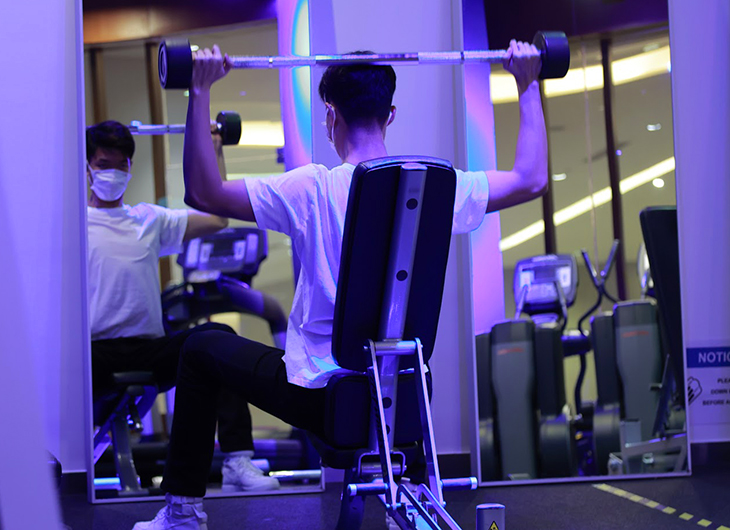 Everyone entering the Fitness Center will be required to wear a face covering and accept a  temperature check. All equipment in the facilities have been rearranged to ensure sufficient distance between exercisers. Student workers on duty also help enforce the distance rules and mask-wearing policy. Hand-sanitizer is always at the ready.
After every hour and a half session, NYU Shanghai cleaning staff thoroughly disinfect the Center during a 30-minute cleaning break.
For students still taking classes remotely, the Athletics office will continue to offer a number of  fitness videos that include both easy (five minute) and challenging (15 minute) work out sessions, divided into two categories: bodyweight and dumbbell.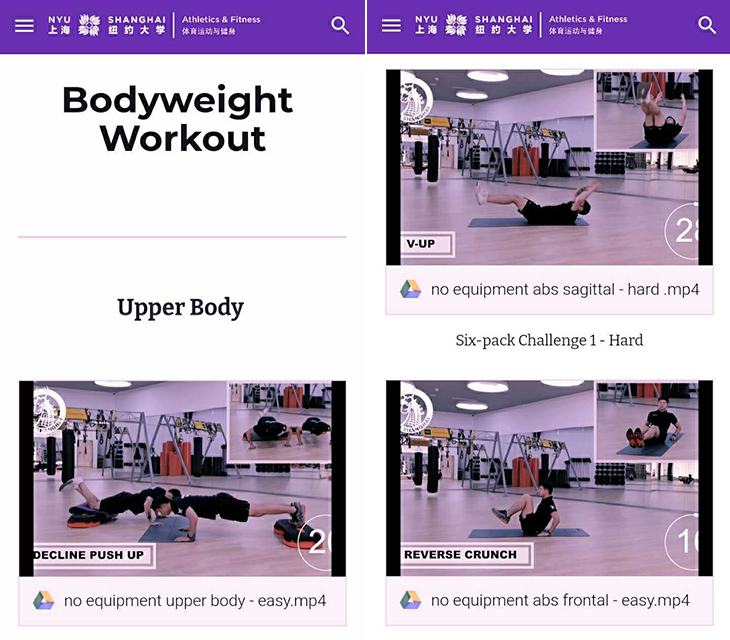 Check out NYU Shanghai's Virtual Fitness Corner. Videos and fitness-related posts will be uploaded throughout the semester - so check back often for fresh content!
As for NYU Shanghai's many team sports, no decision has yet been made about whether the Qilins will be back on the courts and fields in the coming months. In the meantime, Athletics has been organizing recreational classes such as yoga and outdoor running to keep the community active. 
Yoga sessions are offered every Tuesday and Thursday from 5:45 - 6:45pm in the B1 Fitness Studio. Up to 10 students can join, and masks are a must. The Fitness Center will also be hosting after-school running sessions around Century Park every Monday, Wednesday and Friday from 4-6pm.
"We are looking forward to bringing back more services and events like one-on-one personal training and fitness challenges, when things return to 'normal,'" says Tao. 
Learn more about Fitness and Recreation at NYU Shanghai.
To contact NYU Shanghai Athletics & Fitness, email shanghai.athletics@nyu.edu. Follow on Instagram at @nyushathletics