NYU Shanghai to Celebrate First-Ever Graduate Convocation
May 22 2020
As NYU Shanghai closes out an academic year of many challenging firsts, the university is also preparing to celebrate one of the most joyful and exciting firsts of its eight-year history: its first-ever graduate convocation, honoring 62 master's degree program graduates from seven countries. The May 31 event is also the first celebration of master's graduates to be held on an NYU Global Network portal campus outside of New York City. 
"These students - NYU Shanghai's first graduates from our joint master's programs with NYU Stern and NYU Steinhardt - calmly persevered in the face of the global pandemic's difficult circumstances to smoothly complete their course of study," said Chancellor Yu Lizhong. "Their spirit is worthy of commendation, and their experience during this challenging time will continue to serve them well throughout their lives."
The graduate convocation will celebrate the achievements of graduates from three of NYU Shanghai's five master's degree programs, each of which is jointly offered with a school at NYU New York. 2020's graduating classes include 26 students receiving a Master of Science in Data Analytics & Business Computing (DABC) in partnership with NYU Stern School of Business, 20 receiving a Master of Science in Quantitative Finance (QF) in partnership with Stern, and 16 receiving a Master of Arts in Teaching English to Speakers of Other Languages (TESOL) in partnership with NYU Steinhardt School of Culture, Education and Human Development.
All three programs are full partnerships between NYU Shanghai, Stern, and Steinhardt. Students are taught by faculty from both schools, spend time at both campuses, become alumni of both schools, and receive NYU diplomas that bear both schools' names. 
"These pioneering master's graduates have left an indelible mark on our university," said Vice Chancellor Jeff Lehman. "They have shaped their programs in ways that will benefit all those who follow in their footsteps."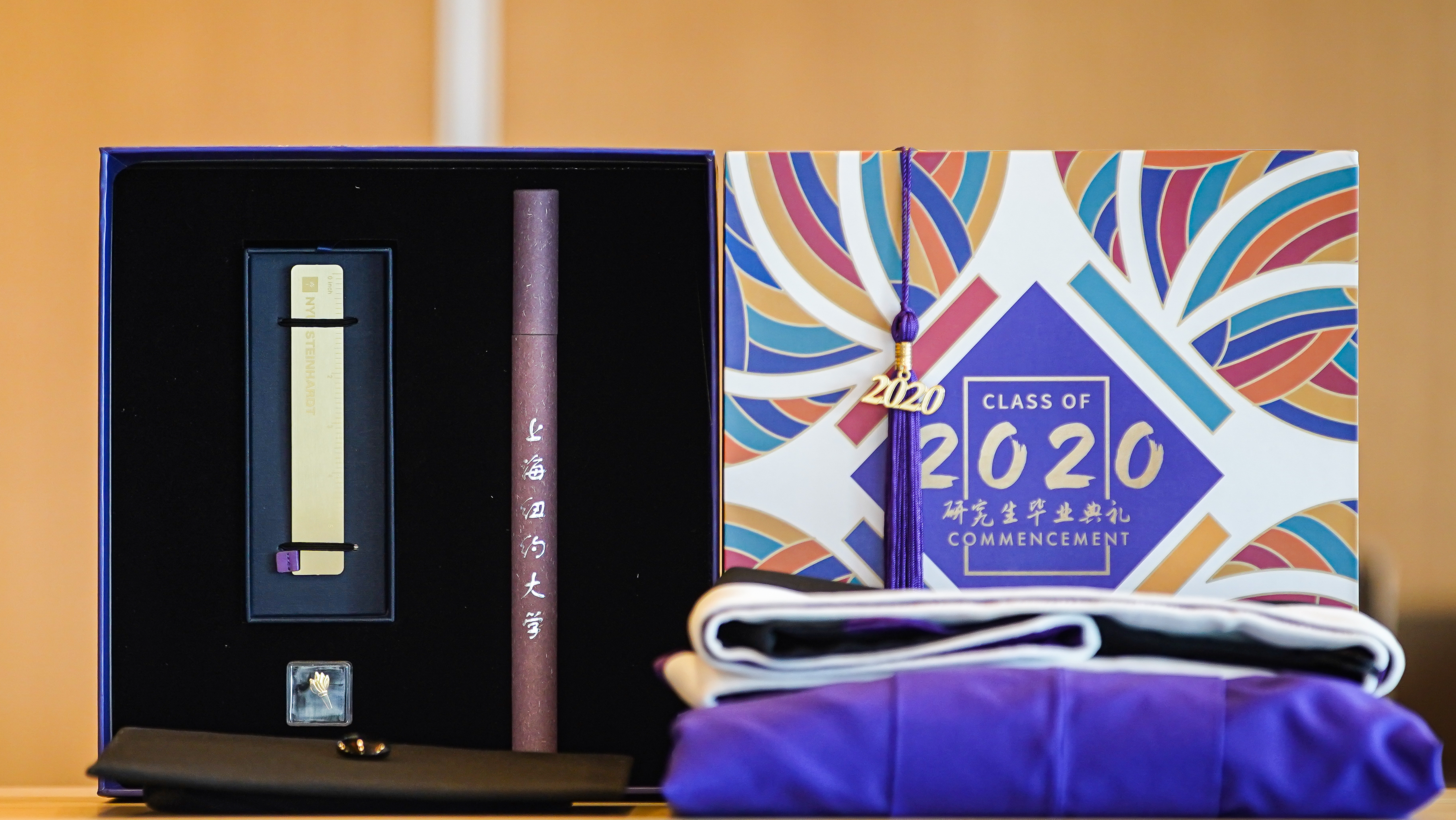 A look inside the commemorative gift boxes for MA and MS graduates. The white hood included alongside NYU's iconic purple robe indicates that this box is intended for an MA in TESOL graduate. 
Graduate convocation events will begin livestreaming from the auditorium of NYU Shanghai's Century Avenue campus at 9am China Standard Time on Sunday, May 31. University leaders including Chancellor Yu, Vice Chancellor Lehman, and Provost Joanna Waley-Cohen will be present on stage, while NYU President Andrew Hamilton, NYU Steinhardt Interim Dean Pamela Morris, and NYU Stern Dean Raghu Sundaram will deliver addresses via pre-recorded video.
Two student speakers will also deliver addresses during the ceremony, with Shirley Xu MA '20 delivering her remarks on stage and Karen Wu Kaiwen '19, MS '20 delivering her remarks via pre-recorded video. The ceremony will feature the announcement of each program's awardees for academic excellence and the reading of every graduate's name by faculty representatives, followed by a ceremonial hooding of three student representatives on behalf of all their classmates.  
"Convocation promises to be full of all the emotion and significance one would expect in a first-ever celebration such as this," said Associate Dean of Graduate and Advanced Education Eric Mao. "Our TESOL, DABC, and QF graduates are making history. Along with our partners at NYU Steinhardt and NYU Stern, we look forward to saluting their accomplishment."
"I feel really honored to speak on behalf of the very first cohort of NYU Shanghai and NYU Steinhardt's joint MA TESOL program," said Shanghai native Xu, who currently teaches Year 1 and Year 3 students at Shanghai's British International School. "It is also a privilege to speak for all of my classmates, who are a group of wonderful teachers. I look forward to sharing our story with everyone during the convocation ceremony."
Like members of NYU Shanghai's undergraduate class of 2020, this year's master's program graduates are also receiving special gift boxes to commemorate this milestone in lieu of walking across the stage at a traditional graduation ceremony. The centerpiece of each box is a full set of graduation robes and academic regalia, including a traditional hood emblazoned with colors designating the graduate's field. Boxes also include a diploma cylinder, a pin featuring the NYU torch emblem, and a copper ruler co-branded with the NYU Shanghai logo and NYU Stern or Steinhardt logo.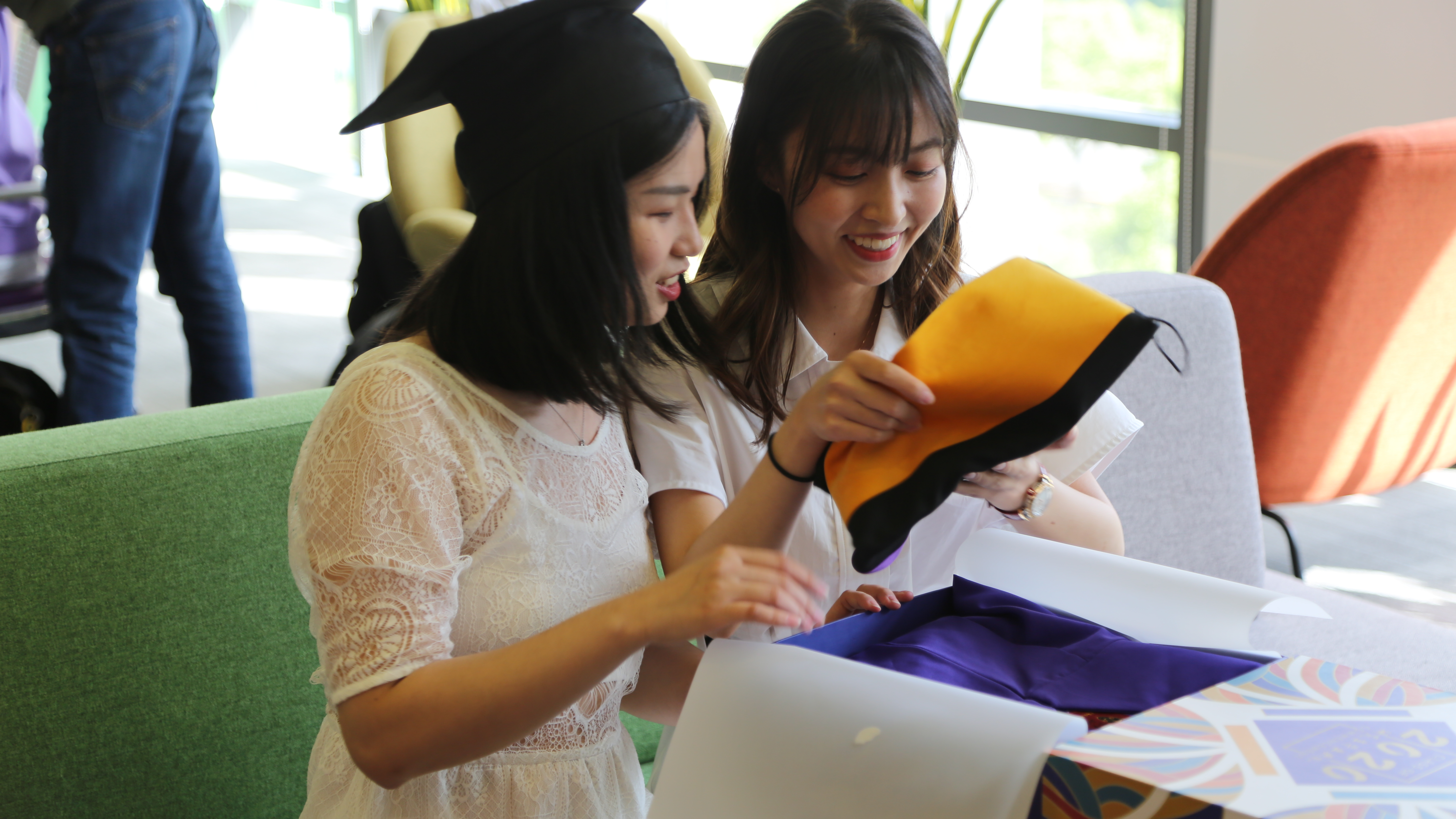 MS in Quantitative Finance graduates Chen Yijin MS '20 (left)  and Lu Chenyi MS '20 (right) unbox their robes in the graduate lounge on the 5th floor of NYU Shanghai's Century Avenue campus. Graduates currently in Shanghai were allowed to pick up their gift boxes in person, while boxes were mailed to students in other parts of China and overseas.
"The five years I have spent at NYU Shanghai (four years of undergrad as well as the one-year master's program) form the most memorable five years of my life. All these experiences, … and most importantly what we went through together as the first cohort at this unprecedented moment, define who I am today," says Beijing native and MS in Data Analytics & Business Computing graduate Wu, who was selected to speak on behalf of graduates from both the MS DABC and MS QF programs. 
 "Having the opportunity to share all these at the convocation means a lot for me. I am so proud of what we have achieved, and I have no doubt that better things are awaiting ahead in our lives."