How to access facilities at ECNU Zhongbei Campus during Covid-19? (updated on September 2, 2022)
Zhongbei Campus Access (updated on September 2, 2022)
NYU Shanghai personnel (including faculty, staff and students) who wish to access facilities at ECNU Zhongbei campus need to follow both NYU Shanghai guidelines, including the Community Standards and the Travel Guidance, and ECNU campus access policies. Faculty and staff are also responsible for ensuring that their teams, visitors, trainees (both regular and short term) are aware of these standards and policies, and will abide by them.  Per ECNU guidance, anyone who wishes to enter the campus must obtain prior approval in advance. All community members should re-submit campus access requests with updated Shanghai health code, trip code and  a negative COVID-19 nucleic acid test report according to the validity period of the access. Individuals without prior approval will be denied access to the campus.
Please find the detailed campus access application procedures as follows:
If you are an NYU Shanghai employee (or student) and are an ECNU card holder, please follow the process here. 
If you are an NYU Shanghai employee (or student) and are not an ECNU card holder, please follow the process here. 
You should refrain from inviting guests for non-essential visits at the ECNU campus during this time. If you must invite non-NYU Shanghai affiliated guests (collaborators, trainees, vendors), please follow the process here. 
Anyone who enters campus without following the processes above, please inform Public Safety (shanghai.publicsafety@nyu.edu) immediately.
How do I find information regarding JRI space use during Covid-19?
Please visit this page for the guideline on JRI Space Use During Covid-19. Please click here for the recommended maximum room capacity for conference rooms and classrooms at Geo Building.
Please click here for a quick guide on requesting student desks for NYU Shanghai Faculty.
Where is the admin office?
The Office of Research Institutes (admin office) is located in Room 340 of the Geography Building.
Whom should I contact if I have questions regarding IT and printing?
Please email Geo Building operations group at:  Shanghai.Geo.Ops@nyu.edu.  You can also drop by our admin office in Room G340.
Are there campus shuttle bus services? (last updated on June 17, 2022)
Please note that the shuttle bus service between our Pudong Campus and ECNU Zhongbei Campus will resume with an updated schedule below, starting Monday June 20th.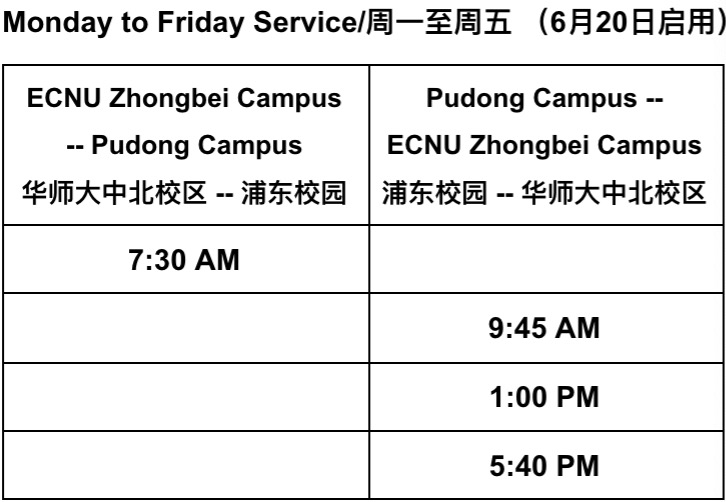 Please note that:
Access to ECNU Zhongbei campus is still restricted to essential activities and will need to be applied and approved separately. Please contact shanghai.publicsafety@nyu.edu for more details.
The shuttle bus is not able to enter or park on ECNU Campus at present. If you take the school shuttle bus to ECNU, please make sure that you have been authorized access to ECNU Campus in advance, and at the entrance meet the screening requirements including a PCR report within 48-hour validity, a valid ECNU Campus Card, and body temperature screening.
The 7:30 AM bus will pick up passengers at the bus station (金沙江路中山北路站) closest to ECNU school gate at Jinshajiang Road. The 9:45 AM, 1:00 PM, and 5:40 PM buses going from Pudong to ECNU will drop off passengers at the Entrance of 3663 North Zhongshan Road (中山北路3663号校门). And the 11:30 AM and 3:45 PM buses going from ECNU to Pudong Campus are suspended during this period of operation due to the access restrictions of ECNU Campus. We will monitor the developments of situations concerning COVID management and make adjustments accordingly.
Please wear a face mask throughout the trip.
Whom do I contact for reimbursement or procurement-related issues?
If I have inquiries regarding library resources, whom do I contact?
If I have inquiries regarding facilities, whom do I contact?
Please contact Johnny Sun (孙晓光), NYU Shanghai Campus & Facilities at 13601919454, or email Geo Building operations group at: shanghai.geo.ops@nyu.edu.