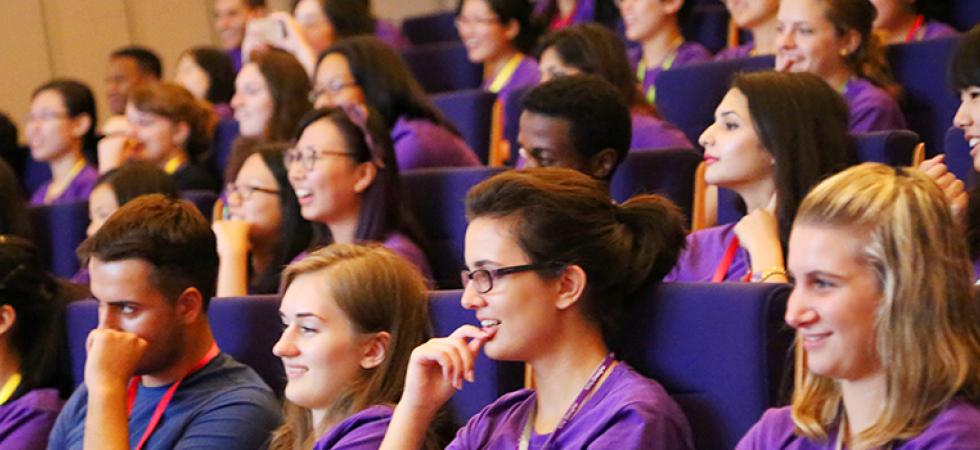 Congratulations on your offer of admission to NYU Shanghai's Class of 2025!
We are thrilled to welcome you to the NYU Shanghai family. Each year, NYU's applicant pool becomes larger and more competitive, and you should be very proud of your accomplishment. On this page, you'll find important information about the steps you need to take to confirm your enrollment at NYU Shanghai. You'll also learn about our admitted student events in April and how to complete other relevant items so you're all set by the first day of classes.
When you were admitted, you were given a NetID and password. This will allow you to access your student portal. You'll need this information handy as you go through the links below.
Respond to Your Offer of Admission and Confirm Your Enrollment
Instructions:
Go to NYUAlbert and click on "View Application Status." Click on "Admitted Student's Portal." Then click "Accept/Decline" and submit your non-refundable enrollment deposit by credit card or electronic check for US citizens or permanent residents and wire transfer for non-US citizens to reserve your place in the class.
Deadlines for replying online or by mail
Early Decision I: January 5
Early Decision II: March 2
Regular Decision: May 1
Please respond to your offer of admission by the deadlines stated above. After the deadline passes, we may relinquish your place in the class. Keep in mind, if you accept our offer, you must withdraw any applications you have pending at other colleges or universities.
Set Up Your NYU Email And Enroll in Multi-Factor Authentication
Email is an important tool NYU uses to pass along critical information about the enrollment process. Soon after you confirm your enrollment, you'll be assigned an NYU email address and given instructions on how to create your account. Once created, please check your email regularly. Contact NYU's global IT Service Desk at AskIT@nyu.edu if you have trouble creating your account.
NYU uses Multi-Factor Authentication (MFA) to help protect your sensitive information online. Visit start.nyu.edu to enroll in MFA. MFA will become mandatory for newly enrolled NYU students one day after the Census Capture date on the NYU Shanghai Academic Calendar.
NYU Shanghai students have guaranteed housing on campus for all four years of undergraduate study, and are required to live in student housing for the first two. You'll be prompted to submit your non-refundable $1,000 housing reservation, online housing application and your $500 tuition deposit (see "Respond to Your NYU Admission Offer" above) once you accept your offer of admission. Please note that the $1,000 housing deposit is a separate payment from the $500 tuition deposit and is due by May 18.
We will be in touch with you in the coming months with more information. In the meantime, you can learn more about housing and dining at NYU Shanghai.
Submit Your Final Transcripts
We understand that the ongoing challenges associated with COVID-19 have created significant interruptions to education, and prolonged school closures may result in a delay in final transcripts or examination results becoming available. We will continue to monitor the situation in the coming months, and will update admitted students of any change to policy.
Send your final transcripts to NYU's Office of Undergraduate Admissions by July 1 to meet our
proof of graduation policy
. If not, it is likely that you won't be allowed to register for fall courses and you'll be dropped from your pre-registered courses. An extension, though, will be granted to students outside the U.S. whose secondary schools operate on a different schedule.  
For Students Attending U.S. Institutions: Forward your final high school transcript indicating your date of graduation to the NYU Office of Undergraduate Admissions immediately upon graduation. It is your responsibility to ensure that an official, final high school transcript is received by the Office of Undergraduate Admissions (383 Lafayette Street New York, NY 10003). 
April 10: Home for the Weekend
Our marquee admitted student weekend will be held April 9 through 11, with NYU Shanghai's sessions being held on April 10. This is where we roll out the virtual red carpet and you have the chance to hear directly from academic leadership and current students. Join us for student performances, alumni panels, academic deep dives, department meet and greets, and so much more. Some of the sessions are highlighted below:
Campus Spotlight: Welcome to NYU Shanghai - David Pe, Dean of Students, welcomes you to Home For the Weekend before NYU Shanghai's Student Life Office moderates a current student panel. 

NYU Shanghai Live: Your Academic Journey - Provost Joanna Waley-Cohen shares opening remarks followed by an Academic Overview of NYU Shanghai. 

Alumni Panel  - Where are they now? This panel will feature a few of our impressive alumni who will share how their time at NYU Shanghai prepared them for life after graduation.
NYU Shanghai's Home for the Weekend begins at 8:00 am China Standard Time on April 10, which means for some countries Home for the Weekend will actually begin on Friday, April 9. Convert session times to your time zone. 
Admitted students will receive a personalized registration link to activate their account and save their spot for Home for the Weekend. To activate your account, click your personalized link, confirm your information, and create a password. 
Throughout April: Webinars and Live Events
Individualized Financial Support Conversations 
The cost of attending college is a consideration for many families. As you and your family assess your ability to attend NYU Shanghai, the Office of Financial Support will be offering 1-to-1 virtual advising sessions to help you understand your financial aid offer and financing options for NYU Shanghai. While Financial Support Officers will be available to chat during Home for the Weekend, you can also set up a meeting throughout April within Home Base. Save your spot by clicking the link on either the "Financial Support" tab or the "Events & More" tab.
Chat with Admissions or a Current Student
Have some lingering questions about the student experience you'd like answered? We're here to help. Set up a time to chat 1-to-1 with either a current NYU Shanghai student or an admissions counselor. You can reserve your spot on either the "Events & More" tab of your Home Base.
Living and Learning in China
Tuesday, April 20th at 9:00am China Standard Time
Wonder what it's really like living in Shanghai? Interested in what types of opportunities are available both on and off campus? Curious about how our students navigate the city and surrounding provinces, or what it's like to go to school with students from over 70 countries? Join us for our Living and Learning in China session to find out! You can reserve your spot on the Events & More tab of your Home Base. 
Parent and Families Session
Thursday, April 15th at 9:00am China Standard Time
We'd never forget about the parents and families that have helped their students reach this exceptional milestone. Join us as we celebrate your student and get your questions answered by a panel of parents of current NYU Shanghai students.
Now that you've received your offer of admission it's likely that you have questions, want to meet current students, and/or talk with staff members from across the University. During the month of April, we'll be holding several webinars and live virtual events to help you connect with the NYU Shanghai community. You can access these through the Admitted Student Resource hub.
Chat One-on-One with a Current Student or NYU Shanghai Admissions Representative
Interested in talking with a current NYU Shanghai student about their experience? Have questions for one of our admissions representatives? Sign up for a one-on-one virtual chat by filling out the form on the admitted student portal. Someone from the NYU Shanghai community will be in touch with you in the coming weeks to set up a time to connect. 
Class of 2025 Facebook Group
If you haven't already, make sure to join our NYU Shanghai Class of 2025 Facebook group to get to know your fellow classmates, learn everything you need to know about NYU Shanghai and stay up to date with important information. You can also follow NYU Shanghai on our main Facebook, Weibo, Instagram and Twitter channels.
Take a Virtual Tour
Get the 360 experience of our academic building, state-of-the-art facilities, residence halls, and the neighboring community with our 360 Tour. Our tours also have a Chinese language version, accessible through the same link.
Resources for Parents
We'd never forget about the parents and guardians that have helped their students reach this exceptional milestone. Keep an eye on your email for an invitation to join our NYU Shanghai Parents and Families Facebook group. In the meantime, parents should feel free to contact us directly with any questions or concerns they may have by emailing us at shanghai.admissions@nyu.edu.
Admissions Office in New York (9am–5pm, Eastern Standard Time)
+1-212-998-4500
Admissions Office in Shanghai (8:30am–5:30pm, China Standard Time)
+86-21-2059-5599
Financial Aid (9am–5pm, Eastern Standard Time)
+1-212-998-2838
shanghai.financial.support@nyu.edu
Student Mobility (8:30am-5:30pm, China Standard Time)
+86-21-2059-5339
shanghai.student-mobility@nyu.edu
Health Services (8:30am-5:30pm, China Standard Time)
+86-21-2059-5353
NYU IT (8:30am-5:30pm, China Standard Time)
+86 (21) 2059 5555
Admitted Student Timeline
During late spring through early summer, the New Student and Diversity Programs team will reach out to admitted students to initiate the visa and housing application processes. Over the summer, they will reach out about class registration and provide information on the Chinese Placement exam, bill payments, immunization forms, and more.
Stay tuned for more information in the coming months.