Cao Rui's love for English spans a decade. From a teenager just getting started to an English major in college and now an elementary school teacher simultaneously pursuing a master's degree in English pedagogy, Cao, MA TESOL '23, sees a clear throughline to her career path. "For most people, English is a tool or a test subject they must learn. But for me, it's what I'm crazy for," she said, "I'm grateful for NYU Shanghai - NYU Steinhardt's Teaching English to Speakers of Other Languages (TESOL) program as it has helped me to turn my interest into a profession."
Knowing the great benefits an immersive environment can provide to language learners, Cao planned to study in the U.S. after finishing her undergraduate degree in China. Though admitted to NYU's International Education Master's program in 2020, the pandemic affected her original plans, and instead she chose to become an elementary school English teacher in her hometown city, Xinghua, Jiangsu Province. After teaching for a year, Cao felt the urge to systematically develop her teaching skills. "Teaching is new to me," she said, "I focused more on language learning during undergraduate years, but now I have to figure out how to impart my knowledge to students." 
"I heard about the NYU Shanghai - NYU Steinhardt TESOL program from my college professor, and it seemed to be a perfect match for my needs," she said. "After learning more about the program's faculty team, rich resources, alumni network and immersive English environment, I quickly decided to join."
Though it's only her first year with TESOL, she's been amazed by the concepts and methods introduced by professors. Learning while teaching at the same time is one of the program's distinctive features, which allows students to put the acquired knowledge immediately into use and gain deeper understanding from their own teaching practice. Last semester, Cao applied the "Project-Based Learning (PBL)" approach learned from Professor Robin Harvey's Second Language Classroom: Elementary & Secondary course in her own class to teach a unit for her sixth grade class with the theme "Protect the Earth".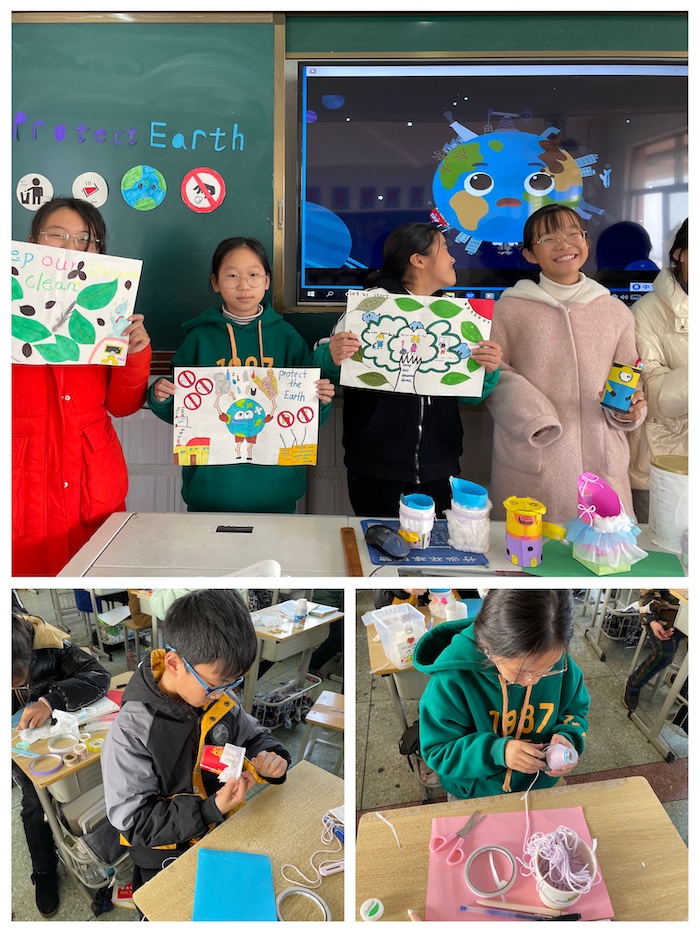 Cao Rui's class on "Protect the Earth"
"I asked students to make artifacts using waste materials such as water bottles. After completion, they had to present their art piece in English. Students enjoyed the experience a lot, as it was quite different from the traditional class experience. Through the process, their imagination, hand-making skills, and English have all been exercised and improved. The finished pieces are now displayed at the classroom book corner, which also serves to remind them to 'protect the earth'." 
In a recent teaching skill competition held in Xinghua, Cao's outstanding performance won her the top prize. "'Impromptu speaking', 'class design' and 'mock class' are the main sections of the competition, and I trained and practiced in TESOL's classes for all three areas," she said. "TESOL's classes are all conducted in English. After studying here for a year, I've become more and more comfortable with thinking and answering professors' questions in English, which enables me to fluently express myself in impromptu speaking. For 'class design' and 'mock class', the Teaching World Languages: Theory and Practice course taught by Professor Frank Lixing Tang and Professor Robin Harvey and the Structure of American English course taught by Professor Kentei Takaya are of great value to me. Not only are my teaching skills improving, but my thinking patterns are also changing from the class activities, education theories, and methodologies introduced by TESOL professors, making me a better teacher."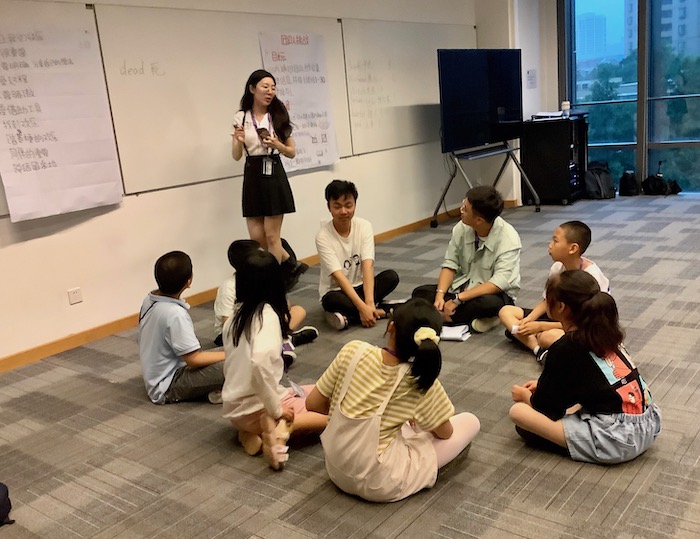 Cao Rui in TESOL's Motivational Activity with Migrant Youth
In addition to the knowledge gained from TESOL, Cao is especially impressed by NYU Shanghai's open, diverse and inclusive atmosphere. "Unlike my previous education experience where students are expected to give the 'right answers', here at NYU Shanghai, professors encourage and respect all opinions and perspectives," she said. "I've also benefited greatly from discussions with TESOL classmates. Many of them are senior teachers and can give insightful and practical suggestions for new teachers like me," Cao added.
"Two years ago when I first became a teacher, I was nervous and wondered whether I could make a great teacher," Cao recalled, "Now equipped with the skills and knowledge gained from TESOL, I feel more assured and confident on the podium. Studying while working sometimes can be challenging, but pursuing the things that I love always motivates me."