Student-led "Digital Innovation Challenge" Comes to NYU Shanghai
Nov 5 2021
NYU Shanghai kicked off its first-ever Digital Innovation Challenge on October 30, with 70 students in 16 teams signing up to compete in finding ways to apply emerging media technologies to solve real-world business problems.
Supported by faculty in the Interactive Media Arts (IMA) and Interactive Media Business (IMB) programs, the challenge is open to students from all majors, and students are encouraged to field multidisciplinary teams.  
The challenge is the brainchild of Elena Huang '23, a junior majoring in Economics and IMA. "When I was a freshman, I felt at a loss over what I could do with what I had learned at school," Huang said. "I realized that real-world practice is the best answer. So I built a team of students from different backgrounds and decided to hold this Digital Innovation Challenge, aiming to build a platform for students who are enthusiastic about exploring a connection between emerging technologies and business innovation. We hope to fully stimulate our students' innovation, creativity, and ability to find solutions to real-world problems with their learnings."
With the support of her IMA/B Professors and NYU Shanghai's Office of Student Life, Huang and her team were able to launch the competition in just two months.
On October 30, the 70 students who answered Huang's challenge gathered in the auditorium to gain insights and inspiration from guest speakers such as Yao Guanhua '20 , Data Director of RHIZOME, a consulting company that applies anthropological theory and practice to provide clients with deeper insights into consumer behavior in China.
Each student team's competition entries will be presented on November 20 and will be judged by a panel of industry guests, entrepreneurs, and their fellow students.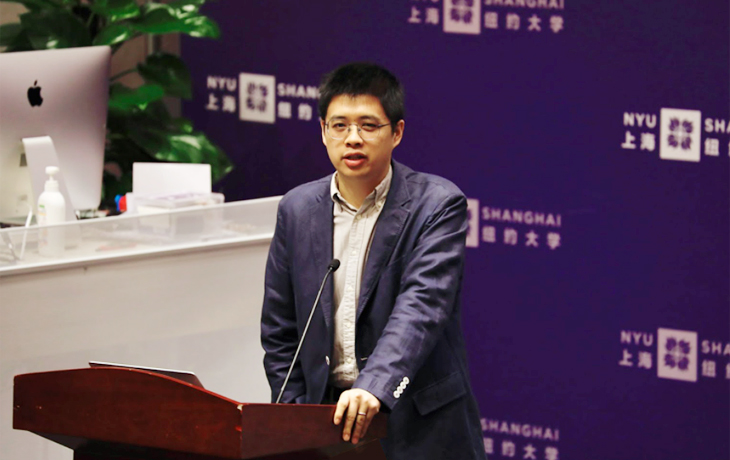 Yao Guanhua '20 , Data Director of RHIZOME, shares his experience and insights with fellow NYU Shanghaiers.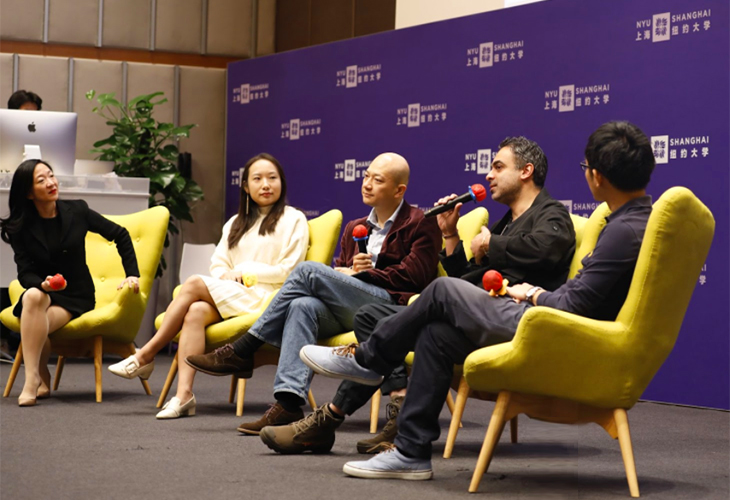 Panelists (from left to right) Barbara Wang, Regina Zeng, Li Chen, Jamil Juma and Sandy Jin discussed opportunities and challenges for entrepreneurs in the digital innovation ecosystem.