Signing Ceremony for the Naming of H!TIME Hall at NYU Shanghai Qiantan Campus Held
Sep 30 2022
A signing ceremony for the naming of H!TIME Hall at NYU Shanghai Qiantan Campus was held on September 29 at NYU Shanghai's academic building on Century Avenue. In recognition of the new pledge made by Mr. Ding Jinsong, founder and chairman of Shanghai HiTime Real Estate (Group) Co., Ltd., to support students' scholarships and financial aid, faculty recruitment, and international exchange among NYU campuses and study away sites, NYU Shanghai will name the north academic building at Qiantan campus "H!TIME Hall."
"Mr. Ding and the HiTime Group were among the first to step forward and help NYU Shanghai to develop. I am deeply grateful for their uniquely generous support," said NYU Shanghai Vice Chancellor Jeffrey Lehman. "Today we are honored to receive from them a new gift that will have a transformative impact on NYU Shanghai's teaching, research, and international education."
Lehman also read acknowledgement letters from the Chairman of the NYU Board of Trustees, William Berkley, and the President of NYU, Andrew Hamilton, that expressed their sincere gratitude to Ding Jinsong and the HiTime Group.
In his speech, Ding Jinsong shared his appreciation and recognition for NYU's educational philosophy. "Every time I come to NYU Shanghai, I feel like I'm back at my alma mater." Ding said he hopes his contribution will allow more Chinese students to receive a world-class education without going abroad. "The naming of the 'H!TIME Hall' will further elevate the partnership between HiTime Group and NYU Shanghai," he said.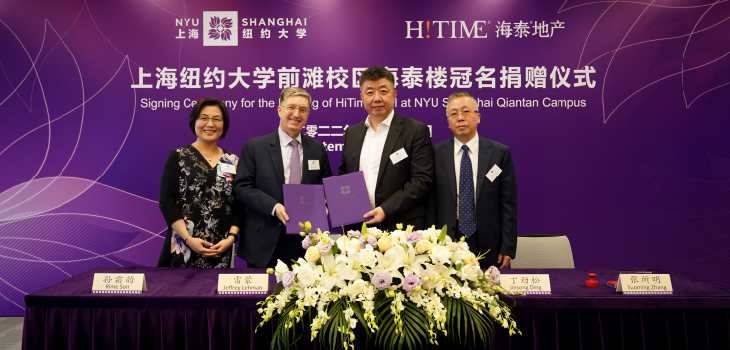 Signatories of Signing Ceremony from left to right: Secretary-General of NYU Shanghai Education Development Foundation Rime Sun, Vice Chancellor Jeffrey Lehman and Shanghai HiTime Real Estate (Group) Co., Ltd. Chairman Ding Jinsong, President Zhang Suoming
Serving as an NYU Trustee and the Vice Chairman of NYU Shanghai Education Development Foundation, Ding Jinsong has long been a strong supporter of the University since 2015. Together with HiTime Real Estate Group, he established two funds to provide students with scholarships and financial aid, bolster faculty research, and to develop the NYU Shanghai Mini-Course Program. 
NYU Shanghai Chancellor Tong Shijun also expressed his gratitude to Ding Jinsong and HiTime Real Estate Group. "The H!TIME Hall will be an important window for the University to showcase its institutional values to the community. The building will house the Institute of Contemporary Arts at NYU Shanghai, Interactive Media Arts studios, and the library. The brightly lit library demonstrates the spirit of NYU Shanghai students' pursuit of excellence and quest for knowledge," he said, adding that he looks forward to further cooperation in the future.