Plans for A New Campus
Mar 1 2018
To accommodate a flourishing campus with a growing student body and faculty, NYU Shanghai is making plans for a new home in Pudong.
Vice Chancellor Jeffrey Lehman announced at Tuesday's all-staff meeting, that the university hopes to move to a new campus within the next five years. He spoke about the planning that is already underway to design facilities that can accomodate more than 2,000 undergraduate and graduate students.
In his opening remarks, Lehman said that "...our new campus should be a gateway to China for foreign students and a gateway to the world for all, and especially for the Chinese students. It should be intrinsically of Shanghai - but connected to the world".
"It is amazing that we are already in our fourth year in the current building on Century Avenue, but we knew that it would not be big enough to hold our school when we are fully grown," Lehman added.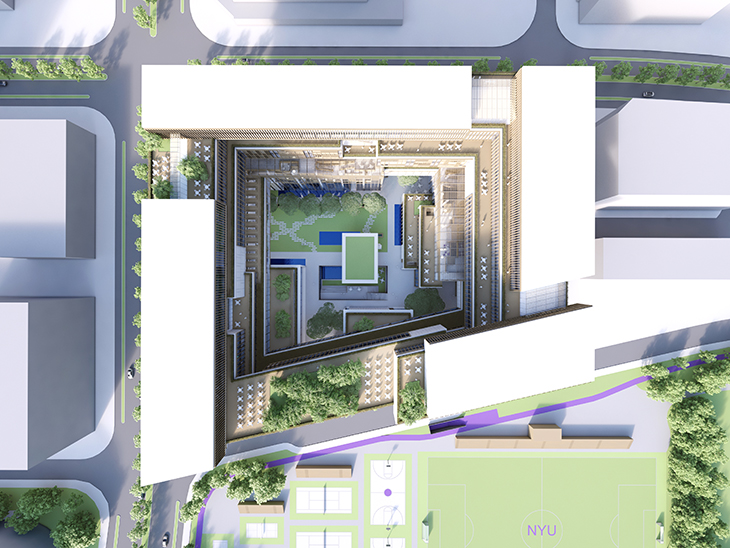 The world-renowned architectural firm, Kohn Pedersen Fox (KPF), brings a wealth of higher education experience to this project. The architects are proposing to leverage the "gateway" metaphor to inform the overall project, and are designing schematics that will celebrate the University's double identity.
The current design scheme suggests a new campus with four buildings and gateways at the ground level, arranged in a pinwheel-like structure that comes together as a single building above the fifth floor.
A group of students, faculty and staff representatives have been contributing to the thinking behind the design process. Stay tuned for further updates in upcoming months.